Food pantry near you.
Find a free food pantry near you that can provide groceries, personal hygiene supplies and other items. There are tens of thousands of charities, churches, non-profits, and other groups that work to feed struggling households. A food pantry near you, listed below, will help low-income families, the disadvantaged (such as elderly or disabled), children and families in a crisis. Even if a food bank is not near where you may live, they may still offer referrals or even a low cost delivery service.
The hours, application process, and regulations of each pantry will vary. Some will maybe one person (you) or others will give enough groceries for an entire extended family. Some food pantries will also offer other types of supplies to clients, including personal hygiene items, household cleaning supplies, paper products, and much more. Other locations operate soup kitchens, so there may be a free hot meal (breakfast, dinner, or lunch) near you too. No matter what, they try to help every applicant and not turn anyone away.
There may be additional food type assistance programs available. Every community has resources available. Some of the support, much of what may be available at a pantry, may include:
Holiday meal sites, including free Thanksgiving, Easter, and Christmas meals.
Food pantries as well as human services offices will often help process SNAP food stamp or WIC applications near you as well as other USDA assistance programs.
Soup kitchens, including for the poor or homeless, may also be available near you, and find details on them below.
Senior citizens and the disabled may be able to apply for local Meals on Wheels services.
In general, many local organizations fight hunger. Some are charities, and others are government funded. A number of food assistance programs may be located near you or me, and the organizations listed below (by town, city, state and county) are the places to go to for help.
Local food banks and free pantries
Find a local food pantry below that is near you. Some are open 7 days a week, others address emergency situations, and some are open very limited hours. It is recommended to call in advance. Everyone from the poor to families in a crisis can get assistance from a free, local food pantry.
Alaska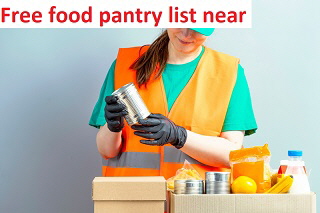 Arkansas
Nebraska
South Dakota
Wyoming
Additional support
There are many other local and/or regional places for free food as well. Charities, churches and non-profits partner with Feeding America and other groups om this. Anyone in need, regardless of their age, may qualify. Read more on food programs.