Emergency food stamps.
The USDA Food and Nutrition Service offers an emergency food stamp program for families or individuals that are facing a crisis. The goal of this service is to expedite the Supplemental Nutrition Assistance Program (SNAP) application process for those households that have no other options available to them. Beneficiaries of this service they may be able to receive their food stamps as well as EBT cards in a shorter, expedited period of time. Find how to apply for, and get emergency temporary food stamps near you below.
This is a bridge, or temporary food stamps type program only. Depending on the state where the applicant lives, it can assist the household for a matter of days or up to one month. Then, at the end of that time frame, the person will need to apply for the "regular" SNAP food stamp program near them. Emergency food stamps can help low income families in a crisis, someone who unexpectedly lost their job or had a reduction in hours, and the expedited SNAP program can help those in a financial crisis.
The application for SNAP benefits can be approved ASAP, in as few as 7 business days. This therefore means that the EBT benefit card can be provided to the client in a very short period of time. However the expedited SNAP food stamp program has its own application criteria, as noted below.
How to apply for emergency food stamps in a crisis
There are several qualifications that need to be met. These can be changed based on the state and also the United States Department of Agriculture may also modify the regulations. It is always recommended to call a local social service office for the latest information. However each state will need to review and either approve or deny an application within 7 days. The intake phone number is below.
The applicant for the emergency foodstamps needs to have a very low income. This will usually be around less than $500 per month, with a higher limit in place based on number of household members.
The family needs to have very little savings to their name, usually last than $1000.
Emergency SNAP is for households that are out of other options and that can't qualify for help from a charity, USDA food program, or state aid.
Identification is needed as well as proof of income.
Immigrants, migrants, refugees, the homeless, and seasonal farm workers with a very low income are often assisted.
Note that all applicants will be required to show proof of their social security number, immigration status, monthly expenses, disability (if applicable) and more. Most, if not all of this information may be required. If there is some documentation that is not able to be provided then the state government may still expedite the application to the emergency SNAP food stamps. This is done immediately at their discretion though and they are under no obligation to do this.
How much assistance is offered from expedited SNAP program?
The amount of assistance available from the emergency food stamp program is very limited. It is a stop gap service in that it provides temporary help so the family, or single mother or father can seek other aid. So the Electronic Benefit Transfer Card (EBT) will only be loaded with enough money to last for about 1 month. This time-frame will allow the family or even singe person time to seek other support.
Most of the people that use the expedited Supplemental Nutrition Assistance Program service will just be rolled over onto the long term SNAP program at the end of one month. Even when applying for this longer term regular benefit, the application will need to be reviewed within 30 days. This makes the application process more efficiency for people, especially the disabled or elderly that need temporary food stamps.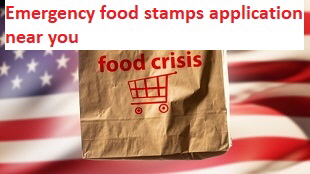 During that window of there there needs to also be some formal notice given to the person that states if they were approved or denied and for what reason. If the application is approved, the award letter should tell the family how much money they will be allocated each month.
The federal government created the emergency application process for a reason. However applications are processed by each state. That was to try to stop a family from going hungry. While expedited food stamps only give a small amount of assistance, the EBT card that the applicant will get can make a big difference in the lives of someone that is truly struggling and facing a crisis.
Emergency food stamp application phone number near you
Each state has a separate application process as well as requirements for emergency food stamps near you. The time-frame will vary as well, with some low-income, unemployed or poor families getting an EBT card with days and others within a week or so. The states, as well as telephone number for expedited ASAP food stamps are below.
Alabama - 334-242-1310
Alaska - 907-465-3347
Arizona - 1-800-352-8401
Arkansas - 1-800-482-8988
California - CalFresh food stamp emergency number is 1-877-847-3663
Colorado - Dial 800-536-5298
Connecticut - 1-860-424-5030
Delaware - 1-800-372-2022
District of Columbia - 202-671-4200
Florida - Seniors, disabled and struggling households should dial 1-866-762-2237
Georgia- SNAP food stamp intake number is 1-877-423-4746
Hawaii - 1-855-643-1643
Idaho - 1-877-456-1233
Illinois - The emergency EBT SNAP food stamps application number is 1-800-843-6154
Indiana - In a crisis, call 1-877-768-5098
Iowa - 1-877-347-5678
Kansas - 1-888-369-4777
Kentucky - Low income, expedited food assistance programs, including SNAP, are at 1-800-372-2970
Louisiana - 1-888-524-3578
Maine - 1-800-442-6003
Maryland - 1-800-332-6347
Massachusetts - 1-800-249-2007
Michigan - The emergency food stamp number is 1-855-275-6424
Minnesota - 1-888-711-1151
Mississippi - SNAP crisis number is 1-800-948-3050
Missouri - 1-855-373-4636
Montana - 1-800-332-2272
Nebraska - 1-800-383-4278
Nevada - The crisis number is 1-800-992-0900
New Hampshire - 1-800-852-3345
New Jersey - Phone is 1-800-792-9773
New Mexico - 1-800-843-8303
New York - 1-800-342-3009
North Carolina - Emergency Food and Nutrition number is 1-866-719-0141
North Dakota - 1-800-755-2716
Ohio - 1-866-244-0071
Oklahoma - 1-866-411-1877
Oregon - 1-800-723-3638
Pennsylvania - 1-800-692-7462
Puerto Rico - 877-991-0101
Rhode Island - 401-462-5300
South Carolina - 1-800-616-1309
South Dakota - 1-877-999-5612
Tennessee - 1-866-311-4287
Texas - The low-income, emergency food stamp application number is 1-877-541-7905
Utah - FSP program phone number is 1-866-526-3663
Vermont - 1-800-479-6151
Virginia - 1-800-552-3431
Washington - Phone 1-877-501-2233
West Virginia - 1-800-642-8589
Wisconsin - Emergency SNAP EBT FoodShare dial 1-800-362-3002
Wyoming - 307-777-5846
Federal government EBT emergency application process for a crisis
The federal government phone number to apply at emergency SNAP food stamps is 1-800-221-5689. This is in addition to the state telephone numbers above. It is available 7 days a week, 24 hours a day. It is an effective place to learn more about applying for SNAP food stamps near you in an emergency. Or for even more responsive service, call a local social service office in your town or state or information on USDA programs.
There are many other benefit programs for low-income families, the unemployed and others. Most can be combined with emergency food stamps to offer short term, immediate relief. Find additional government benefits, which include SNAP food stamps (emergency or regular), cash assistance and other public aid.
Related Content From Needhelppayingbills.com