Free government and hardship grant money to help with paying bills.
Find where to get government hardship or free personal grants. There are resources for low income families, single mothers, the disabled, the unemployed and others in need. The free money grants from the government or charities listed below give cash to help pay for housing, rent, utilities, a new car, medical supplies or even transportation costs. Or easy to get emergency hardship funds can help those seeking to start a business or pay for job programs.
Private foundations, states, charities and the federal government give away billions of dollars in real, free grants each year for anything. Learn more below on where to apply below for government money or personal hardship grants. Or another good place to learn about them or to apply is a local agency in your state or county. Find a listing of state as well as local assistance and grant programs.
Every year the federal government provides billions of dollars to various agencies (including many charities as well as non-profits) so that those organizations can give free grants as well as emergency cash to US citizens. A major focus of this free money is to ensure government grants go to households who are facing a hardship, such as the unemployed, veterans, or the low-income..
There may also be help given to newcomers as well, including refugees as well as immigrants. The goal is to help a recipient pay their bills or address any other needs. Whether it is an outstanding utility bill, a grant to pay for holiday travel, or free money for housing payment such as rent or a mortgage payment to stop homelessness, the organizations want to help.
Most people never even apply for free government money or a personal grant as they think it isn't for them, they do not know who to contact, or they think there is too much red tape. However, the truth is that people from all over the country, from all walks of life, receive free grant money as well as other financial benefits from the government. Most are for low income or struggling households. Or there are free emergency grant programs for single moms, minorities, women, students and others. How to find government grants.
Grants for free gasoline and cars
Several charities or government agencies can provide low income families, the elderly, or disabled with free gas to address a hardship. The vouchers or money is generally work work, education, or job training needs. Other organizations provide low income consumers with free cars, matching grants, or low interest loans for automobiles. Find a listing of free gasoline grants.
Free automobiles, or small dollar personal grants to help pay for a car, may also be offered. This form of support will be for applicants who need transportation for work. Community action agencies may provide this free grant money and some non-profits may also offer support. Find a free car from grant programs.
State government hardship grant programs
Many states will provide assistance that can be used to help pay bills and debts. While they may not be called grants, the fact is you can still get help. Almost all of these are targeted at low to moderate income families or the unemployed.
The government hardship grants are often income based. However anyone facing a hardship show know the free money is real, as all applications are processed directly by a government agency. Find more on state assistance programs or state grants.
Find free money grants that help with bills from charities
There are organizations and charities, such as Operation Round Up, that can help the low income facing a hardship or others with paying bills. That particular grant program covers energy costs. But there are literally hundreds of other charities that offer easy to get grants for paying bills. The funds can help either individuals or families. Find some of these organizations from charities.
Free grant money for personal use
You can get grant money to buy a new home, purchase a new or used car, repair an existing home, help pay bills or debts, travel the world, and much more. Many of these are real yet unclaimed.
There are also many other financial aid and cash grant programs that are easy to get that have been created just for the disabled, seniors, the mentally ill, veterans, and lower-income earners. Or find grants to help single moms with bills.
Examples of free, individual personal grants include the following. They all have application criteria, with some only for people in a hardship.
Mortgage Payments
Home Purchase
Help Pay Rent
School Supplies
Real Estate Taxes
Heating and Utility Bills
Childcare Expenses - Daycare. Or find Free Preschools Near You.
New Car & Fuel
Groceries. Find grants for food assistance.
Housing Assistance
Consumer and Credit Card Bills and Debt
Legal Services
Public Transportation
General Living Expenses
Lesson Payments
Grants to help pay telephone bills or provide free cellular phones
Tutoring
Minority and African American Grants.
Senior citizens will get free grant money from state and federal government agencies. There is SSI, funds to pay utility bills, money for food, vouchers and more. These hardship grants help the elderly and seniors over the age of 55 pay living expenses as they age. Find free money from the government for seniors.
Disability benefits
The Social Security Administration is the main government organization that provides free hardship grants, cash and financial assistance to the disabled. With studies showing that about one fifth of the population will file for some type of disability compensation at some time in their lives, the program serves as a safety net for the workers of this country. Assistance provided can include Social Security Disability Insurance (SSDI), grants for medical care, free money to help solve a hardship. There is also veterans compensation, SSI or Supplemental Security Income, and other government aid. More on disability financial assistance programs.
There are several other grant programs available from the federal government for a wide variety of needs. These are in addition to what SSA provides above. The financial support can help a lower income client with a physical or mental disability make it through an emergency and it also provide for long term stability. Find disability grants.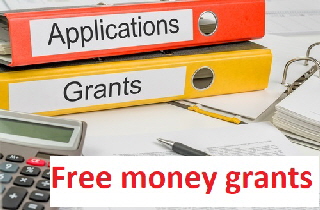 Energy and utility bill grants
Most utility companies and electric providers offer some forms of emergency financial assistance as well as crisis grants to their customers. They help keep the heat, water as well as electricity on. In many case a local non-profit agency or charity may run the grant program for the energy company or water provider. There are many options, including the low income LIHWAP water bill program.
Electric, gas, heat, and light bill grants are offered too. The grants are offered by either non-profits, state agencies or the utility companies themselves. Low to moderate income customers have different programs to apply for. Get a listing of state energy programs.
The main federal government personal hardship grant program is known as LIHEAP. This too can help very low income households, seniors or the disabled get their lights, heat, and power on. Many single mothers also receive these real hardship programs. Read more on government LIHEAP program.
Free government grant money for housing, food, mortgage and rent hardships
There are free money grants available from both the federal government as well as local charities that work focus on housing needs. Some of them will offer assistance with paying rent while others will address additional costs. This may include a grant to pay for household items, counseling, and anything the family needs. Find some resources that show families how to locate housing assistance.
Each year the federal government disburses grants to local charities and non-profits as part of the EFSP - Emergency Food and Shelter Program. While the scope of the hardship program is limited and not all communities participate, when it is available free grant money can be used to pay for a variety of basic needs. This can include a rent or mortgage payment, security deposits, moving costs, or food supplies. Read more Emergency Food and Shelter grant program.
Business grants
If you are thinking about going into business for yourself, or if you want to expand your existing company, you need to check out the governments biggest 'money-stop' (grant programs). There are numerous private and public organizations that help entrepreneurs (or business owners) as well as state government programs for small businesses.
They offer free money to expand or start a business, with funds allocated to the low income, female, and minority owned companies among others. The grants are ready to be giving to you by the federal government, state or companies to help start a business. The funds pay your bills, provide capital and help with debts during this period. Find a list of minority and women business grants by state.
With an economy that remains unpredictable, and with the nations overall need for even greater economic development in all states as well as inner cities that often have disproportionate Black and Latino business owners, the federal government is very willing to give you the funds you need to help own your own business. There are also business grants to help single moms pay their bills or women owned companies. Or minorities as well as immigrants can get entrepreneurial support.
If you are considering of expanding or starting a business, a business grant is the grant for you. In fact, companies like Intel, Nike, Amazon, FedEx, Compaq, and Apple all received grants and financial assistance when they were young. So it is more challenging to get money for your business, programs do exist.
The U.S. government absolutely understands that small business is essential to a healthy, vibrant economy. As a result, there are many grants available and also low interest loan programs that are available to help stimulate small business. This can be critical funding during a challenging period, the the money will help pay business related bills. As a result of the stimulus plan, the government even created a new interest free loan program.
Startup Expenses
Expansion expenses
Salaries
Business expenses
Overhead costs
Acquisition expenses
Loan and Equipment financing
Rent Payments
Employee training
Free business consultation
Military Service member grants
The military offers a Military Homeowner Assistance program that will help service members and their families with paying for housing. The program will help prevent a foreclosure, assist service members with homes in which the mortgage amount due is greater than the value of the home, provide them with moving assistance, and other housing aid. Continue reading about the Military Homeowner Assistance program.
Veterans and their families may also be eligible for rent assistance, security deposit aid, and eviction prevention services. Most of these use grants from a government agency known as HUD. The resource is commonly called the Veterans Affairs Supportive Housing Program rent assistance program. It provides cash grants, job placement, and other assistance to those who served our country.
The military also offers several free educational grants and professional certification grants for spouses of military members. They recognize that constant redeployment of military families can make it challenging to improve job skills, so this grant program was created to help. Read more military spouse opportunities.
Education grants
Both the federal and state governments want a more educated and technology oriented country. They will help connect you to the best sources for free scholarships, grant money, and also low interest, no interest, and guaranteed loans. Personal as well as educational grants can help women, teens or students, including from disadvantaged families, for for educational costs. In addition to education grants, learn how to get help with student loans.
Business or job training programs include the following. Students, low-income parents in a hardship as well as unemployed may be able to get help from these free programs.
Undergraduate School
Graduate School
Secondary School
Nursery School
Primary School
Preschool School
Medical School
Military Spouses
Child Care
Environmental Science
Business Management
Computer Science
Many other disciplines
There are many other employment oriented resources. Learn more about federal government education grants.
Health care grants
The government also helps those Americans who are in need of health or dental care or assistance with medications as well as paying for medical bills. The grant money will help a low-income or uninsured patient pay down their debts to avoid a bankruptcy. Find information on how to both improve access to care from a grant, get dental work or surgery, and to get help with paying your medical bills. In additional to grants, there are other ways to get help with medical bills.
Nursing homes
Prescription medicine
Alzheimer's disease
Sleep disorders
Stroke
Parkinson's disease
Alcohol and drug abuse
Mental and emotional disorders
Learning disabilities
Dental care, including dental implant grants
Eyeglasses
Free grant programs
There are many different types of free grants for people from all walks of life. Government funds can help low income families or certain types of people, such as the unemployed, women, men, or single moms or others. There are real government grants for families in a hardship or funds for personal needs, a business, or anything that the household needs.
While each and every free government money or grant program (as listed above) has its own application process as well as limited resources, and some are easier to get than others, it is possible to get help financial help or free items. using the list above. Or use search bar at the bottom of the screen to find a grant for what you need assistance with, whether personal, business, educational, or medical needs.
Related Content From Needhelppayingbills.com