Free child and daycare near you.
Learn how to get free daycare from government, non-profit or charity programs. Low-income families, single moms, and people who are working or in job-training will be able to get assistance in paying for preschool, infant or child care near them. Find government vouchers, charity programs as well as subsidies that help pay for daycare or that allow the parent to get, cheap, affordable services. Get details on low-cost or free daycare near you below.
While some of the financial help or subsidies are available based on a income-based, sliding fee scale, if the parent's income is low enough then they may be eligible to enroll into a free daycare program from a charity or the government. This includes programs from the YWCA, Head Start, and vouchers from the government CCR&R service. The exact type of free day or child care assistance near you listed by state below will therefore vary based on the applicant's income, whether they are working or in job training, a single parent or mom, and other factors.
Federal government Child Care and Development Block Grant funds are issued to states, non-profits and counties across the nation who administer the program at the local level. This assistance is made available to eligible low-income families and parents who are training for a job or that are currently working. Applications for free infant, toddler, preschool or baby daycare near you are processed through the numerous local agencies that administer these government grants.
Free subsidies, daycare vouchers and financial assistance is available to lower income families, including single mothers. Applicants need to meet income guidelines that are established by your state or the federal government. While conditions will vary because each state and non-profit determines its own eligibility requirements for families and applicants, the programs tend to be flexible. Almost every local agency will require the applicant to be working or, at minimum, in some type of job training program.
Free government vouchers and subsidies for daycare
State and federal government subsidized child care services are available from vouchers or grants that are issued directly to the providers. While funding levels will vary and are set yearly by regulators, millions of low-income families receive some form of cheap or free day care from a voucher or subsidy.
Some of the applications conditions for free or cheap daycare will usually include the following. Each state will set their own criteria though.
In general the low-income parent or family needs to be working or attending school a minimum of 20 hours per week.
The government daycare program will help pay for some or all of the child care costs to providers who meet certain quality conditions and other criteria.
The families that are successfully enrolled into the program are usually required to make a co-payment towards the total costs, however some parents will get free daycare or very cheap providers . The amount they need to pay will be based on the family size and household income.
Teenage parents as well as single mothers can also usually enroll, provided they remain in school and continue working towards their GED.
Daycare assistance programs will pay for kids of all ages, from newborns to toddlers or pre-school.
The federal government Office of Child Care, provides other resources too. This includes after school programs, free preschool for low-income families and information on daycare providers that offer cheap yet high quality child care. The agency works with each and every state, territory and tribal governments to provide support for parents, children and really their entire family.
If you need help in locating a subsidized or free daycare provider near you, this is usually available. Many counties participate in the Child Care Information Services (CCIS) program. Parents can get information on everything from how to apply for financial aid from the government to pay for daycare bills or free vouchers. Households can also get information on enrolling their young child, toddler, pre-schooler or newborn into trustworthy yet affordable child care centers that operate in their community.
The child's parent or guardian will usually be able to select a child or daycare provider that is licensed and that satisfies any applicable local as well as state government requirements. This includes the person or company selected needs to meet basic safety and health requirements. Many individuals are able to select from a variety of registered and licensed providers, including those that are sponsored by faith-based or Christian organizations that may engage in religious activities.
If CCIS is not an option in a certain state, then another name of the program may be the Child Care Resource and Referral (CCR&R). No matter which option a person selects, parents are able to call a toll free number to locate a provider near them that is licensed and part of any government subsidy program. Based on the client's income, the child care given to the parent may be free, or at least be very affordable. Find more tips on how to find affordable day or child care centers.
The government also works to improve the quality of care that is available to support children's healthy learning and development. They are heavily involved in improving the coordination of resources and agencies. All of this is done in an effort to allow states to serve families, no matter where they live, through a single, integrated child care subsidy program. This includes coordination with Head Start, pre-k, and other early childhood programs. It also involves resources from such public resources as Temporary Assistance for Needy Families, or TANF.
How to apply for free or affordable daycare
In many regions of the country, parents or the child's guardian can apply for cheap or free child care near them, including infant, baby or pre-school, by telephone, online or mail. State government contact information is below. Based on income and other factors, a determination will be made on how much the low-income family needs to pay for their day care cost and how much the government voucher will cover. If enough criteria are met, there will be no cost to the parent and everything is given to them for free. This is how the sliding fee scale works.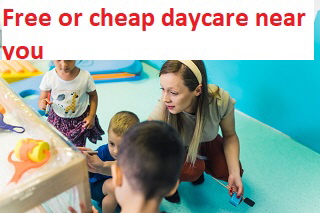 Head Start is a free government, early childhood development program for low-income families. It is a form of child care that can help parents. Get free infant, toddler, and preschooler childcare as part of Head Start. It provides medical, food, and other assistance to the kid as well. Learn more on Head Start for kids.
Charities also provide cheap or free child care to low-income families. Most of them are income-based programs, however some people may qualify for free daycare. This can include single mothers, women facing/fleeing domestic violence or abuse, and families living in/or near poverty. There will be every thing from after school to free preschool, help for newborns and more.
YWCA childcare assistance

- The national charity focuses on helping women, in particular low-income and single moms. They have many childcare programs, including cheap and free care in some cases. There is pre-school, care for kindergarteners, infant and newborn programs and more. There are centers nationwide, including most likely near you. More on YWCA childcare assistance.

Other

churches, charities and non-profits organizations

provide free or low-cost child care. The amount of help varies widely. Low-income families can apply to Catholic Charities daycare centers, Salvation Army after school programs, and others. Locate charity organizations near you.
In addition, families that need assistance in finding a quality, trustworthy and affordable day care provider near them from a local resource can get help with the process. Many towns and counties provide residents with access to a number of locater resources in addition to free government programs. The options include referral agencies that provide information about how to apply for subsidized preschool and maybe other types of child care assistance. Another option is a non-profit agency called Child Care Aware, and they can be reached at 1-800-424-2246 to locate a center near you.
Low cost or free government day and child care programs near you
There are many places near you for free daycare for kids of all ages, including newborns, pre-schoolers, a baby and others. Get details by state below for free government child care, cheap daycare and other financial aid. In general, the parent (whether married couple or single mothers or a dad) need to be working or in training.
Assistance is for people with no money, single moms or dads, teenage parents and others. The free or affordable day care will cover babies, toddlers, or infants - children of all ages. Find your state below.
Related Content From Needhelppayingbills.com