Help with electric or utility bills.
Find utility bill assistance for low-income families. There are a number of programs and organizations listed below that offer financial help with electric, utility, water or lights bills. Get help from government programs, charities, non-profit organizations and resources offered directly by companies. Locate grant money to pay electric or energy bills, find emergency help with utility bills from hardship funds, and get assistance paying a deposit to reconnect service.
Priority is given to seniors, the disabled, low income households and single moms. The goal is to help vulnerable households keep their lights, heating and electric on. Learn more on where to get emergency or long-term assistance for utilities below.
Emergency financial assistance for electric bills is provided by government programs at the federal and state level. There is also help for paying heating bills, including free or low cost fuel or oil, may be offered. In addition, utility companies offer payment plans, free conservation measures, credits, forgiveness and shut off prevention to their customers.
Non-profits, charities, and social service agencies may have limited cash assistance to help with paying electric and light bills. There are many other local organizations for electricity assistance as well, and find utility assistance near you.
Government utility bill assistance
The Low Income Home Energy Assistance Program (LIHEAP) Grant is funded by the Federal Department of Health and Human Services (DHHS). There is both emergency financial help and ongoing utility assistance. (Note the program goes by different names in some states). It provides two basic types of services as well as application processes.
Eligible low-income families, via local governmental and nonprofit organizations, will receive

financial assistance to pay for the costs of electric bills

for heating and/or cooling their home

LIHEAP priority applications are available for senior citizens

, people on social security and the disabled before others.
There are various income criteria based on the state. Applications for the LIHEAP program are usually processed by social services or community action agencies. These non-profits also have information on many other resources that may be able to help with paying utility bills. Get information on LIHEAP by state.
LIHEAP utility bill crisis programs

is an option for low income families that are faced with an emergency, such as a disconnection of electric service or that are very low on heating oil. Free government grants and financial assistance will be paid out directly to the energy company for the customer. The money will be expedited to households that are faced with a shut off of their electric or utility service. The funds may even provide grants within 24 business hours in some cases. Find how to apply for the LIHEAP crisis program.
The Weatherization Assistance Program will provide free energy conservation measures to help people save money on their utility bills. The benefit is for those in need to help improve the energy efficiency of homes. Some services included are free weatherstripping, wall or attic insulation, minor home repairs, windows, and furnace tune ups. There may be other related energy saving measures that will help people lower their electric bills and save money. More on weatherization assistance.
Regulations on Heating and Utility Disconnections are available in most states. The government has laws that regulate when an utility company can disconnect a customers service. Typically they state that companies can't disconnect power during the cold winter or hot summer months. Families with children, including single mothers, often have additional laws protecting them, as well as if the customer has a medical need. Learn more on utility disconnection laws.
Telephone and Internet Assistance Programs are part of utility bill resources Low income families, seniors and the disabled will receive discounts on their monthly phone bills from Lifeline or Link-Up. Or they will get free cell phones, tablets, or even savings on their high speed cable Internet connection. Some of these services are combined with other electric bill programs as well, such as LIHEAP, so a customer will automatically be eligible for them. Continue reading on telephone and internet programs.
Furnace, HVAC or Heating System Repairs are available. Community action agencies, government grants and utility companies have various grant programs to help low-income families fix a HVAC, cooling or heating unit. The financial help is for various expenses, and the money provide for the repair or replacement of an HVAC unit, furnace, heating system and other equipment.. Read more on repair to HVAC or Heating systems.
Free air conditioning units and window fans are given away during the summer months. The assistance is usually provided as part of LIHEAP or charities such as the Salvation Army provide them to low income families. The free AC units are often combined with emergency utility bill assistance to help keep a struggling family cool. Most of the systems are given to senor citizens, the disabled, or low income single mothers or parents. Find details on free air conditioners.
Get help to turn on electric service. Once a shut off has occurred, it can be difficult for customers to reconnect their utilities in a timely manner. This is especially true of very low income families with limited or no money available to them. There are emergency financial assistance programs that households can use to turn on their power, whether it is lights, electric, or heat. Find how to get help to turn on utilities.
Financial help for bills offered by utility companies
Utility Company Assistance Programs help people with no money or a low income. Most utility companies and energy providers located around the nation provide their customers with a large number of financial assistance programs. The resources range from cash grants to credits on an account for any bills in arrears and weatherization options.
Or there are payment plans, forgiveness or unpaid utility bills and hardship funds. Programs are even offered by utility companies themselves. Find a list of utility company energy assistance programs.
Free Home Energy Audits

from utility companies are available to anyone. Many utility companies will offer these as a free service, or provide it for a very low fee. These audits will help a homeowner identify where their home needs to be improved or updated in order to help reduce their energy usage. If an audit identifies an area that can improve, some utility companies will even contribute towards the expense that is incurred to fix the home, if the customer meets their income criteria. Find where to get free energy audits.
Assistance paying air conditioning bills and summer electric bill help is a focus. Many states, in particular those in the south and west, provide financial assistance during the summer for paying cooling and electric bills. Emergency cash assistance, grants, and more may be offered, such as free box fans or AC units. Locate summer electric bill assistance.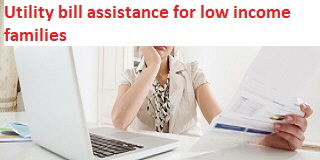 Financial assistance with paying water bills is part of the available utility programs. Many companies offer payment plans, rebates, or financial help. There are also government grants from the LIHWAP (Low Income Household Water Assistance Program) as well as emergency funds from charities. Learn more on the options that you have for water bill help. Companies also provide free audits that can reduce your usage.
Heating bill help is available in most cold weather states. The government, utility companies and non-profits all partner together to help low-income families stay warm and/or keep their heat on. Hardship funds will help with everything from electric heat to propane, natural gas and more. Get help with heating bills.
Charity
organizations that provide electric or light bill help
Community Action Agencies are local, non-profit organizations that help the low-income, poor, unemployed and people in need. These organizations often administer as well as accept applications for various energy assistance programs, including LIHEAP. The agencies can also refer you to additional resources in your local area. Read more on how to get utility bill assistance from community action agencies.
Electric assistance from churches is an option. Many faith based agencies will help people, such as the unemployed or vulnerable, with paying utility or heating bills. Funds are limited, and generally only partial payments are offered in an emergency. Locate utility bill help from churches near you
Dollar Energy Fund is a charity run energy bill assistance program. Several states, including WV, TN, PA, OH, MD, CA, TN, CT, TX, KY and VA participate in this charitable program. The service relies on donations. Hundreds of thousands of people have received grants for paying their utility as well as heating bills from the Dollar Energy Fund.
Free Legal Assistance to stop utility disconnections are an option. Most states have non-profit law firms as well as free, pro-bono lawyers that will advise low to moderate income individuals, the elderly, and disabled on their legal rights when it comes to utility service disconnections. There is priority given to people with a medical condition or that are elderly. Attorneys offer free consultations, and will do what they can to help the low-income individual keep their power and lights on. Find how lawyers provide free legal advice.
Operation Roundup is an assistance program offered by many utility companies. They will provide cash grants to help pay utility, heating, light, and other bills. For example, some low-income families can even get help with rent, medical expenses, or food. Many utility companies and non-profit cooperatives offer this program, and learn more on Operation Round Up.
Prevention programs also focus on customers that have a disconnection notice from their utility company or that are close to receiving a shut off notice. Some programs are government run others are available at local charities. Shut-off protection plans helps with everything from electric to heat as well as light bills, and many low income families can get their service on. More on resources to prevent utility shut offs.
Salvation Army electric bill assistance from local centers is available. Low families in a crisis can always turn to this charity for financial help for paying utility, electric bills or referrals. The Salvation Army Family Emergency Services and Social care addresses basic human need by providing a "safety net" for those who need help paying bills and have nowhere else to turn to. They will provide free fans or AC units, utility bill assistance and also referrals to other places for emergency help.
Case workers at the Salvation Army help prevent homelessness through crisis intervention. Since having power shut off is one form of homelessness, the agency may be able to give emergency help with paying electric or water bills too. Contact your local Chapter for more information. Find more information as well as a listing of Salvation Army.
Energy Saving Tips from non-profit organizations are effective. Find the best ways to save money. These mostly free energy saving tips from top publications and non-profits can help people reduce their annual expenditures on their utilities. Households can easily lower their energy bills by 10-40%. Find how to save money on electric bills.
Assistance for light, electric or utility bills
States have their own assistance as well, whether from utility companies or the government. The organizations offer help with utility costs. Funds, whether hardship grants or from or money from a charity, are short term solutions to help pay an electric bill. The programs are local and applications are often provided by a utility company or a partner charity organization. To learn more on how to apply for funds, find the state focused agencies and electric bill assistance programs below.
Need additional utility bill assistance?
There are other places for low income families turn to for emergency or longer-term help for utility bills. Send us an email to info@needhelppayingbills.com Please include your state and county. This information is needed in order to send a reply to your request for energy bill help. Or register in the community forum (link below) and we will reply to your message for utility bill help there.
Related Content From Needhelppayingbills.com