Section 8 housing near you.
Find how to get help from Section 8 housing near you. The federal government funded HUD voucher program is for low income families, the disabled, single moms, veterans, single people and seniors. All of the low-income housing, homes, and apartments to rent are income-based. Find how to apply for a voucher, get more information on the requirements as well as locate section 8 qualified houses or apartments for rent near you.
The Department of Housing and Urban Development (HUD) sets the requirements for section 8. There are apartments or homes that do not have an application fee or security deposit needed and that also take borrowers with bad credit. The Section 8 housing choice voucher program (HCV) also does not require credit checks from applicants and there are online applications as well as no-wait list houses for lease.
Section 8 income based housing
Section 8 provides income subsidized houses as well as homes in the private rental market while some landlords offer luxury apartments to tenants. Many private landlords and apartment communities participate in this HUD program. There are also Section 8 rental units near you for the disabled as well as senior citizens who live on a limited income or social security, including no-wait list housing. As part of the HUD process, the apartments will not have application fees and the homes to lease are no credit check properties.
Applications to Section 8 are available at the local state, city and county level as well as online. They will be processed by various government agencies, public housing agencies (PHAs or HAs), and also non-profit organizations. Applicants who are accepted into the Section 8 program will receive free vouchers which subsidize the cost of their total housing expenses and monthly rent. More information on how and where to apply for a voucher near you is below, listed by state.
The funds can pay for all different types of homes, including apartments, condominiums, town-homes, mobile units, luxury apartment communities, pet friendly houses and even a home shared with a family member. There may be information given from a PHA on how to apply for emergency Section 8 vouchers or no -wait list homes as well, as this is possible in some states.
The service is available across the nation, with toll free numbers and online applications for section 8 housing available as well. Low income individuals and families, the elderly, senior citizens, single adults and disabled are the main recipients of Section 8 housing voucher. There may also be applications taking from immigrants as well as single mothers or dads as the benefit does not discriminate based on age, race, or religion.
How are section 8 vouchers distributed?
A local housing agency in your area near you will be tasked with running Section 8 and distributing funds. They also partner with non-profits, private landlords, apartment communities and the government to help ensure adequate section 8 qualified housing is available in the community. If you apply to the program and are accepted, a housing subsidy payment will be paid directly to your private landlord by the PHA or agency near you that operates the voucher service.
The voucher will pay any rent costs due to the private landlord or property owner above 30% of the applicants adjusted total monthly income up to an established limit, which may vary based on the state or other Department of HUD Section 8 program terms. The family, or single adult, then pays the difference between the actual rent charged by the landlord and the amount subsidized by the Housing Choice Voucher program, with some recipients even paying for luxury homes with section 8. Therefore, the government pays some of the rental expenses, and the participant is responsible for a portion as well.
Types of section 8 apartments or homes near you
Families on the section 8 housing choice voucher program have flexibility in where they live. The Section 8 housing choice voucher program places the choice of where to live and how to find housing in the hands of the family or individual who is applying for the voucher. The applicant should always be sure to budget though to ensure it is affordable and that they have enough money left over for food, utilities, and other living expenses. As HCV is limited in funding and resources, and tenants will still have other financial obligations they are responsible for.
A very low-income family, a disabled individual, or senior citizen that is selected by the PHA to participate is encouraged to consider several different apartments to live in. The Section 8 voucher can pay for a supportive housing unit for an elderly person, or it can pay for handicap accessible units or a pet friendly apartment near you. The applicant should always review all choices to secure the best housing for their family needs.
The maximum amount paid by HUD is also market driven. Applicants do have flexibility and options available to them based on whether they live in an expensive state or one with a lower cost of living. The PHA will make this assessment each year, and the range may increase or decrease annually. There may also be a home visit done to ensure the home is safe to live in. The payment from Section 8 will usually be able to pay the rent for a moderately priced dwelling unit in the local housing market of the applicant.
People on section 8 can also move and keep their voucher. They can relocate to another town, city or even state. This is known as "porting" the HCV, and it allows low-income families to move for work, personal or family reasons. Read more on section 8 portability.
While each states program may vary slightly, in general the clients rent payment made to the landlord will be based on the applicants total household income. It also takes into account the amount due per the lease agreement place with the property owner.
Section 8 housing provides various forms of support to low-income renters and even homeowners. This housing assistance is issued primarily in the form of long term rental subsidies that will help pay for an apartment or other type of property. The voucher can help help a low income family purchase a home too. Applicants can even select the type of home they want to live in. The Housing Choice Voucher Program (HCV) will have the effect of limiting the total monthly rent payment that needs to be made by the recipient. Or find how section 8 help families buy a home.
Some families that currently receive section 8 vouchers may want to move to the suburbs, or maybe to a safer apartment in a community with better schools or that is closer to their place of employment. The HUD Small Area FMR program can help with this. This government benefit will pay the tenant more money to address an increase in rent of a better home near them. Some clients may even get help with paying energy bills from the HUD voucher. More on the Small Area Fair Market Rents program.
Apply for Section 8 vouchers near you
Find your state below and who to contact to apply for section 8 near you. Or apply online at HUD or a Housing Authority near you. The voucher program is a free Federal government funded benefit that is administered nationally by the Department of Housing and Urban Development (HUD). However, the housing assistance program is administered at the state and county level in your area by public housing authorities (PHA) near you.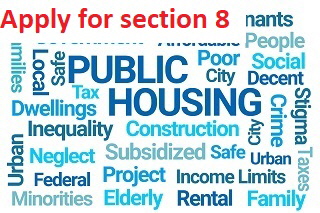 A staff member can show a family how to apply either online or offline for a Housing Choice Voucher. Or, in some parts of the country, it may be run by other designated agencies and organizations, such as social services or community action agencies.
Many states have waiting lists in place, which can be found online. It can take years for someone to be accepted into the Section 8 Housing Choice Voucher program in their area, even longer for a luxury apartment from a private landlord. All different types of properties can be rented. Look here for luxury apartments that accept section 8 vouchers.
The applicant can have their name moved up the Section 8 waiting list. There can be priority given in some situations so that an emergency section 8 housing choice voucher can be issued to pay the rent on a home, income based house or apartment. Generally, this priority placement assistance is for the disabled, low income senior citizens, women fleeing domestic violence, or veterans. But other scenarios may apply as well. However, find more details on emergency section 8 vouchers.
Several different criteria will need to be met in order to be accepted into the Section 8 housing choice voucher program. Be prepared with documentation. The PHA or agency that you apply to near you will collect information on family income, composition, residency, age and total household assets. Note Section 8 housing is available with no credit check needed and people with bad credit can get a voucher too.
If a family has no income and savings or bad credit available to them, they can also apply for section 8 housing near me or them. There are instances in which they can live rent free in an government subsidized home or apartment. It is part of what the US Department of Housing and Urban Development provides to very low income families as well as eligible immigrants that are threatened with extreme poverty. Learn more and find how to live rent free.
Select your state below. All of the Section 8 Public Housing Authorities (PHAs) are listed by city, county, and region. They will offer everything from information on low income, rent subsidized apartments to how to get applications for Section 8 Housing Choice Voucher near you or online. Note most areas do have long waiting lists for this HUD funded program.
Additional Section 8 housing services
Individuals who receive assistance from the government, including the Section 8 Housing Choice Voucher Program, can receive a number of free services that can help them get back on their feet. There is case management, job finding, credit repair as well as counseling. The programs will help them become self sufficient over the long term. As it is very likely that a section 8 voucher will expire after a certain number of months or years.
Most states offer individuals a Family Self-sufficiency Program, and this is a major component of the section 8 government housing vouchers. It is so common that the service is often mandated. Participants in the self-sufficiency program can receive free services that range from credit repair to help finding employment or grants to pay for educational or job training. Read more on how this Family Self-sufficiency Program can help clients deal with a financial hardship.
There are also government housing vouchers for the disabled, known as Section 811 vouchers, near you. If you are disabled, or have a member of your household who is, this federal government housing assistance program may be able to help, including with people with no money or bad credit.
This Section 811 housing benefit will provide vouchers to pay the rent or security deposits for handicap accessible apartments. The program is funded by the United States Department of Housing and Urban Development (HUD), but is is administered by local public housing authorities and non-profits near you as well. Find more details on housing assistance for disabled.
Senior citizens as well as the elderly can get help in the form of housing vouchers as well. This HUD resource is known as Section 202 and is focused on low income senior citizens and the elderly. It can also support their caregivers or spouses if they have one.
It is similar to other benefits in that a local PHA near you will offer free vouchers that can be applied towards monthly rental expenses. Other Section 202 services will help seniors with paying for their basic needs and living expenses. Online applications are available, including to get on the waiting list. Find details on senior housing from section 202.
Security deposits and first months rent for Section 8 housing assistance can be provided near you. While the private property owned or landlord may not always charge this fee to low income families with a Section 8 HUD voucher, when they do it can sometimes be difficult for the renter to come up with the needed cash to make this payment for an apartment or home.
The funds are limited though and the application process is stringent. The HUD section 8 housing choice voucher program will generally not pay for a tenants security deposit, but as noted this can vary by state and funding levels. But there may be resources that can offer help for those who make it off the waiting list.
There are some different assistance programs and financial resources that may be able to help a section 8 recipient pay any security deposits or first months rent being charged to them. The rules of the funds may also help them turn on their utility service as well. Find how to apply for section 8 security deposit help.
There are other options for income subsidized housing as well as well as section 8 applications near you. In general, the applicant needs to be close to or have an income below federal government poverty guidelines for these HUD programs. Find details and lists on additional application sites. There is also a customer support center set up for anyone that has further questions or that needs referrals, and that phone number is (800) 955-2232.
Related Content From Needhelppayingbills.com