Public assistance programs and government benefits.
Most states and local government offer public assistance programs to families in poverty, low-income families, and working poor. Find public benefit programs, including by state, below. The goal is always to address the immediate crisis and to help low-income families access the government benefits or public aid they need near them, such as a grant from a local Department of Human Office or Children Services.
Depending on the state you live in, and the exact federal government benefit programs available, public aid can usually be provided in the form of cash or an EBT card. Low-income households will get vouchers, grants or electronic debit cards that can be used to buy essential items. A wide variety of household bills, transportation, and basic needs are covered by public aid. Each federal or state program will have qualification in place that need to be met by applicants.
This will usually involve

public assistance programs being given to households

that fall within both income and total household asset limits.
Or the

applicant to public aid or benefits needs to be unemployed

.
Other

government aid in the form of grant money

is for the disabled, elderly, singe moms, or the homeless among others.
While public assistance is usually administered at the state level and is funded by taxpayers, people will normally need to apply for help at their local human services or Department of Social services office. A local community action agency will also be a great resource in explaining what public assistance is as well as how to get it. Contact information for each state and government benefit near you is below.
Food benefits and public assistance to stop hunger
SNAP, or Supplemental Nutrition Assistance Program:
The federal government resource is also commonly called food stamps and it may be the nation's most widely used public assistance program near you. It provides needy families with the ability to buy groceries and food at authorized retailers, and beneficiaries will be provided an electronic EBT card to make these purchases. More on SNAP food stamps.
Commodity Supplemental Food Program:
The United States Department of Agriculture offers food items to seniors over 60 years of age, infants, children under six years of age, as well as mothers up to one year postpartum. The Commodity Supplemental Food Program mostly gives staple and food commodities to the low income or individuals in poverty.
Emergency Food Assistance Program:
Low-income individuals can receive free food from TEFAP, another USDA resource. It can include canned goods, a bag of groceries, or hot, healthy meals. Read more on TEFAP emergency food.
Women, Infants and Children (WIC):
This USDA program can provide supplemental food to pregnant or breastfeeding women or free formula to infants or children under 5 years of age. The government will provide vouchers or checks as part of Women, Infants and Children, and these can be used to buy baby formula, nutritious food, and other items to women and children.
Energy assistance
Low Income Home Energy Assistance Program:
Most states offer this federal government program for low income families, including families with young children, the elderly and disabled. Grants can help pay heating bills, cooling expenses, and a crisis component can prevent a disconnection. Find how to apply for public grants from LIHEAP energy assistance.
Weatherization:
If you have excessively high utility bills, the program will help people save money on their heating bills. The enhancements to a residence can also address some minor health and safety needs of a home. The weatherization program will assist families with permanently reducing their energy bills
Discounted or free telephone or internet programs:
States as well as the federal government offer resources to help pay the increasing costs of phone bills, with a focus on cellular units. There are two main services available. The benefits from them vary, but the options are as follows.
There are programs for people already on public aid. Families that are currently receiving benefits, such as food stamps or LIHEAP for their energy bills, will often automatically qualify for a free government phone.
States also offer discounts on monthly service charges or deposits to establish service. These public assistance programs vary by state but will help households save money. Find how to get public assistance for paying phone bills.
The FCC, working with telephone and cable companies, offers families who receive public assistance free or low cost computers and internet service. The goal it to help students and adults have internet access for school, job training, work, and other needs. Find details on applying for discounted internet service from the Affordable Connectivity Program.
Public health care benefits and medical assistance
Medicaid:
Health care and government benefits are offered to low-income families who either have inadequate medical insurance or completely lack coverage or the unemployed. While the federal government sets some guidelines and regulations on this public benefit, your state administers Medicaid and determines eligibility conditions. Find a listing of free health and dental care programs.
Medicare:
This is the primary federal government health insurance benefit program. The main recipients are people over 65 years of age as well as individuals under age 65 with certain disabilities. Most seniors sign up for the Medicare public insurance program as soon as they meet age limits. Call 1-800-633-4227.
A discount drug card is available as part of Medicare. If you use the card when you buy your medications, patients can receive up to a 20% savings on their medications, whether they are generic or brand name. The card may have a minimal annual fee of up to $30 per year; however qualified low income families can have that fee waived.
Prescription drug coverage:
Certain Medicare beneficiaries can also sign up for this program. It is an insurance program that helps lower the costs of prescription medications. Consumers have the ability to select their plan based on the monthly premium and benefits offered.
Some of the assistance is offered as part of a Private Fee-for-Service Plan, which means it is run by an insurance company. Clients will still need to pay a portion of their prescription drug costs. Free prescription programs can include vouchers, coupons, and public aid.
Funeral, burial and cremation help
Many state and local government provide this, for free, to the very-low income or indigent. Free cremation is offered to the poor, indigent and uninsured from public aid or charity agencies. Governments try to ensure each person is cremated and/or buried in a human way. Locate funeral or cremation assistance.
State Children's Health Insurance Program:
Most states offer this public health care coverage to children whose parents lack adequate medical insurance. It is offered for families whose income is too high for Medicaid, but who still can't afford to pay their medical bills or for private health insurance. Learn more on CHIP health insurance.
Cash assistance and free public aid vouchers
The emergency cash assistance from a local social service office will be time limited and require case management, budgeting, and come with employment goals. In general, public aid will only be be provided to them while that process is underway. After all, the objective of any type of government benefit is to ensure people become or regain financial stability.
Child and day care:
The federal government provides block grants to each and every state in an effort to subsidize child care expenses. The public aid is for low income, working parents, single mothers or those in school or job training who meet the qualifications of the program. Most states do have a waiting list for day care vouchers. There are also a number of conditions that need to be met by parents who are applying. Find government assistance for child care needs.
Disability assistance:
Individuals with a short or long term disability can receive financial aid from several government and public assistance programs. Some form of compensation and grants may be provided from SSDI, vouchers are available for paying rent, and a number of other basic needs can be met, such as proving the applicant low cost medications. Applications for disability assistance will be processed by a local social security office.
Temporary Assistance for Needy Families (TANF):
This public assistance program is run at the state level, and it can provide cash assistance to needy families. Funds can be used to pay for basic living expenses such as food, rent, utilities, and medications. It also requires parents undertake job preparation, work, and marriage. Local Department of Human Services (DHS) offices process applications for this government benefit. Cash assistance from TANF helps pay a number of household expenses.
Social Security Disability Insurance Benefit and Supplemental Security Income (SSI):
Cash assistance is paid out to people who are unable to work because of a disability that has lasted for at least 12 months. In order to apply, the person needs to have earned enough credits from the social security program. One of the primary government financial assistance programs. It provides a monthly cash stipend to the blind or disabled, individuals who are at least age 65, and who meet income and asset conditions. Call 1 (800) 772-1213.
Appeals for Denials:
Families that are denied access to public assistance can get help in appealing the decision. Lawyers or advocates can assist low income families as they try to receive the cash aid, food stamps, housing, or other benefits that they are entitled too. Find help with public assistance denials.
Public loan programs:
The federal government may issue loans to some families as part of their public assistance. Funds may help the disabled while they wait on a SSI check, support senior citizens before they receive social security retirement funds, or pay for other bills such as home or car repairs and others. A number of agencies can be involved in providing government loans to needy residents.
Public housing near you and rent assistance
Section 8 housing choice voucher:
Rental assistance and government subsidized housing is available to very low-income families. It is administered at the county level by Public Housing Agencies (PHAs). The program allows many people the ability to afford safe, decent, and sanitary public housing. Continue with HUD section 8 vouchers.
Housing counseling:
Free or low cost advice and consultations are paid for by the federal government HUD organization. Renters and homeowners can get support with foreclosure prevention, buying a home, renting, defaults, credit counseling issues and reverse mortgages.
Government job programs
In order to get any public aid from the government, most states offices will also require that beneficiaries in any public or government assistance programs be actively seeking employment. This can mean they need to be undergoing job training, attending classes and be aggressively looking for work. They will also need to find a job within a defined period of time in order to receive money from the government.
Employment services and job training:
Organized by both federal and state governments. Government benefit programs can help individuals who are developing work skills or trying to find a job. Some resources can help people find a job, offer individual skills assessments, provide referral and placement assistance, and also reemployment services to unemployment insurance claimants. Dial 1-877-US2-JOBS.
Adult education and career services:
Individuals who are over 18 years of age can counseling, education services (such as GED), help in developing an individual employment plan, and training. Other government programs provide transportation services and public assistance programs can also help pay for childcare. Call 877-872-5627.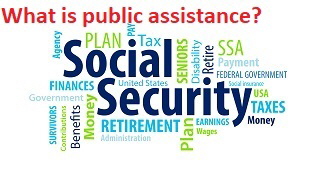 Senior Community Service Employment Program:
Low income people who are at least 55 years of age can qualify for SCSEP. Participants can receive a part time job, the income that comes with that, training, and possibly even other government benefits. More on the senior employment program.
One-Stop Career Centers and the Workforce Investment Act (WIA):
Supports job seekers, businesses, and even people who are currently employed. The centers can help clients obtain employment and apply for free job training workshops and assist businesses with finding qualified employees. Access career counseling, job search and job placement assistance services, grants to pay for learning materials, education, and other employment resources. Workforce investment is part of the One Stop Career centers.
Other public aid, social services and government benefits
Programs for children and students:
The Early Head Start program (which is for infants and pregnant women) as well as Head Start (for children up to age 5) can help children prepare for school and provides other social services. Receive other public assistance such as comprehensive educational, nutritional, food, and health care. Child care can also be provided too. Get more information on Head Start programs.
Free income tax filing:
Those who can't afford to file their returns can use the Volunteer Income Tax Assistance (VITA) program. It offers free advice and income tax help to low income individuals and senior citizens who cannot afford to pay for professional assistance. You can also E-file your state and federal income taxes for free in many states. Learn more on filing for income tax help.
Public assistance for single mothers:
The federal government has public aid that helps parents, with a focus on single moms, that have no money. A wide variety of social services, grants, hunger prevention as well as housing programs are offered. A major focus is on ensuring the kids have a health and safe environment to reside in. More on public assistance for single mothers.
Government and public assistance near you by state
There are public assistance offices in each state, as noted below. Staff from each office can go over the details of the local assistance near you as well as any government benefits. Case workers can also answer questions on who funds the public aid as well as provide further details on what it is and how to apply.
List of public aid and government benefits
Every state, city, as well as county offers some form of public benefit to low income families, those living in poverty, or households facing a short or even long term crisis. There may be job programs or cash assistance to the unemployed or disabled, or other public or government aid to the elderly or someone on medical leave or households in any other number of emergencies. Benefits from the government are for the unemployed, workers that have had their income reduced, or even immigrants. Read more on public benefit aid in US.
More information on the public assistance programs near you can be found by contacting and applying at a state social or human service office. Taxpayer funds pay for these benefits, and low income or struggling households can get the help they need from government aid.
Related Content From Needhelppayingbills.com
Charities that help with bills