Get financial help immediately.
Locate financial assistance from government agencies or non-profits that work together to offer immediate help to families or people in a hardship. Struggling households will find assistance to pay their utility bills, funds for paying medical expenses or health care costs as well as rental payment funds. There are also various free food or transportation programs, housing services, as well as support from charitable as well as government financial resources. The goal is to address a crisis ASAP. Below are programs, by state, if you need financial help immediately.
Families, single parents (mom or dads), the unemployed and working poor will get access to social services. There is also free emergency financial help, grants or government money issued from community action agencies or local partners. This is in addition to the immediate hardship resources from county, state, as well as government organizations.
Every now and then hard working people will experience a financial hardship and need money immediately, even today, from the government. Any family or individual that is struggling should never hesitate to research their local state or county government listed below to see what assistance programs they have. Contact a local agency near you to learn about what type of financial help they can provide immediately.
Financial help that covers multiple states
Rent help from assistance programs is available from a number of sources. The federal government has a wide variety of housing assistance programs, including HUD approved agencies, that assist families in need. There will be money for HUD vouchers for paying rent, security deposits, moving costs and the government assistance will also help to prevent evictions.
Also, find a variety of additional low income family assistance programs that will help meet other needs of struggling families. Many of these are coordinated by the federal or state government, and they offer loans or other forms of financial support to the needy. Everyone from the working poor to households living in poverty can get help from the government. Find details on low income assistance programs.
Another option is the HUD created Housing Choice Voucher Program. It provides very low income families, including those with past evictions, access to affordable housing. The homes will be income based, and the government arranges public housing for the poor, disabled, and elderly. Learn more on the Section 8 housing assistance program.
Disability assistance is administered by most state governments. Benefits are provided to individuals or their caretakers. They will be able to apply for free food, health care, cash assistance or government money help from SSDI, transportation, free grants for home repairs or modifications, and more. Both state and federal government funds can aid the disabled. Find disability financial assistance programs.
Human or social service offices provide support. Staff from the government centers can direct very low income, unemployed, or families living in poverty to financial help or hardship programs. There are local and state resources for everything from housing to food stamps, grants from TANF, affordable child care, and other sources of money. Locate public assistance programs.
Government sponsored welfare programs are available nationally as well as locally. These tend to be for families living close to or under poverty guidelines as well as vulnerable households. They offer federal government grants, financial help as well as cash aid to beneficiaries. More on welfare benefit programs.
Financial programs from the government immediate relief to single mothers who are in a hardship. Everything from cash grants to food programs, housing, self-sufficiency and other benefits are offered. The goal is to offer immediate relief and long term stability. Find government assistance for single mothers with no money.
Government mortgage and foreclosure assistance is available. Any homeowner that is looking for free mortgage or foreclosure help as well as counseling from their state or a local non-profit HUD agency, they can find out more about state mortgage and foreclosure programs.
Financial assistance is immediately offered from utility companies. Most state regulators mandate that energy companies provide immediate assistance. Most utility, gas, and heating companies offer low income customers access to some form of emergency financial help. This includes government resources and free weatherization programs that can help individuals pay their bills or save money. More on energy assistance.
Telephone assistance programs allow low income families the ability to save money on their phone bill, whether a land line or cell, as well as installation costs. Options range from Lifeline to resources for the disabled or elderly. There will also be heavily discounted or free cellular phones distributed from a federal government funded program. Find details on telephone assistance programs.
Water bill assistance programs are available from the federal government LIHWAP program. There is also financial help immediately offered by charities as well as many local government or privately run water companies. Many providers provide struggling households with payment plans as well.. The companies also offer their government supported, grants and other form of financial assistance for paying their water bills. They are the Low-Income Payment plan, rebates, the H2O - Help to Others and referrals. Find help paying water bills.
Federal government grants are provided to states and local governments as part of low income energy (LIHEAP). Those agencies then provide the funds to community action agencies or local social service agencies that process applications from low income families, the disabled and senior citizens. The grant money is used to help pay utility bills ASAP to help people keep their service on. There are funds for utilities including heating, gas, and electric, as part of LIHEAP.
Free weatherization programs are also available nationwide. Every state as well as local county government provides qualified residents with home improvements and savings on their energy bills as part of these conservation measures. The federal government DOE created energy bill assistance program can also address any minor health and safety issues that the homeowner will be facing. Continue with weatherization services.
Government medical care and immediate prescription assistance
Medical bill assistance is offered from state government hardship programs, pharmaceutical companies, local health clinics, and other businesses. There are also federal government backed health care programs, ranging from Medicaid to CHIP and others. Many organizations provide consumers help with medical bills.
Prescription drug assistance programs are offered by many states, the federal government, companies and organizations. They can help people across the country receive free, or heavily discounted, prescription medications. Patents, including the underinsured, can often receive a voucher or a discount card or financial assistance to pay for the medications. Find free prescription drugs.
Government funded medical clinics operate across the country. Every state has health care centers and sliding fees community clinics that offer free or low cost medical as well as dental care to patients, regardless of their ability to pay. They can help adults or children with their health or dental needs. Get more information on these government supported community health care clinics.
Find immediate dental care from free clinics. Many individuals do not have access to quality, affordable dental care. Private insurance plans will not provide the coverage that people need. Find a listing of dental clinics in your town and county. Many accept both state or federal government assistance and public health insurance for payment, as well as private plans. Or they offer free care to the low income, and find a free dental clinic.
Free or low cost government health care programs are administered by states, local non-profits, as well as the federal Health Resources and Services Administration (HRSA). The locations provide free or low cost medical care, even to the under and uninsured. Checkups, treatment, prescriptions, immunizations, and other services are available. More on free or low cost health and dental.
Immediate food assistance from state and federal government organizations
Free food from assistance programs are offered by the state as well as federal government. Resources are also offered by local charities, non-profit organizations, and churches that partner with the government. All of these agencies provide free grocery food assistance immediately as well as groceries to those in need.
Food banks and free pantries also help people today as well as millions of people per year. Many struggling families receive free food, hot meals and groceries from these non-profit run pantries every year. These centers help the low income, unemployed, working poor, and others make it through a difficult period. Many offer other forms of aid as well, such as clothing. More on food banks.
State government affiliated agencies for financial help
Charities, churches and other organizations that offer financial assistance or small amounts of money from the government can sometimes help you with paying bills or debts. Non-profit agencies, many of which are partly government funded, can provide rent help, run emergency shelters, offer free medical care, and provide other assistance to those who need help. Find financial help from charities.
Community Action Agencies are local nonprofit and public organizations that provide many services to those in need. The organizations will offer utility bill assistance, applications for public aid, job training, government money, help with paying rent, financial counseling, and other activities. Many local agencies even offer government job training and employment services. Find community action agencies near you.
Free advice from attorneys is provided to over 5 million people per year, both online or in person. Individuals receive legal counsel and representation from a federal government funded program, the Legal Service Corporation. Over 900 law offices across the nation offer legal aid or consultations. The attorneys give the low income advice, and locate free lawyers.
Government and non-profit loan programs support low income families, borrowers with poor credit, and those in need. Find assistance can be immediately provided by a number of lenders to help pay bills today address financial needs, or serve as a sort term form of emergency assistance. Find details on assistance from loans.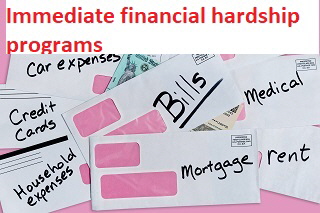 Older adults and senior citizens including the elderly, spouses of seniors, and people over 50 have access to a number of free, immediate financial assistance programs for a hardship. There are government funded agencies that provide financial help that is focused on their needs. There prescriptions, free home delivered meals or homecare, and transportation. Locate senior programs.
Debt help is offered from non-profit agencies and other organizations, including government approved agencies. There are countless ways to get assistance with reducing or paying down debt, including medical billing advocates and non-profit credit counselors.
It is possible to get debt relief with credit card, medical and car loans. For example, the National Foundation for Credit Counseling says non-profit government certified specialists can have a 60% success rate. Also, learn about credit card hardship programs.
Government job training and financial help for child care
Several federal government agencies are focused on supporting people and helping them find a job or gain new skills. Today's workforce is very competitive and employers are demanding certain skills or training. State and federal assistance programs including One-Stop Career Centers, the Workforce Investment Act, and local employment centers can help the under and unemployed. Continue reading One-Stop Career Centers.
Anyone who needs more money can also get financial help from work from home jobs. There are positions with state or federal government affiliated agencies, private employers, non-profits and even Internet companies as well as websites. All of these will pay cash as a form of financial help. Find get cash from work from home jobs.
Immediate financial assistance from legit source of cash

is another option. This range from apps on a cell phone or side hustle to low programs, TANF government aid for job seekers and other options. Learn more on emergency cash immediately no loans.
Day and child care assistance is available in all states. Many parents struggle with paying for child care expenses while they are working, in school or seeking a new job. Government child care vouchers and subsidies can be obtained which can help a qualified family with paying for a portion of their bills.
Local and state government financial assistance programs
Click on your state for more details on programs or grant money that your state, federal, local government, or non-profit agencies will offer today. There is immediate financial help to assist families through a difficult period. These resources by state are in addition to the national programs listed above. Or locate financial help near you for local counties.
Need additional, immediate government assistance?
Send us an email at info@needhelppayingbills.com. Please be sure to include your email address and state. The information is needed to send a reply. We can send more specific resources on financial help or support from non-profits, government agencies and more.
Related Content From Needhelppayingbills.com