Low income housing without a waiting list near you.
Find low income housing with no wait or apartments that will be available in an emergency near you. There are charities, government programs from HUD, temporary places to stay, and other affordable resources. Find how to get low-income housing, including apartments, that have no waiting list near you below.
The demand for affordable housing, including apartments that can have a short or no waiting list, is always very high. Find how to qualify and to be eligible. Priority for no-wait list apartments and homes is for veterans, women fleeing domestic violence, single moms, disabled adults or seniors among others. They will be given priority based on their income among other factors.
The number of low income apartment rentals near you that have no waiting list for families or single adults will be limited. This means that some applicants may be placed into emergency low income housing, including apartments, condos, town-homes or short term residences. If that were to occur, then when a apartment or home opens up to lease, they will be given priority for bypassing a waiting list.
Charities, non-profits, the government and even churches operate affordable, no-wait list low income-based housing units. All of them will set the monthly rent based on the household's sine. Some low-income housing or apartment units for rent will not have a waiting list; others may.
There are

HUD section 8 vouchers for income based housing or rental homes

with no wait list from the government, and some people will not have to wait.

Charities

such as Mercy Housing, Salvation Army, Volunteers of America, Family Promise and Catholic Charities as well as others that operate no waiting list low-income housing for the poor, disabled, and elderly among others.
Emergency

transitional housing without a wait list

can be provided to the chronically homeless, people with no money, veterans and families in crisis.
Government low income housing or apartments for rent with no waiting list
Housing and Urban Development, or HUD have no wait list homes to rent. The properties are operated in partnership with Public Housing Authorities (PHAs) that are located in every local community. They are the main government agencies for low income housing. Most of the apartments are owned by private landlords or apartment communities.
The government organizations offer

emergency low-income housing with no waiting list

as well as section 8 vouchers, which can help pay for a home in short order. These homes or apartments will be income-based housing, meaning the applicant needs to pay for some of the rent, utilities and other costs on their own.
In general, the emergency low-income housing from HUD will not have a waiting list for senior citizens or the disabled. Or there may be other exceptions made based on the local PHA guidelines near you. Some applicants may still have a waiting list they need to follow, but the process will be expedited. Meaning instead of the waiting list taking months or even years, the applicant may be placed into affordable, low income housing within days or just a couple weeks. Learn more and find public housing authority vouchers near you.
Low cost, no or limited wait list housing is offered for the disabled. This can be for adults, kids, or seniors with a medical condition. There will often be no waiting list for those who are eligible. The service is known as Section 811 Supportive Housing for Persons with Disabilities program.
The goal of the affordable housing program is to help ensure the disability can live as independently as possible near their current community and/or family members. In other words, the goal is to keep them in their familiar surroundings. This free government program, which gives no-wait list apartments or other accommodations, is for people with a physical or mental disability. Find housing for the disabled.
Low-income families can get income based housing near them as well. Some of these government programs overlap the resources listed above, while some are unique. In addition, many national charity organizations as well as churches provide housing, apartments and homes to people in which the rent is based on the tenant's income. Find income based housing near you.
No wait list low-income housing near you from charities
Mercy Housing focuses on providing permanent, affordable housing that will not have a waiting list (based on demand). The homes will be for disabled people (adults or kids) and seniors. There is supportive housing as well, which means the home or apartment will also take care of the tenants other needs, whether medical, transportation or something else. Learn more about no-waiting list Mercy Housing assistance programs.
There are other national charity organizations as well. Family Promise, or the Interfaith Hospitality Network, offers low-income housing as well as case management and other social services. IHN is a faith based national network of churches that gives immediate housing to tenants facing a financial hardship and will also help people find, and apply, for other apartments near them for rent that do not have a waiting list in place. Learn more on affordable housing from Family Promise.
Volunteers of America (VOA) operates in all 50 states, meaning they should have low income housing with no waiting list that may be near you. However, VOA does focus many of their programs on veterans as well as the homeless in a crisis. The chronically homeless may also access short term, emergency homes with no wait list from VOA. Affordable housing will be combined with thrift stores, food, financial help for rent and other resources. Find help from Volunteers of America.
Low-income, no wait housing near you may be provided by the Salvation Army as well. However, this will normally be part of the Permanent Supportive Housing (PSH) Program or Center of Hope. The assistance will normally be for the homeless and provide both rental or deposit assistance with employment needs, case management, free furniture, and counseling. It is a form of affordable (not free) housing. Find a Salvation Army no waiting list housing program near you.
Lutheran Services in America (LSA) low income no-wait housing units that may be near you are for the elderly, immigrants, veterans, and vulnerable. The charity has hundreds of affordable locations across the nation. They also arrange low-income housing for immigrants as well as refugees. They also offer support services such as PACE homecare, disability or mobility services, substance abuse assistance and many other social services. More on Lutheran Services assistance programs.
Catholic Charities low-income housing involved thousands of local churches and parishes, all of which work to accelerate the application process to shorten the waiting list(s). The goal is to prevent homeless. They also give referrals too and/or operate emergency low income housing programs without a waiting list near you. They combine shelter, transitional as well as permanent housing services. The goal of this will be to help stabilize the struggling individual or family into affordable housing. Continue with Catholic Charities.
Senior citizens and/or retirees can qualify to get low cost, supportive housing today, with no wait, from National Church Residences that is based on their income. Many retirees live in their homes, condos, private residences and townhomes (among other units). They can provide affordable housing to, in general, people over the age of 60.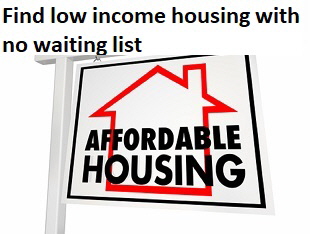 The charity can help children place their elderly parents into a low-income home near them while knowing their parent will be well cared for in a healthy, supportive environment. This combines social services with the housing units for the elderly, seniors or older adults with mobility issues. Find National Church Residence housing programs near you.
Transitional housing does not have a waiting list. Families or single people who were evicted, or the homeless, can get a temporary place to stay. There are free temporary housing and places to stay, all of which are operated by charities or non-profits. Find transitional housing for families near you.
Emergency housing with no or short term waiting list from HPRP
Low-income housing can also be obtained for a very short term, or temporary, stay. The short term housing programs will not have a waiting list in place. A number of organizations will provide financial support while the income based housing units become available. This may be a shelter or another option may be free hotel or motel vouchers for an emergency. These programs can be great for single mothers or dads, veterans, seniors and other vulnerable people.
The main state and federal government emergency program is the Homeless Prevention and Rapid Rehousing, or HPRP. Local charities set eligibility as well as income requirements in order to get applicants into affordable housing without waiting. Applications are processed by organizations such as Catholic Charities or local churches, Urban League, Volunteers of America and others. There are multiple components to this financial assistance program, and there is almost never a waiting list for the housing as it is a crisis service.
The steps normally including placement into a free homeless shelter run by the charity. Then families or individuals can move into low cost or affordable transitional housing, and the last step will be financial aid to move into low-income rental housing near you, and there will not be a waiting list. HPRP also often includes financial help to pay for rental or utility deposits, storage costs, moving expenses, and even a short-term hotel stay.
Each state government, using federal funds, will provide funds to charities so they can operate their own low income housing units that will not have a waiting list. They will be part of Homeless Prevention and Rapid Rehousing. Or they may be paid for using ESG grants. Find a government low-income apartment without a waiting list from rapid rehousing programs.
Related Content From Needhelppayingbills.com