Security deposit assistance.
People who need help in securing permanent housing can apply for security deposit or first months rent assistance programs. Charities and government listed below can provide financial help for deposits or a grant to pay for first-lasts months rental costs. There may also be churches or other places that provide emergency funding for move in costs. Cash will often be offered for paying security deposits, first and last months rent or lease application fees in order to assist low-income families or even the homeless in securing more affordable housing units or apartments.
Agencies that do provide rent or security deposit assistance will do so on a limited basis as funding is not extensive. Only a small number of people will qualify for help. Each organization or government program will also have its own application process and qualifications that need to be met. In general, the very low income or homeless will often also receive financial help paying for an apartment, but they will need to have some source of income to pay future housing costs.
First months rent or deposit help from charities
Salvation Army - The amount and type of financial assistance programs will vary widely by center and state. If a center in your area can in fact provide money for paying rental deposits, then they will also ensure that individuals sign up for case management as well as other social services so that they become self-sufficient.
Security deposit assistance will also be offered to formerly homeless people who are moving from shelters or transitional housing. This is generally available if the applicant has met all goals that were established when they lived in that short term housing. Funds are offered to those who need a little extra support before forging their own path.
In addition to helping with deposits, other assistance offered includes individual case work and education to address the underlying causes of why someone was evicted or why they are in poverty. Individuals can work with a case manager to access life and career skills enhancement, parenting skills education, and more. The Salvation Army firmly believes that job skills training, credit counseling and education are crucial to promoting the continued success of the inhabitants once they are again independent in their own homes or apartments.
Contact your nearby Salvation Army if you need help in paying your security deposit. People who were evicted, lost a home to foreclosure, or the homeless will all be eligible, if they meet other guidelines. Click here for Salvation Army locations.
Catholic Charities will offer financial assistance on a very limited basis. You will need to call a church or branch near you, as typically only a limited region is supported by a local Catholic Charity organization. Assistance that will be available from a location includes help with paying for rental security deposits, eviction prevention, and low income housing. Some local sites will even have volunteers that help people move, and this will be in addition to any deposit help. If it is even available, all financial assistance will be determined on a case-by-case basis by social workers who are on site. Read Catholic Charities assistance programs.
St. Vincent DePaul - All requests for security deposit or rent assistance will need to be made as well as verified by St. Vincent De Paul or your local church. From time to time they will help qualified low income, working poor, and the homeless pay for other housing needs. This form of support will be funds for first months rent, transportation, utility deposit assistance, and security deposits.
The applicant will not be paid themselves. Rather the checks will be issued by St. Vincent de Paul to the appropriate company, such as a landlord or apartment community to cover the security deposit that is due. Many locations will also ask each person that is granted cash assistance to help repay the money over time if possible as they get back on their feet.
Funds, including loans, grants, or cash assistance will be provided by United Way affiliated agencies. Security deposit assistance programs for the formerly homeless, evicted, or new tenants will be available to help pay for an apartment or new home. The United Way is a clearinghouse for information, and they offer free referrals. Read more on deposit and housing from United Way.
Locations of government agencies to call for assistance with security deposits
Most towns and counties are served by various non-profit agencies that often have government grants or hardship funds as well. Find a Salvation Army center, Catholic Charity branch, or Saint Vincent De Paul. Anyone seeking to lease a home or apartment has other options too, as there tend to be additional local organizations they offer emergency rental deposit help. Read more on government assistance and non-profit locations.
Community action agency - Will often have funds for paying security deposits. Each county across the nation has one of these government funded non-profits that focus on residents in the county. Sometimes they are in your town or county, and sometimes they will be in a neighboring community. Funding for your local Community Assistance Program is provided by a number of sources, including the federal government, donations from faith communities, as well as civic and corporate organizations throughout the region in which you live. The United Way will also issue annual grants to a local office.
Your local agency will do what they can to provide all of the needed financial support that can be granted to struggling individuals and families in crisis. They will often combine any one time security deposit help with loans as well as other services, ranging from housing stabilization services to career counseling.
They offer a number of services to turn hope into reality and make low-income individuals more self-sufficient. Locating and moving into affordable housing is one important step in the process. Community action agencies are effective for providing resources and services for issues such as security deposits assistance, rent, housing, homeless assistance, etc. Case managers will give a voice to the less fortunate and provides service to the low income, whether in-house or by their community partners.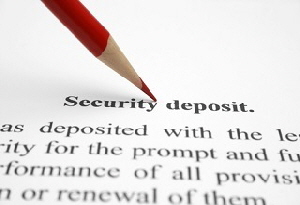 If these non-profits can't provide what you need, then they more than likely can offer referrals. Social workers from many locations will always advocate for families and individuals. They focus on supporting those who are most vulnerable, while working to address the underlying conditions causing poverty. Find a list of community action agencies.
Insurance companies, banks, or financial institutions offer Security Deposit Guarantee Programs. It is a form of insurance or surety bond that helps low to moderate income families, or those with poor credit, pay the funds a landlord requires. It is a great alternative for prospective tenants who do not have the cash to pay the security deposit or first/last months rent that a landlord may require. With the cost of housing continuing to increase, a number of companies offer this form of assistance and property owners accept it. More information on security deposit guarantees.
Government resources that assist with security deposits or move in costs
Funds from programs such as the Continuum of Care or Emergency Shelter Grants (ESG) can often be used to help pay security deposits. Local non-profit agencies administer these resources, and other related programs, in most states. The intent is to prevent homelessness and/or evictions in local communities or even rehouse the currently homeless into an affordable apartment. So this means in some cases the funds can be used for security deposits or other rehousing expenses.
There will be conditions in place, and all financial resources are limited. Most states will only pay a portion of a security deposit on an approved, low income apartment if the applicant is currently homeless or facing imminent eviction. Priority is also usually for those individuals who are well on the way to self-sufficiency. Additional information on agencies near you by state that may offer funds from ESG or other federal government sponsored rent as well as security deposit programs include the following.
Need Additional Rent Deposit Help?
Please send us an email at info@needhelppayingbills.com Please be sure to include your email address and state that you are seeking resources for. The information is needed to send a reply. In general, the amount of security deposit help is limited. Even when a charity or government agency provides funding, they will almost always want to ensure that the applicant is financially stable.
But there are other assistance programs out there. Or visit or register in the community forum (the link is on the lower margin) and we will reply to your message there about resources that may offer help with rent or security deposit payments.
Related Content From Needhelppayingbills.com