Senior citizen and elderly assistance programs.
Elderly and seniors will receive help from the government or charitable assistance programs that specialize in meeting their needs. Find free government money for seniors, prescription medications, home delivery of food or meals, employment, home help and more. Resources to help an elderly person are offered by you state or the federal government, Area Agency on Aging offices, charities or social service organizations, all of which are listed below, including by state.
The exact type of free senior citizens services available near you will vary by state, county, and agency. Examples of some of the programs that are offered for low income senior citizens and the elderly include government benefits or grant money programs. Or learn how seniors can get Medicare, financial help, free Ensure, home care and grants for paying for medications or other bills.
Assistance programs help the elderly, retirees, and older Americans, including those over the age of 60. Some free grants, government funds or stuff can be given to seniors over the age of 50 as well, whether they have medical issues or not.
There are other free services that help the elderly, their caregivers as well as senior citizens. Other financial assistance or free items is provided from free senior centers, home care programs, employment resources, free pantries as well meal on wheels programs, and much more. Or locate government assistance programs for caregivers.
Senior citizen food programs
Congregate meals as well as Ensure is offered in all states. Individuals over the age of 50 can choose from meal sites including churches, senior centers, religious facilities, area on aging offices, food pantries, soup kitchens or housing facilities. Not only can a senior citizen get a free, nutritious USDA approved hot meal or lunch or grocery bag of Ensure nutritional supplements, but they can also have the opportunity to socialize with their peers. The process will also allow them to attend workshops and get support from the community. Find emergency food pantries.
Homebound people (seniors or those with health care issues) who can't make it to a feeding site or grocery store and who are homebound can look into free home delivered meals. Elderly or homebound clients will need to be unable to shop for food or prepare meals on their own, and they need to be home bound.
The home delivered meal programs are also commonly referred to as Meals on Wheels, however the name can change by local state. Volunteers will bring food and meals to homebound seniors, which can help them to remain in their homes for as long as possible. Some of the volunteers will also bring the client a free, special holiday meal at Thanksgiving or Christmas.
In addition to receiving food and access to the nutrition services, senior citizens are offered daily contact with staff or program volunteers. This means someone can check up on them as well as provide company. They will provide seniors a link to additional services in their communities. Find out how to apply for Meals on Wheels.
Free food is offered to seniors over 60 years of age from the federal government funded Commodity Supplemental Food Program (CSFP). Healthy meals and groceries are offered in partnership with the United States Department of Agriculture (USDA) and your state. Additional nutrition information is also provided in order to help facilitate good health from the USDA CSFP program.
For seniors struggling to feed their pets, free dog or cat food may be available too. Some Meals on Wheels services now provide this for low income elderly and the homebound. It is not yet offered nationwide, but an increasing number of providers are implementing this program for those elderly households that have a very low income.
The free food for a clients pet will free up their often fixed income salaries for other basic needs. In addition, having a healthy pet can really help a senior citizen, recently retired or disabled person by providing companionship and other benefits. Learn where to go to free pet food from meals on wheels and how the service benefits the homebound.
Medical bills and healthcare assistance for the elderly
Seniors have options when it comes to health insurance, such as Medicare and government programs that can help people pay their medical bills. With many retirees living on a fixed income, paying for health care is very difficult if not impossible. So there is information and resources offered to help the elderly deal with escalating medical costs.
Senior Health Insurance Assistance Program (SHIP) is a source of information. The specialists that are part of this program can help seniors understand their health insurance benefits, plans that are available, medical bills and rights. They also help seniors find free or cheap homecare services. The elderly can learn about grants or free vouchers for buying prescription medications as well. This program supports Medicare beneficiaries, including people who are under 65 years old.
The SHIP program provides clients access to trained staff and volunteers who usually operate from area on aging offices. It is a form of a free counseling program. The counselors will provide those who need information with both in-person and telephone assistance if they can't make it to an office. Get help with the following.
Medicare program, including details and help applying for benefits such as Prescription Drug Coverage Program (Medicare Part D) and any state supplements.
Assistance with health insurance denials, appeals and grievances.
Disabled Medicare beneficiaries, even those under 65, receive information, help with health care needs, and support.
Learn about Long Term Care Insurance as well as Medicare Advantage Plans (HMOs, preferred provider organizations).
Counselors from SHAP can provide information on medications, including prescription drug plans for seniors.
Medical bill assistance programs as well as additional resources may be offered for low-income beneficiaries.
Other services are offered from the Senior Health Insurance Assistance Program

.
Free medical and healthcare equipment is available for senior citizens. They can help them with mobility issues (such as wheelchairs or ramps) or assist with home modifications (grab bars or ramps) as well as life alerts, mattress lifts, diabetes needs and so much more. Both government financial assistance programs and charities may give items. Find details on free medical equipment for seniors.
The federal government Medicare service is a national social insurance program. Millions of households currently receive assistance from this benefit. It operates similar to a free health insurance plan in that it allows senior citizens to get the comprehensive medical and dental care they need.
The program guarantees access to health insurance for seniors and Americans ages 65 and older, many of them who recently retired. Younger people can also benefit from Medicare, and the program can help individuals with disabilities as well as patients with end stage renal disease.
In general, the Medicare program pays for about 50 percent of the medical bills and health care costs for enrollees. Any out-of-pocket expenses that the individual needs to pay will vary depending on many factors. It will be influenced by their income as well as the exact amount of health care a Medicare enrollee needs. This might include uncovered services, which can be vision care, long-term, hearing, and dental, and it may also include supplemental insurance. There are several main component to Medicare..
Part A can pay for helps bills incurred while at a hospital or some skilled nursing facility expenses.
Part B of Medicare helps pay for outpatient services such as physical therapy as well as regular doctor's visits. Seniors will need to usually pay some form of premium in order to receive this coverage; however the government can subsidize it.
Extra help is not a very well known component, and this is available for prescription drugs as well. The government will subsidize any premiums or expenses that seniors need to pay for Part D. See more information below of this grant program.
Qualified Medicare Beneficiaries, or QMB, is a more general assistance program that helps people who are signed up for Medicare pay their co-pays and monthly premiums.
There are many

other health insurance benefits

provided to senior citizens from the Medicare program. Anyone over the age of 65 can enroll, or if someone is younger and has a disability, this federal government resource can assist them. Find more details on how seniors can get help from Medicare benefits.
Seniors can get help with paying for their prescriptions from Medicare Part D. This is a patient assistance program that was created by the federal government. The elderly can apply for the benefit at a social service office or make inquires through pharmaceutical companies that provide the prescription drugs they need. The medications will be offered to qualified senior citizens for free or at a reduced cost. More on Medicare Part D.
Another benefit provided from Medicare Part D include prescription savings discount cards, and these are offered for senior citizens regardless of their income. This will lower the costs for all that use them. Clients can also learn about publicly funded programs, information on generic medications to save on prescription costs, websites for price comparisons, and access to mail order pharmacies. Apply for prescription drug discount cards.
Many seniors and disabled who receive Medicaid, SSI or Medicare can receive additional financial assistance and savings from a federal government program known as Extra Help. A focus is on providing funds and discounts for prescription medications and medical bills. There is an emphasis on seniors who are enrolled in Medicare Part B and D. Learn more on Extra Help.
Medicaid Waiver for Older Adults is a program that will enable individuals who are aged 50 and over who require long-term care services to remain in a community setting. Resources are offered by elder care to individuals even though their advanced age or a disability they may have would warrant placement in a long term care facility.
The Senior Medicare Hotline is operated by a non-profit. It is a free service available in all states. Older adults can have an assessment done, and based on the results, learn about programs for paying their medical bills. Resources range from Part D and Extra Help for prescription drugs to charitable organizations that focus on the elderly. There are referrals given to grants for senior citizens and agencies that accept applications for financial help. Find additional details on the Medicare Hotline for Seniors.
Free health care for the needs of senior needs - While older adults have many of the same medical conditions of people of any age, some of the more common requests include for hearing aids, prescription medications, and basic check ups. There are a few government programs and non-profits that offer assistance that senior citizens may find very useful for their needs. Find a list of free medical and health care programs.
Attendant Services is to help those who are disabled or need free or affordable home care, including seniors. The main objective is to support qualified persons with disabilities who need ongoing health and medical assistance. It can also assist the elderly that are ill, including close to being placed in hospice.
The attendant services program helps to maintain independence of the person. It does this by allowing clients to complete their education, work in a job, and to generally avoid living in a special health care home or highly supervised setting. The services and resources will be provided to qualified people based on the client's abilities, lifestyle, and preferences.
Durable Medical Equipment, or DME, as well as other devices are provided by both government agencies and private organizations. Senior citizens can receive a wide variety of items, ranging from wheelchairs to walkers or assistive technology items for their home. The terms will vary, and the equipment may be available for free, loaned out or sold at a reduced price. All of the services are free for the elderly, and find how Assistive technology and durable equipment assistance programs assist senior citizens and the sick.
Income and employment resources
Senior Community Service Employment Program (SCSEP) is a federal government funded program that is administered by many agency on aging offices. Individuals who are unemployed, 55 or older, and who are looking for a new job can look into and sign up for the Senior Community Service Employment Program. This service can help seniors make more money.
Assessments will be completed by case managers and they will try to obtain information about the participant's current skills and interests. They will review the employment history, physical capabilities, need for supportive services, potential for transition to a regular job and help them participate in community service assignments.
Enrollees in the SCSEP program will be offered free physical examination and placement into job training opportunities. They will be placed into part time jobs, in which they will gain an income, learn new skills, and have the opportunity to transition into full time employment. There are many job opportunities from the senior employment program, and find more information.
Work from home and flex jobs can allow seniors to increase their income, and the funds from there "positions" can supplement a pension, 401K or other retirement money. The extra cash from one of these jobs can be effective for paying some bills, taking a trip, or postponing the use of retirement funds (among other benefits). Even the elderly with mobility or health care issues can get a freelance, part time, or work from home job. Find a list of senior income producing opportunities.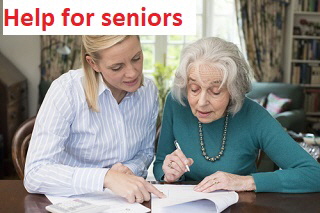 Additional elderly community resources
While many state, federal, and local programs and resources focus on medical and nutritional issues, there are a number of other social services available. They address home care, assisted living or housing needs, housing, and many others. Some of the assistance programs for the elderly as well as senior citizens even provided by charities.
Information and Assistance targeted at senior citizens is available in many states. The service is usually administered by area agency on aging offices or a service called Eldercare Locator. All of the advice is distributed for free to the client.
The programs provide a single point of information and entry into the aging network. Seniors citizens, elderly, and older adults can gain a single place for access, or phone number to call, for information on services and government benefits. Information is also available for families and caregivers
Some of what can be provided includes referrals on how to obtain a fixed income and financial aid, transportation, senior citizens centers, pharmacy assistance, daily meals, housing/rent assistance, and food pantries. Read more on Eldercare Locator, or find a local agency on aging office below.
Free home care can be provided to the elderly. This can be an option of going to a nursing home or assisted living facility. The PACE program is for lower income seniors on Medicare and/or Medicaid, and it pays for some or all of the care they need in their own home or apartment. It allows the senior citizen or retiree to continue to be independent. More on free home care from PACE.
Senior Citizen Legal Assistance can offer free or low cost legal advice, counseling and representation to older Americans. Certified elder law attorneys can be a great option as well for people over the age of 60 or 65. There are no income restrictions, but only civil cases are handled. Read more on assistance from Elder Law Attorneys.
Your local Area Agencies on Aging office near you may vary well contract with local attorneys in order to offer this service. Priority for legal advice and support is given to issues involving the following issues, including government disability benefits, income maintenance, and health care.
Home repair programs are offered for senior citizens including those with mobility issues. The goal is to help the elderly person stay in their current residents. There may be repairs done around safety, such as wheelchair ramps, grab bars and similar updates. Or repairs can help make the home livable, including free grant money for seniors to pay for roof repairs, insulation, plumbing and other critical needs. Learn more home repair for senior citizens for free.
Free cellular or home phones, as well as discounts on monthly bills, are available to lower income senior citizens. Each state uses federal government grants to offer this program in partnership with national and regional telecommunication companies. Both Lifeline and a related benefit known as Link-Up helps with paying monthly costs and hook up fees. More information on senior citizen free telephone programs.
Congregate Housing Services Program can provide state subsidies and other support services to eligible residents of low and moderate income. The applicant needs to live in senior housing. Also, due to chronic health conditions or advanced age, they need daily help with activities such as personal services, meals, and housekeeping.
Abuse, scams, and fraud are often targeted at senior citizens. Whether it is an income tax or investment scheme or pressure from predatory lenders, there are many companies as well as individuals that target the elderly as well as disabled. Since this is the case, there are non-profits as well as state laws that protect older individuals. Find how to get help from senior scams.
Non-profit Representative Payees can help senior citizens who receive social security manage their money. This is a federal government approved program in which anyone who receive social security payments, whether SSI, retirement, or something else can get assistance. Representatives payees are meant to help the elderly who lack the ability (either physical or mental) to manage their funds on their own Everything is approved and verified by the SSA (Social Security Administration). Find a non-profit representatives payee near you
Senior Centers operate in many towns, cities, and counties. Various resources and programs are administered from the locations. For example, they can provide free and low-cost health screenings. This may include checks and health care for issues such as vision testing, blood pressure, cholesterol, thyroid, depression, glucose (for diabetes), hearing, stroke, osteoporosis, foot and screenings for several types of cancer.
Additionally, pharmacists often offer their time and services at the centers.
They will frequently provide consultations to discuss affordable prescription medications. Nutritionists will assist with a personal nutrition plan or provide free Ensure or food.
Nurses provide individual guidance and discuss specific health concerns.
Flu or pneumonia shots are often given during the fall months to keep seniors well.
Also, health education seminars and disease prevention are offered throughout the year.
Not only can medical needs be met, but Senior Centers also offer other services. This can include a place for people to stop by to get a meal or pick up an emergency food box or lunch. It is a place to go for social activities and companionship. Also, many centers will hold workshops and provide seminars on issues such as low cost housing, medical bill programs like Medicare, and budgeting classes. Find senior citizen centers near you.
Emergency financial help for low income seniors
Get financial advice, free government money for seniors and bill paying assistance. These programs are normally sponsored by local charities, the government and/or the AARP Foundation as well as Aging and Adults. Services offered to people over the age of 50 will often include money management or budgeting advice to help low-income senior citizens and adults with physical disabilities that have difficulty paying routine bills.
Sadly, many older Americans are the targets of scams or fraud, even when it comes to medical bills, identity theft, health care, and prescriptions. A free service known as Senior Medicare Patrol (SMP) was created by a group of specialists. It can help individuals detect billing errors and fraud, even when it comes to Medicare. Most of the counselors operate out of agency on agency offices in towns and cities across the nation.
Subsidized housing or assisted living homes are available for the elderly as well as lower income senior citizens. There are apartments, condos, townhomes, and nursing facilities available among other options. The federal government will also help pay for caregivers from PACE to help seniors live independently in their current, own homes. There are also charitable and non-profit homecare programs. More on senior citizen and elderly subsidized housing.
Low income senior citizens over the age of 50 often get free government help with their property taxes. Most states offer rebates, payment plans, or Homestead Exemptions to the elderly who often live on a low fixed income or social security. Government resources can provide them significant savings. Find senior citizen property tax exemptions.
Oftentimes individuals can learn about financial assistance programs, such as rent or energy bill help or additional social security retirement benefits. For example, the federal government Low Income Energy Assistance Program (LIHEAP) assists low-income households. There will be free money provided to the elderly over the age of 60, or those age 50 or older if they have a disability. Priority is usually given to people who are most at risk such as seniors or the disabled. Financial help can be offered for senior run households who are experiencing a home energy emergency.
A crisis can be addressed too. This may result from an unpaid utility or heating bill, the receipt of a shut off notice, or lack of fuel or wood. Payments from LIHEAP are used for paying home cooling and heating and other emergency energy-related costs during the cooling (April-September) and heating (October-March) seasons. In general, a qualified households with a senior citizen living in it may be provided a onetime cash benefit per season, up to $600 per approved applications. Payments will be made directly to the vendor or utility company.
Another example is housing. Rent assistance vouchers can be provided to senior citizens and the elderly from programs such as Section 202 or 8. Both are funded by the U.S. Department of Housing and Urban Development (HUD), but are administered by public housing agencies. Your area of aging office can often provide details on this or housing resources or other free government grant money programs for senior citizens, such as Section 202 housing vouchers.
While not quite as common, oftentimes Medical or General Transportation can be arranged. Some senior centers can provide transportation to health care and doctor appointments for persons 60 years old and older. Other charity organizations, such as a church, may provide this service in an emergency as well. It is usually offered at a minimal cost, but some locations may offer the rides for free.
Transportation can be provided to seniors for appointments near them, including shopping trips, doctor appointments, and other needs. Many agency on aging centers, non-profits such as the Salvation Army, and maybe even churches offer this service either for free or a reduced price. A number of needs can be fulfilled by these ride.
The most common reason will be for a doctor appointment or shopping trip for groceries, however rides can be provided for other reasons as well. Individuals with mobility issues or a disability can also access these programs and drivers will usually be able to help them get into and out of the vehicle that is being used. Learn more on transportation services for seniors.
There is of course social security. Senior citizens can start receiving their first check from this government benefit as early as the age of 62. But the later they wait to file for benefits, the more money they will get each month from the government. Learn more about age to start collecting social security payments.
If there is a delay in when the payments start for the senior, or if the retired person needs more money, there are also supplemental loans that can be applied to. The money can be used to help pay bills, cover medical needs, and other costs during this transition period. Continue with loans for seniors on social security.
State Agency on Aging Offices near you
In addition to the programs above, many states, towns and cities have their own assistance programs for the elderly, homebound, and senior citizens. There are free government social services, help for seniors from non-profit organizations, volunteer programs and others. Select your state below.
Need Additional Help for Senior Citizens?
Send an email to info@needhelppayingbills.com. As there are many other community resources as well as financial programs for the elderly. Include your state in the email. The information is needed to send a reply. Or visit or register in the community forum for information on medical bill assistance for seniors, financial aid, housing, and more. The link is on the lower right margin. Or find information on other Agency on Aging resources.
Related Content From Needhelppayingbills.com