Free cell and landline phones for seniors.
Find how senior citizens can get free cell phones or a landline for their home. The program is mostly funded by federal government grants as well as telecommunication fees and the assistance is offered as part of Lifeline. There are some charities that may also offer a free, recycled cellular phone as well, and these will generally be available from thrift stores or some form of donation service. Learn more on free phones for seniors, the elderly and homebound below and find how to apply.
The assistance listed below is generally available for the elderly who have a low-income, no money available to them or limited savings. The free telephone programs, whether in the form of a wireless device or landline, will not discriminate based on age, religion, background, or disability. This in effect means that senior citizens can apply for government assistance, but so can really anyone that is in need. However there may be some charity organizations that try to give free cell phones as well, and they will prioritize low income seniors before others.
How to get a free cell phone
The programs are run directly by telephone companies or charities, and more information on them is below. This means that a senior citizen can contact the leading providers such as Assurance or Safelink. But the other major telecommunication companies in our country, such as Verizon, AT&T, Cricket, TMobile and others also can provide both free cell phones as well minutes on the customer's account so they can use them. They too can assist senior citizens and retirees.
As noted, there are no age requirements in place to apply. This means that someone who is a member of the AARP (formerly known as American Association of Retired Persons) can be provided a telephone, either a landline or cell unit. Or a device can be given to someone who is 25 or really any age, and maybe they are a caregiver for the elderly person. Lifeline is open to anyone, including seniors over the age of 50.
However the are both income requirements as well as criteria that can be met around government benefits. This is one of the criteria that could in fact help a senior citizen in their application for a free wireless phone. As some of the benefits that are covered tend to be heavily used by the elderly. While these can vary by state, in general they are as follows.
If a senior citizen received one or more of the following types of public aid, they will automatically qualify for a free phone for their home. They include Medicaid, Supplemental Security Income (SSI disability), Low-Income Home Energy Assistance Program, A discount from Link-Up, or a housing subsidy. This means that for the several million senior citizens who are on Medicaid, they can be eligible for a free cell phone, tablet or another wireless device.
Telephone assistance provided to seniors
Some companies provide senior citizens over the age of 60 a free cell phone. This can be a tool for them to use in an emergency. It is not recommended to use it on a daily basis, as the number of free minutes provided on the account is limited and it may be easy for the user to rack up excessive usage.
There are four leading companies that offer a wireless phone at no cost. They include Safelink, TracPhone, Assurance, and Access Wireless. There are others as well, but those are the common ones used. One of the advantages of signing up with one of these companies is then also tend to give their customers a free texting service as well as allocate them minutes each month to talk on their phone.
The other, major telecommunication companies also participate in Lifeline. They will tend to just offer a monthly discount to a senior citizen though. So it will of course save the person money, but it is technically not a free service to use. However the savings can reduce their bills by potentially tens of dollars per month.
Before signing up for one of these companies, always read the fine print of any contract. For those seniors that are part of the AARP, they can also contact them if there are any questions as they can help ensure the deal offered is fair. Or there are also consumer protection bureaus of each state that can provide information on the companies involved in these programs as well.
Seniors can apply to Link-Up too. This free government program will give the client a one time credit on the set up of their phone. So the grant can pay for connection or activation fees. The savings can be made for wireless devices, cell phones, traditional "land-lines", and other telephones. Not only will a credit be placed on their account, but many companies will also provide the senior with information on how to use the cell phone. They can answer questions, go over the technical aspects, and provide free information on how to operate it.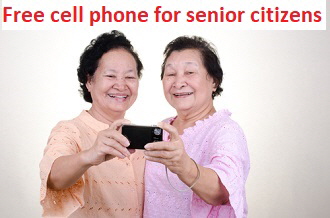 Charities that offer free or discounted cell phones to senior citizens
There are many non-profits, churches, charities, and donation services that can also also help the elderly. The way these work is that they will collect older, gently used cell phones and other electronic devices, such as tablets and computers. The units will then be given to a senior citizen that needs some form of emergency communication device.
These programs are usually run from thrift stores. Or there could be one time events held in a community as each local charity calls for donated phones from the public, and those phones will be given away for free or a very cheap cost. A senior citizen can always call an organization such as the Salvation Army to determine how they can get help.
Note, one key difference between a charity program and a telephone from a company such as TracPhone is the age/quality of the unit. When someone gets a recycled cell phone, it may be a few to several years old. It will have been tested to ensure it still works, but it is still an older unit. On the other hand, a Lifeline provider will give a brand new unit.
In addition to a free home or cell phone, non-profits can also help senior citizens make a few extra dollars from their cell phones. There are very simple phone apps and services that can be installed on a cell phone that are easy to use. Find a list of free apps for making money.
How to apply for landlines or cellular telephones
Be prepared with proof of income as well as whether there are any government benefits given to the applicant. Qualified seniors can only get one either cell or landline phone per residence, so be sure the need is great. Another suggestion is, as always, to closely review any agreement before entering into a contract with a wireless company.
For more information, call your local phone company and inquire into Lifeline for a landline. Or call one of the national providers such as Safelink (owned by Verizon) at 1-800-723-3546. TracPhone is another Verizon low-cost / free phone company and their number is 1-800-867-7183. Or seniors can contact Access Wireless (1-888-900-5899). Another company for free cell phones is Assurance, and their number is (888) 898-4888.