Churches near you that help with rent, utility bills, free food or motels vouchers.
Find how churches offer assistance to low income families. They provide help with rent, free food, vouchers to pay for motel rooms, clothes, and financial assistance for paying utility bills. Some church locations near you also arrange for affordable health or medical care, operate homeless shelters or serve free hot meals or provide help at Christmas including free toys or meals. Find how to get assistance from churches near you, including Christian, Mormon, Baptist and other faiths.
Many households are struggling to make ends meets. Learn how many church groups provide social services. As noted above, parishes provide financial help for bills, rent or groceries or free items in an effort to help low-income families or the unemployed. There may be assistance for rent or car repairs, or free motel vouchers as well. Parishes may also offer money for paying other bills as well, including utilities or water.
The exact form of emergency help from churches near you will vary based on the location as well as available resources. There is help from LDS, Catholic, Mormom, and Christian churches among others. But they all assist with rental expenses, offer free meal programs, and providing funds for paying electric bills or housing/motels is always a priority. Faith based organizations also tend to help the most vulnerable, including senior citizens, the disabled, the homeless or single moms or dads.
There are thousands of local churches that provide assistance when they have the funding. There is help from organizations the Latter-Day Saints, Christian, Baptist churches and others. They not only support working poor families that are in the parish, but the locations also try to help strangers too. Anyone that is seeking a free meal, emergency homeless shelter, or other support can drop in for help. Churches may offer their own assistance and they partner with other local groups too, including free Christmas assistance programs from charities.
Get financial help from churches near you
A number of social services are administered, depicting on the parish. A local church is one of the leading charities to turn to for short term financial help. Many struggling people turn to them for advice, counseling, referrals, and support. While their funding is usually very limited, the bottom line is they can usually provide some form of help. They will rarely, if ever, turn anyone away that is truly struggling.
One of the leading organizations is Catholic Charities. The churches and other social service agencies that are part of this charity will assist qualified individuals regardless of their religion, faith, age, or culture. Some locations will offer emergency financial assistance and others provide basic needs, such as free clothing, funds to help with paying rent, short term shelter, furniture or food. The churches also help immigrants or refugees, including undocumented ones. Click Catholic Charity assistance.
The national St. Vincent De Paul partnership of churches and its volunteers may be able to offer emergency assistance as well. There are numerous faith based groups that work with this charity. They help struggling families, including seniors and the disabled, with paying many types of bills and expenses. Read more on Saint Vincent de Paul financial assistance programs.
The nation's largest Christian church group is the Salvation Army. This Christian, faith based organization supports people of all religions and backgrounds. The social services offered are extensive. They range from emergency food or funds to pay rent or light bills to free Christmas gifts. There is also faith based substance abuse treatment services as well as supportive housing for the elderly.
There are thousands of local centers that are part of this independent network of churches. Based on location, there may also be vouchers for prescription medications, free medical care from clinics, overnight shelter for the homeless and more. Applicants to the church include immigrants, senior citizens, or the disabled among others. Find help from the Salvation Army.
Churches near you and ministries operate in partnership with Love INC. The organization provides social services to the working poor. The Clearninghouse can refer low income families to emergency financial aid programs, shelter, food, rental assistance, and more. Ministries from the church also provide basic needs such as free diapers, furniture, or seasonal Christmas celebrations. More on Love INC assistance programs.
Meals, soup kitchens, free food, and non-financial aid is often provided by churches. This is part of hunger prevention in local communities for low-income families. The support, including groceries, is often available at a food pantry that a local church may operate. Low income families, seniors, and the homeless can all benefit. More on food banks.
Many churches help with housing needs. They may have funds to contribute towards paying rent and help prevent evictions. This is in addition to those listed above. Click here for listing of agencies and emergency rent assistance programs by city that may be able to give you assistance today.
If you need money to pay for gas or car repairs, and are faced with a crisis, then your local church may be a resource. Local mechanics may volunteer their time to work on an automobile to fix it, and therefore the labor may be free. Get details on car repairs and gasoline from churches.
Social services are available from United Methodist Church. The organization is involved in fighting poverty and offering short term relief to families. Assistance may include hunger prevention programs such as free boxes of groceries or meals. UMC also provides basic needs such as school supplies, Christmas gifts or free winter jackets for children.
The church also helps families that are close to eviction as well as the homeless. Housing services include free money to pay rent, overnight shelter or grants to help pay energy or electric bills. All of the assistance is provided for free to the working poor. Find other help from the network of United Methodist Churches.
Free resources and referrals provided from a church
Churches and benevolence ministry leaders are eager to provide care to the less fortunate, homeless and people with no money. This can include free food, personal hygiene stuff, clothing and more. Parishes also try to help tackle the root cause of poverty. The locations will try to provide housing or grants for satisfying most of the needs out there. Some churches are now even helping people pay off debt.
A local church is also a great place to turn to for referrals to assistance for bills or housing from other organization. They can direct you to charities, community action agencies, state and local government programs, and more. Volunteers, or the staff, may know of local food drives or be aware of charities that have money available for paying rent or energy bills. Churches may even have funds to help with security or utility deposits, or have information on charities that offer this.
Your local parish often partners with local non-profit and charities. A church may also have a center on site that allows the client the free use of a computer to search for a job or apply for benefits. Click here for government and other assistance programs.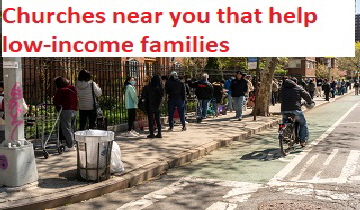 A focus will always be on stopping homelessness. Churches try to keep people in their home so they are not on the streets or living in a shelter. When they can, many may have a few dollars to help with housing needs, whether it is rent or maybe a heating or utility bill for a senior citizens. Additional financial aid may be arranged too by a church. Find other ways to get electric bill help.
Christians can also enroll into low cost health or dental insurance plans. A number of churches partner with ministries to offer this form of financial assistance to families, no matter their income or age. The policies are part of a sharing concept, which means all member premiums go towards paying the excessive medical bills of the patients or they cover prescription medications. A church can provide information, or find how to apply to low cost Christian health insurance.
Faith based charities, including Christian churches and LDS organizations, provides counseling. Churches also help people with substance abuses challenges. There are free rehab centers for alcohol or drug addicts or other addictions. Some rehabilitation programs are free, others may have a low cost or be subsidized. Read more on free substance abuse programs.
Local church rent, free food, motel vouchers and electric bill assistance near you
There are thousands of churches, including Christian and Latter Day Saints as well as other faiths, located in towns, counties, and cities across the nation that work to help the vulnerable. They provide assistance to immigrants, the poor, senior citizens, unemployed and the homeless among others. While each church is different in what it can provide, they all try to provide immediate financial help or free material items.
A church, whether LDS, Christian or some other faith may offer the following. Some provide housing resources, ranging from emergency homeless shelter or hotel vouchers to temporary rental or utility bill assistance. Many centers have free food pantries and/or soup kitchens on site to feed the hungry. Another focus of church is on meeting basic needs, such as offer free clothing, diapers, car repairs for work, vouchers, and household needs.
To locate a church near you, or for more information including referrals, some of the more populated counties as well as cities are listed below. Or use the search box at the top to find a parish by state, county, or town.
Atlanta area
Indianapolis and Marion County
Information on emergency assistance from churches
Unfortunately, churches often just do not have the funding to assist everyone that needs it. While this will vary by state, many parishes, whether Jewish, Mormon - LDS, Christian or another faith try to to their best to meet demand. So when applying for financial help from a church, be sure it is a one time event as they focus on solving a crisis. A church will often ask for proof before issuing funds. They also tend to give priority to senior citizens, the ill, and vulnerable.
Churches try to offer short term, emergency help. They went to help pay a little bit of rent or give food, or give a motel room, on an emergency basis as a "hand up", and not a "hand out". Families can not be dependent on the assistance. Instead a church will offer their limited amounts of financial help for paying one time expenses. Applicants with a one time hardship, but that have little or no money, and that may miss their rent or water bill payment will also get priority.
Typically, these forms and applications from a church require candidates to provide documentation showing they have a financial crisis or true emergency condition. This may include a copy of the lease showing the amount of rent that is due, a pay stub, an unpaid utility bill, or driver's license to verify their address. Anyone seeking help from a church should come prepared with documentation.
Need Additional Help From A Church Near You?
Send us an email @ info@needhelppayingbills.com Include your email address, county and state. It is needed to send a reply to your request to direct you to assistance from a church. Or visit or register in the community forum (link below) and we will reply to your message there.
Related Content From Needhelppayingbills.com