Jewish Federation assistance programs and Family Services.
Jewish Family Services provides help to the less fortunate. The Federation has hundreds of local non-profits that provide everything from free food to Meals on Wheels, emergency financial help, counseling services, referrals and more. Find a Jewish Federal center near you for more information on services offered.
Most of the sites listed below are part of the Jewish Federation of America. They all provide social services and some form emergency assistance to all qualified low income individuals as well as seniors in the region, regardless of their religion, age, gender, or culture. While not common, some Jewish Federation Family Service organizations near you may limit assistance to only Jewish members of the community. Any type of funds are generally paid out from other local non-profits or charities that the federation partners with.
The type of assistance will also vary. Locations may have financial assistance for basic needs such as rent, utilities, food, or medications. Other Jewish Family Services (JFS) will only offer referrals to non-profits or charities that they partner with. In either case this is another national charity organization that is committed to addressing poverty, providing social services, and assisting the less fortunate. Some examples of what may be available are below.
Referrals from the Jewish Family Services near you
On site social workers will help those who want to understand and apply for federal or state government benefits. The centers can be a great place to learn about and get applications for assistance programs, including LIHEAP, public housing, SNAP Food Stamps, section SSI, disability, and more. Receive guidance with government entitlement eligibility, documentation, applications, help enrolling, and recertification including Medicare, Social Security, SSI, Medicaid, and Food Stamps if needed.
One of the most requested programs is LIHEAP. This is administered in each state. The federation or foundation organization can assist income qualified clients with applications to the federally funded low income home energy assistance program. It provides grants for paying gas and electric bills, mostly during the winter. More on LIHEAP online application.
Jewish Family Services senior assistance programs near you are wide ranging and and most locations. This is for the elderly, homebound, people in nursing homes and poor. Providing help to senior citizens is always a focus of the Jewish Federations of North America.
They provide comprehensive case management in local offices and sometimes at the elderly members home. In some cases the Jewish Federation will work with other groups, such as the National Association of Area Agencies on Aging, to ensure senior citizens get both (1) the healthy food and nutritional support then need as well as (2) care and companionship.
The elderly can get help in ensuring their medical needs are met. Receive assistance with discontinuing coverage with unwanted HMOs, filing grievances, contesting medical bills, appeals, re-certifications, and more. Specialists can advise on how to spot and avoid billing fraud and finding an appropriate plan.
Financial help from Jewish Foundation and Federation
Prescription medications are expensive, so the non-profit federation near you may be able to assist with medication payments if they are not covered by health insurance. Receive support with Medicare Part D and other drug plan management including completion of Medicare Savings Program applications. If it is needed, staff can process applications for Medicaid burial funds. Find burial assistance for the low-income.
Senior citizen patients discharged from a nursing home or the hospital that need short- and long-term care may receive help in obtaining any rehabilitation services. Other assistance is offered for any outpatient needs including access to medical supplies, home doctors visits, applications for home attendants, legal services, or extended home care.
Many Jewish Federation locations run Meals-on-Wheels program for seniors and the homebound. This is sometimes done in partnership with other charities such as the Salvation Army. The foundation funded program will deliver low cost, hot meals daily to homebound persons. There will also be nutritional support, including free Ensure, Boost, vitamins, or organic meals.
Senor citizens often need nutritional support, like Ensure or Boost, and the Jewish Federation tries to meet those needs, regardless of the person's religion or faith. There are samples, free coupons, food boxes that include Ensure and similar support. Learn more on free Ensure for seniors.
Free food banks, vouchers for groceries, nutritional consultations, and SNAP applications all me be offered too from a Jewish Federation assistance program near you. They work to end hunger in the states and cities where they operate. This includes free meals or food for the homeless, poor, and low-income.
While more limited, some emergency financial assistance is offered from the charity for needy families and individuals. Those that qualify may be facing an unexpected job loss, death of a family member, sickness or other major crisis. Assistance provided generally includes a full case assessment, coordination of volunteers, comprehensive referrals to other charities and non-profits, and more. Advocacy for the working poor is also constantly being done by the Jewish Federation and their local centers.
Jewish Family Services provides loans as well, most of which are interest free. This means the borrower only needs to repay the principal. In general, the money is for long term goals, such as an interest free loan to pay for college, to start a business, or pay for technical training. The JFS loans are generally open to people of all faiths and even borrowers with low credit, but some locations restrict the funds to only the Jewish community. More on the Jewish Free Loan Associations.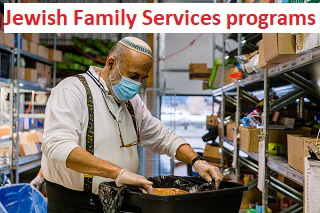 Jewish Federation self-sufficiency resources
Education and Workforce Development Jewish Family services are generally offered by the foundations near you too. The non-profit tries to help people regain self-sufficiency, a higher income, and stability in their lives. This needs to occur as any financial assistance offered for bills or rent is always very short term in nature, so the client needs to gain self-sufficiency in order to achieve long term success.
JFS also help people find work from home job. This is focused on vulnerable individuals, such as senior citizen or disabled person or a single mom who also needs to take care of kids. Others can look into programs too, but opportunities working remotely from home are limited. There will be positions of all skills sets - part time job, easy stay at home positions and more. Read more details on a legitimate stay at home job.
Workforce Development, offered in partnership with local non-profits or government agencies, provided training and job placement for adult women and men. Courses can include basic computing, small office management, computer graphic design, QuickBooks, construction management, sales training, residential facilities management, real estate or management, commercial drivers licensing, and more.
Education can include English as a Second Language (ESL). This is usually offered by the national charity at multiple levels. It is for people, including immigrants, who want to improve their English language skills. Certain classes are focused on a review of essential math skills or language skills important for business. Learn more on free English as Second Language Classes.
Additional Jewish Federation Family Services programs
One of the main functions of the Jewish Federations of North America is the partnerships and work they do with other community organizations, local charities and government agencies. They plan and implement assistance programs and social services in the areas of housing, health, nutrition, and more. They also give away free stuff to the low-income, often in partnership with companies such as Craiglst or non-profits. Find details on free stuff on craigslist today.
The exact resources vary by center. However, at the end of the day, the organization supports a safety net for the country's most vulnerable. The Jewish Federation works with a local network of charity agencies to feed the hungry, empower those with disabilities, help the unemployed and to also extend a compassionate hand to senior citizens.
Many of the beneficiary agencies can provide the following resources.
Provide seniors and residents with

free legal aid

to secure essential benefits or prevent evictions. Jewish Family Services pro-bono lawyers are available, and look for a pro bono lawyer near you.

Fighting hunger in their states

by aiding low-income residents, especially those with children, with basic groceries and nutritious meals.

Support recently or long term unemployed adults

through basic job training, placement services, and counseling.
Offer

emergency homeless shelter, housing counseling

, and financial assistance to pay rent and prevent homelessness.
Locations of the Jewish Federations assistance programs near you
As indicated, the JFS centers near you below usually work with other non-profits as well as foundations in the state or county. Those other organizations or charities will often accept and process applications for financial aid, employment programs, food, and other support. For additional information or referrals, call a site near you.
Alabama
Birmingham and Jefferson County - There is not an agency available, butt find other Family and Social Services.

Mobile

, 1 Office Park - Suite 219, Mobile, AL 36609, 334-343-7197
Dothan, Huntsville, Jasper, The Shoals Network region. Phone: 212-284-6595
Arizona
Ottumwa

Network, telephone 212-284-6595

Phoenix

, 12701 N. Scottsdale Road Ste 201, Scottsdale, AZ 85254, 480-634-4900. Provides social services and referrals in Maricopa County.

Southern Arizona

, 3822 East River Rd - Suite 100, Tucson, Arizona 85718. For referrals, call 877-211-8661. They only assist Jewish families. This location

no longer

provides assistance in Pima County due to funding. Services may be free food from a pantry, medical equipment, Sun Tran bus passes, or financial aid for bills and medical costs. Click more info on Jewish Family and Children Services of Southern Arizona.
Arkansas
Little Rock/Pulaski County

region, 1501 N Pierce Street, Little Rock, AR 72207, 501-663-3571
California
Modesto, Monterey, Riverside, Salinas, San Bernardino, Stockton, Uniontown, Vallejo, and Victorville

area residents. Dial 212-284-6595

East Bay/Oakland

, 300 Grand Avenue, Oakland, CA 94610-5022, 510-839-2900

Fresno

, 406 West Shields, Fresno, CA 93705, main number 559-432-2162. Has information on local resources, including job training, education/ESL, low income housing, and more.

Long Beach

, 3801 East Willow Street, Long Beach, California 90815, telephone: 562-426-7601

Los Angeles County

, 6505 Wilshire Boulevard, Los Angeles, CA 90048, phone: 323-761-8000. One of the nation's leading Jewish Federation sites.

Orange County

, One Federation Way, Suite #210, Irvine, CA 92603-0174, dial 949-435-3484 for information.

Palm Springs

, 69-930 Highway 111, Suite 204, Rancho Mirage, CA 92270, 760-324-4737. Call for information on emergency financial assistance, housing, case management, and more.

Sacramento County

, 2014 Capitol Ave, Suite 109, Sacramento, California 95011. For information, dial 916-486-0906.

San Diego

, 4950 Murphy Canyon Road, San Diego, CA 92123-4325, telephone number is 858-571-3444. Coordinates resources and partnerships across southern California. Read more on San Diego Jewish Family Services assistance programs.

San Francisco

, 121 Steuart Street - 7th Floor, San Francisco, California 94105-1236, 415-777-0411. Supports low income families in the Bay area.

San Gabriel/Pomona

V, 550 S. Second Avenue, Arcadia, CA 91006, main number is 626-445-0810

San Luis Obispo

Network, 875 Laureate Lane, San Luis Obispo, CA 93405, 805-426-5465

Santa Barbara

, 524 Chapala Street, Santa Barbara, CA 93103, primary phone 805-957-1115

Silicon Valley / San Jose / Santa Clara

, 14855 Oka Road, Suite 2, Los Gatos, CA 95032, phone - 408-358-3033

Ventura County

, 7620 Foothill Road, Ventura, CA 93004, phone 805-647-7800
Colorado
Aspen, Fort Collins, Greeley, Pueblo Network, telephone 212-284-6595

Denver

, 300 South Dahlia Street, Suite 300, Denver, CO 80246-8118, dial 303-321-3399. The Family Service office has information and referrals to employment and other assistance programs for all of Colorado. Continue with Jewish Family Services of Colorado.
Connecticut
Danbury

, 69 Kenosia Avenue, Danbury, CT 06810, main phone 203-792-6353

Eastern Connecticut

office is at 28 Channing Street, New London, Connecticut 06320. Call 860-442-8062 for information.

Fairfield County/Bridgeport

, 4200 Park Avenue, Bridgeport, CT 06604-1092, 203-372-6567

Greenwich

, 1 Holly Hill Lane, Greenwich, CT 06830-6080, call 203-622-1434

Hartford

, 333 Bloomfield Avenue, West Hartford, Connecticut, 06117-1544, dial 860-232-4483. Long term needs (such as job training) are offered by referrals as well as short term, emergency financial support.

New Haven County

, 360 Amity Road, Woodbridge, CT 06525-2316, telephone - 203-387-2424

Stamford

, 1035 Newfield Avenue - Suite 200, Stamford, CT 06905-2521. Dial the office at 203-321-1373. Provides assistance, information, and help to Fairfield County. The elderly and seniors. Regardless of religion, can receive support, including housing resources.

Western Connecticut

, 444 Maine Street North, Southbury, CT 06488, dial 203-267-3177 for intake.

Westport-Weston-Wilton-Norwalk

, 431 Post Road East - Suite 22, Westport, CT 06880, main number is 203-226-8197
Meriden, Middletown, Putnam, Storrs, Torrington, Wilmantic Network. Phone 212-284-6595.
Delaware
100 West 10th Street, Wilmington, DE 19801-1628, dial 302-427-2100
Florida
Fort Pierce, Key West, Lakeland, Ocala, Pasco County, Punta Gorda, and Tequesta Florida. Dial 212-284-6595

Brevard County

, 210 East Hibiscus Blvd., Melbourne, FL 32901, main number 321-951-1836

Broward County

is located at 5890 S Pine Island Rd, Davie, Florida 33328, dial 954-252-6900

Collier County

, 2500 Vanderbilt Beach Road - Suite 2201, Naples, FL 34109, main number is 239-263-4205

Gainesville

, 1816 NW 21st Street, Gainesville, FL 32604, telephone 352-371-3846. Call for information.

Jacksonville

, 8505 San Jose Boulevard, Jacksonville, Florida 32217, dial 904-448-5000. Programs include food, basic needs, utility help, and more. They may have referrals to financial aid, such as rent help too. Find help from Jacksonville FL Jewish Family Services.

Lee County

, 9701 Commerce Center Court, Fort Myers, FL 33908, 239-481-4449

Miami-Dade County

, 4200 Biscayne Boulevard, Miami, FL 33137-3210, 305-576-4000

Orlando and Orange County

, 851 North Maitland Ave, Maitland, FL 32794-1508, primary phone: 407-645-5933. Has information on food programs and other aid, with a focus on the senior population in Florida. Receive guidance on Medicaid and other federal benefits.

Palm Beach County

, address 4601 Community Drive, West Palm Beach, Florida 33417-2760, dial 561-478-0700

Pensacola

, 800 North Palafox, Pensacola, FL 32501, 850-434-7992

Pinellas County

, 13191 Starkey Road, Largo, FL 33773-1438, 727-530-3223

Sarasota-Manatee

, 580 South McIntosh Road, Sarasota, Florida 34232-1959, telephone number is 941-371-4546. Continue with assistance from Jewish Family Service Sarasota-Manatee County.

South Palm Beach County

, 9901 Donna Klein Boulevard, Boca Raton, FL 33428-1788. For information, call 561-852-3100

Tallahassee

, P.O. Box 14825, Tallahassee, FL 32317-4825, 850-877-7989

Tampa Bay region

, 13009 Community Campus Drive, Tampa, Florida 33625-4000. Dial 813-264-9000.

Volusia/Flagler County

, 470 Andalusia Avenue, Ormond Beach, FL 32174-7332. Main number 386-672-0294.
Georgia
Athens, Dalton, Macon residents can dial 212-284-6595.

Fulton County and Atlanta area

, 1440 Spring Street NW, Atlanta, Georgia 30309-2837. Dial 404-873-1661. Job training, counseling, help for seniors and other support is available. More on Atlanta Jewish Career Services.

Augusta

, 898 Weinberger Way, Evans, GA 30809. For information on social services, dial 706-228-3636

Columbus Georgia

area. P.O. Box 6313, Columbus, Georgia 31917, 706-568-6668

Savannah and Chatham County

, 5111 Abercorn Street, Savannah, GA 31405, 912-355-8111
Illinois
Aurora, Bloomington, Elgin, Ottawa, Quincy and Waukegan. The local non-profit Jewish Federation can be called at 212-284-6595

Champaign-Urbana

, 503 East John Street, Champaign, IL 61820. Telephone - 217-367-9872

Chicago and Cook County

. Main office is at 30 S. Wells, Chicago, IL 60606, 312-346-6700. This site partners with many local charities.

Joliet

, 250 N Midland Avenue at Campbell St, Joliet, IL 60435. Main number is 815-741-4600. A focus is on providing heating referrals and assistance for seniors and low income families with children.

Peoria

, 2000 West Pioneer Parkway, Peoria, IL 61615-1835, 309-689-0063

Quad Cities

, 2715 30th Street, Rock Island, IL 61201. Call 309-793-1300 for information on social services.

Rockford

, 3730 Guilford Road, Rockford, Illinois 61107, telephone 815-399-5497.

Southern Illinois

, 3419 West Main Street, Belleville, IL 62226, dial 618-235-1614

Springfield

, 1045 Outer Park Drive, Suite 320, Springfield, IL 62704. Telephone: 217-787-7223
Indiana
Bloomington, Evansville, Michigan City, Muncie, and Terre Haute residents dial 212-284-6595.

Fort Wayne

, 227 East Washington Boulevard, Fort Wayne, Indiana 46802-3121, 260-422-8566

Indianapolis and Marion County

. Main office is at 6705 Hoover Road, Indianapolis, IN 46260-4120, 317-726-5450. The largest federation in the state.

Lafayette

, P.O. Box 3802, West Lafayette, IN 47996, phone: 765-426-4724

Northwest Indiana

, 585 Progress Avenue, Munster, Indiana 46321, 219-922-4024

St. Joseph Valley

, 3202 Shalom Way, South Bend, IN 46615-2955, dial 574-233-1164
Iowa
Cedar Rapids, Iowa City Network. Phone 212-284-6595.

Des Moines

, 33158 Ute Avenue, Waukee, IA 50263, primary phone: 515-277-6321.

Sioux City

, 815 38th Street, Sioux City, Iowa 51104-1417, call 712-258-0618
Kansas
Kansas City region

. 5801 West 115th Street, Overland Park, KS 66211-1824, 913-327-8100

Mid-Kansas

, 400 N Woodlawn Street, Wichita, KS 67208. Call 316-686-4741 for information on assistance.
Lawrence Network, Topeka, 212-284-6595
Kentucky
Central Kentucky

part of state. 1050 Chinoe Road, Suite 302, Lexington, Kentucky 40502-2400. Main phone 859-268-0672.

Louisville and Jefferson County

, 3630 Dutchmans Lane, Louisville, KY 40205-3524, 502-451-8840. The Jewish charity will offer referrals to residents facing poverty or a hardship.
Louisiana
Alexandria area, dial 212-284-6595

Baton Rouge parish

, 5222 Summa Court, Baton Rouge, LA 70809, 225-379-7393

New Orleans

, 3747 West Esplanade Avenue, Metairie, Louisiana 70002, telephone 504-780-5600

North Louisiana

, 245-A Southfield Road, Shreveport, Louisiana 71105. Call 318-868-1200 for details.
Maine
Auburn, and Augusta Maine

. Families can dial 212-284-6595 form information on resources.

Bangor

, 6 State Street - Room 314, Bangor, ME 04401, dial 207-941-2950

Lewison-Auburn

, 74 Bradman Street, Auburn, ME 04210, telephone 207-786-4201

Southern Maine

, 57 Ashmont Street, Portland, Maine 04103, dial 207-773-7254 for intake. Eviction and homeless prevention services are offered as well as grants for local charities.
Maryland
Anne Arundel County, Cumberland, Frederick, and Salisbury Maryland. 212-284-6595

Baltimore

, 101 West Mt Royal Avenue, Baltimore, MD 21201-5708. Call 410-727-4828

Howard County

, 8950 Route 108 - Suite 115, Columbia, MD 21045. phone: 410-730-4976

Washington, DC suburbs

. One office is at 6101 Montrose Road, Rockville, Maryland 20852, call 301-230-7200. Provides assistance to the nation's capital.
Massachusetts
Amherst, Athol Network, Cape Cod, Fitchburg, Greenfield, Leominster, Northampton, Plymouth, Taunton, and Webster 212-284-6595.

Berkshire County

, 196 South Street, Pittsfield, Massachusetts 01201, 413-442-4360

Boston

families can use the office at 126 High Street, Boston, MA 02110-2700. Call the center at 617-457-8500.

Central Massachusetts

, 633 Salisbury Street, Worcester, MA 01609-1120, call 508-756-1543. Offers help to the less fortunate in the form of counseling, food, and other aid.

Fall River

, 385 High Street, Fall River, MA 02720, phone 508-673-7791

Holyoke

, 1800 Northampton Street, Holyoke, Massachusetts 01040, dial 413-534-5262

Merrimack Valley

, P.O. Box 937, Andover, Massachusetts 01810-0016, call 978-688-0466

New Bedford

, 467 Hawthorn Street, North Dartmouth, Massachusetts 02747. Telephone - 508-997-7471

North Shore

, 4 Community Road, Marblehead, MA 01945, 781-631-8330

Western Massachusetts

, 1160 Dickinson Street, Springfield, MA 01108. Call 413-737-4313.
Minnesota
Duluth/Twin Ports, and Rochester, telephone 212-284-6595

Minneapolis

, 13100 Wayzata Boulevard, Minnetonka, Minnesota 55305-1810. To reach this office, call 952-593-2600. Provides food, heating assistance, eviction prevention, and information on government benefits in Hennepin County. Read more on Jewish and Family Children Services Minneapolis.

St. Paul

, 790 S Cleveland Avenue - Suite 227, St. Paul, MN 55116-3859, 651-690-1707
Michigan
Benton Harbor, Central Michigan, Marquette, Michigan-NIUC, Mount Clemens Network, Muskegon, Saginaw, South Haven, and Traverse City. Dial 212-284-6595 for information.

Ann Arbor

, address 2939 Birch Hollow Drive, Ann Arbor, Michigan 48108. Call 734-677-0100.

Bay City

, 2300 Center Avenue, Bay City, MI 48706-6309, telephone 517-893-7811

Wayne County and Detroit

, 6735 Telegraph Road, Bloomfield Hills, MI 48301-2030, 248-642-4260. Call for information on medical care from Project Chessed, free legal aid, and funds or loans for paying bills and rent. Other services from the Jewish organization include free groceries and meals as well as help for senior caregivers. Click for details on Jewish Family Services assistance programs in Detroit MI area.

Flint

, 619 Wallenberg Street, Flint, MI 48502, 810-767-5922

Grand Rapids

, address is 2727 Michigan St NE, Grand Rapids, MI 49506-1240. Telephone 616-942-5553

Kalamazoo Network

, PO Box 814, Portage, MI 49081, phone 269-349-3303

Lansing Network

, 360 Charles Street, East Lansing, MI 48824, (517) 332-1916. The local Jewish federation can help residents apply for government benefits such as Medicaid or SSDI, among other services.
Mississippi
Biloxi/Gulfport, Greenville, Greenwood, Hattiesburg, Jackson, Tupelo, Vicksburg Network 212-284-6595
Missouri
St. Joseph

, 1816 Walnut, St. Joseph, MO 64503. Call the non-profit charity at 816-233-1186.

St. Louis

, 12 Millstone Campus Drive, St. Louis, Missouri 63146-5776, phone: 314-432-0020. Several financial and emergency programs are offered from this Jewish organization. Click here for Jewish Family Services of St. Louis.
Nebraska
Lincoln

, P.O. Box 67218, Lincoln, Nebraska 68506, dial 402-420-0602

Omaha

, address 333 S 132nd Street, Omaha, Nebraska 68154-2198, 402-334-8200
New Hampshire
Nashua, Seacoast area residents should call 212-284-6595 for intake.

Manchester

, 698 Beech Street, Manchester, NH 03104-3626, main phone 603-627-7679
New Jersey
Bayonne, Salem and Wildwood Network, 212-284-6595

Atlantic/Cape May County

, 501 N. Jerome Ave., Margate, NJ 08402, telephone 609-822-4404

Bayonne

, 1050 Kennedy Boulevard, Bayonne, New Jersey 07002-2045, call 201-436-6900

Clifton-Passaic area

is covered by 199 Scoles Avenue, Clifton, NJ 07012-1125. Dial the agency at 973-777-7031

Cumberland County

, 1063 East Landis Avenue, Vineland, New Jersey 08360-4445, 856-696-4445

Greater MetroWest

, 901 Route 10 E, Whippany, New Jersey 07981-1156, main phone 973-929-3000

Hoboken

, P.O. Box 1346, Hoboken, NJ 07030, call 201-792-0104

Jersey City

, 71 Bentley Avenue, Jersey City, NJ 07304. Main telephone 201-332-6644

Middlesex County

, 230 Old Bridge Turnpike, South River, NJ 08882-2000. Call 732-432-7711. Dozens of services are offered, including food, meals, energy bill help, and applications for public aid.

Monmouth County

, 960 Holmdel Road, Building II, Second Floor, Holmdel, NJ 07733. Dial 732-866-4300.

Northern New Jersey residents

, call or stop by the center at 50 Eisenhower Drive, Paramus, NJ 07652. Dial 201-820-3900.

Ocean County

, 301 Madison Avenue, Lakewood, NJ 08701, 732-363-0530

Princeton/Mercer Bucks

, 4 Princess Road Ste 206, Lawrenceville, New Jersey 08648-2207. Phone 609-219-0555

Somerset County

, 775 Talamini Road, Bridgewater, NJ 08807. Call the local branch of the charity at 908-725-6994 for information on services.

Southern NJ

, 1301 Springdale Road, Cherry Hill, NJ 08003-2769. Dial 856-751-9500.
New Mexico
Albuquerque

, 5520 Wyoming Boulevard NE, Albuquerque, NM 87109-3167, 505-821-3214
Santa Fe and Los Alamos region, call 212-284-6595.
Nevada
Las Vegas - Clark County

, 2317 Renaissance Drive, Las Vegas, NV 89119-7520, dial 702-732-0556. Supports the hard hit Clark County Nevada area with referrals and more. Job training, loans for expenses such as rent or security deposits, and other support services are available. Click more information on Las Vegas Jewish Family Services financial assistance programs.
Northern Nevada families dial 212-284-6595.
New York
Amsterdam, Auburn, Cortland, Ellenville, Elmira-Twin Tiers, Geneva, Glens Falls, Gloversville, Herkimer, Hudson, Kingston, Malone, Oneonta, Potsdam, Stamford, Watertown, and Woodridge New York Network, dial 212-284-6595

Broome County

, 500 Clubhouse Road, Vestal, NY 13850, 607-724-2332

Buffalo

location is 787 Delaware Avenue, Buffalo, New York 14209, 716-886-7750. Covers the less fortunate in Western New York. Basic needs such as housing, food, and government entitlements are offered by this center.

Dutchess County

, 110 Grand Avenue, Poughkeepsie, NY 12603. Telephone number is 845-471-9811.

Tompkins County and Ithaca

, PO Box 4214, Ithaca, NY 14852, telephone 607.257.5181

Mohawk Valley

, 2310 Oneida Street, Utica, New York 13501-6009, main phone 315-733-2343

New York City

, 130 E 59th Street, New York, New York 10022-1302. Phone 212-980-1000. Tends of thousands of individuals and families receive assistance, both monetary and basic needs.

Northeast NY state

, 184 Washington Ave, Albany, NY 12203, dial 518-783-7800 for information on services.

Orange County

, 68 Stewart Avenue, Newburgh, NY 12550, 845-562-7860

Rochester

, 441 East Avenue, Rochester, NY 14607-1932, 585-461-0490

Rockland County

, 450 West Nyack Road, West Nyack, NY 10994, phone 845-362-4200

Syracuse and Onondaga County

, 5655 Thompson Road, De Witt, NY 13214. Call 315-445-2040 for intake.

Ulster County

, 159 Green Street, Kingston, NY 12401, 845-338-8131
Some of the New York based centers offer emergency assistance, but not all. The Jewish federations may provide rent help, funds or grants for local non-profits, food, and workforce development. These are just some of the services offered.
North Carolina
Asheville

, 236 Charlotte Street, Asheville, NC 28801-1434, 828-253-0701 or dial 828-545-4748.

Charlotte

, 5007 Providence Road, Suite 101, Charlotte, NC 28226-5849, dial 704-944-6757. May have emergency financial assistance and education programs to residents of all ages, religions, and backgrounds. More on Jewish Federation of Greater Charlotte assistance programs.

Durham-Chapel Hill

, 1937 W. Cornwallis Road, Durham, NC 27705, telephone 919-489-5335
Greensboro, 5509-C West Friendly Avenue, Greensboro, North Carolina 27410-4211, telephone 336-852-5433

Raleigh-Cary

, 8210 Creedmoor Road Suite 104, Raleigh, North Carolina 7613-1388, dial 919-676-2200 for details.
Fayetteville, Goldsboro, Hendersonville, Hickory, High Point Network, Jacksonville, Stateville, Whiteville, Wilmington, Winston-Salem Network. 212-284-6595
Oklahoma
Oklahoma City

, 710 W Wilshire Blvd, Oklahoma City, OK 73116-7740, phone: 405-848-3132

Tulsa County

. the office is located at 2021 E 71st Street, Tulsa, OK 74136. Dial 918-495-1100.
Ohio
East Liverpool, Lima, Lorain, Mansfield, Middletown, Sandusky-Norwalk Network, Springfield, 212-284-6595

Akron

, 750 White Pond Drive, Akron, Ohio 44320-1128, telephone 330-869-2424

Canton

, 432 30th Street NW, Canton, Ohio 44709-3147, dial 330-452-6444

Cincinnati and Hamilton County

, 8499 Ridge Road, Cincinnati, OH 45236, 513-985-1500. The Jewish services are for the entire region, including Hamilton, Butler, Boone, and other counties. One time emergency help for bills may be offered, shelter, and assistance for the elderly and disabled. Call them for more details on Cincinnati area programs from Jewish Family Service.

Cleveland

, 25701 Science Park Drive, Cleveland, OH 44122-7302, dial 216-593-2900

Columbus

, address is 1175 College Avenue, Columbus, OH 43209, telephone 614-237-7686

Dayton

is covered by an office at 525 Versailles Dr, Centerville, OH 45459. Call 937-610-1555.

Steubenville

, address is 300 Lovers Lane, Steubenville, Ohio 43952. Dial 740-264-5514.

Toledo and Lucas County

, 6465 Sylvania Avenue, Sylvania, OH 43560-3918, phone: 419-885-4461. The local Jewish Federation may have job training, financial aid for heat, and other items, such as food for seniors.

Youngstown

, 505 Gypsy Lane, Youngstown, Ohio 44504-1314, 330-746-3251
Oregon
Eugene and Medford-Ashland Oregon, telephone - 212-284-6595

Portland

, 6680 SW Capitol Highway, Portland, OR 97219-1958, call 503-245-6219
Pennsylvania
Butler, Chambersburg, Hazleton, Hollidaysburg, Johnstown, Lancaster, Lebanon, Lewiston, Lock Haven, Meadville, New Castle, Pottstown, Pottsville, State College, Stroudsburg, Sunbury, Wayne County, Williamsport Pennsylvania, telephone 212-284-6595

Allentown/Lehig

h, 702 N 22nd Street, Allentown, PA 18104-3904, 610-821-5500

Altoona

, 1308 17th Street, Altoona, PA 16601-3413, call 814-940-6001

Erie

, PO Box 3120, Erie, PA 16508, dial 814-455-4474

Harrisburg and Dauphin County

office is at 3301 North Front Street, Harrisburg, PA 17110-1436. Call 717-236-9555. Assists the capital. Food, programs for the elderly, medications, and referrals to local Jewish centers and nearby charity organizations.

Philadelphia

, 2100 Arch Street, Philadelphia, PA 19103. Call the office at 215-832-0500 for information on assistance programs. Case management can help Philadelphia County families gain stability in their lives.

Pittsburgh

, 234 McKee Place, Pittsburgh, Pennsylvania 15213-3916, primary phone 412-681-8000. The non-profit Jewish organization supports all of Allegheny County. Click here for details on Jewish Family Services of Pittsburgh PA programs.

Princeton/Mercer Bucks County

, 4 Princess Road Ste 206, Lawrenceville, NJ 08648-2322. Call 609-219-0555 to reach a staff member.

Reading

, 1100 Berkshire Blvd. Suite 125, Wyomissing, PA 19610, dial 610-921-0624

Scranton and Lackawanna County

. Address - 601 Jefferson Avenue, Scranton, PA 18510. Call 570-961-2300.

Wilkes-Barre / Wyoming County

, 60 S River Street, Wilkes Barre, Pennsylvania 18702-2493, 570-822-4146

York County

, 2000 Hollywood Drive, York, Pennsylvania 17403. Telephone - 717-854-7220
Rhode Island
Covers the entire state. 130 Sessions Street, Providence, RI 02906-3497, phone: 401-421-4111. Home care for the disabled, free delivered meals from the foundation, and one time financial aid for rent, bills, and deposits are just some of what may be available. Learn more on Jewish Family Services of RI assistance programs..
South Carolina
Beaufort, Florence Network, Myrtle Beach, Spartanburg, Sumter, 212-284-6595

Charleston County

, 1645 Raoul Wallenberg Boulevard, Charleston, SC 29407-1298. Dial 843-571-6565

Columbia center

is based at 306 Flora Drive, Columbia, South Carolina 29224. Telephone - 803-787-2023.

Greenville

, P.O. Box 5262, Greenville, South Carolina 29606, 212-284-6595. Call for intake. Social workers help the poor with needs such as housing, LIHEAP applications, and much more.
South Dakota
Aberdeen Network, 212-284-6595

Sioux Falls

, 510 South 1st Avenue, Sioux Falls, SD 57102-1003, telephone 605-332-3335
Tennessee
Jackson, Oak Ridge, Tri-Cities Network, 212-284-6595

Knoxville and Knox County

, 6800 Deane Hill Drive, Knoxville, Tennessee 37919, 865-690-6343

Memphis location

- 6560 Poplar Avenue, Germantown, TN 38138-3614. Dial 901-767-7100 for intake.

Nashville

, 801 Percy Warner Boulevard, Nashville, Tennessee 37205-4009, 615-356-3242
Texas
Baytown, Brownsville, Galveston, Harlingen, Laredo, Mc Allen Network, Texarkana, Tyler Texas, call 212-284-6595

Austin

, 7300 Hart Lane, Austin, TX 78731, phone: 512-735-8000

Beaumont

, P.O. Box 1891, Beaumont, TX 77704-1981, telephone 409-832-2881

Corpus Christi

, 750 Everhart Road, Corpus Christi, TX 78411-1906, dial 512-855-6239

Dallas County

center is at Jacob Feldman Bldg -- 7800 Northaven Rd, Dallas, Texas 75230-3226. Telephone: 214-369-3313. The site works with other national and local charities to address emergency needs. Some programs, including counseling and help for low income seniors, may be offered regardless of religion. Read more on assistance from Dallas Jewish Family Services..

El Paso

, 405 Wallenberg Drive, El Paso, TX 79912-5605, 915-584-4437. Programs are offered for immigrants too.

Fort Worth and Tarrant County

, 4049 Kingsridge Road, Fort Worth, Texas 76109, call 817-569-0892

Houston and Harris County

, 5603 S Braeswood Boulevard, Houston, TX 77096-3907, telephone - 713-729-7000

San Antonio

, 12500 NW Military Highway, San Antonio, TX 78231, dial 210-302-6960. More Bexar County programs from Jewish Federation.

Waco

, P.O. Box 8031, Waco, Texas 76710, telephone 254-776-3740
Virginia
Charlottesville, Danville, Fredericksburg, Lynchburg, Martinsville, Petersburg, Roanoke

, 212-284-6595

Tidewater and Hampton Roads

, 5000 Corporate Woods Drive, Suite 200, Virginia Beach, VA 23462, call the office at 757-965 - 6100

VA Peninsula

, 2700 Spring Road, Newport News, Virginia 23606, 757-930-1422
Washington
Bellingham, Spokane, Tacoma, Yakima Network, 212-284-6595

Seattle

, 2031 Third Avenue, Seattle, Washington 98121-2412. Call for details on any assistance offered. Number is 206-443-5400. Hundreds of homeless may receive information on shelters, low income government housing, and more from the Jewish charities in King County. More details on Jewish Family Service of Seattle.
West Virginia
Bluefield, Fairmont, Huntington, Logan, Morgantown Network, Wheeling, 212-284-6595

Charleston

, P.O. Box 1613, Charleston, WV 25326, 304-345-2320
Wisconsin
Appleton, Green Bay, Kenosha, LaCrosse, Manitowoc, Racine, Sheboygan, Wausau Jewish Network, call 212-284-6595

Madison

, 6434 Enterprise Lane, Madison, Wisconsin 53719-1117, dial 608-278-1808

Milwaukee

, 1360 N Prospect Avenue, Milwaukee, Wisconsin 53202-3094, phone 414-390-5700. Several assistance programs are offered for need such as housing, medical, and the elderly in the county.
Utah
2 North Medical Drive, Salt Lake City, UT 84113, call 801-581-0102
Related Content From Needhelppayingbills.com