Sell stuff online.
Find websites, marketplaces, and apps that allow people to sell stuff online, for free, and that allow you to get paid quickly. The sites are quick and easy to use. You can sell stuff online or in person to earn get extra cash. Learn where and how to sell stuff online.
The internet has become a digital shopping mall with a number of websites that anyone can use to sell stuff and get paid instantly, often the same day. Financial transactions that involve selling items on the internet are no longer reserved for big retailers, investors or traders. Anyone who has access to the internet or a cell phone has the ability to participate in digital transactions to make some extra cash to save, pay off debt or bills, or even as a side hustle to generate a passive income. But there are also ways to sell stuff at a local marketplace near you.
Why sell stuff online?
The number one reason, is anyone can do it for somewhat easy money. There are many other benefits as well, including those listed below. Selling will also be a form of passive income, meaning you can make money each month and learn how to make a passive income.
Selling online will allow you to reach a global audience

, which will increase sales opportunities. Even a person working from their own home can sell stuff online to other countries.
There is a

low operational cost as well as barriers to entry

when it comes to selling stuff online, no need to rent retail spaces or hiring shop assistants.

Anyone can use websites to sell items online

. Individual people, kids, teens, or even families can sell online. Some websites even cater to senior citizens.
In addition to the

low costs that are involved selling online

, you will receive your payments more quickly from online transactions. Many websites and apps pay instant funds to a bank account, Paypal, Venmo, or Cash App.
A decade ago, there were stigmas attached to second-hand items and thrift stores. However today, smart people and bargain hunters are always looking for the best deals on electronics, books clothing and other old items with sentimental values. They are seeking places to buy this stuff (mostly online) and this demand presents an opportunity for sellers. There are also marketplaces to specialize in electronics.
The reselling business has been evolving, and consumers are becoming more mindful of their spending. The resale industry in the US is in the tens of billions of dollars in annual sales. In fact, you will be surprised how much your stuff is valued.
In addition to that, your used items can make a difference to a person who is also on a budget or that is living on a low income. The extra money can be used in any way the family wants…building savings, paying bills, vacations, or anything. It's a win-win situation-- earning fast cash and a discounted deal for the buyer. Below are some marketplaces to sell your stuff online, or find how to be more successful as an online reseller.
Best marketplaces to sell or buy stuff
ThredUp: The largest online consignment and thrift store. Sign up for Thredup Clean Out service and earn cash or credit for a closet renewal. The Clean Out service works by ordering a free kit. You will have the option to turn your clothes into cash for charities or selling your stuff for extra money cash or credit to use towards buying items.
ThredUp sends a free bag that you can fill up with clothing, handbags, jewelry, and accessories. Then, drop off your bag at any FedEx or USPS location. Once your bag is received and process, you will earn cash or credit. Clothing must be freshly washed, from a name brand and free of tears, rips, and stains. TredUp is available on the web and mobile devices. It even operates similar to a thrift shop.
Rent to own sites: Families, or people who need furniture or electronics, can rent what they need or use a lease to own service. Most of the companies have online websites as well and are also involved in buying stuff for their own inventory. Examples of companies include LeaseVille, Feather, and CORT among others.
The furniture, appliances and other stuff is available to renters immediately. For people selling items, the payment system is robust as well. Many of these furniture rental sites also cater to people with a low-income or poor credit scores too. Find how to rent furniture with no credit check.
PoshMark: An iOS and Android app. Become a Posh seller in less than 30 seconds and make your first sale. To start selling, simply snap a photo of an item you would like to sell, along with a description and a price for your item. You can sell clothes, furniture, appliances, or anything
Then, you may choose to participate in Posh parties- a virtual buying and selling event within the app. Poshmark provides you with a free pre-paid and pre-addressed label to sell your items and package can be dropped off at any USPS location.
Bagborroworsteal.com If you currently own any luxurious handbags, shoes or accessories, you can use this website and take advantage of the consignment or direct sale option to earn extra money for your expensive items.
For consignment, you will earn 70% the sale and will receive your payment via PayPal or check. For direct sales, you can choose to accept store credit, PayPal or check. With the direct sales option, you will earn 10% more if you wish to be paid in store credit. This can be good a choice if you are planning to resell at a higher price in another marketplace to make a profit. This website also allows you to rent and buy items.
www.fashionphile.com- A secondary market for designer handbags. This website has paid hundreds of thousands of dollars out to sellers in a week. Selling your designer handbag and accessory is simple. You will be prompted to send a detailed email of your item, and you will receive a price quote, along with a shipping label. You will get paid via direct deposit, store credit or a check next business day.
Jbfsale.com (Just Between Friends) - A reference website to find nearby events in your state to save money on shopping. Sellers can also sell surplus goods at the events. There will be kids toys, clothes and shoes both for sale and people can sell those goods too.
Just Between Friends has helped over one million families, many of them who are low income, afford clothing that will make kids look and feel great without breaking the bank. This website works by organizing community sale events, where people get bargains on maternity and kids items. School supplies, shoes, winter gear and more is sold at affordable prices to families who live on a budget.
You can make money at these events by registering for a local event, using their online pricing system and then the team members will sell your items. Payments are made 15 days after each event.
recycleyourfashions.com- This website buys all types of clothing. Recycle unused and unwanted clothes and turn them into cash with their consignment option, which is equivalent to a thrift store.
Get started by filling out a consignment form and list items that you would like to sell. If your clothing falls under their guideline, you will receive respond within 24 hours, along with a prepaid shipping label. Recycle Your Fashion will market your item to ensure you get the highest price for your item.
TheRealReal.com- An online consignment luxury consignment website where you can sell designer items for high prices. The company only accepts authentic fashion brands and high-end fine jewelry and watches. Sell your items and receive up to 85% of each sale price. You can also visit any store location in New York, San Francisco, Chicago, LA or Dallas.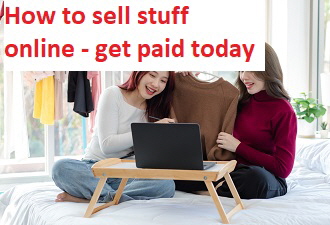 Letgo - Letgo's business model is that of a global "classified ads" page. So it's effectively like selling on Craigslist, but with a reputation system and a nicer interface.
LetGo doesn't charge any fees to buyers or sellers (unless you want to pay a small price to "bump" your listing up the search results), but they also don't act as a middleman in the sale. The intention is to meet in person to make a direct exchange, but there is nothing in the terms of service preventing users from dealing by mail, and there is an instant payment feature to help facilitate long-distance transactions.
VarageSale is very similar to LetGo. The idea is to facilitate local sales, with buyers in your area able to "reserve" your item if they like it and agree to your terms. There is a reputation system, with participants encouraged to mark items as "paid for" and "received" as part of the transaction.
As with LetGo, there are no fees, but the company also doesn't do anything to secure transactions. So selling by mail carries the same risk, but as with LetGo it is not expressly forbidden by the terms of service.
Bonanza is a more traditional e-commerce platform in the model of eBay or Amazon Seller Central. The two significant differences are that it has fewer users than the others, but the fees are much lower.
Though it doesn't have as many eyes on it, Bonanza still has a respectable user base. The site uses a tiered subscription system; the more you pay in monthly subscription fees, the more aggressively Bonanza advertises your listings. However, anyone can list as many items as they want for free, and these listings will show up in both Google and Bonanza searches. You pay a simple, small final value fee per sale.
BriskSale is an e-commerce platform that promises no fees whatsoever combined with an in-house escrow service that works with whatever payment platform you want to use. It's undoubtedly a fascinating platform, but presently has a tiny user base and a search engine that is much less refined than the more familiar sites. There is much potential if you can drive traffic to your listings from outside the site, however.
Category-Specific sales on other sites include include Outdoors: GearTrade, Clothing: Poshmark, ASOS Marketplace, ReFashioner, Computers and Mobile Devices: Swappa, Gazelle, Overclock, Musical Instruments: Reverb, Sweetwater Used Gear Marketplace, Comic Books: Comic Mint, as well as Books: TextbookX, Student 2 Student.
Retail places with sites to sell items
Ebay.com- List your products on ebay.com and reach tens of millions of potential buyers. The Ebay marketplace provides sellers with a reliable, secure and cost-effective way to scale their business.
If you are an inventor, own a small business, reseller, or just making a one time transaction, or would like to sell your unused your tools, appliances, sporting goods, home goods, and other items, Ebays countless options for selling stuff for money. As an Ebay seller, your items will be visible to hundreds of millions of shoppers worldwide.
eCrater.com- If you would like to turn your passion into an online business, but lack the technical expertise and big budget, use eCrater and FREE professional eCommerce store that is capable of selling anything. There are no fees on eCrater, and you get to 100% of all your sales. Instant payments are made to sellers.
However, there is a 2.9% marketplace cost if eCrater generate a purchase from the central marketplace. This feature is optional, sellers may opt out at any time to keep minimal marketplace cost, but sellers will lose sales and additional exposure. A free store on Ecrater comes with tax zones, inventory control, ten photos per item, a custom domain for your store and an opportunity to earn additional money with Adsense.
These sites focus either on direct exchanges or using an internal currency earned by giving stuff away. While that may not seem as profitable, the fees tend to be far lower than any other option, and it can get you a better return on low-value items that are hard to sell elsewhere.
Listia has a bidding process similar to eBay, but instead of receiving cash, you earn site credits that can then be spent to win other auctions. You can set a shipping price on each sale, which the winner pays.
Listia listings are mostly free, though sellers will be asked to pay a one-time $1 fee to verify their PayPal account. And since site users prefer to use PayPal, you'll also be charged 30 cents to receive money for shipping from your auction winners. There is also a minimum bid fee of 100 site credits if you want to start an auction at a price higher than 499 credits.
SwapCaps uses the same basic model that Listia does, but fuses in some elements from sites like Swagbucks. In addition to listing stuff to give away in return for caps, you can do things like take surveys and watch advertisements to earn more. Payment is limited to PayPal and gift cards, however.
Other Category-Specific include Books: BookMooch, PaperBackSwap, Bookins, Video Games: GameTZ, SwapAce, Clothing: SnobSwap, Rehash, Swap.com, as well as Family and Baby Needs: Zwaggle.
Best places to sell used Bbooks
Bookfinder.com- Use the buyback search engine for an appraisal for your used books. Fiction, teenager material, non-fiction, school textbooks, and more can be sold. The websites will pay out sellers the same day for instant cash.
The value of your books depends on importance, rarity, demand as well as the condition. There are no shipping fees on Bookfinder, and you are allowed to select the best buyback price for your used books. This allows sellers to hopefully get the most money per sale.
Bookscouter.com- A website that compares offers from over 40 vendors to help you get the best price for your books. Enter the ISBN for your books, compare buyback prices and ship your items for free and get within one to three business days after your books are received and process. You can get paid via check or PayPal.
ValoreBooks.com- Sell your used novels, biographies, non-fiction, student textbooks and more to ValoreBooks and earn cash. Enter the ISBN for your books and the marketplace model will compare thousands of bids from buyers to offer you the best sell final price for your item. Books are shipped for free, and you will get paid via PayPal or check in the mail.
Selling used wedding dresses and accessories online
NearlyNewlyWed.com- A website that attracts serious buyers. List your dress for $25 and earn 60% of the sale price when your item gets sold. Dresses typically get sold within 60-120 days, and the company takes care of customer service, shipping and return processing.
Stillwhite.com- A website with over 10 million monthly visitors and over 24 million in sales. There are commission or fees, and you keep 100% of your earnings. StillWhite has a seller plan for an individual bride and for business owners to list their items for greater exposure. Brides can either choose the standard $20 plan or the premium $30 plan to sell their dress. Businesses can choose to sell over 300 wedding dresses for a $4 fee per item.
There are many websites to sell stuff and get today today. It can be an item you no longer use, something you outgrew, or maybe your tastes have change. Regardless, selling stuff online is one way to make some quick cash for paying bills.
Related Content From Needhelppayingbills.com