Best websites and apps to sell old electronics.
What many people may not now is that you can sell (or trade in) older or outdated electronics for some extra cash or credits. Items can be sold online or people can use apps on a smartphone or tablet. It is possible to get money, gift cards, or other compensation for older electronics, including cell phones, laptops, computers and anything. Find a list of specialty websites below that help people sell old electronics for extra money.
As everyone knows, buying electronics is be expensive and they "age" fairly quickly. You can sell them. Or get a credit towards the purchase of a new item. Find a list of websites as well as spps that focus on selling used electronics, and each one will allow you to sell equipment you do not want or need. Or if you are a low income family looking to buy some used electronics at a discount, these websites can meet that need too.
The latest cell phones, whether the Apple iPhone or Samsung Galaxy, cost close to or over $1000 (depending on the model). Other electronics are also pricey, including laptops, tablets like the iPad, and many others. Now of course anyone who can't very easily afford that amount of money (or even pay in cash) should never spend that say $1000 on a cell phone as it is a waste of money as the technology doesn't change that quickly…..but that is another story.
The point being electronics are expensive and they are often considered old within a matter of months. The websites for selling old or refurbished electronics, ranging from cell phones to laptop computers, old video games, TVs and more are below. Or as noted, if you want to save money, use the sites for finding some great deals! These are in addition to the websites that probably everyone knows about, such as Ebay, Craiglst, and others.
Websites and apps for selling older or used electronics
BuyBackWorld.com- A website that pays customers and businesses for used electronic devices and household items. A major focus is on trading in / selling a smart phone, whether iPhone, Google Pixel or Samsgung. Use the Instant cash quote for an estimate of how much your item is worth, ship for free, get paid cash and a 30-day guarantee option.
BuyBackEWorld accepts all used cell phones, tablets, Macbooks, E-readers, cameras, smart phones including Samsung and Iphones, and over 30,000 products in 25 different categories. As well as selling gift cards for cash. It takes 60 seconds to get a quote for your items. Payments are sent within two business days after items are inspected. Also sell other old stuff such as Mobile Devices, Monitors, Printers, Sony or Xbox consoles and other items. You can choose to get paid with a check, PayPal, direct deposit, gift card value or a prepaid debit card.
SellCell.com- A website to sell tablets and cell phones. Smart phones from ATT, Verizon, T Mobile and all carriers can be sold or bought at discounted rates. Trade in that latest iPhone. SellCell uses a comparison engine to help you get the most cash for your device. Cell phones are accepted in all conditions.
BuyBackTronics.com- A trade-in platform with many years in business. BuyBackTronics.com works paying customers cash for their electronic devices, with a focus of paying for used smartphone devices. Whether if you need extra cash or trading in for a new device, BuyBackTronics will provide a fair exchange and pay top dollar online or in person with their retail partners. Get started by requesting an instant quote for your item, ship for free- including free insurance, tracking and progress information that includes your payment arrival.
Gazelle - The company has an app and website for selling (and buying) used electronics. They offer immediate prices with payment made with a matter of days. A free box is provided by Gazelle in an effort to make the cost to the seller as low as possible. Whether selling an Apple or Samsug device, or video game console or something else, the company does make deals.
Newegg.com- A website with over 36 million members that are always looking for the latest updates and best deals on tech products. Newegg was voted as the number one marketplace for "Everything Tech." Newegg has grown and expanded into a diverse marketplace.
Sellers have the option to sell arts and crafts, baby items, food, and beverages, office supplies, jewelry, instruments, computer software, and other products. However a focus is on technology items. They also can be a place for a student from a low income family to buy an affordable laptop for school or college.
Newegg offers three membership plans for sellers. The standard plan is FREE for all members with up to 5,000 item listings. The professional plan is $29.95 per month with up to 25,000 product listing and a 5% discount on fulfillment and shipping label service. The third, enterprise membership is $99.95 per month, with unlimited product listings and a 10% Newegg discount on fulfillment and shipping label service.
Some charities may have laptops, computers, or other electronics for kids or job seekers. These will be free or low cost, and the equipment really needs to be used for school or work reasons. As noted, the assistance is rare, but it may be an option. Find places for free laptops.
Swappa.com- A user-to-user marketplace for technology, including old, refurbished, or new items.. Buy and sell directly with other members in a community market. There are no seller fees on Swappa and payments are made today and also protected with their PayPal based system. Sell older electronics such as iPhone, Samsung Galaxy (phone or tablet), video games, iPad and other devices.
LetGo- An app that allows you to buy and sell items in your local area. LetGo currently has millions of users and it is made up of two demographics. People that are looking to sell unwanted stuff and for those looking for discount prices.
LetGo is free to join and it is a platform where buyers and sellers can connect and interact about meeting and negotiating payments. Earn money from this website by installing the app, sign up, and take pictures of items you would like to sell. Unlike other marketplaces, LetGo allows you to set your own price for the used electronic devices you are selling and you keep 100% of your earnings.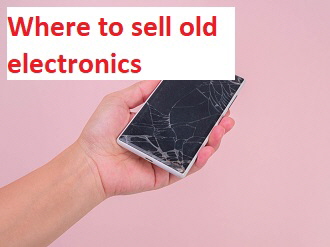 LetGo is a free selling app with a simple and easy to use the platform. It is highly recommended if you are short on cash, relocating/moving and looking to earn extra money for your unwanted items. The website is a location-based app, and you will only connect with buyers in your area so it is a local service.
Conclusion - you can get quick cash for your electronic devices
The list above are some of the industry leaders. There are of course other places to sell or buy used electronics, cell phones, computers for kids, and more. They include Facebook Marketplace, Amazon, and Glyde among others. Or use the Apple or Samsung trade in program, and other electronic manufacturues will also offer trade in deals from time to time. So go to their websites too.
Related Content From Needhelppayingbills.com