Free laptop or desktop computer.
Find how to get a free desktop or laptop computer along with other electronic devices, such as a Google Chromebook. Charities, businesses, as well as government assistance programs including EBT food stamps will provide them for educational or work reasons, with a major focus on helping students in grades K-12 or adults working from home. Get a free desktop or laptop computer near you for low-income families below.
The goal of any charity or government program is to ensure the household has access to a computer so they can participate in remote learning, look for a job, or maybe work from home. Free laptop and desktop computer programs are to help people gain the skills, income and/or experience they need for self-sufficiency.
Some low-income families may be given a voucher to pay for one, and the government will give a free laptop to people on benefits including SNAP food stamps, Medicaid, LIHEAP, or that get an EBT card. Places to apply at to get a computer for free, or a very low-cost, include the following.
Find a free computer at charities and churches
Sometimes volunteering at a local church, thrift store or charity near you will allow the individual to get a few computer. There are thrift stores that will sometimes donate surplus, or unsold computer equipment as well as tablets (iPads or Samsung Galaxies) to the staff that work there. Examples will be Goodwill Thrift stores, SVDP near you and other national groups.
Churches and faith based groups can provide free computers or allow a parish member to use one. Volunteers may collect surplus electronic items from the community, or they hold fund raisers in partnership with businesses such as Amazon or Apple or a local school district.
Or they may incentivize people from the community to work at the store by providing them significant discounts on any items they purchase. Some charitable sites or churches will even go so far as offer volunteers a free laptop computer to take home with them. There are advantages to those people that volunteer at a local thrift store site as they can often learn of these deals. Locate church programs for low-income families.
So there are many tools that a church or religious group (such as the Jewish Federation) will use to obtain refurnished laptops or other items. However in general, these agencies such as Catholic Charities, St. Vincent, and others will provide a free laptop or tablet to a student from a family living in poverty or to someone who needs one for a job. Or they give free laptop vouchers which allows the client to purchase a device. Locate a St. Vincent near you.
Charities provide free desktop or a laptop computer from furniture banks or clothing closets, and these will often operate at the local level. So that means a Salvation Army center in one city may provide free computers while a center in the neighboring town may not. The same concept applies to other charity programs too.
Each church and Goodwill site will also have their own criteria in place as well to people applying for a free desktop computer or for individuals seeking a laptop. Most major counties also have furniture banks, which will give the low-income a free desktop for remote work or students to learn remotely. So there is no quick and easy answer for anyone trying to find how to get a computer. Find free furniture banks for low-income families.
Students from low-income families will be given a free laptop. Assistance is provided by a wide range of organizations and to kids of all ages, ranging from those in elementary to high school or even college students, can also be given a free tablet or laptop.
Kids from low-income families, in which the household is enrolled into Medicaid or SNAP, will be provide a free computer too. While the chances of getting the latest Apple IPad or Samsung Galaxy are rare, there are many charities, such as the Salvation Army, that operate annual back to school programs. The United Way also will try to give students from K - 12 up through college a free Chromebook for online and distance learning.
They use partnerships from stores such as Target, Best Buy, Amazon or even Staples to provide free electronics to students from working poor households. Students of all ages in all grades may be given a free tablet or Chromebook so they can do remote work from home. Find back to school programs.
Government run programs may offer discounted laptops, desktops, tablets, Chromebooks and more. There are programs such as the Affordable Connectivity Program (ACP) that provide cash assistance to low to middle American households, and in some cases enough cash is provided to allow the computer to be free. There is also help in paying for internet connections. Learn more on how to apply to the Affordable Connectivity Program.
EBT and SNAP free laptop or desktop
Low-income families on government assistance, including those with an EBT card, LIHEAP grants, Medicaid insurance or other benefits will get a free laptop computer. A number of companies participate in LifeLine as well as Link-Up, which are public assistance programs that give out free computers, tablets, desktops or other wireless devices.
Government provides free devices to ensure the low-income and people with no money (or living in poverty) have a computer to look for a job or take a class. Both desktops or laptops are giving away for free. There are also free laptops for senior citizens and those who live on social security or SSI.
Low-income families on food stamps will get free devices from the government. This can include a tablet, cell phone, or, in rare cases, a Chromebook. The assistance is often for people with no money and/or a low-income that get public assistance. SNAP food stamps, Medicaid, EBT cards, section 8 housing and other benefits apply too. Locate a free tablet or smartphone with food stamps.
Find free refurnished laptop or desktop computers
E-Waste Technology Buyback programs give free refurbished computers or iPads or Samsung tablets. The programs are Held by a number of different businesses. The programs can be run by major computer corporations such as Dell, Apple, or Lenovo, stores such as Best Buy, as well as environmental groups. What these services do is buy back either unwanted or older computers, TV, laptops, cell phones and many other electronic items from people that no longer want them. They do this to, among other things, ensure they are properly disposed of and not just tossed into some landfill.
The companies that run these buyback programs may do a few things with those computers they buy back. They may either donate to them for free to charities such as the Salvation Army, Goodwill or even local churches, or they may break them down for scraps. Each company has their own policy in place. But the end result is these used computers may then be given to everyone from senior citizens to the unemployed or students.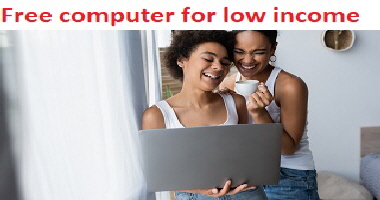 Anyone seeking more information on these programs should really call the company's customer service number. The first ting to do is ask if they run an E-Waste program, and if the answer is yes, see if they provide those used laptop, Chromebook or desktop computers or devices for free to a low income family. Examples of companies in this industry include:
Low cost refurbished computers are more widely available, especially at second-hand stores. These can often be found at places such as Goodwill thrift stores or clothing closets and even some online retailers. They will generally either sell a "bare bones" laptop or tablet for a decent price or an inexpensive desktop. Only in rare cases may they provide a family with an emergency voucher which can pay for the computer, but some second hand stores have been known to give free laptops in a crisis. In general, a non-profit like Goodwill may give an adult a free desktop or laptop computer for work reasons. Locate thrift store vouchers and deals near you.
Once advantage of using a local thrift store or even a clothes bank for a computer is there will be no income limits in place. But if a voucher is needed for the electronic device, these will be difficult to obtain. They are normally limited for exceptional circumstances, such as the disabled that need the computer for assistive technology, students that were faced with a disaster and now need a new laptop but they do not have any money, or other circumstances. Anyone can shop there, and find more on free clothes closets and thrift stores.
One innovative source for a free computer or really any items is the Freecycle Network. This is a non-profit made up of millions of individuals from around the world. They collect surplus items in an effort to keep goods out of landfills. It may be possible to get a free desktop computer, cell phone, TV, laptop or tablet, cars, clothing, and much more from the network. More information can be found at www.freecycle.org.
It may be possible to get a free (sometimes used or sometimes new) laptop computer from an online website or app. There are different rewards, surveys, and product testing events that people can do. The sites will not only pay out cash, but they can give away goods including electronics, laptops or electronics for free, and much more. Find free apps for winning rewards or money.
While it may not be that easy to get a free new computer or laptop due to the prices often involved, there are many options that can assist. It is always recommended to apply early and to be prepared with proof of income, need, and residency. The programs listed above may assist.
Related Content From Needhelppayingbills.com