Free school supplies.
Find how to get free back to school supplies for children from low to moderate income families. Households in need can get assistance from the Salvation Army, national retailers, churches, charities as well as non-profit agencies near you that help students from K-12. Find a list of charities for free back to school supplies, backpacks as well as uniforms for the 2022 school year below.
Charities also provide low income families access to a number of financial aid programs as well as giveaway free gift certificates or vouchers. Those assistance programs allow parents (as well as single mothers) to shop on their own for school items, backpacks, laptops and more for their kids.
The assistance from the Salvation Army, a church or charity will help families pay for school supplies for the 2022 year. Qualified households can also get money or free gift cards to buy school supplies including backpacks, shoes, clothes, uniforms, books and more. There are also free school items for single parents and mothers to help their kids.
Some of the items are provided in partnership with retailers such as Target or Wal-Mart. There are other free back to school assistance programs that are administered directly by the Salvation Army or other charity organization near you, including the United Way. The charities that administer the programs, details on applying as well as the contact information to use in order to get applications for free uniforms as well as school supplies are noted below.
Charities to apply for free school supplies and clothing in 2022
There are a number programs to apply at for free school supplies. There are options available for the working poor, single moms as well as struggling families. In addition to the charities listed below, everyone from a local clothing closet to a church may provide free school items, such as backpacks, shoes, uniforms and book bags to children that are in kindergarten, elementary, middle or high school. Some may even provide electronics, including tablets for educational purposes, Chromebooks or low cost computers. A combination of free as well as low cost school supplies may be given out by a center, depending on the resources available.
Each of the children selected for the school supply program near you will come from families that meet income criteria. Many of the clients have been helped in other ways, such as recently assisted by the Salvation Army in some other way. So maybe the family has received assistance with paying utilities, rent, or food in the recent past. This is done in addition to passing out free supplies from a back to school shopping event.
Most mid size to larger towns and counties also have at least one dedicated Salvation Army center in the region. While resources are limited, the sites will do what they can to help lower income families during a difficult period. This can include offering low priced or free school supplies, shoes, clothes, backpacks, and other stuff for children during the back to school period. Or they may provide referrals. A number of single mothers as well as fathers also apply for these free school supplies for their children. More information Salvation Army assistance programs.
Not only are the resources indicated above available, but many Salvation Army centers also provide other assistance. This is done often in partnership with churches, charities, and/or government programs in the community. As an example, some Family Stores have been able to hand out, for free, backpacks full of food along with emergency school supplies to many local children.
Your local Salvation Army is always looking for donations and contributions as well. If you would like to help, you can always bring monetary donations or surplus school supplies to a Salvation Army center near you. This is very important as the programs due rely on the generosity of local individuals and businesses.
Case managers from the charity organizations are also provided an opportunity to work with the client. This empowers the Salvation Army with the ability to help parents of the kids. This is intended to address the underlying cause of the hardship so children get the new clothes, coats, shoes, uniforms, or school supplies that they need in future years.
The Assistance League has hundreds of local chapters around the country as well. The main program they run is called Operation School Bell. Not only will it provide students with clothing, uniforms, items they need for any dress code policies effective in 2022, but they also offer other services. The supplies may be notebooks, shoes, backpacks, and other school supplies. The charity also arrange for free haircuts, physicals, and more for the student before the school year starts. More on Assistance League programs.
School supply drives are also coordinated by Love, Inc., or Love in the Name of Christ. The national charity is a Christian based group, but they assist clients regardless of their religion. One program, practical help, may include free school supplies for the poor, single moms, and less fortunate. The items are generally given away using a voucher system from their thrift store. Or they are sold at a low cost to a shopper. Find details on Love Inc. programs for the poor.
Some families do not live near a distribution site, or they are working during the day/weekend and can't pick up back to school supplies for their kids. In these cases it may be possible to get school items, including clothes or uniforms, in the mail or delivered. This can benefit single mothers who are working, the homebound or disabled, or families that lack a car or affordable transportation. There are several options, and learn how to get free school supplies in the mail and how the programs work.
Churches often have collection bins or other assistance programs that pass out some items for students from a school district. They tend to focus on supporting people in the local parish. Any struggling family, with children, can get free clothes. Or there may be books, school supplies such as bags, and other stuff for the struggling household. Find churches near you to contact.
School item giveaways are supported by the United Way as well. The national non-profit, as well as its hundreds of local offices, partner with charities in a community to provide this form of assistance. Everything from free clothes to shoes, school bookbags or backpacks, pens, dresses, slacks, and other goods are passed out. Students from kindergarten age to high school may apply. Find more details on United Way school assistance programs.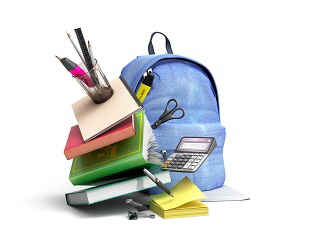 Organizations that provide free school uniforms, supplies, and backpacks near you
Most states and counties have local charities, often called clothing closets, that giveaway free backpacks full of school supplies as well as other stuff to kids. They give low income as well as struggling families free items, including school supplies, hygiene items, and other stuff for the 2022 school year. They assist students with their educational needs, and a list of cities and counties are below.
Alabama
Arizona
Arkansas
California
Colorado
Connecticut
Delaware
Florida
Georgia
Illinois
Indiana
Kansas
Kentucky
Louisiana
Maine
Maryland
Massachusetts
Michigan
Minnesota
Mississippi - Entire state. Click here.
Missouri
Nevada
New Hampshire
New Jersey
New Mexico
New York
North Carolina
Ohio
Oklahoma
Oregon
Pennsylvania
Rhode Island
South Carolina
South Dakota
Tennessee
Texas
Utah
Virginia
Washington
West Virginia
Wisconsin
Wyoming (Statewide)
For a comprehensive listing of additional non-profit organizations to contact, click here to find local government agencies in your state and county. There are numerous other charitable groups that may distribute gift certificates, school supplies and other items. Or use the search bar at the top of this page. The distribution options would include clothing closets, thrift stores, churches, and local non-profits.
Reduced priced supplies, clothes, and uniforms
Much of what is listed above is given away for free, whether it is a charity or store. But struggling households can also buy low priced school supplies from a number of places. So it will be things like gently used clothes, book bags, and even computers among other things.
Many other charities also provide low cost or discounted school supplies. There are places for families to stop in at, such as thrift stores or clothing closets near you. These sites will sell gently used goods, ranging from uniforms to backpacks, clothing, computers, shoes, and more. Not only may the Salvation Army run these centers, but many other charities do as well.
The inventory will vary. There is normally a minimal cost to buy the back to school supplies, but some of the charities may provide vouchers or gift cards to the lowest income families in the area. In an emergency, and if the parent is out of options, then the gift card passed out will in effect provide the school supplies to them for free or at a price close to it. Find locations of inexpensive school supplies and uniforms.
Stores that hold school supply drives
Hundreds of Target stores as well as other retailers participate in various free Back to School Spree shopping events in partnership with local charity groups. A Wal-Mart store near you may also hold their own school supply donation drive. They will usually operate from July to September of every year. Other major retailers, whether a department store or shopping mall, may hold their own events.
Retailers such as Target and Wal-Mart often sponsor a Back to School shopping event in partnership with the Salvation Army. These stores, as well as many others across the nation, will provide thousands of children the chance to pick out clothing and school supplies they need for the upcoming year. Students from families living in or near poverty are provided a free gift certificate by a store, which they can use purchase their needed school supplies.
There are many programs available at a store as well as charities that run them. Based on donation levels, each child who participates will be provided what they need for the upcoming year. Students from low income families may be given a gift card that is to be used towards the purchase of the school supplies and items. Or they may be given the items they need directly, such as a backpack, uniform, shoes, tablets, and other clothing items. Each store, or charity, that offers a back to school supply program will have their own means of providing assistance.
Target, Wal-Mart, Dollar Stores and the Salvation Army itself provides hundreds of thousands of kids across the country with assistance on an annual basis. They may work together to process applications for a shopping spree.
The assistance comes in the form of new clothes, supplies, and supplies that the child needs. Or free gift cards are given for future needs. This will help the kid build confidence as many kids are able to obtain the right ingredients and items that are needed for success in the classroom. Working together, these free or low cost school supplies are available in partnership with other groups as well, such as the United Way.
To apply for a school supply drive at a store, families can make inquiries into whether these programs are available to them at a local non-profit organization. The Salvation Army is often a good place for referrals. The goal of these companies, and many others, is to ensure that children of all ages have the items they need for growing and learning at school. Or dial a local 211 referral service for details on these services.
Related Content From Needhelppayingbills.com