Free clothing closets, back to school supplies, and furniture Milwaukee County.
Find distribution centers in Milwaukee County for free clothing, school supplies, warm winter clothing, furniture and other household stuff for people with no money or low-income families. While free items may be provided from clothing closets to qualified individuals, another option is a thrift store voucher or furniture bank for free stuff. Find free clothes and furniture programs near you in Milwaukee WI.
Charities and non-profit will give out free gently used items to the general public. Some of what can typically be obtained includes general clothes or items for work, school supplies, notebooks or clothes, couches or fridges, uniforms, and winter coats Low income families can find the main charity run free furniture as well as clothing banks below.
Availability of items at a clothing closet depends on donations from the community. A little less common would be baby supplies, diapers, and bedroom furniture or a free computer for a student in Milwaukee. Many of the Milwaukee centers will also offer referrals and other general support to people who are seeking help. This can include information on job programs or even a free car for people with no money.
Find free stuff given away in city and county of Milwaukee WI
South Milwaukee Human Concerns, Inc.
Address: 1029 Milwaukee Ave., South Milwaukee, WI 53172. Call (414) 764-5340
One of the leading social service agencies in the region. They help people in South Milwaukee. The organization will offer free adult or kid clothing, appliances, and free furniture to the needy. Some examples of the types of available clothing offered include baby and children clothes, socks, sneakers as well as diapers. More formal clothes may be available as well, including items for school for students or work for job seekers. Lastly would be general apparel, personal grooming supplies, winter coats or hats and boots.
Evangelical Child and Family Agency
The non-profit has a couple locations in the region. Clothing and other support is offered to the low-income, unemployed, single moms in Milwaukee and homeless.
1617 S. 124th Street, New Berlin, WI 53151. Call (262) 789-1881
Salvation Army Social Services and Thrift or Family Store
There are free items passed out and the charity will also run a thrift store which sells items to the public. There is also a free clothing as well as furniture bank. However other assistance is available, including Birthday gifts and meals for children. An annual back to school supply assistance program with free books, shoes, pens, Chromebok, backpacks and more is offered too. Some limited financial aid may be available for basic needs. Additional Salvation Army Corp centers are located at:
4129 W Villard Ave, Milwaukee, WI 53209. Main phone: (414) 463-3300
7713 W Greenfield Ave, West Allis, WI 53214
341 S 27th St, Franklin, WI 53132. Main Phone: (414) 847-3912
8008 W Brown Deer Rd, Milwaukee, WI 53223. Phone: (414) 716-0191
5880 N 60th St, Milwaukee, WI 53218, call (414) 464-2940
Atonement Lutheran Church
4224 W Ruby Ave, Milwaukee, WI 53209. Call (414) 431-2086
A clothing closet at the church offers free clothing for men, women, children and teens. This can include baby items, children's clothing, general apparel, limited winter clothing including coats for students and children, and business casual work attire.
Blessed Hope Assembly of God
1501 W Lincoln Ave, Milwaukee, WI 53215. Call (414) 384-2334
East Side Church of Christ
325 E North Ave, Milwaukee, WI 53212. Phone: (414) 263-6203 or main number is (414) 427-7162
Assistance programs for low income families, single moms, and others in Milwaukee County include: A free clothing bank and food pantry. There is furniture, baby supplies, cribs, and other goods. Students can get free supplies for school, bags, shoes, and more. Uniforms, boots, and slacks for work too.
Economy Center
7814 W Burleigh St., Milwaukee, Wisconsin 53222. Cal (414) 442-2272
The location is a thrift store, Resale Shop that sells low-price, bargain donated items. While availability will change (based on those donations) they may have clothing, small household items or appliances, and winter items. Some furniture and baby supplies may be offered.
Society of Saint Vincent
The parishes that are part of SVDP in Milwaukee County provide free stuff. There may be clothes, small furniture items, personal goods and more. There is also blankets for the homeless, financial aid, hot meals, and other items. A furniture bank and clothing closet are on site, and learn more on SVDP Milwaukee assistance programs.
Hopewell Missionary Baptist Church
2375 N 25th St, Milwaukee, WI 53206. Phone: (414) 342-8200
Furniture items may be offered, including couches, tables, desks, lamps and more at a low cost.
House of Peace Community Center
Location of the distribution center: 1702 W Walnut St, Milwaukee, WI 53205. Phone: (414) 933-1300
A wide variety of goods are at the clothing bank and thrift store. Everything from books to coffee tables, warm winter clothes (hats, gloves, boots), birthday toys or school supplies for kids, jackets, and countless other free stuff is passed out. Find another source of free car seats for low income parents.
Iglesia Trinidad - Morning Glory Ministries
1314 S 1st St #270, Milwaukee, WI 53204. Dial (414) 384-1244
Northcott Neighborhood House
2460 N 6th St., Milwaukee, WI 53212. Telephone number is (414) 372-3770
Northside Church of God
4858 N 19th St., Milwaukee, WI 53209. Call (414) 372-6612
A clothing closet is available. It can have work clothes and uniforms. Some small furniture items, such as pots and pans or utensils may be given out, Children can receive boots or winter attire. Maternity and baby clothes may also be offered too.
Community Advocates
The program is known as Bottomless Closet. The address is 728 N James Lovell St, Milwaukee, WI 53233. Phone: (414) 449-4777
They help men and women, including single moms or ex-felons, who are returning to the workforce. Get free clothes, boots, work uniforms, briefcases, dresses, pants and more. The free stuff is to help people prepare for an interview in Milwaukee WI or first day of work.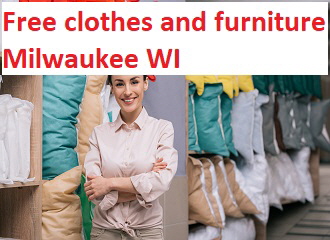 Repairers of the Breach
Primary address - 1335 W Vliet St., Milwaukee, WI 53205. Call (414) 934-9305
Social Development Commission in Milwaukee is the community action agency. They help struggling families financially and with basic needs. Grants for bills, loans, transportation for work, tablets, computers, and more is offered. More on Milwaukee Social Development Commission assistance programs.
Shalom Ministries
8845 W Lynx Ave, Milwaukee, WI 53225. Dial (414) 303-6609
Some of what may be offered from this center includes diapers, baby food, and formula. This is in addition to more general clothing items.
Goodwill TalentBridge - Greendale
5400 S 60th St, Greendale, WI 53129. Phone: (414) 847-2905
Goodwill provides assistance for free clothes, uniforms and more. There is clothing and household items to candidates in need.
Siggenauk Center
1050 W Lapham Blvd, Milwaukee, WI 53204. Call (414) 672-6989
Clothing closet at Sweet Communion Baptist Church
Address is 3765 N. 35th St., Milwaukee, Wisconsin. Call (414) 442-1389
Families in poverty can use the charity. There is clothing for all seasons, including shoes, socks, undergarments, free winter coats, boots and other items for people of all ages.
United Methodist Children's Services
3940 W Lisbon Ave, Milwaukee, Wisconsin 53208. Clothing bank can be reached at (414) 344-1818
New moms can get diapers, baby supplies, and free cribs. Or kids in elementary, middle, and high school can get free school supplies for the new year. Children can also learn about books, after school activities, and educational support.
Wellington Park Lutheran Church
7017 W Medford Ave, Milwaukee, WI 53218. Phone number is (414) 461-4061
Other basic needs, such as food, meals, and clothing may be met by the church.
Wels Bargain Centers
8401 W Lisbon Ave, Milwaukee, WI 53222. Call (414) 463-2595
Buy low cost furniture, beds, electronics, TV, and much more.
Project Concern of Cudahy/St Francis
Address: 3658 E Plankinton Ave, Cudahy, WI 53110. Dial (414) 744-0645
The location may have furniture, free gently used clothing, hygiene items, and more. Toys for children and cold weather clothing may be sold in the winter or around Christmas.
Related Content From Needhelppayingbills.com