Free clothing closets, furniture and school supplies Memphis and Shelby County.
Low-income families in Shelby County Tennessee will be able to receive free stuff for their basic needs, including clothes, diapers, furniture or school supplies. There are items given away at churches, charities, and non-profit.. The free furniture banks and clothing closets in the Memphis TN area provide couches, work or general clothes, furniture for a home and more. Find free clothes and furniture near you in Shelby County.
They centers offer assistance to people with no money, seniors, single moms and the disabled. There will be free clothes for work or work, furniture, back to school supplies for students and much more. Dozens of these distribution centers give out free stuff or even vouchers, based on donations and funding. , In addition to being able to receive things such as free or low cost clothing, diapers, couches, fridges or washer or dryers or work uniforms, many centers will also offer services such as referrals.
Many items are offered in the Memphis region. Or they offer students of all ages from low income families free back to school supplies, shoes, Chromebooks and uniforms for their kids. Social workers and volunteers are willing to help the low income in the Memphis area in any way they can.
While they do their best to provide items to the needy, donations are always needed. Every center or closet will provide free items. Some, including thrift stores in Memphis, may sell gently used goods to Shelby County residents. It is possible that only the lowest income individuals will receive a voucher for free goods or even grants. So some thrift stores or clothing closets will only sell gently used items such as furniture or household goods.
Get free stuff from distribution centers in Shelby County TN
Robinhood Lane Baptist Church - Clothes Closet
Address is 3804 Kimball Ave, Memphis, Tennessee 38111. Phone number - (901) 745-9100
Usually offers free clothing and supplies one day per month, and offers services in Spanish as well. Get sneakers, boots, winter coats, school backpacks and other stuff.
St Jude Missionary Baptist Church
Primary location is 853 E Trigg Ave, Memphis, Tennessee 38106. Telephone number - (901) 948-1489
A clothing closet, free meals, holiday assistance and more is offered to the low income and needy of the 38106 zip code. This includes free birthday toys for kids too.
First Presbyterian Church
166 Poplar Ave, Memphis, TN 38103. Telephone number is (901) 525-5619
Neighborhood Christian Center
The support from this charity includes basic needs, clothing, shoes for children, backpacks, and more. Also may have referrals on government aid and cash assistance type resources, including TANF. Or get linked to local free furniture banks in Shelby County, including appliances or air conditioners for the elderly. There are a number of centers that giveaway free stuff, clothes, socks, and shoes to low-income families. More on Neighborhood Christian Centers.
North Shelby County is at 785 Jackson Ave., Memphis, TN 38107. Call (901) 881-6013
223 Scott St., Memphis, TN 38112. Call (901) 881-6013
Chickisaw clothing center is at 218 E. Red Oak #101, Memphis, TN 38112. Main phone number is (901) 324-1117
Greenbrian Center helps the low-income and gives free stuff from 3155 Madewell St., Memphis, TN 38127. Telephone - (901) 357-9923
3703 Robin Park Circle, Memphis, TN 38111. Call (901) 666-2241
Ridgecrest clothing and furniture bank, as well as social services, are from 895 Treemont Cv#3, Memphis, TN 38127. Dial (901) 682-4308
Orangemound location is 823 Semmes St., Memphis, TN 38111. Call (901) 779-3401
Pershing Park - 1510 Corning Ave., Memphis, TN 38127. Main number is (901) 440-8423
710 W White Rd., Collierville, TN 38017. Telephone - (901) 679-7820
SE Shelby is at 5390 Mendenhall Mall, Memphis, TN 38115. For hours, dial (901) 679-7820
Another NCC is at 3085 Steele St, Memphis, TN 38127. Telephone - 901-881-6013
Trinity Community Coalition Outreach
425 W Peebles Rd, Memphis, TN 38109. Telephone number is 901-729-7180 or (901) 786-1220
New Olivet Baptist Church
10000 Woodland Hills Dr, Cordova, TN 38018. Main phone: (901) 454-7777.
A free food pantry and clothing bank are on site.
New Bethel Temple COGIC
Main address is 3372 Park Ave, Memphis, TN 38111. Call (901) 327-8515
Birthright of Memphis
Address is 115 Alexander Street, Memphis, TN 38111. Call (901) 327-8109
They help expectant moms and new mothers in Memphis County. There is free baby furniture )cribs, car seats, etc.) as well as clothes. Free maternity clothing, Onesies, community resources and more is offered, with a focus on pregnant women.
Shelby County Salvation Army
The main program is a Family Store. This sells low cost, gently used goods (beds, car seats, couches, etc.). Some working poor families, single moms, and those in poverty may be given free vouchers though. The church also has free birthday and Christmas toys, an annual school supply drive with backpacks for students, and even financial aid for paying bills. More on Salvation Army in Memphis Tennessee.
Calvary Episcopal Church
A free clothing closet is open a couple days per week. The address is 102 N Second Street, Memphis, TN 38103. Call (901) 525-6602
Based on donations from the public, there will be free shoes, socks, underwear, sleeping bags and other clothes. Or get hats, winter coats and other goods.
Cathedral of Faith Community Church
Address is 2212 Jackson Avenue, Memphis, TN 38112. Phone - (901) 327-1616
Both free clothes and food is offered.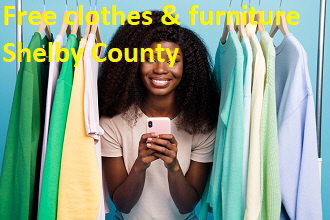 Christ City Church
Location is 531 S McLean Boulevard, inside Central Christian Church, Memphis, TN 38104. Call (901) 219-1332
Free general clothes are offered. During the summer and fall months, some school supply items may be offered, including free clothes for kids or teens, book bags, backpacks and related supplies.
Raleigh United Methodist Church
The charity only helps people in 38127 & 38128 zip codes. Location is 3295 Powers Road, Memphis, TN 38128. Phone - (901) 386-9320
Dress for Success Memphis
3121 Directors Row, Memphis, TN 38131. Call (901) 363-3100
They help unemployed women, or those that are underemployed/gig workers. Get free professional clothes, such as dresses, pants, jackets, shoes and more. Job training and career counseling is also offered.
Faith Life Outreach
A free clothing bank is at 1435 Wells Station Road, Memphis, TN 38108. Call (901) 452-7993
Liberty Transitional
A Life Diaper Pantry is based at 749 Tate Avenue, Memphis, TN 38126. Call (901) 691-6950
Both free adult and baby diapers are offered. They also offer small furniture items, medical equipment for sniors in Shelby County and other clothing items.
Mission Possible Christian Outreach Service Mission
Location is 2400 Poplar Avenue, Memphis, TN 38112. Call (901) 458-4357
The assistance programs include a free clothing closet and small furniture bank. Get everything from a free mattress, bedroom or living room furniture to general clothes. They also have items in all sizes, from kids or adult size to free clothes for babies.
Oasis Appliance Store
1294 Thomas Street, Memphis, TN 38107. Call (901) 577-0013
They sell appliances, and in some cases giveaway free items. Get used appliances, TVs, washers or dryers, computers and other household items.
RMBC Community Services Food Pantry/Clothing
3590 S Third Street, Memphis, TN 38109. Main number is (901) 789-4570
Lifeline to Success
Address is 1647 Dellwood Avenue, Memphis, TN 38127. Main phone (901) 729-6537
While anyone can apply, a focus is on men in Shelby County who can get help. There is a Clothes Closet/Men's Suits. The charity has donated suits for men. However there are also free clothes for children and adults in an emergency. There is also donated suits for men from Men's Warehouse. Call for an appointment.
St Andrew AME Church
867 S Pkwy E, Memphis, TN 38106. Call the clothing closet at (901) 948-3441
Catholic Charities of West TN
1325 Jefferson Ave, Memphis, TN 38104. Dial (901) 722-4700 or (901) 722-4770
This charity helps seniors and the disadvantaged in Shelby County. Assistance programs provide free clothing for people who need it. May have children's clothes, shoes, work and maternity clothes and more. Provides supplies for expectant mothers in partnership with other non-profits. Other resources include food, referrals, and immigration services. A thrift store may sell gently used goods like furniture, kitchen appliances, cribs, nightstands and other goods.
First Congregational Church
1441 Eastmoreland Ave, Memphis, TN 38104. Call (901) 278-6786
Bedding, linen, meals, and more is offered to the homeless.
Life Church
1790 N Germantown Pkwy, Cordova, TN 38016. Telephone number - (901) 737-9006
New Tyler AME Church
Location is 3300 Summer Ave, Memphis, TN 38122. Phone number is (901) 323-9371 for an appointment.
Provides both a food pantry and clothes closet to qualified Shelby County residents who show their need for help.
Holy Community UM Church
602 Looney Ave, Memphis, TN 38107. Call (901) 523-2485
Leawood Baptist Church Mission Center
3638 Macon Rd, Memphis, TN 38122. Call (901) 324-7169
Donations keep this charity going. Based on that, there may be school or work uniforms, book bags, books, and education items. Or get tables, couches, and household - furniture supplies.
Memphis International Church
Address is 1435 Wells Station Rd, Memphis, TN 38108. Call (901) 452-7993
A general clothing program is offered.
White Station Church of Christ
1106 Colonial, Memphis, TN 38117. Call (901) 761-2007
Free clothing, needs such as diapers, holiday assistance, and more is distributed. Students from pre-k up to high school will be able to apply for free back to school supply assistance programs in Memphis TN.
Midtown Church of Christ
Location is 1930 Union Ave, Memphis, TN 38104. Dial (901) 726-4612
Resources in the Memphis area range from low cost (or free furniture) to charities, cribs, and baby supplies. There are also free clothes, a food pantry, and more.
St Anne's Catholic Church
Main address is 706 S Highland, Memphis, TN 38111. Telephone - (901) 323-3817
Offer items, many in partnership with Mid-South Food Bank.
Martin Memorial Temple Christian Methodist Episcopal Church
Location 65 S Parkway W, Memphis, Tennessee 38109. Dial (901) 946-0097
Offers a free lunch, clothing, material goods, and more.
First Baptist Church - Collierville
830 New Byhalia Rd, Collierville, TN 38017. Phone - (901) 853-2668
Shoes and more is available. Gently used furniture and new diapers or baby wipes are offered to new or single moms.
Emmanuel Episcopal Center
Address is 604 St. Paul Ave, Memphis, TN 38126. Phone - (901) 523-2617
Clothing, food, personal hygiene and other goods are provided.
Millington Crisis Center Ministry
Main location is 8133 Wilkinsville, Millington, Tennessee 38053. Phone - (901) 872-4357 for gently used clothing.
The non-profit also operate a back to school program. This may give out bookbags, backpacks, and other supplies. Or professional work attire and similar goods are given out.
Confidential Care for Women - Covington
16228 Highway 51 North, Millington, TN 38053. Call 901-476-6528
Offers services and assistance such as baby clothing and furniture. Provides parenting education and counseling. Diapers, material assistance, and a free pregnancy test is offered for females, newborns, children, and pregnant families.
United Methodist Neighborhood Centers of Memphis
Address is 3000 Walnut Grove Rd, Memphis, TN 38111. Call (901) 323-4993
A thrift store can sell gently used items, clothing, and household goods, small furniture, most of which are vintage. Or free bank to school supplies for high school, middle school, and kindergarten kids in the summer and fall months.
Related Content From Needhelppayingbills.com