Free CPAP machines.
There are a number of organizations that provide people with a free CPAP machine. Non-profits provide devices to people with no health insurance, government programs give free CPAPs to the low-income or disabled and there are charities with refurbished equipment as well. Both new or used, as well as affordable, breathing devices are offered. Learn how to find a CPAP machine that is free or affordable.
In general, a health insurance company, Medicaid, or Medicare will pay for a CPAP. Uninsured people may struggle to get one though. There are some charities as well as non-profits that will provide free CPAP machines to anyone who does not otherwise have access to one or who can't afford the cost. As there are some instances in which maybe the patient either lacks the proper health insurance, they have no money or live in poverty or maybe their policy will not pay for a unit.
Some of the assistance programs are listed below. Most of them are run by non-profit organizations, and they can provide either gently used or new CPAP machines (at no cost to the applicant) to the needy. Other services are offered by government organizations.
Examples of who is supported by these programs include very low income senior citizens, the disabled, and those with a serious medical condition. Anyone who has sleep Apnea, and that struggles to get the breathing equipment they need for the day or nighttime hours, may qualify for help. Apply for a free CPAP machine below.
The assistance may not just pay for the machine itself, but there will be help in obtaining the related supplies and equipment. As there may be free masks to cover the face, hoses, tubes, and anything else that is needed for the CPAP or APAP machine
Agencies to try for free CPAP or breathing equipment
In addition to Medicaid (for the very low income) and Medicare (for senior citizens or the disabled) there are also some state governments that can provide help. They have offer additional funding or grants to help pay for a CPAP machine or related equipment, such as bi-level equipment. While each and every state program is different (and not all states provide financial assistance) it can be an option for a low-income family who is in a health crisis and who have no other options available to them. The government programs include the following:
State governments and their benefit programs

often provide medical care, including machines for Sleep Apnea, to the underinsured. Learn how to apply for medical programs for the uninusred.

Some of the

government financial aid programs

may allow cash to be used to pay for CPAP machines, and examples include TANF. Locate financial help from the government.

The disabled, who are also low income and that have sleep Apnea, or another similar health condition can turn to non

-profit agencies for affordable or free CPAP machines

. Both government and non-profits offer resources. Find help for disabled by state.
A number of charities as well as non-profits may also provide free CPAP breathing machines to the very low income as well as households that lack health insurance policies. Or there may be assistance for those whose policies do not provide enough financial help.
Low cost machines may be available at Second Wind. It is an online outlet store that sells equipment at reduced prices regardless of the household's income. They will have both new as well as gently used CPAP machines as well as all related supplies. Note shoppers will generally need to pay for what they need, but the cost is affordable.
Note, if the family can't afford what they need, then SecondWind does work directly with hospitals, social workers, and local charities to try to address that need. The sleep machines, such as CPAP given out in these cases will often be used. However, they will not offer free equipment directly to the low income. Call SecondWind at 1-855-263-2727.
Agency on Aging Centers are located across the nation. Most of them provide assistance to senior citizens, no matter their income levels. Some of the Aging Centers also help the disabled. However, when it comes to free medical equipment, whether it is CPAP, humidifiers, air purifiers, or anything else there will be strict income limits in place. They will only assist very low income households. Find information on financial assistance from aging centers.
Anyone with breathing problems may get assistance from a community clinic or health care center as well. Many of them are federal government qualified, meaning they take the poor and people who can't pay their medical bills. They can help with health conditions including sleeping or breathing disorders, Apnea, smoking, and others. Some clinics may have free CPAP machines to hand out, or they loan supplies out.
Note a center may be free, but many community clinics are also income based so the patient may need to pay some of the cost of their care or equipment. Each will offer their own services and have an application process in place. Find a community clinic near you.
Thousands of low income and poor patients are assisted each year from the American Sleep Apnea Association. Anyone seeking help from these national non-profit needs to meet income guidelines, have a prescription from their medical professional, and have proof that their health insurance company will not pay for the equipment. Not only may a free breathing mask, CPAP machine and other equipment be given to patients facing a financial crisis, but they also provide a 30-day warranty.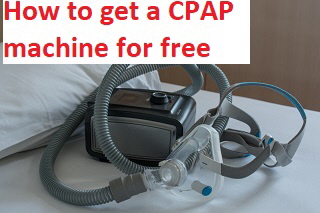 Applications are made online or dial 888-293-3650. In addition, the American Sleep Apnea Association also accepts donated, surplus sleeping Apnea equipment from hospitals, clinics, and even people who do not need equipment any longer. The items are then given to income qualified families.
Try other retail stores or online retailers. Some will, on occasion, give out free CPAP machines, APAP equipment, masks, and more. They will often be gently used and have strict income conditions. But they may be an option. Examples of places to check may be Ionmysleep.com, RespShop, CPAP Supply USA, and many others.
There may also be other places to try for assistance. There may be organizations that offer CPAPs for travel out of state for a medical procedure, or they from time to time have surplus, donated equipment. Call and inquire into local places such as Salvation Army Family Stores, community action agencies, hospitals, and other charities in a town or city. The list above is just an example.
Related Content From Needhelppayingbills.com