Medical and health care for uninsured.
Find how families that lack health or dental insurance can get medical care. There are national and community non-profit organizations, government programs, and charities or volunteers that help the uninsured. Find a list of national and local programs that help people who do not have medical insurance, including adults, kids, gig workers or seniors.
When an uninsured individual or person with no money is faced with an emergency or chronic health condition, they will often need to scramble to receive the medical care they need if they are uninsured. There are even more people that also lack proper dental insurance coverage. A number of programs offer free medical, dental, eye or cancer screening and more to the uninsured.
Federal government programs for people with no health insurance
While there are some government funded health insurance programs, including Medicaid and Supplemental Security Income (SSI), they do have eligibility requirements and restrictions in place. However it is always a good idea to apply for them, even if you know that you are not qualified. The reason being is that many non-profit organizations, charities, community clinics and private programs will require that patients were denied access to Supplemental Security Income (SSI), Medicare and Medicaid before they will assist.
So you should apply, even if it is just to get a formal denial of eligibility notice from them for proof of not having insurance. Another benefit to applying is that even if you or your child is not eligible for Medicaid, you may still be able to enroll in a Medicaid Waiver program. While the uninsured come from all backgrounds, states, ages, and nationalities, some of the most common classifications include the following.
Younger Americans age 18-35 as well as those with early retirement before being eligible for Medicare often lack insurance, however

uninsured teens can often get insurance from CHIP

.

Middle income households without health insurance may benefit from state programs

, as moderate income people are often canceling policies due to the prohibitive cost of health insurance.
Many low income earners, self-employed, gig-workers or people who rely on supplemental or government income disbursements such as

SSI or LTD will often struggle to maintain some form of health insurance plan

.
States and non-profit

help people who are unemployed or have experienced a change in job status may go without insurance

for a period of time. Find options to get health insurance if you lost your job.
Immigrants or migrant workers often lack proper health or dental insurance coverage.
However anyone can fall into one of these categories from time to time. Some studies show that over 30 million individuals lack health and/or dental insurance for an extended period of time. It may not be every year, but sometime in their life they often lose their health insurance and join the ranks of the uninsured.
Non-profits and charities that help the uninsured
Alaska Native Medical Center - Residents of the state can receive services, health information and medical resources. All programs are only for people who live in Alaska. Call 1-907-563-2662.
American Cancer Society (ACS) - This is a nationwide organization with local "chapters" in every state. It provides resources, including counseling for patients, printed material, and other information on affordable health care options and lodging if you require treatment far from home. In addition, some of the regional ACS offices may offer very limited amounts of financial assistance. This will mostly be reimbursement for bills and expenses related to cancer treatment including medical supplies, transportation, and prescription. Call 1-800-227-2345.
Road To Recovery

– The program is run in partnership with the American Cancer Society. It provides transportation for patients to and from treatment. It is for those who have cancer and who are unable to drive themselves, can't afford to pay for gasoline or do not have a ride. Volunteer drivers donate their time to assist cancer patients. Telephone 1-800-227-2345.
American Dental Association - If you do not have dental insurance, or can't afford the bill, then this association has a listing of accredited dental schools. Children and adults may be able to receive free or discounted cleaning as well as dental services. Call 312-440-2500.
Angel Flight - The national organization arranges for free air transportation in response to healthcare and other human needs. This is a volunteer, non-profit driven organization that seeks to enable patients to receive treatment that might not otherwise be accessible to them because of physical or geographic limitations. Toll free number is 888-426-2643
Aubrey Rose Foundation - This organization helps children who have a life life-threatening medical condition. The foundation will try to provide cash grants to pay for medical bills as a result of treatment. The grants are offered nationwide. Call 513-265-5801
Breast & Cervical Cancer Program - This is for people who need screening services or are concerned with symptoms. Dial 1-800-232-4636.
Bureau Of Insurance For States - Provides contact information on each state's public health insurance plans. It includes Medicaid and others. Call 816-783-8500.
Cancer screenings for uninsured - A number of foundations, non-profit, doctors and charity organizations provide free cancer screenings, tests, or exams. There are prostrate exams, mammograms, skin cancer screenings for the uninsured, colon cancer testings and more. Locate a free cancer screening near you.
Charitable hospital programs for uninsured - Never hesitate to ask the hospital, doctor or medical provider for help. Many facilities, including non-profits that are part of Affordable Care Act program, will work with uninsured and low income patients.
For example, nonprofit hospitals are often required to provide medical care or some form of financial assistance to everyone in order to keep their tax exempt status. Many Children's Hospitals also have some form of charitable programs. It is recommended to call the billing office and to speak to a patient advocate or financial counselor, and get an application. More on hospital charity care.
Hospitals often arranged charitable dental care

too. As oral health needs are part of comprehensive wellness and medical care. There are local and national services, and read more on dental charities.
Children, Kid and Teen Medical Insurance Coverage Options - A federal government resource that connects teenagers, students, and children to free medical coverage, prescriptions, and low cost insurance plans. Also provides applications and information on CHIP, the Children's Health Insurance Program. Call 1-877-543-7669
Children with in insurance with Special Health Care Needs

- While not guaranteed, many states have insurance plans as part of CHIP for children who fall into this category. It may even cover the disabled. Some will enroll children year round; others have limited windows and more restrictions on them. They generally have income and asset limits. A list of state resources is at the bottom of this page.
Comprehensive Medical Insurance Coverage Info By State - Get access to a comprehensive state guide. Hill Burton will provide information on your rights to specific coverage in your state, such as guaranteed issued plans, prompt-pay-laws, pre-existing medical conditions, and if your state or county offers residents access to high risk health, yet low cost, insurance coverage. Call 1-800-638-0742
Hill-Burton Program is run

by U.S. Department Of Health And Human Services Clinics are available for people with no money or health insurance who cannot afford care. Hospitals, nursing homes, community clinics, and other healthcare facilities participate as part of Hill-Burton. Call 1-800-638-0742, or read more on Hill Burton.
Dental care for uninsured - Free clinics, volunteer dentists and other charity programs help patients with no money or no insurance. A wide variety of care is provided, including exams, cleanings, extractions, and possibly dentures as well to the uninsured. Find a no insurance dentist.
Diabetes care for people with no medical insurance - Diabetics with no insurance have a number of resources available. Financial aid, free insulin, test strips, pumps, and much more may be offered from a variety of non-profits and agencies that focus on this need. Find how to get free diabetes supplies.
Disabled that are uninsured - Whether it is a physical or mental disability, there is medical and dental care offered. Programs can provide equipment, in home care, medications, CPAP machines and other assistance. Find disability assistance programs.
EMERGINGMED - Individuals with cancer can get details on clinical trials, which may be able to offer patients with free care, including access to new, possibly effective treatments. Call 1-877-601-8601
Eyecare America - Whether you need glasses, contact lenses, checkups, or treatment for your eyes, the organization provides free eye care, facilities, and educational materials to the uninsured and poor. Dial 1-800-222-3937, or more on free eye care..
Foundation for Health Coverage Education - People can get answers to questions about what, if any, health insurance options they qualify for. Case managers and representatives will help people enroll into free or very low cost health insurance plans or public assistance. In addition to helping patients enroll into a number of coverage resources, the not for profit organization also maintains databases of programs by state to help the uninsured find the best resources in their area. Call 866.570.5474 or 1-800-234-1317
Hearnow - The group operates in all states. They run a national program that is committed to assisting those permanently residing in the U.S. who are hard of hearing or deaf and who do not have resources to acquire hearing aids. Find more free hearing aid assistance programs.
Large retailers discount drug programs – Many pharmacy chains and supermarkets, including CVS, Walgreen's, Wal-Mart, and Target offer discount programs, especially for generic medications and for customers who lack insurance. Ask your local retailer if they have any resources available. Also inquire if they have any mail order options. Find more on low cost generic medications.
Mission Of Mercy - The uninsured, undocumented, illegal immigrants and others who are disadvantaged can get free healthcare, dental care and even prescription medications. This is only a regional organization though. Call 301-682-5683
National Association of Free Clinics - They keep a list of free clinics by town, city, and state. Thousands of these free medical centers can help the uninsured. Call 703-647-7427, or find a list of local community clinics.
National Cancer Institute (NCI) - Coordinates and has details on cancer related trials. This can cover dozens of conditions and types of cancer, for the low income as well as uninsured. Call 1-888-624-1937
National Council on Aging / National Center for Senior Benefits Outreach and Enrollment - Individuals over 55 years of age may call upon this group. They are a nationally based advocate for older Americans and senior citizens. While anyone can receive help, they do focus on lower income older adults. For people who are not receiving federal or state government benefits, the organization can help people locate and receive benefits and health care in an effort to assist in medical care, food, prescription medications and other living expenses. Call 202-479-1200.
Older Adults Benefits

has a free service known as Benefits Check Up can help adults find prescription drugs, healthcare, and other financial assistance. Call 1-202-479-1200
National Dental Lifeline Network - The disabled, elderly, and at risk patients can receive information and referrals to free dental services as well as related care. It can also assist those who are uninsured or at risk. Telephone 303-534-5360
National Hispanic Prenatal Hotline - In Spanish - It addresses, and helps people overcome, barriers to receiving prenatal care services. Most programs focus on non-English patients, including Hispanics. Case managers can provide access to linguistically and culturally proficient services and information. The non-profit NHPH aims to raise awareness concerning infant mortality and to ensure all women receive free or affordable prenatal care early in their pregnancy. Phone 800-504-7081 or 1-866-783-2645
The National Institute For Health (NIH) - Also coordinates clinical trials that low income and people who lack health insurance can take advantage of. Dial 1-800-411-111 or 800-411-1222.
National Patient Travel Center - Offers referrals and information about long-distance medical air transportation. The center can also provide referrals to non-profits and programs that may be able to help patients and their families pay for travel to a hospital or provider. Interested parties can get referrals and help in signing up for services. Call 1-800-296-1217.
New Eyes For The Needy - Does not have eye exams, but it will improve the vision of poor adults and children by providing recycled or new glasses. Call 1-973-376-4903. Or find more information on free eye tests near you.
Office Of Minority Health - Can address health care issues for uninsured minorities. Whether you are African American, Hispanic, Indian, Alaska natives, Asian Americans, Latino, Native Hawaiians or Pacific Islanders, they may be able to offer support and referrals. Telephone 1-800-444-6472
Patient Advocate Foundation - Coordinates free advocacy services for uninsured patients. Everything is done in an effort to address specific health care needs. Call 1-800-532-5274
Pharmacy Checker can be used to compare prices and to find affordable medications. Ensure you are receiving the best price possible. Eligible patients who lack insurance or resources can contact this organization for help in obtaining medicines they need. Telephone 718- 554-3067
Prescription drug programs for people with no insurance - Patients are are uninsured insurance, or that have costly plans, can either save money or get free medications. Several non-profits and other companies focus on ensuring families have access to what they need at an affordable price. More on prescription medications for uninsured..
Redi-Clinic and Minute-clinic walk-ins - Many retailers, such as CVS and Walmart, have clinics right in their stores. They provide people access to trained nursing care for many common conditions like eye infections, common colds, strep throat, bladder infection, sore throat, physicals, Immunizations, and vaccinations. Call 866-389-2727
TogetherRX Access - Runs patient assistance programs that can help the uninsured get needed prescriptions at low cost or for free. There is a free c comprehensive directory of pharmaceutical companies as well as their patient assistance programs. Many people can find who to call in order to get free medications. More on TogetherRX Access.
RX Hope - This is another nationwide clearinghouse that provides information on prescription assistance for low income and uninsured U.S. residents. Call 877-267-0517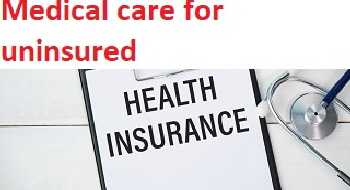 State drug assistance programs – Many states provide discounts for certain residents and/or diseases. For example, there is an HIV program, discounts or free medications for children, and many seniors may also qualify for aid. We have a list of prescription drug programs by state, and they help families in poverty or that lack proper insurance for medications.
State Pharmaceutical Assistance Programs (SPAP) - These are normally offered for disabled, senior citizens, uninsured and others. Almost every state has them. To find a listing, the National Conference of State Legislatures maintains a list of these programs as well as information on eligibility requirements. Call 202-624-5400.
Therapy - The uninsured can get free mental health counseling from a variety of sources, including clinics, Employee assistance plans, national hotlines, colleges, social services and other places. Adults and children, the elderly and disabled can all get help - there are no restrictions. More on free therapy.
U.S. Department of Health and Human Services - Locate Rural Health Clinics as well as Federally Qualified Health Centers (FQHCs). These are required to treat everyone, regardless of income or insurance status. They also help immigrants, people with limited English proficiency, lesbian, gay bisexual and transgender patients, children and youth, and of course uninsured or people with special healthcare needs. Medical care offered includes immunizations, checkups, pregnant care, substance abuse care, checkups for children, dental care, and mental health services. Call 1-877-464-4772
The National Long-term Care Ombudsman Resource Center - For seniors and it will help them find affordable long term care. Dial 202-332-2275
Healthcare programs for the uninsured by state
Programs for the uninsured vary by state listed below and can change over time. There are even telemedicine and mental health counseling for the uninsured. As far as the list below, never hesitate to call and inquire, or to apply for these programs, whenever your medical, financial, or circumstances change.
A number of qualifications will need to be met by applicants, including income and other thresholds. Some medical or dental for patients without insurance are offered by non-profits or charities in the state community. Other free programs for the uninsured are offered directly by the state government.
We also have many other medical and health care partners, many of which try to arrange free or low cost care for households that lack insurance. Find more details on our health care partners, including non-profits.
Related Content From Needhelppayingbills.com