Free diabetic supplies and medications.
There are pharmaceutical companies as well as non-profits that offer free diabetes medications, supplies as well as other needed stuff. The assistance programs focus on low income patients, people with limited or no health insurance, the disabled and the elderly as well. Not only can a diabetic receive the medication they need for their condition, but other free supplies such as bracelets, testing monitor devices or insulin pumps may also be available, including near them or in the mail. Find free supplies for diabetics below.
About 1 in 10 adults are impacted by some form of diabetes, with type 2 and 1 being the most common. The number of individuals impacted by this disease is also expected to increase over the years, especially for seniors and people that are overweight. There are several financial assistance programs used to provide free diabetes medications for lowering blood sugar levels. Each has their own terms and conditions, but note that many are not available for people on Medicaid, Medicare or that receive other government benefits.
Drug companies programs to pay for diabetes medications
There are several drug companies that that offer free supplies as well as medications for diabetics, including Medtronic. Some of them are based in the US and others are located oversees, so they still send free stuff to diabetics in the mail. They understand that it can be difficult to pay for the prescription drugs, test strips and other supplies that are needed. For diabetic patients that have more serious issues, including kidney failure and that need dialysis, there is transportation help too. Find dialysis transportation.
Since a diabetic may be faced with a life threatening condition if they do not get what they need, the goal of these drug companies is to make supplies more widely available to the less fortunate. Using a combination of rebate forms, vouchers, or just passing out medications for free, there is help available. Clients include Hispanics, seniors living on a fixed income, and many other low income households.
Abbot Diabetes Care Division is one of the leaders in this space. They provide many items to diabetics, ranging from medications to Blood Glucose Monitoring Systems. Help may be offered to Medicaid patients as well as people on Affordable Care Act (Obamacare) too. For individuals that need help in paying for the system, there is a financial assistance program available. Call 1-800-292-6363.
One company that focuses on equipment, such as insulin syringes, is BD or (Becton, Dickinson: Medical Supplies, Devices and Technology). This company is based in New Jersey. There is a program that can provide the syringes at a reduced cost, and in some cases a voucher can cover the entire cost. So the patient can be given what they need for free. Dial 1-866-818-6906.
A few different types of diabetes medications can be provided for free by Eli Lilly. They mostly offer insulin products, which include Humalog, Humulin (which is insulin) and an emergency kit known as Glucagon. Other up and coming medications for patients impacted by diabetes include Trulicity, Basaglar, Synjardy, as well as Jardiance. Anyone struggling to pay for them, and that would like a free voucher for their diabetes medications, can dial 1-855-559-8783 to reach Lilly Cares.
GlaxoSmithKline manufactures Avandia (also known as rosiglitazone). This is focused on individuals with type 2 diabetes. Another product from Glaxo is Rezulin. For families living in in poverty, that can't pay for the items or drugs, they need, there is a program that can assist them with payments, and it is known as Bridge to Access. Call 1-866-728-4368 to learn how to apply.
Free insulin pumps and supplies may be given out by Medtronic Mini-Med. This company also offers a financial assistance program (phone 1-800-646-4633). Not only does the company offer the pumps or equipment for type 2, but there are social workers that can offer counseling and training on how to use them.
Merck can provide a pill for diabetics with type 2. Patients that need assistance in paying for JANUVIA can apply to the Patient Assistance Program, and the phone number is 1-800-727-5400. There is help generally given to families that live within certain federal government poverty levels.
Insulin Injection is available as part of the Sanofi Toujeo medication. Other product for lowering blood sugar levels (glucose) is Lantus. Patients that need help paying for these products, or that need other information, can call 1-888-847-4877. This is the intake line for their co-pay program.
Novartis has a couple different diabetes medications they offer, and the patient assistance foundation can provide them at either a low cost or for free. A main beneficiary will be children and low income elderly patients. The main prescription drug is Eucreas/Galvus Met, and this is for diabetics with type 2. Phone - 1-800-277-2254.
One of the world's largest providers in this marketplace is Novo Nordisk. They can offer free diabetes medications in exceptional circumstances. A range of free products are offered, for both short and long term needs.
Tresiba is an insulin degludec injection system.
Levemir is for injections.
Supplies such as GlucaGen HypoKit
Victoza.
NovoLog, as well as the product with a 70/30 mix is offered.
Prandin.
The company offers a payment program for the supplies known as Cornerstones. For more information on the terms and conditions, dial 1-866-310-7549. Depending on the patients insurance plan or total household income, they can be given a voucher to pay for some of their diabetes prescription medication or free pills/supplies. Some resources are age restrictive too, and children with disabled may qualify for charity care.
Pfizer offers solutions for individuals impacted by Type 1 through diabetes. However most of this companies medications are focused on type 2. What is available is Glucotrol, and they can also offer other insulin products. For information on how to get help acquiring these products, a Helpful Answer helpline is set up. Call 1-800-707-8990 for intake.
Genentech / Roche is a pharmaceutical company that is involved in the research and manufacture of medications. One product, Lucentis, is for the treatment of diabetic retinopathy (DR). For information on payment plans for this, or where to get a discount from, dial 1-866-422-2377.
Takeda may offer free or low cost diabetes medications from a program known as Help at Hand. Dial 1-800-830-9159. This company provides Kazano, Nesina, and Oseni, with another in development. This too will focus on Type 2 conditions.
Free diabetic supplies and medications from non-profits or the government
Most diabetics need affordable insulin. Or they need free supplies or help in paying for it. There are resources out there, and find free insulin programs. If a drug company can't provide the assistance needed, then a patient can always try a non-profit organization. The resources available are generally more limited as well as restrictive. A non-profit will often only provide free medications to a diabetic when they have no other options available, and after they have applied for help from other groups first.
Since many of these agencies have a database to search, clients can also learn about places for free diabetes bracelets, which can alert first responders to a crisis. NeedyMeds (see below) is another resource that families can learn about other equipment they may need, such as insulin pumps.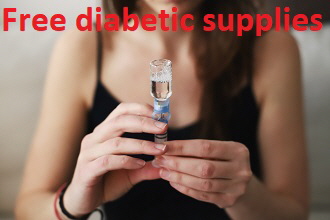 When applying, bring proof of income, insurance status, and copies of doctor notes/prescriptions. Some of these agencies can provide a voucher to pay for medications, or others (such as Rx Assist) just give referrals.
RX Hope will often require the patient to make a small co-payment. Call 1-877-267-0517.
An individual that does not have insurance, and that is not on a government program such as Medicaid, can contact Partnership for Prescription Assistance for information on how to get free diabetes prescription drugs.
NeedyMeds provides information from their helpline. Dial 1-800-503-6897.
Rx Assist is a search-able database. Learn about free medical care, diabetes supplies or medications, and other aid.
Medicare part B can pay for some diabetes supplies as well. This federal government benefit is mostly for senior citizens, the disabled, or children. While offer free equipment or even medications for diabetics is one program provided, part B also covers many other medical needs.
The government health insurance plan may pay for some or all of the costs of the following. It covers lancet devices, monitors to test blood sugar levels, insulin, glucose test strips, syringes, durable medical equipment, and supplies that can control the glucose level in blood. Other assistance may also be arranged.
Note that very few people will qualify for free diabetes supplies. What will usually happen is the patient needs to pay a portion of the cost, and this will be determined by the Medicare Part B deductible in place. Only certain pre-approved hospitals and other medical providers can be used as well. Lean more on Medicare health insurance.
Related Content From Needhelppayingbills.com