Free health insurance and medical care in Pennsylvania.
Find free health insurance as well as health care for uninsured and low-income families in Pennsylvania. Get medical, care for kids, medications and other support. Non-profit organizations, government agencies, and some charities administer free or low cost medical services for income qualified patients. Locate free health insurance in Pennsylvania.
The exact type and amount of care will vary based on available resources, the applicant's income, and other factors. Some of the programs for under or uninsured patients offer specialty care, such as help patients with cancer, diabetes or certain diseases.
There is Medicaid Assistance (Medicaid) in PA, CHIP insurance, Medicare and others. Addressing the needs of uninsured children in Pennsylvania is always a focus as well. Other needs that can be met include prescription medications, vision, checkups, immunization, and more. Patients that have no health or dental insurance, or a low come, will be able to get free insurance or benefits from the government and non-profits. Also look here for free dentists in PA.
Free dental and healthcare programs for uninsured people in Pennsylvania
Breast and Cervical Cancer Prevention & Treatment Program (BCCPT) – Coordinates full health care benefits for uninsured and low income women needing either free exams or treatment for cervical or breast cancer. Some assistance may also be available for addressing any pre-cancerous condition of the breast or cervix.
Screenings, exams, and free treatment is arranged in Pennsylvania. While there may be some minimal co-payments due from patients, in general this is a free health care program that provides treatment of these various forms and types of cancer. While more limited, it also includes government assistance for paying for the medical bills, treatment, prescriptions, deductibles and other costs that are not directly to the diagnosis. Call 800-215-7494.
Pennsylvania Medical Assistance, also known as Medicaid, is the state of Pennsylvania and federal government health insurance program. It is for the low-income, single moms, the unemployed and poor. The free insurance pays for health care services thru various financial assistance programs. The state can pay for bills including physician visits; inpatient hospital care; medications; home health care; medical supplies/equipment; nursing facility care; inpatient/outpatient psychiatric and drug and alcohol services.
Medicaid in PA also covers some basic dental care. There may be cleanings, dentures (partial) with possible implants and more for the uninsured. Even find surgical dentists that take Medicaid. Read more on Call 866-550-4355.
Children's Health Insurance Program (CHIP) is federal government funded and also offered in Pennsylvania. Children who lack health insurance, teens and whose families do not qualify for Medicaid because their income is too high can benefit from CHIP. The state can pay for immunizations, basic checkups, prescription medications, hearing aids and tests, dental cleanings, dentures and more.
It also provides for medical services for a limited number of chronic health care conditions. The program can assist children who come from families without insurance with cardiac, orthopedic, cleft palate, and neuromuscular conditions or other chronic medical conditions. Other needs addressed include hearing and speech impairment, cystic fibrosis, hemophilia and spina bifida. While your income will be reviewed, the care offered in Pennsylvania for children is either free or low cost. Call 800-986-5437
Chronic Renal Disease Program, or CRDP, is for adults with end-stage renal disease. The program can pay for treatment and care. The state program can help with bills related to medications, inpatient and outpatient services, dialysis services, home dialysis supplies and equipment, and other expenses. Call 800-225-7223
Breast/Cervical Cancer Early Detection Program (PA-BCCEDP), also commonly known as Healthy Woman Program (HWP) has a focus on early detection. Some of what can be provided includes pelvic examination and Pap smears, clinical breast exam, mammogram, education on breast self-exam, and follow-up diagnostic care for an abnormal result. If after all of this testing is complete, if cancer is detected, patients may be eligible for treatment in Pennsylvania. Call 800-215-7494.
Free Vaccines for Children Program, or the Pennsylvania VFC, offers affordable to free vaccines for children, newborns and infants from families with no insurance or money. All medications, vaccines and shots are distributed to local health agencies and clinics, who then provide the service to children. Vaccinations are for influenza, Dipththeria, measles hepatitis, Meningocaccal, mumps pertussis, polio, tetanus etc. Call 888-646-6864
Link to Aging and PA Disability Resource Centers helps low-income and uninsured seniors or disabled people. The program provides help locating a broad range of health benefits, including specialty and primary care, grants for hospital stays, and prescription medications for the uninsured. The center offers information on financial help for premiums due, deductibles and out of pocket limits from enrollees. Call 800-753-8827
Living Independence for the Elderly (LIFE), which is the government PACE program, is free hme care and insurance. Medicaid/PA Medical Assistance and Medicare pay for this. There is free insurance for medical needs, transpiration, care giving help and the goal is to help older people continue to live in their home vs. a care facility. The program is also known as Program of All-inclusive Care for the Elderly (PACE). Call 844-824-3655
Maternal and Child Health Service, known as Title V Block Grant, is for kids, teens and infants with chronic physical or developmental needs. This free insurance programs will also help kids with behavioral or emotional conditions, and it offers a wide range of support. There are psychologists, online therapy, free ADHD or anxiety medications in PA, and other care for the low-income or uninsured. Call 877-724-3258, or find a psychiatrist for free.
Medicare Education and Decision Insight (PA MEDI) helps people navigate the free government health insurance plans, including Medicaid, Medicare, CHIP, and others. Medical services offered include counseling for low-income and unemployed in PA. Also sign up for diagnostic tests, treatment, therapy, outpatient follow-up, and more. Depending on the applicant's income, some families may be required to contribute and pay for a portion of their own insurance. Dial 717-783-1550.
Pennsylvania's Initiative on Assistive Technology (PIAT)) will assist senior citizens and the elderly in acquiring assistive technology devices. The organization will give away free dural equipment to the very low-income or people on Medicaid. Or the non-profit will underwrite low-interest loans which can be used by residents to acquire computers with specialized hardware/software, wheelchair accessible vans or ramps, home modifications, hearing aids, and stair glides etc. Call 800-204-7428 for details.
Pennsylvania Patient Assistance Program (PA PAP) – Low income and uninsured residents can be put into contact with specialists who can assist them in applying for pharmaceutical company patient assistance programs. Get free or low-cost insulin, cancer meds, statins, anti-anxiety medications and more. They also assist with the Medicare "donut hole". Call 800-955-0989, or look here for senior free medication programs.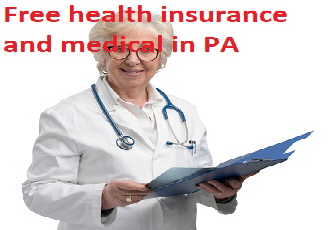 Pharmaceutical Assistance Contract for Elderly / PACE is the state's prescription assistance plan for older residents with low income or limited health insurance plans. Applicants need to be 65 or older, can't be enrolled in any Medicaid or Medicare Prescription benefit, and need to meet income limits. Beneficiaries can receive a a months long supply of medications, and seniors will only need to pay $9 for brand names or $6 for generic prescriptions. There may be a small deductible. Call 800-225-7223.
Sickle Cell Disease Program – The organization can provide comprehensive services, including psychological, medical, and social to persons diagnosed with sickle cell disease. Coordinates confirmatory testing, education, comprehensive care coordination, counseling, emergency medical care, preventive therapeutic therapy, newborn screening follow-up, outreach, support groups, and other transition services. 800-986-4550
Special Pharmaceutical Benefits Program (SPBP) can help pay for medications for people with behavioral issues. There is anti-depressants, ADHD meds, and other free related drugs. It is available for uninsured and low to moderate income residents in Pennsylvania. Call 877-356-5355
Telecommunication Device Distribution Program TDDP is a form of Speech and Hearing Program. Free Health care services as well as devices are offered to people who either have, or who are even suspected of having, a hearing and/or speech impairment. The organization and state provide diagnostic testing, free iPhones, tablets, remediation of speech, treatment, rehabilitation, prosthetics, phones, and more. Call 800-204-7428
WISEWOMAN in Pennsylvania is offered for people age 40 to 64. Resources are available to help delay, prevent, or control cardiovascular and other chronic diseases in uninsured and low-income women. Screening and more is offered, including cholesterol checks, blood pressure, glucose, weight, height, personal medical history, addressing health behavior and readiness to change assessments. It also offers referrals as needed. Dial 800-215-7494
Cleft Palate assistance can help pay for and coordinate medical services to children, babies, and infants with cleft palates and/or lips. Call 800-986-4550
The Cystic Fibrosis Program is available for both adults and children across Pennsylvania who have this condition. Receive outpatient follow-up, diagnostic tests, medications, inpatient surgery, multidisciplinary medical services, and therapy. Dial 800-986-4550
Related Content From Needhelppayingbills.com