Free medical and health care clinics.
Find a free or cheap medical clinic that provides health care, behavioral counseling, telemedicine and other services. The non-profits help low-income families, people with no insurance or that are on Medicaid any anyone that needs help. The free community health centers provide either free or low cost medical care. Find a free community healthcare clinic, including for emergency care today.
Clinics have doctors, eye doctors, therapists and other medical professions. The free or income based health centers offer a wide variety of medical services, including free walk-in or emergency care, for adults on Medicaid or Medicare as well as people with no health insurance. Services are offered for kids, adults and seniors too.
There are also local community clinics in most counties and cities. A state by state list is below. The local community health centers focus their care on local residents in that region and most operate as free walk-in medical clinics. There are thousands of sites to choose from, and for more details find a clinic near you.
Free medical care provide by healthcare clinics to patients
The charities, hospitals, or volunteer doctors at the medical clinics will provide health care regardless of a patient's ability to pay. There is free or income based medical care as well as charity services from clinics for patients whether they have health insurance or not or if they are underinsured, They will rarely turn anyone away and if needed, there are referrals to free or cheap medical services are for adults, children, the disabled and seniors from other organizations.
Most free or income based clinics or health care centers are non-profits and offer drive thru as well as urdent care services. They operate as part of the Federally Qualified Health Center (FQHC) or Rural Health Clinics (RHC) program.
There specifics of each free or low-cost medical clinic will vary. There are often volunteer or full time doctors, Optometrists, nurses, psychologists, therapists and others at a health center. Free medical services at a health center may include some or all of the following.
Clinics may also help people get insurance who either do not have medical insurance or who have limited coverage. A free clinic can also help patients on the Affordable Care Act (Obamacare), Medicaid or those with pre-existing medical conditions. They also help families with no health insurance. People of all backgrounds can be assisted, including immigrants, the elderly, children, and others.
The details of the fee arrangements will also vary by each center, but the most common type of plan is what is known as a sliding fee or income based scale. This means that the community clinic will provide its services and charge the patient only what they can afford to pay for that particular bill. So if someone has zero or close to no income, their medical care will be free or it will be offered at an extremely low rate.
In many instances, a clinic will offer some health care services for free. Patients with no health insurance or whose policy does not cover the procedure that is required may not be charged in some cases. Many children and households living in poverty or Medicaid recipients can also use a free clinic. But if someone has a limited income, they may need to pay a small percentage of the total bill that is due for the medical care that was provided to them.
Applying for free medical care from health centers near you
Patients will need to make an inquiry as to what type of medical care from the health center is offered. Individuals should also inquire as to whether the service be free, cheap or have an affordable cost, how does the application process work, and other applicable questions. The fact is that most of these locations have their own terms and conditions in place. What is provided at one clinic may be completely different then the services at another site.
Referrals are given to other free or affordable medical care too. These resources can be offered by non-profits, drug companies, government assistance programs, and both private or non-profit agencies near you. They partner with clinics to help the most vulnerable among the population as well as the uninsured. Many of the services operate nationwide and will provide medical help to patients in all parts of the country.
Medical services available in partnership with free health care clinics
Clinics that focus on dental care - While some of the community clinics or health centers may provide limited amounts of dental care to the low income, there are other locations that specialize in this. Treatment may include free tooth cleanings, root canals, fluoride and more. Read how to get access to high quality, yet affordable, treatment from dental clinics.
Eyeglasses - Various non-profit organizations near you will provide free eye exams, vision testing and/or prescription glasses. Some may offer contact lenses as well. Many children benefit from an eyeglass program at a community health care center, as some clinics have optometrists on site. This can also include any needed testing and exams. Find free eyecare assistance programs, and learn more on the services.
Free prescription drugs from clinics – Many drug companies, non-profits, and government programs offer free or very low cost prescription medications to income eligible patients or patients without insurance. Get ADHD medications, Cholesterol statins, anti-depressants, and more, They partner with free clinics to ensure that patients living in poverty or patients with no insurance can get the help they need. Learn more on free prescription medications.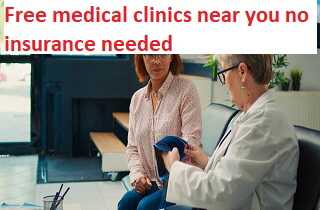 Free health care programs - There are many other resources that are in addition to the community clinics listed below. For example, learn about free services from pharmaceutical companies, government programs, United Way supported organizations, and more. Some very low income patients or even seniors can also get free or affordable health care insurance. More on agencies and programs for free health care.
Government funded clinics - Many non-profits health and dental centers receive funding from the federal government Health and Human Services department. They use the government funds to help low income patients or the uninsured. The sites are required by law to provide affordable medical and/or dental care to patients (whether insured or not) regardless of their ability to pay or their income or insurance. Some of the free health care centers focus on woman, children, or the disabled among others.
Most centers operate on a sliding fee scale, and they are open to Spanish speakers, immigrants, and other vulnerable individuals. The uninsured, less fortunate, homeless individuals, migrants, and others can receive assistance. More on federal government affiliated clinics.
Medical bills help social workers at clinics. Several non-profit agencies will provide grants or financial assistance to patients to help them pay medical, deductible or hospital bills. Clinics, as as advocates on site, may help offset expenses incurred by cancer patients, offer payment plans, and more. Learn more on medical bill financial assistance.
Free medical for people with no insurance - Some patients who use community clinics do not have health insurance or maybe the procedure or medication they need is not covered, even by the clinic. A free health care center near you will offer as much care as possible when the health insurance plan does not pay for it. While many of the health care centers will try to assist these patients, individuals who lack insurance coverage have several other resources, including government programs and non-profit services, available to them. Get a listing of additional uninsured medical programs.
Woman focused clinics address specialty needs too. Females, including those with no insurance or income, can get free or subsidized care. Or they can get payment plans, charity care or financial assistance. Get free OB/GYN services, pregnancy testing, Reproductive Health, and more. The woman medical clinics near you will be listed by state below.
Locations of free clinics near you by state
Below you can find information on low cost or free clinics that are located in your state. This is just a sampling of the locations that offer free or affordable medical care or assistance to people with no health insurance or they help walk in patients. Not all of the centers will be listed for your state, but you will find phone numbers to locate additional free community clinics. Or use the link to get information on other medical and financial assistance programs in your state as well as local county.
Additional ways to get free medical from a clinic
There are many other resources as well. Whether it is a free community clinic, medications, or dental screenings for kids, find other options and lists of clinics, including at www.nafcclinics.org. Or call (703) 647-7427. Or read about the Needhelppayingbills.com health care partners.
Related Content From Needhelppayingbills.com