Free or discounted prescription drug assistance programs.
Get details on free RX or prescription medication programs that are available to low income patients, people with no money, patients on Medicaid as well as uninsured families. Find details on vouchers, online rebate codes or websites, government benefit programs that give free medications as well as financial assistance from pharmaceutical companies. Additional support may also be given to families or individuals that do not have health insurance. Find free prescription medication programs below or financial help to pay for a RX.
There are benefits for long term needs as well as free emergency prescription drugs. Low income families, seniors and others can get RX help available from many sources listed below, including pharmaceutical companies or charities. The government also has a number of benefit programs that can help pay for some or all of a prescription drug.
Qualifications and income limits will vary widely. Some of the assistance is offered for the low income, seniors, or those without health insurance. Other programs and agencies can help more moderate or middle income patients. In many cases people with an unexpected financial emergency or hardship may qualify for free or affordable medications, both generic or brand name drugs.
Based on qualifications, there may be financial aid to pay for the deductible on any health insurance policy or a prescription discount card given to the patient for ongoing use. This type of support can be combined with free medications, including on refills if the condition will last for an extended period of time. There is also free emergency prescription help from sources listed below. The bottom line is that a struggling family may be able to get free or low cost prescription drugs from a number of different sources.
Free government prescription drug assistance programs
Many free prescription drug benefit programs are available at the state and federal government level, including Medicaid, CHIP as well as Medicare Part D among others. They can help offset some of the costs of any needed medications. In some instances, the patient can be given free prescription drugs if their income is low enough or if they meet poverty guidelines. This can especially hold true for generics.
A free discount prescription drug card is offered by many county governments. It will save consumers about 20-40% on all of their medicines. It will generally cover generic medications, but there may be some other assistance given to pay for prescription bills. There is no cost to sign up for and obtain the card, and it is accepted at most major retailers (such as Walmart and Target) and drug stores (including Walgreen, CVS, and others). More on the NaCo discount prescription card.
Find free or affordable prescription medication assistance programs from your state. The resources are paid for using both local and federal government income tax dollars. Some national pharmaceutical companies may also donate to these services. Most states offer a wide variety of emergency programs that will provide free or heavily discounted prescription drugs to residents. Find details here prescription assistance programs.
Senior citizens and the disabled can sign up for federal government medical care and insurance. This includes prescription drug benefit programs such as Medicare Part D and others. Your Area Agency on Aging office is usually a great place to contact for information and to apply. Locate senior medical and financial aid programs.
Families that lack affordable health insurance coverage, or that have an insurance plan in which their prescription costs are not covered, can get help. Dozens of government benefit programs work with charities to either provide significant discounts or free medications. Find health care for the uninsured.
HIV-AIDS Drug Assistance Program - Hundreds of thousands of patients with HIV-AIDs, who are uninsured or underinsured, or who are low income will receive free prescription medications. This service is paid for by federal and state government funded programs. Find medications for HIV-AIDs patients..
Discounted or free emergency prescription medications from non-profits
Community Action Agencies will often have resources and various assistance programs that can provide low to moderate income families with free or heavily discounted prescription medications. They can also refer patients to other programs and resources, such as public assistance and Medicaid. Some of these non-profit organizations may even have clinics on site that offer free health care services. Find affordable medical or free prescription programs, and how community action agencies help.
Together RX Access is a service that is available for people of all ages and incomes to use. They administer a free prescription drug savings program for families and individuals who lack prescription coverage from their health insurance provider. It allows families to save substantially on their medicines. More on Together Rx Access.
RX Outreach is a top rated patient assistance program (PAP) that is offered by pharmacy benefit managers. The participants include Express Scripts, CVS, United Health and others. The services help people save money on prescription medications. Customers can order online and have products delivered directly to their home. More on RX Outreach programs.
Free prescription drugs for cancer patients - For individuals that have been diagnosed with cancer, there are numerous grants as well as non-profit organizations that can provide support. Charities as well as non-profits may offer free medications that address cancer as well as cash grants. Some may even cover other basic needs or help with paying bills while the patient is receiving treatment. Find help with cancer costs.
Partnership for Prescription Assistance helps patients who do not have prescription drug insurance coverage on their plans. They can get the medicines they need for a condition, for free or low cost, through various long term as well as emergency programs. Even if the household does have health insurance coverage they may still qualify for RX assistance if their plan doesn't cover the total cost of certain medications. Continue with Partnership for Prescription Assistance resources.
NeedyMeds helps people who can't pay for the medicine they need or other healthcare costs. The agency will try to help them with paying their medical bills and debt. They provide free information on hundreds of resources that are available and serve as a national database for anyone to access. Read more on on NeedyMeds.
The HealthWell Foundation provides assistance with paying for prescription drugs. Some of the assistance they provide includes help with copayments, prescription drug coinsurance, as well as funds to pay for deductibles. Most of the aid is offered for patients with chronic or serious medical conditions.
The Patient Advocate Foundation provides access to health care, free prescription medicines, and other medical assistance. People who need help or may be experiencing a medical emergency may be eligible for this program. Get help in accessing the medical care you need by using the services of this organization. Find how to apply for Patient Advocate Foundation programs.
The Dispensary of Hope is a program that works with numerous local government organizations, health care clinics, and charity organizations. They collect surplus generic prescriptions as well as other items and disburse them to struggling families. The goal is to help uninsured residents get their medication free of charge or for a low of a price as possible. Click here Dispensary of Hope.
Recently, many web sites have been created that consumers can use to find ways to compare prices. The services will help patients find free or discounted prescription drug medications or locate affordable health insurance plans. Almost all of the sites are free to use. Click here for a list of websites that can help consumers that are in a search for medications.
Another plan that can save people hundreds of dollar per year on their medications is the Humana Walmart-Preferred Rx Plan (PDP). The plan can be used at many retailers and not just Wal-Mart. It is estimated that this program can save patients almost $500 per year on their prescription drugs. It has the full support of Walmart, the nation's largest retailer. The premium and co-payments for this service are the lowest available in the industry. Learn more on the Walmart Humana prescription plan.
Patients will save on average 34% on their medication from the FamilyWize prescription drug discount card. The card is free to use and to sign up for, and there are no applications to complete. There are also no income restrictions. Get more information on the United Way FamilyWize prescription discount card.
Chronic illness or medical condition - Two non-profits, Medco Foundation and Dispensary of Hope (DOH), are partnering with community clinics as well as a number of pharmaceutical companies. They are working together to provide free medications to the low income and uninsured, providing they have a chronic illness. Receive prescription drugs for heart conditions, diabetes, some types of cancer, and other recurring conditions. Find medications for chronic illnesses, and read more details on their services.
Generic prescription medications can also provide consumers with substantial discounts. There are many places to shop for these, including at a local pharmacy, online, and in bulk shopping stores. Many generics will also be given for free to low income or uninsured families, and pharmaceutical companies will offer them as part of their financial assistance programs. Find sources of low cost generic medications.
Free RX Coupons - Patients can sign up for a service at no cost to them. There are online companies as well as traditional retailers that allow households to print a coupon for either a generic or brand name prescription drug. It is free to use sign up for and great to use (including in an emergency), and there is not even an application process so everything is done in confidence. They can be redeemed at thousands of pharmacies across the nation. Find free prescription medication coupons.
Many non-profits and government agencies offer free prescription medication discount cards too. They are simple to use, and can be downloaded from a website or even used on a smartphone. Just bring the card to a pharmacy and save up to 80% on brand name or generic medications, regardless of income or health insurance status. Read more on free prescription drug discount cards.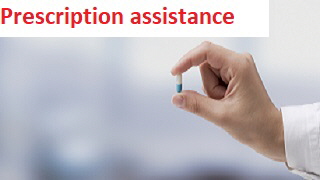 Fibromyalgia is a medical condition that almost ten million Americans have. It can lead to fatigue and can prevent patients from working, which can lead to financial struggles. While there is no cure, a number of prescription medications can be used to help relieve systems. In addition to that, some of the prescription drugs for Fibromyalgia can be provided to patients at no cost to them. Read more on free prescription drugs for Fibromyalgia.
Blink Health - Patients who are seeking to save money on their prescription drugs can use the free application from this company. It is a comparison shopping type tool that also relies on bulk purchasing power of its users. Thousands of generic as well as brand name prescription medications can be obtained in an emergency for as much as 95% off the retail price, and the service is free to use. More on Blink Health phone application for prescriptions.
Non-profit assistance programs also focus on helping patients get free or low cost medications if they do not have health insurance. Since the cost can often be prohibitive for the uninsured, help is provided for this group of individuals. The resources available range from comparison web sites, discount codes to cheaper pricing offered by companies that negotiate terms and conditions directly with pharmaceutical companies. Find how to get prescription medications without health insurance.
National retail stores as well as pharmacy chains also provide free or low cost prescription drug discount plans to shoppers. Most of these are for generic medications. Stores such as Wal-Mart, Costco, Kroger, Walgreens and other retail stores provide RX savings, discounts, and other forms of assistance. Learn more on retail store prescription drug discount plans.
Prescription medications from drug - pharmaceutical companies
Patient Assistance Programs are offered by many pharmaceutical as well as generic drug companies, such as Merk, Eli Lilly, Abbot, Mylan, and Pfizer. They provide free or very affordable medications to families that can't afford to buy their own medicine. The programs tend to be generous in establishing their income limits and will usually offer help to low as well as even more moderate income families.
Pfizer, Merck, and Eli Lilly all offer free or cheap prescription medications. Many other drug companies, such as Abbot, Johnson and Johnson and Glaxo have created their own patient financial assistance programs. These resources will provide free or very low cost prescription medications and life saving drugs to the unemployed and low to moderate income as well as people with little money. More on patient assistance programs.
Many drug companies also provide free insulin or assistance in paying the cost of it. It can help patients with Type 1 or 2 diabetes as the supplies are expensive. Sanofi, Eli Lilly, Novo Nordisk and others all offer this type of assistance. Read more on getting help paying for insulin.
Also, find out how a number of drug companies and doctors say patients can split pills to save 50% on prescription drugs. Before anyone is to do this they always want to consult with their doctor, medical professional, or the drug manufacturer.
Drug companies also offer emergency charity care to diabetics. What may be provided ranges from free medications to rebates, vouchers or coupons. The terms and conditions will vary, but in general the applicant needs to have a low income, limited health insurance, and not be on government aid. Find free diabetes medications.
Free or low-cost medications exist for low-income families
There are many ways for patients to get help, free RX and save a substantial amount of money on the prescription drugs that they need for their treatment. Anyone interested in saving money will need to take the time to complete the research to find the programs that can offer help. In addition, aways be mindful of FDA regulations around any medications, and find details on FDA drug safety policies.
Needhelppayingbills.com has worked with our prescription drug assistance program and health care partners on these resources. As there are a number of non-profits as well as government resources that help patients obtain low cost or free medications, including emergency prescription help, for their medical needs.
Related Content From Needhelppayingbills.com