Help with cancer bills.
Find how to get help with paying cancer bills from non-profits, government programs, foundations and other organizations. Low income patients can get free money if they have cancer, debt relief, treatment, transportation and other assistance. There is help for people with no or limited insurance as well. Learn more about assistance programs for cancer patients.
Most of these programs are administered by charitable and/or nonprofit groups. They offer grants, financial help, including free money, to cancer patients as well as their family or caregiver. The funds can be used to help pay for the cost of deductibles, co-payments, hospital bills or medical debt, screening and other related expenses. There are also free programs to test or screen for cancer, including skin checks, mammograms, prostrate exams and other forms of screening for the low-income. Read more on free cancer screening.
The eligibility for each program will vary, in general the patient will usually need to meet specific treatment guidelines and income levels. People without health insurance though will generally be able to get financial help or free screenings - no matter their income.
Get financial help, treatment assistance and free money for cancer patients
After a diagnosis occurs, patients will typically be referred to these assistance programs by the patient-advocate offices or financial counseling organizations of hospitals as well as cancer treatment centers. There are resources to help people with Melanoma, breast cancer, cervical, skin and other forms of cancer. If this form of financial help or debt relief is not offered, then be sure to ask your health care provider or hospital about your options. Some of the programs and resources that people can turn to include those listed below.
The CancerCare Co-Payment Assistance Foundation - This organization helps eligible patients pay for the cost of the health insurance co-payments for treatment of specific cancers. The foundation was created back in 2008. They several different diagnoses that are eligible for assistance, but the list of items covered continues to expand. They currently cover breast cancer, head and neck cancer, colorectal or cervical cancer, non-small cell lung cancer, glioblastoma, pancreatic and renal cancer.
There are some limits to the amount of financial help that is provided. Most participants who qualify for assistance will receive free money or a grant of anywhere between $2,500 and $5,000, however the foundation does rely on donations and funds are limited. Dial 800‑813‑4673 or 1-866-552-6729.
Many other free health insurance programs exist that help pay some or all of a cancer bill. There will be transportation offered, assistance to pay a doctor or cancer treatment center, debt relief and more. Find other ways to get free health care.
The HealthWell Foundation offer financial help for people with cancer as well as other chronic illnesses. The non-profit organization helps with co-pays and premiums for patients with group and individual insurance, Medicare and Medicaid. There is money to assist women with breast or ovarian cancer, funds for people with prostate or colon cancer and more. The goal is to assist with deductibles and co-pays, including for chemo or other pharmaceutical drugs. Learn more on the HealthWell Foundation.
Another option for assistance is the Patient Advocate Foundation Co-Pay Relief Program. This program provides pharmaceutical co-pay help to both underinsured and insured patients, including Medicare Part D recipients. There will be free money for seniors, disabled people and other low-income patients. More on Patient Advocate Foundation assistance program.
Life Beyond Cancer helps cancer patients pay their living expenses as they go through treatment. This organization provides cancer patients with money so they can pay their everyday bills, including their rent, mortgage, and energy bills. Continue with Life Beyond Cancer.
Another option for help with cancer bills is CancerCareCoPay.org. This is a not for profit agency that provides help to people who can't afford their prescription medications on their own. The organization can also provide emergency as well as lonmg265+6-term assistance so people can pay their everyday bills while they are battling their cancer and going through treatment. Find financial help from CancerCareCoPay.
Cancer patients and their families may be able to receive financial assistance, counseling, and/or medications from Cancer Care Inc. The non-profit was founded back in 1944, and every year they are able to support tens of thousands of cancer patients with a wide variety of assistance programs. The support offered to the under or uninsured will vary.
Sometimes they may be able to provide financial assistance or money to pay the bills, and sometimes it may be counseling, advice and an extensive amount of information. People as well as their families can learn about what programs and resources are available to cancer patients. More on Cancer Care Inc.
Non-profits that help low-income families with cancer
Brenda Mehling Cancer Fund - May have grants available to pay for expenses such as car insurance, medical co-payments, rent, transportation, auto repairs, mortgage and groceries. It is for cancer patients who range in age from 18 to 40. Email address is info08@bmcf.net
Cancer Legal Resource Center - Provides free information, in English and Spanish. There is help for all sorts of cancer issues. Survivors, caregivers, doctors and employers may all qualify. Get free information on government programs, free medications, experimental drugs and much more. Phone - 866-843-2572
Cancer Survivors Fund may have financial assistance to pay for prosthetics and even college scholarships for cancer survivors. They do not cover treatment costs, but the non-profit will focus on the recovery process. Call (281) 437-7142 or email csf@cancersurvivorsfund.org.
Corporate Angel Network, Inc. partners with major airlines to provide free or very low-cost transportation to cancer patients and their families. The non-profit will arrange free flights to treatment centers, specialists and hospitals. Call (866) 328-1313
Disability assistance, including FMLA, may help some cancer patients. There can be vouchers to pay for medications, government health insurance, or financial aid from charities to pay for hospital bills. Or cancer patients can get free hardship grants or money for family travel, to pay down debt incurred from treatment, or other medical care. Find more information on financial help for the disabled.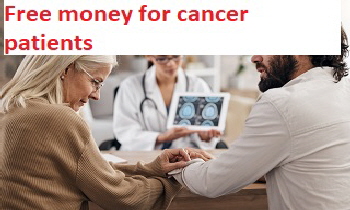 Help Hope Live is a crowd funding service for people with cancer and that have bills to pay. Raise money for transportation, cancer treatment plans, air tickets or a train and other needs. Call 800-642-8399.
Joe's House can arrange for free accommodations for cancer patients and their immediate family members. There are free motels or hotels as well as private lodging. The assistance is available for families who must travel quite a distance away from home for their medical treatment. Telephone number is (877) 563-7468.
Kristy Lasch Miracle Foundation is for women with breast cancer. Financial assistance and grants may be paid out for medical bills, prescriptions, cancer treatment and other costs. Call (412) 872-4125
National Breast and Cervical Cancer Early Detection Program is a government run benefit program. It provides low cost or free access to cervical and breast cancer screening services for uninsured and underserved women. Call (800) 232-4636 for information.
National Children's Cancer Society will offer direct financial assistance and other aid to teenagers, children, and infants with cancer. There can be free airfare for treatment, lodging, hotel rooms and other support. Call (314) 241-1600
National Transplant Assistance Fund can be contacted at 1-800-489-3863. The non-profit organization will help with creating fundraisers for cancer patients in need of transplants and limited financial assistance. It may help individuals move to hospitals or doctor offices, among other centers. Free transportation can also be done across the country or state-lines. The money raised can help them pay their medical bills and treatment costs.
Ovarcare helps women with ovarian cancer as well as assists them as they recover. There will be limited financial help for food, gasoline, medical equipment, and other needs for women, including single moms, with ovarian cancer. Call (713) 800-2976.
Patient Assistance programs are offered to low-income cancer patients and those with no health insurance. There is financial help, vouchers, grants money and other resources that pay for the prescription drugs or medications that the patient needs. More on how to apply for patient assistance programs.
Ronald McDonald House will help arrange a place to stay for families with kids, including maybe even young adults, that have cancer. The program is run locally with each affiliate offering different forms of free housing as well as application processes. Learn more on the Ronald McDonald House.
Susan G. Komen Financial Assistance Program provides free grant money to women with breast cancer. The funds are limited and will help pay for certain bills. There are a small number of applications taken yearly. Call 1-877-465-6636.
Surviving And Moving Forward, or SAM, may be able to assist cancer survivors under the age of 35. The organization will help them with their transition into post-treatment life. It will offer them grants and scholarships. The organization will try to help survivors pursue their professional and/or educational goals. Call (866) 439-9365.
Where There's A Need, Inc. - Provides free hair scarves for children and women who have experienced hair loss due to radiation cancer treatment, including chemotherapy, or other very serious medical conditions. The agency specializes in offering head scarves for babies, women, young adults, and children. Call 866-803-6095.
Related Content From Needhelppayingbills.com