Free or low cost medications from RX Outreach.
RX Outreach is a non-profit organization that operates a discounted online pharmacy. They offer low cost or even free medications to low-income and/or uninsured patients. In other words, Rx Outreach operates an extensive online prescription drug assistance program that offers substantial savings as well as free medication to those who need help. Get details on the RX Outreach online pharmacy.
While the uninsured and/or low income may get help from the non-profit, anyone (regardless of their income) can use its services. The phone number and details on ordering medications from RX Outreach are below. Not only will the meds be free (or very affordable) but prescriptions are filled often within a couple days, so the non-profit helps low-income families that need their medications today.
Also note the non-profit operates as a pharmacy and they will mail their customers the prescription drugs they need, which also simplifies the process. The company has thousands of generic drugs (as well as some name brand) that it offers and it will provide them for free to anyone with a U.S. address whose income is no greater than 400 percent of the federal poverty level.
Types of medications provides by RX Outreach
The non-profit supports all types of patients, no matter their medical condition. Anyone can register their current prescription with RX Outreach, with it is for weight loss, cancer treatment, anxiety or depression or any medical need. They have Patient Care Advocates that will help customers through this process. The non-profit will work with a customer's current pharmacy on the steps involved as well.
Rx Outreach mostly focuses on offering a generic prescription drug assistance program. They have thousands medicines in dozens of therapeutic categories. The services are offered to low income families, seniors, and others who need help. The mail in concept is a great option for senior citizens, the disabled as well as homebound among others.
Many of the medicines that Rx Outreach provides for free or on a discounted basis online are not available anywhere else. The prescriptions that are available through the highly advertised generic programs offered by many major retail chains such as WalMart, Costco, or Target. This also provides customers more flexibility to ensure they get the assistance they need. While costs due vary by medication, however the prices are low and hundreds of medications are available in a 180-day supply for only $20.
RX Outreach is a free program
Maybe best of all, there is no membership fee that is required for using the RX Outreach services. All the medications are sent in the mail as well within a matter of a few days in most cases. Clients will not need to pay any extra shipping costs either. The company is able to do this as they are a non-profit and they also partner with a number of other organizations out there, including Fed-Ex, UPS, DHL and others on logistics However when they do order medications there will be a small administrative fee charged to offset overnight shipping and packaging costs.
Any individual of any age can use Rx Outreach assistance program as long as he/she meets the income guidelines. The program is 100% free. Also, since its inception way back in 2004, the Rx Outreach program has helped millions of get the medications that they need at an affordable, discounted or free price.
In a typical year tens if not hundreds of thousands of individuals across the country use and benefit from this service. The RX Outreach program offers prescription medicines to both underinsured and uninsured individuals and families, as well as those who have limited prescription drug coverage on their health insurance plan. Low-income families on Medicaid, or seniors on Medicare, can also use the RX Outreach program to save money.
To sign up for the RX Outreach, patients just need to complete a simple, quick application and then mail the application in with the valid prescription from their doctor or healthcare provider. Online transfers of the medications to RX Outreach can also be done. Prescriptions can be transferred to RX from WalGreens, Rite Aid, CVS, WalMart or almost any pharmacy. No additional supporting documentation is required to join the program, and there are no membership fees.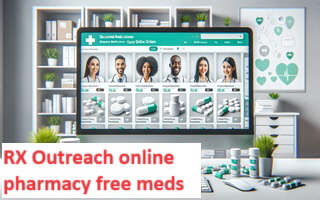 Programs terms and benefits
A number of conditions need to be met and the program is closely administered. A non-profit charity organizations currently oversees the services and sets the conditions that need to be followed. Some of the benefits to RX Outreach include the following.
Those who are enrolled may be able to

transfer their current prescriptions to Rx Outreach

so they can save money when they need to reorder their existing medications. Please note that your prescriptions must have enough refills for a 90-day supply in order to be able to complete the transfer.

If you have

questions on the medications that you should or should not be taking

, then a pharmacist is available to answer those questions about your medications. If you are enrolled and in order to get your questions answered, dial 1-800-769-3880. A Patient Advocate may also provide the support that a customer needs.


Medications from RX Outreach will be sent to you in the mail

, sometimes using express services such as USPS or Fed Ex. All packages are fully secured and handled by pharmacists, so shipping the goods is safe and efficient. Members will need to pay some minimal costs for this transaction. However the savings passed on to consumers is still very extensive, even when factoring in this fee.


The RX Outreach standard shipping is free

. For patients who order in advance, or select auto refills, if the meds are sent in the regular US Postal service, there are no charges - shipping is free.
Rx Outreach also partners with a number of government funded community clinics, pharmacies, hospitals, and other medical providers. They do this to help ensure the highest quality of medical care is offered as well as number of prescriptions.
How to apply for RX Outreach
The non-profit will help patients save money on the meds they need. Find details on the medications provided by RX Outreach. Or to learn more or apply, the customer support/application number is 1-888-796-1234.
Related Content From Needhelppayingbills.com