Free clothing closets, furniture, and school supplies in Jefferson County Alabama.
Charities in Jefferson County use donations from the population in order to provide free clothes, furniture, back to school supplies and household goods to low-income families. There will be clothing closets, charities, furniture banks and other distribution centers in Birmingham Alabama that giveaway stuff. Find free clothes and furniture near you in Jefferson County and Birmingham.
The items available from the centers are wide ranging. There is free stuff for low income families, seniors, the disabled as well as working poor. The goods range from school supplies to professional work attire to furniture such as beds, coaches, sofas and other goods. Or get appliances, fridges, computers, couches or desks. The hours of the clothing closets across Birmingham Alabama vary, but some of the primary locations are below, including those that provide computers or laptops. Also find a free laptop from the government.
The exact items passed out will also change, often throughout the year and from month to month. If general, the items will be gently used. However some very low income families in a crisis may be given a gift certificate to buy clothes for free at a local store.
Anyone that needs help can contact a free Jefferson County clothing or furniture bank. There may be school uniforms or supplies, play clothes, shoes, jackets, and other seasonal items such as coats. If someone does not qualify for assistance, then a local thrift store can be used as these are open to the general public.
Where to get free stuff in Jefferson County AL
Foundry Rescue Mission And Recovery Center
Address is 1804 6th Avenue North, Bessemer, Alabama 35020. Call (205) 428-8449
The charity has clothing benevolence for families, furniture vouchers, and an auto donation program. A thrift store sells gently used clothing, appliances, furniture and other goods.
Salvation Army
Services include a free clothes closet to the public as well as Family Store. There may be free school supplies for children from low income families and other emergency programs. Or get free socks, summer or winter clothes, and small household stuff. Other items from the charity include free back to school supply programs such as backpacks, clothes, sneakers, or bookbags. More on Salvation Army Jefferson County free programs.
Bessemer center is at is at 525 13th Street, Bessemer, Alabama 35020, dial (205) 425-4303
Or stop by 2130 11th Avenue North, Birmingham, Alabama 35234, telephone - (205) 328-5656
Triumph Youth And Adult Community Development
1431 13th Ave N, Bessemer, AL 35020. For hours, dial (205) 424-6892
Young children, including students, as well as older adults looking for educational support can get help. Free educational supplies, books, clothes such as shirts or pants and more items are passed out.
23rd Street Baptist Church
Address is 331 23rd Street South, Birmingham, Alabama 35233. Phone - (205) 251-1752
Qualified working poor as well as unemployed families can use the clothing closet for free gently used goods.
Birmingham AIDs Outreach
205 32nd Street South #101, Birmingham, Alabama 35233-3007. Call (205) 918-8192
Only support households with HIV or Aids. Loaner medical equipment, housing, and clothes may be passed out by the non-profit.
Catholic Center Of Concern
Address is 712 4th Court West, Birmingham, AL 35204. Dial (205) 786-4388
After an assessment, clothing and other goods may be passed out to families in a crisis. Small furniture items are also given to low-income families in Birmingham AL, including single mothers or fathers.
Church Of The Reconciler
Address: 112 14th Street North, Birmingham, AL 35203. For information, call (205) 324-6402
Birmingham City Schools Special Needs
Address is 2015 7th Avenue North, Birmingham, Alabama 35202. Call 205.231.4600 or 211
Underprivileged students can get help with school supplies, transportation, uniforms, and books. They also help students that have special educational needs. Items like pens, glue, tablets, scissors, bags, and more are passed out. Locate other programs that have free uniforms for school.
Community Furniture Bank
Address is 219 Distribution Drive, Birmimgham, Alabama 35209. Phone - (205) 942-2727
This is the free furniture bank for Jefferson County, they give out household supplies, furniture such as beds, tables, couches, pots and pans, dressers, and more. Or get free small appliances, like a fridge, washer, dryer or other items. The charity uses donations from the Birmingham area to give out furniture to the needy.
Eastern Area Christian Ministries
Location is 8000 2nd Avenue South, Birmingham, Alabama 35206. Dial (205) 836-9932
The church only supports residents of the zip codes of 35126, 35173, 35206, 35210, 35215, 35217, and 35235. The clothing closet is open limited hours. There may be school uniforms, toys, notebooks, and similar goods for struggling Jefferson County families.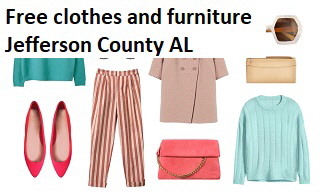 Good Samaritan Baptist Church
A clothes closet is at 1526 Huffman Rd, Center Point, AL 35215. Call (205) 856-9592
There are free clothes for adults, kids, seniors and others in Birmingham. Or get accessories, back to school shopping help, small electronics and other stuff.
Greater Birmingham Ministries
Address is 2304 12th Avenue North, Birmingham, Alabama 35234. Telephone - (205) 326-6821
An assessment will direct the family to long term support. There may be clothing, diapers, food, and other crisis support given in Jefferson County Alabama. A major focus is on homeless adults. A free clothes closet and voucher program is in place.
Helpline Christian Outreach Ministries
8 Roebuck Drive, Birmingham, AL 35215. Telephone: (205) 833-7712
Assistance programs including financial aid for bills along with household supplies or free items, like clothes, furniture, hygiene items, and more. Whether utensils, appliances, or kitchen items, or beds or dressers, furniture is passed out too.
My Child's Closet
Birmingham, AL 35259. Phone (205) 541-8436
The agency will only help children, from newborns to high school teens. There may be coats, school supplies or uniforms, pajamas, shoes, and more. The clothing bank is a boutique style shopping experience in which parents and children only pick what they need.
NorthPark Baptist Church - Serving You Ministries
5700 Deerfoot Parkway, Trussville, Alabama 35173. Main phone - (205) 908-7985 or (205) 352-4010
Free clothing closet is on site for adults, kids and students from grades K-12.
Family Services and Faith Based Ministries
The faith based charity offers many services. Whether it is birthday toys, free clothes, school supplies (pens, pencils, highlighters, etc.), or food, help is offered. They assist the unemployed, working poor, single moms and others in Jefferson County. More on Family Services in Birmingham area.
Old Firehouse Shelter
Location is 626 2nd Ave N, Birmingham, AL 35203. Call (205) 252-9571
A shelter is combined with case management and clothing. They also offer job placement services.
Southside Baptist Church
1016 19th Street South, Birmingham, Alabama 35205. Dial (205) 933-8381
Clothes for work, blankets for the homeless, and other support is from the charity.
YWCA Central Alabama
309 North 23rd Street, Birmingham, Alabama 35203. Telephone number - (205) 322-9922
This is a thrift store, or resale clothing shop, that sells low cost new or gently used goods. A major focus is on single moms, women, and their kids in Jefferson County. Clothing for work or interviews is combined with furniture and more.
Saint Vincent de Paul
Multiple Catholic churches in the region help the poor, homeless, and low-income. Everything from free clothes to outreach, financial help, free personal or household stuff and more is offered. There are also bargain thrift stores that sell items to anyone in the area. More on SVDP Birmingham AL.
American Red Cross
Address is 114 22nd St., Birmingham, AL 35223
They only help in a crisis, such as a tornado or hurricane. Replacement clothing, vouchers for household goods, or new furniture may be some of the items available in Jefferson County. Volunteers provide free replacement stuff to people, seniors, and those impacted by a disaster in the Birmingham AL area.
Related Content From Needhelppayingbills.com