Free clothing closets, furniture banks and school supply programs Lehigh County.
Lehigh County low income families will get free clothes, back to school supplies, household goods or furniture. There are free charity clothing closets, discounted thrift stores and furniture banks in the Allentown and county for the stuff they need. Get appliances, laptops, work or school uniforms, backpacks, couches, beds, or general use clothing. Find free clothing closets and furniture banks near you in Lehigh County.
There are free items given out to seniors, people with no money and the low income. Also there are local thrift store in the Allentown PA region for cheap - affordable items. Between the two types of centers there may be shoes, free winter coats or school supplies, work attire, and more offered. Examples of goods are as follows.
Parents can get items for their kids, such as shoes, backpacks for school, free birthday toys, books, games and more..
Job seekers can apply for professional work attire or get a free laptop, desktop or Chromebook for work or school. Look here for more information on a free desktop.
Thrift stores in Allentown will sell gently used furniture, beds, cribs, and similar items.
Free appliances and furniture programs give out fridges, washers, dryers, couches, desks for work, AC units and other items for a home.
The lowest income families may be given free items or vouchers to shop at a clothing closet. Other people will need to pay some money for what they need, however they may still experience savings from the locations.
Get free stuff in Lehigh County and Allentown PA
Agape New Testament Fellowship Clothing Closet
Main address is 5229 Route 873, Schnecksville, Pennsylvania 18078. Main phone - 610-767-2869
During certain times of the year there may be free clothing or households goods for families or children.
Salvation Army Allentown and Whitehall - Lehigh Valley Area Services
They only serve low income families in with proof of residency in the county. The assistance ranges from a thrift store to a free food pantry and clothing closet. There may be winter coats for kids, free back to school supplies (backpacks, pens, Chromebooks and more). Or get free or gently used appliances, couches, bedroom sets and other items for a home in Lehigh County. The Allentown area charity can also direct families to public aid, financial programs, places for gently used furniture and other social services. Continue with Salvation Army Lehigh County PA.
The Lehigh Conference of Churches
Location is 457 Allen St, Allentown, Pennsylvania 18102. Main phone number is (610) 433-6421
Multiple churches in Lehigh County are part of the conference. They combine everything from free furniture banks to housing resources, financial aid, food and more. There are books, educational material including back to school supply drives, and clothes. Get socks, underwear, blankets, winter coats and more, and furniture may be a bed, desk, laptop computer or other critical free stuff for the low income.
Perfect Fit For Working Women
609 Hamilton St, Allentown, Pennsylvania 18101. Dial 610-871-5060
Only clothes for work are available, with a focus on women and single moms in Allentown PA. There may be business casual, scrubs for nurses, dresses, and more. Donations of good repair, clean items are needed from the Leigh County community. This non-profit is part of the YWCA.
Everlasting Life Ministries
Address is 224 North 6th Street, Allentown, PA 18102. Call 610-776-4009
A free clothing bank is open a couple days per month. Free stuff can be for the disabled, elderly, single parents and others in need.
Divine Resale - Salem Inner-City Thrift Shop
Address: 1345 Hamilton St, Allentown, PA 18102. Phone: (610) 351-1058
Some low cost goods are offered, and in a crisis, there may be free items for women fleeing violence, those in a disaster and others. Beds, couches, kitchen tables, dressers, desks and also electronics, vintage items and other course clothes.
Bright Hope - Care Net Lehigh Valley - Allentown Center
Location is 2200 Hamilton St # 103, Allentown, PA 18104. Dial 610-821-4000
Women can get maternity clothes, free pregnancy testing kits, information on cribs or medical assistance, as well as applications to government benefits. Also, find more programs for free cribs.
Catholic Charities
402 W Chew St, Allentown, PA 18102. Call 610-435-1541
The charity and local churches may have baby furniture for single moms, clothing, diapers, and other baby care items. Books, kitchen appliances, free work clothing, and more is available.
Twice Blessed Home Shoppe
25 North Tenth Street, Allentown, PA, 18102. Call 610-351-7458 or (610) 797-6722
A low cost thrift store in Lehigh County. There may be household goods, furniture, bedding, towels, linens, school uniforms, Christmas toys, small appliances and more for sale.
Catasauqua Community Thrift Shop
Address is 113 Bridge Street, Catasauqua, PA, 18032. Call 610-266-0694
Operation Address The Homeless
The charity is at 221 North 7th Street, Allentown, PA 18102. Call (610) 351-0760
They focus on helping the homeless and people with no money. Get free clothes, uniforms for work, boots, sneakers and more. The goal is long term self-sufficiency. There is also free furniture or people moving into an apartment, beds, mattresses, kitchen appliances and other items for the low-income or formerly homeless in Allentown and Bethlehem.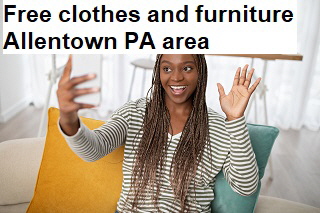 Lehigh Valley Outreach Depot
Address is 619 East Allen Street, Allentown, PA 18109. Call (610) 351-1616
A major focus is on disaster relief. Get free small appliances, pots and pans, household furniture, clothes or work or school, and housewares. The non-profit also giveaway distributes disaster relief kits. They help single moms and women facing DV as well as people recovering from a natural disaster.
Valor Clinic Foundation
Veterans only will get free stuff from 61 West Lehigh Street, Bethlehem, PA 18015. Call (570) 664-6468
There is a free clothing closet, food pantry, and furniture bank as well as vouchers.
SVDP - St. Paul Roman Catholic Church
920 South Second Street, Allentown, Pennsylvania 18103. Call 610-797-9733
The Society of Saint Vincent in Lehigh County helps the poor, vulnerable, and low-income among others. There is free clothes, including school items for kids from grade K to 12. Or get backpacks,. furniture for a home, or personal stuff in Lehigh County. A combination of free clothing closets for the low-income as well as furniture vouchers exist.
American Family Services Foundation
Address is 1025 MacArthur Road, Whitehall, Pennsylvania 18052. Call 610-435-1230
They operate a Family Thrift Store. In some cases, the non-profit will give out free items to people in a crisis.
Second Chance Shoppe
Main location is 578 Main Street, Slatington, PA 18080. Call 610-767-6661
The store collects donated appliances, jewelry, computers, and more. The goods are then resold.
Related Content From Needhelppayingbills.com