Free clothing closets, school supplies and furniture in Tampa and Hillsborough County.
Low-income families in the Hillsborough County and Tampa region of Florida can turn to clothing closets or furniture banks for free items. Qualified applicants will get free clothes, furniture for a new home, back to school supplies for students, appliances, baby items and much more. Find free clothing closets and furniture banks near you in Hillsborough County FL.
Most of the distribution centers are non-profits, churches, or charities. They provide a number of free services to people, including single mothers, seniors, and low-income families. The goal is to help people in need get free stuff for their kids or family.
Donations are used to meet needs of clients. There may be free back to school supplies or laptops given to students based on corporate donations such as from WalMart, clothes for work or school, medical items for senior citizens, and much more. While resources are limited, the clothing closets and charity organizations will try to meet the demand. Or look here for more non-profits near you.
The free furniture distribution centers in the Tampa FL area also help. When possible, they will provide free or low cost computers for work, fridges or couches for a house, washers, dryers, or other household goods like kitchen supplies. Some locations will try to provide free birthday assistance to kids in Hillsborough County such as toys, clothing, or even meals.
If a center can't help you, they can be a good place to contact for referrals. As they will usually be able to refer people to other non-profits and government programs that give out free stuff and that are located in Tampa Bay and nearby regions.
Charities that giveaway free stuff in the Hillsborough County FL area
Abe Brown Ministries
2921 North 29th Street, Tampa Bay FL 33605. Call (813) 247-3285
Provides referrals to men, and has information on clothing closets and thrift stores in the region. Pants, belts, briefcases, and many other goods may be passed out. School supplies, text books and other free educational supplies may be offered too.
Beth-El Farmworker Ministry
Main address - 18240 US 301 South, Wimauma FL 33598. Phone: (813) 633-1548
The non-profit provides referral, clothing, emergency food, and education services such as GED and ESOL to immigrants and others. A major focus is on given free stuff to migrant workers in Hillsborough County or immigrants so they can get the clothes and educational supplies they need.
Metropolitan Ministries - Outreach and Prevention Services
Location is 2301 North Tampa Street
Tampa Bay FL 33602
Call (813) 209-1044
Everything from clothes to financial aid for paying bills, furniture, free household items, school supplies, shoes or backpacks are available. There is a furniture bank on site in Tampa with couches, desks, lamps, beds or mattresses, free appliances and other stuff for a home or apartment for low-income families. More on Metropolitan Ministries in Tampa.
Choices Clinics
Location is 619 Eichenfeld Dr, Brandon, FL 33511. Telephone - 813-654-0491 or (813) 982-4200
The non-profit has Free Pregnancy Tests. In addition there is Case by Case Free Sonogram. Or apply to Earn While You Learn Program to earn freebaby diapers, wipes, crib, car seat, clothes, and more.
Healthy Start Coalition of Hillsborough County, Inc.
The charity has free vouchers, a clothing closet and small household furniture at no cost, based on donations.
Location is 116 W Fletcher Ave, Tampa, FL 33612. Phone: (813) 558-1877 for information
They also run a program known as Children's Board Family Resource Centers, and this is run from a location at 7520 West Waters Avenue, Tampa. Call 813-356-1703
Salvation Army Tampa/Hillsborough
Corp Center - 13910 North Nebraska Avenue, Tampa FL 33613. Dial (813) 972-4777
They both giveaway, and sell, household goods, clothing, furniture, school items, bedding and other items. There are free vouchers for low-income families or people with no money, as well as bargains from the thrift store. Case managers offer social services, counseling, and maybe limited financial aid for housing, rent, or medications. During the summer they give out free gift cards as well as school supplies to students, including immigrants. This may include free backpacks for kids in Tamps, Chromebooks, and other items.
Dress for Success Tampa Bay
Programs operates at 1705 North Howard Avenue, Tampa FL 33607. Call (813) 259-1876
This is the local branch of the national non-profit. It provides professional clothing and development training to low-income women. The goal is to increase their employment potential. It encourages career development and can help people find a job, in particular women including single moms. In addition, free business clothing (including suits) and accessories are provided to clients preparing for job interviews. You need a referral. Look here for more information on jobs for single moms.
Goodwill Thrift Store- Tampa
4102 West Hillsborough Avenue, Tampa FL 33601. Phone: (813) 874-7077
Sells to the public an ever-changing stock of household items, affordable clothing, furniture, and related accessories. Some new merchandise may also be sold at Goodwill thrift stores. Microwaves, lamps, and some small appliances may be passed out.
Hope Children's Home
Location of non-profit 11415 Hope International Drive, Tampa FL 33625. Call (813) 961-1214
HELP Students in Transition Program
This Hillsborough County program helps students (from pre-school to 12th grade) that are homeless or housing insecure. There is educational support, include free clothes or supplies for school, food, meals, hygiene stuff, access to Internet and more. This program is part of the School Social Work Services benefits. Call (813) 315-4357 or (813) 272-4000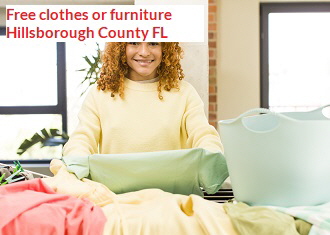 St. Vincent de Paul Society Thrift Store
12310 North Nebraska Avenue, Tampa FL 33612. Main number is (813) 977-7057
There is a free furniture bank as well as vouchers. Other assistance programs include free clothes or household stuff. Get appliances, bedroom sets, kitchen supplies, family room furniture and more - for free or a low cost. Low cost goods are sold to the public, regardless of income. Beds, tables, couches, and much more is sold. More on Saint Vincent de Paul in Tampa Bay area.
Teachers Only - Teaching Tools Supply Store
This program helps teachers in Hillsborough County only. they can get free vouchers, gift cards, and supplies for their classrooms. Teacher can get notebooks, scissor, papers, and other items they need for their kids.
Homeless Helping Homeless
The charity address is 3008 N Nebraska Ave, Tampa, FL 33603. Call (813) 415-3586
Clothes to Kids
The free clothing center is at 5011 W Hillsborough Ave, Tampa, FL 33634. Phone: (813) 616-6430
As the name implies, free clothes are given to kids in the Tampa FL area. This is a client choice charity, in which the parents (and kids) can pick out free clothes - shoes, pants, dresses, jeans, school supplies, backpacks and more.
Metro Wellness and Community Centers
Location - 2235 Central Avenue, St Petersburg FL 33713. Call (727) 321-7212
They partner with a program as part of the Metropolitan Charities Thrift & Bargain Center. The Thrift Store provides the low income and needy in Hillsborough County with free household goods, clothing, Christmas aid, and other merchandise to anyone living with HIV/AIDS. Other items may be sold to the general public from the thrift store.
Mount Calvary Seventh Day Adventist Church
4902 N 40th St, Tampa, FL 33610. Phone: 813-238-1900
May have clothing, meals, and facilitate shelter. There will be free socks, underwear, pants, jeans and more in all sizes, including for adults and kids size in Hillsborough County.
Pregnancy Care Center
Main address is 14620 North Nebraska Avenue, Tampa Florida 33613. Call (813) 978-9737
Supports pregnant women, babies, and infants. Offers practical help with baby & maternity clothing and furnishings. This includes stuff such as a free car seat, diaper changing station, crib as well as baby or maternity clothes. Some low-income parents, or single moms, will be given free gift cards or vouchers to shop as well.
Catholic Charities, Diocese of St. Petersburg, Inc.
The center works with churches and charities such as Saint Vincent de Paul. There is free furniture as well as school supplies for kids from grades K-12 to the Hillsborough County area, as donations allow. A focus is on single moms, the homeless and unemployed. Get stuff like pots and pans, small kitchen appliances, free work clothes, gift cards and more.
Main address is 2021 6515 N Armenia Ave, Tampa, FL 33604. Phone (813) 631-4398
A second office is at 3204 San Diego Lane, Dover FL 33527, call (813) 707-7416
Without Walls International Church
4414 N Grady Ave, Tampa, FL 33614. Dial (813) 879-4673
The Spring of Tampa Bay, Inc.
209 North Willow Avenue, Tampa Bay Florida 33602. Phone: (813) 247-5433 or (813) 258-1185
Sells clothing, appliances, accessories, furniture, books, music and children's articles.
Hillsborough County Health & Social Services Department
There are two locations. They process applications for public aid (such as food stamps), can provide referrals to clothing and basic needs, and much more. They help the poor and formerly homeless furnish a home in Tampa, poor get the clothes they need.
13701 N 23rd St, Tampa, FL 33613, Phone: 813-975-2153
SouthShore Community Resource Center
Address: 201 14th Ave SE, Ruskin, FL 33570. Phone: (888) 513-6321
The government agency has many assistance programs, including education support, free computers for students (or adults working from home), school supplies and financial help too.
Women of Freedom Ministry, Inc.
3001 East Hanna Avenue, Tampa Florida 33610. Call (813) 238-4820
Related Content From Needhelppayingbills.com