Great jobs for single moms.
There are a number of great jobs for single moms as well as employment assistance programs, career counseling, free job training programs and more. The positions for single mothers include everything from work at home jobs to government Workforce Investment Act career training centers, side gigs of all sorts, and even the use of technology (smartphone apps) for making money. Find a list of great jobs for single moms as well as career opportunities below.
Many of the positions do not require a degree, and some of the jobs that are great fits for single moms are high paying as well. There are part-time positions, full time roles as well as gig jobs. Assistance includes the following.
The

government, as well as many corporations, provide employment help

to single mothers include free daycare vouchers to pay for childcare at work or free job placement at Workforce centers.
There are also

decent paying side hustle jobs for single mothers

as well as flexible part or full time opportunities or freelance positions.

Work at home jobs can also be a great option for single moms

, and some of these do not require a college degree or GED.
Maybe the best single mother jobs and employment programs listed below can be a primary or secondary source of income for their family. Single moms can not only find some great jobs that fit their lifestyle, but there are financial aid programs for employment needs, free clothes or computers for work or job training, and other resources dedicated to helping them.
Both charities as well as state and federal governments offer job programs as well as training resources for single mothers. They can help mothers of all educational levels get a degree, technical skill, or improve their career trajectory. There are also ways for stay at home moms to make extra money.
Online jobs for single mothers
An online job can be a great option for a single mom. Some of these positions will give them the flexibility they need so that they can also provide for their family. There are may online gigs jobs or other part/full time opportunities.
When it comes to a part or full time job with an established employer, many companies seek single mothers for work at home customer support type jobs. Or there are phone based sales positions, technical support, schedulers, date entry positions and more. These call center type employment positions tend to offer flexibility along with benefits (health insurance, retirement plans, etc.) to single moms. It also gives them flexibility and find a list of call center work from home jobs, all which offer different hours, pay scales, and benefits.
Many single mothers create blogs. They tell their story. Maybe give some topic about raising kids, or really anything they are interested in. Cooking, finance, living on a budget, working, books, TV shoes or other interests can be great topics for single mother blogs. They are, along with online writing jobs, a great opportunity, with tons of flexibility around working hours, for single moms. Some companies hire bloggers or writers for part or full time positions as well. Read more about online writing jobs.
Some men and women love to shop. While single mothers usually do not have the discretionary income (as around 30% live in poverty), there are easy job opportunities that combine shopping and can bring in an income as well. The two main ones are retail merchandising as well as mystery shopping.
Freelance companies often hire a diverse group of people. They can be single moms, applicants with a GED only for entry level jobs, college graduates and many others. Depending on the employer or position/task hired for, a freelance or contractor position may be part time, offered as a work from home job, or maybe a full time role. Regardless, they can be a great option for a mom who needs work or a little extra income. Some of the employment opportunities are high paying as well, and read more about freelance jobs.
Smartphone apps
Apps can really be used by anyone for either making a little extra cash or saving money. However, there are some websites or apps that either (1) cater to single moms or (2) that can be helpful to them. All of the apps would be either free or low cost and they can be used for Android or iPhones.
Some apps may fit the single mom lifestyle more than others. They may involve taking

pictures of your children

. Or photos of your daily battles and challenges. Photos can be sold for cash at online marketplaces. Read more on selling pictures for cash.

Or single mothers can even

sell their hair

. It is something that can be month after month for some extra money. More on single moms selling hair as a side job.

Get

paid for various forms of entertainment

. Single moms do not have much time, but there are apps that can pay for doing "fun" stuff. Examples include making money watching TV or video and also learn about smartphone apps for paying games. Or, for those who want to, they can upload videos of their kids or make some unique online videos/movies such as on YouTube.
Single mothers can get paid for online shopping. Cash back websites and apps pay out money, gift cards, food, and other essentials. Free gift certificates, coupons for saving money, and other benefits can be given to single or married mothers. Read information on cash rebate sites.
Employment assistance programs for single moms
The federal government provides resources to help single moms get a job or gain new career skills. Or gain new skills so that they can get a higher paying job. There are also assistance programs around paying for safe or affordable childcare from the government or state benefit programs. Get details on government help for no income single mothers.
In addition, charities help single mothers so they can get professional work attire (clothes) for a job, get a computer for working at home, pay for gasoline or bus or train tickets and more. It is a form of case management. This is in addition to all of the other financial aid that can help singe mothers pay the bills.
When it comes to online or employment with a company, Goodwill has a number of job training and placement services. They help single moms, immigrants with children, the homeless, and women fleeing domestic violence with their kids among others. Use them for finding a decent paying job and getting all of the other items secretary for working. Find details on Goodwill job training programs for women.
Single moms and others can get free job training from federal and state government workforce centers. They can help with completing a resume, applications for grants, finding free childcare, find kills on websites, and so much more. The free government career services can help people get a college or technical degree or maybe find a higher paying job with a better income and/or benefits.Women can also find employers that provide flexible schedules as well as affordable (or free) health insurance, and the best employers for single mother type jobs. More on free government WIA job services.
As noted, single mothers can also get free material goods for the job force. Whether they are taking on a side gig, or pursuing some other online or offline employment opportunities, there are many free items they can get. Charities, thrift stores, clothing closets and other resources are out there. All are focused on helping single moms raise their kids and find financial stability. Examples of what may offered to help with employment includes.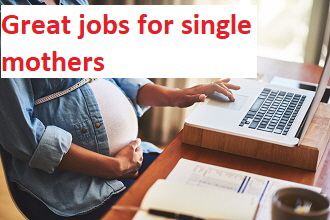 Singe mothers often have a wealth of practical as well as other skills and have overcome of face many challenges. They can be very organized, hardworking, determined, focused, organized and more. Some want to turn those "soft" skills into starting their own business or being an entrepreneur. While it is very hard to start a business, and most fail, it is an option. There is free advice out there, and get free help starting a business from the non-profit SCORE.
The YWCA is all about empowering women, including single mothers, veterans, migrants, women of color, and some many others. While many assistance programs are offered, they also help with employment and self-sufficiency. They can help moms find a job, get an education or degree, and so much more. Or work from home and contractor jobs, and help finding them, may be offered. Continue with job programs from YWCA.
Single mom focused side gigs or work from home jobs
Many single moms make some extra money each month from online survey and/or market research companies. This online jobs or websites provide maybe the ultimate flexibility. The work can be done at anytime - during off hours, while commuting to a job, at night, or even while watching your kids play sports or some other activity. The cash payouts are not great, but the extra money is of course very beneficial to single mothers and all educational levels can take them.
Work from home as a single mom testing products. There are a couple different options, including dozens of online survey companies as well as product testing websites. These jobs for single moms do not require an education and immigrants or non-English speakers can also use them. They often tend to look for opinions of single moms, especially ones with a diverse background. So, the payments may be higher.
Moms often have a wealth of knowledge. They can share information on online tutoring or e-learning sites. Or if they have a certain skill, such as teaching, information on using coupons, home schooling their kids or whatever, single mothers can teach others. There are many teaching contractor roles. Find how to tutor for a side gig.
Law firms, both civil and domestic, will sometimes test out their legal arguments with an online jury. Single mothers are often wanted for their perspective. This is another part time, online side gig job that can be done from home. A number of companies operate in the industry. More on online juror jobs.
Turn arts and crafts skills, hobbies, painting and more into a job. Single mothers who are crafty can monetize them and turn them into a career. Many people, including females, either enjoy making items from home, or maybe a low to moderate income single mom needs to make items at home to save money. The goods can be sold at online marketplaces. This is a potential great work from home position for a mother that can involve selling items, such as crafts, clothes, and more. Find online marketplaces.
Related Content From Needhelppayingbills.com