Side jobs to make money.
If you need to make a few extra dollars to make ends meet, a side job may be just what is needed. There are part time jobs, positions for seniors or online and more. Find a list of side hustle jobs below. The list is just an example, and there are almost countless things you can do on the side and/or part time to get some extra cash.
It can be challenging for some people to make ends meet. Having a side job to make money is as common as, well, having debt. A lot of folks need money to pay their rent, buy a medication, or take care of some other bills they have. The jobs below may be able to help.
Why get a side hustle job?
While of course it depends on the person, there are so many good reasons to find a good side hustle for yourself. They include, but are not limited too, if you are:
Employed but having trouble making ends meet.
On disability.
A Retiree is a great candidate for a side hustle job.
A stay at home Mom or Dad.
A college student.
Saving up for a major purchase.
Trying to rebuild your savings.
Want to get out of debt.
There are things to consider when you look for your side hustle. As but one factor, for instance, how much do you have available? Is there travel involved? Is the time spent worth the income? Review your options carefully and then go for it. Your financial freedom is at stake. Or even learn how to turn a side hustle into a full time job.
List of side jobs to make cash
1. Childcare - Whether you want to do a couple nights of babysitting a week or make your side hustle into a daily gig, you will have clients lined up at your door. You can find your niche by offering date night specials, early morning or late nights, toxic-free environments - you name it. Parents are wiling to pay as day care is expense, and it can help you make money and the parent save too. Advertise by word of mouth, local websites or screening sites like care.com. If you are patient, fun and love kids then this could be for you.
2. Writing side hustle jobs – Many blogs and websites need new quality content. As a matter of fact, there is a constant need for this. You can work from home or a café, set your own hours, and build a business doing this as well. Find different jobs for writing from home!!!
3. Dog Walking/Cat Sitting - kids not your thing? If you are an animal lover, then offer your services as a pet care expert. Walk dogs, board cats or combine your skills with a pet and house-sitting service. If you love snakes, birds or other critters then there's a market for your services here too. Get experience by volunteering at a local shelter or taking animal behavior classes.
4. Clean Houses - Many people are looking for somebody to come and give their home a little TLC. While there are many house cleaning businesses out there, the demand is high for this side hustle job. Find yourself a couple of regular jobs and you can rake in the bucks for a few hours of work. Then, items you may collect can be sold for money, and find how to turn trash into cash.
5. Teach or tutor - This category encompasses a lot since there are so many opportunities in this area. A popular side hustle is teaching kids English online. Teach kids in China through VIP KIDS or QKids for $14 - $20 per hour. Do you speak a second language? Opportunities abound for translation services. Tutor the neighborhood kids in your home or theirs or help college students with their essays. Consider teaching non-credit courses at your local community colleges or develop an online class for Coursera or Udemy.
6. Transcribe - Can you listen and type at the same time? Want to work in the privacy of your own home? Transcription is a great opportunity that allows you to work as much as you want when you want. Start with sites like Rev.com to see how it suits you. The average Rev transcriber makes $240 per month. If you love it, make a small investment in a transcribing machine and go, go, go!
7. Call center side hustle jobs – Many companies hire at work employees to take customer service calls, sell products, take appointments, or complete other activities. Even major employers such as Amazon and Apple do this. But there are a number of places to get a side hustle job by providing customer service. Find call center work at home jobs.
8. Deliver - There are so many opportunities to make extra cash in this area or from your car. Think Uber, Lyft, and Instacart. If you don't want to go this route, then how about delivering pizza for your local eatery? Or find other ways to earn money from your car. You can also start your own specialized delivery service as a side hustle if you are up for the challenge.
9. Coach - Are you a fitness fanatic who runs rain or shine? If you said yes, your side hustle could be motivating others to get fit and healthy. Have another skill or interest like time management, minimalism or organization? Share your expertise and energy with others - build your clientele and you could have the potential to create a full-time income. What you charge is based on your level of experience, so start slow and build up a great clientele.
10. Sell Online - Do you love fashion? Do you have some products to sell, even including your hair? Then starting a resale business online could be the perfect gig for you. Start your own store on Amazon or eBay or check out apps like Poshmark or Mercari. If you can spot a bargain a mile away, then you have the beginnings to make great sales in this business. There is a learning curve to this side hustle job business, so don't be discouraged if you don't make huge sales at first. Look here for making money selling stuff online.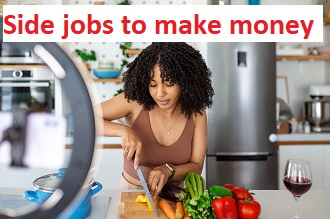 11. Online marketplaces also sell hair, as noted above. You can either cut it yourself at home, or go to a salon or hairdresser. It is a side gig that can be done month after month, as your hair always grows back! Find how to sell your hair for extra income..
12. Freelance - Like coaching, look at what skills you have to offer that can turn into a lucrative job for you. Think event planning, photography, marketing or writing. Once you build your client base you will have customers beating down your door. You can offer specialty services like pet photography, resume writing or planning children's birthday parties.
What you charge for your services is up to you, but it will be based on the job, demand, and other criteria. But you should research the market in your area so that you don't undersell yourself. Find a list of freelance companies and job opportunities.
13. Anyone with a phone or camera can take and sell pictures. Even if you are a novice, and have never done this side hustle job before, there are a number of free websites out there that license and/or buy photos. The photographs can just be of everyday events such as a sunset, a creative picture of your pet, someone nice in nature, a city view, or really anything. Find more details on selling pictures for money.
Conclusion - It is possible to make money with a side hustle
There are many other side hustles and jobs that can be done "on-the side" that people just like you can start right now, so why wait? There are opportunities for seniors, college students, people who want a little extra cash and many positions. Find your niche and start making a little extra money from a side job today.
Related Content From Needhelppayingbills.com