Work from home call center jobs.
A number companies offer people the ability to work from home in a call center type job. Corporations of all sizes and locations that are tapping U.S. workers to answer phone calls, including customer-service, health care, and tech-support calls, from home. Some of those jobs, which were outsourced years ago to eastern Asia and other parts of the world, are returning to the United States. Find how to get a call center job you can do from home.
These at-home workers handle many tasks, including coordinating roadside assistance, taking hotel and airline reservations, tech support and even sales calls. Many people are finding these work-at-home job opportunities have increased over the years.
There are many examples of companies that operate in this industry. There are "home-shoring" call center companies such as Arise Virtual Solutions, Concentrix, and LiveOps, among many others. They hire people with no college degree, offer positions to applicants with a GED only or hire 4 year graduates as well - all types of positions and skill sets are offered. The companies hire numerous agents to process various types of call-center work for their corporate clients.
How to find a call center job from home
Despite the ever evolving economy, many of these firms still plan to continue hiring for positions. Technology companies such as Apple, Amazon, Comcast, Apple and AT&T have positions. There are also work from home call center jobs at health insurance companies, for RNs looking for at home work, and many other positions. There are many opportunities for Americans of all ages and backgrounds to work from home as a call center team member, even including with the government or Apple, and they also provide people a free iphone government.
The growth is partly driven by companies that are moving call-center operations back to the U.S. from overseas, and this is known as homeshoring. This is occurring for a couple reasons, including communication difficulties are resulting in customer backlash, and also wages and other costs are rising in other countries. It is a well known fact that many customers prefer to speak with native English speakers vs. foreigners that are based oversees.
Liveops is a cloud-based call center company that offers the opportunity to become an "Agent" and get a call center job from home. The company specializes in providing flexible customer service solutions. They hire agents for work-from-home positions, engaging them as independent contractors. Some up-front fees may need to be paid, so customers need to read the details of a contract. Through a virtual model, agents handle calls for various industries, and are afforded the flexibility to choose schedules that suit their lifestyle. https://join.liveops.com/.
Working Solutions is a legitimate company specializing in on-demand contact center outsourcing. Offering work-from-home opportunities, it engages professionals for various customer service call center roles. Its remote positions encompass customer care, sales, and technical support. Candidates, ranging from entry-level to experienced, can apply. The hiring process entails an online application, assessments, and a background check and selected agents undergo training for their specific roles. Working Solutions' flexible schedule, diverse range of projects, and competitive pay make it an attractive option for those seeking remote employment in the customer service industry. https://jobs.workingsolutions.com/apply/.
At home call center jobs are listed at Remote.co. The company is a comprehensive resource for job seekers exploring telecommuting opportunities, including at remote call center jobs. It offers a wealth of call center positions that allow professionals to provide customer support from home. https://remote.co/.
Concentrix is a global customer experience solutions company, offering services that include call center jobs at home, customer care, technical support, and more. For remote call center roles, their work-from-home opportunities range from handling customer inquiries to technical support for various companies, including technology, e-commerce, financial services, and healthcare industries. Concentrix is known for providing extensive training to equip employees with necessary skills, making it a desirable option for people seeking remote customer service positions. https://jobs.concentrix.com/global/en/work-at-home.
Arise Virtual Solutions has call center jobs and the ability to become a small business owner-proprietor, with up front costs generally less than $500. The company is a leading provider of work-from-home call center solutions, connecting businesses with a network of independent professionals. The platform recruits people seeking remote employment opportunities, call center jobs and offers extensive training to prepare them for various roles. Arise caters to a diverse range of clients including major retail brands, travel companies, and telecommunications providers. https://www.arise.com/.
Additional employers with call center positions
While the list can and will constantly change, some other companies that may be hiring work at home, call center type jobs are below. The positions are always evolving so the program may be cut from their budgets, they may not have any job openings, there may be geographical restrictions, and the positions are hotly contested when there is even a job to be had. Many corporations often provide free equipment too, including phones, desk, computers and more. Or look here for a free computer for at home work.
Some work from home customer service or call center positions may be full time, seasonal, freelance or part time as well. They may require the applicant to have the proper equipment. A number of other conditions may apply too. However this list can serve as a starting point for a call center type position.
1-800 CONTACTS
1-800-FLOWERS
Accolade Support Call Center Services
Advanis
AdviseTech
Affiliated Computer Services, Inc.
Alpine Access
Amazon.com
American Airlines
Apple at Home
American Express
ARO
BSG - Third Party Verification
Carenet Healthcare Services
CenturyLink
Cloud 10
Convergys Home Agent Program
Cox Communications
CRUISE.COM
Denihan Hospitality Group
Enterprise
Extended Presence
Freelancer call center positions, or look here for freelance jobs from home.
GE Retail Finance
Hilton Hotels
HSN.com
JetBlue
Kelly Services
LiveOps
Neiman Marcus
NEW Corp
The Newton Group
NOVO 1 Contact Centers
Quest Diagnostics
Sitel
Smart Office Solutions
Staples and Staples Canada
Starwood Hotels
Stewart Response Group
Teleflora
teleNetwork
Terminix
Time Communications
U-Haul
VIPdesk
Qualifications and conditions of call center jobs
The experience levels vary. For an IT company, such as Apple, applicants often need some experience for these jobs. Others, such as an at home customer service agency for a hotel or travel industry will often hire people with no experience. There are even opportunities for senior citizens who need part time work, and read more on great easy jobs for seniors.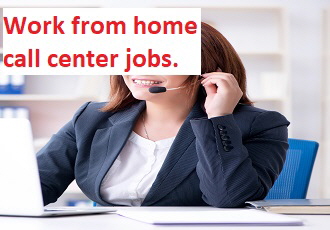 Each job opportunity may be different. But in general work at home agents are able to set their schedules about a week in advance. Also note that many of these jobs are part time. The pay can range from about 158 to $30 an hour, so they are not the highest paying opportunities. Many of these companies offer very limited or no health insurance benefits, however the major technology company call center jobs often have full health insurance, 401Ks, and other benefits.
You will need to have a quiet work space to work in and to take telephone calls. Noisy children or a barking dog will present a problem. (Most of the calls are recorded, so home based agents can't pretend it isn't happening.) Usually you need equipment for these jobs as well, such as high-speed Internet access, a relatively new computer, and a dedicated phone line.
Some companies also require some type of upfront investment. As an example, Arise Virtual Solutions, which is based in Florida., will require home based personnel to be stand-alone incorporated businesses. That means paying an incorporation fee, which can cost about $100, but it can run higher. Plus, Arise Virtual also requires that job applicants pay $99 for an 18-hour online training course. While almost 99% of applicants pass this training course, those who do not pass it forfeit the fee, according to Arise. Read the fine print of a work from home cal center job with up front costs.
Arise agents need to also undergo job training for the specific firm whose calls they will be responsible for handling. This additional this training will cost $25 to $200, depending on the client and complexity. Again, if a company requires an upfront contribution from you, ensure you read the fine print before signing any contract.
There are work from home call center jobs or home-shoring positions for part time work, retirees, mothers re-entering the workforce, college students and others. Many people work anywhere from 30 to 35 hours a week. It can often be very rewarding work, especially as many of the phone based home shore positions will be involved in helping people. This call center jobs can be used at the same time as other survey or marketing work to make money, and learn more on online surveys.
Work-at-home companies do vary widely in their services, benefits, and other ways they hire and pay employees. Alpine Access, Bank of American Fed-Ex and other major companies hires its agents as employees, both part and full time. Amazon, Full-time positions enjoy subsidized healthcare insurance, and even part-timers can join the company's group health plan, but they need to pay full price.
Another benefit is that there is a 401(k) plan available to both full- and part-time workers at many major companies. All job applicants are also paid for the hours that they spend training, and the sole cost an employee needs to pay (other than setting up a home office) is they need to pay for setting up their home. The hours can be flexible, and most employees are able to work from the comfort of their own homes.
FAQ for work at home jobs
Before signing up with any work-at-home company, you need to check out the firm with the Better Business Bureau. You need to ensure that the company has a high rating and very few unresolved complaints. Also, before signing up with a company, know what you're getting into. Some of the questions to ask include the following::
What are the total upfront costs you need to pay, including equipment, training, or background checks?
How will you be paid? Per call, by the hour, or per minute on the phone? Do you need to bill them?
Will you be paid for any time you spend training?
Find more details here, including real life stories on successful working from home.
Conclusion
Many major US companies have at home call center jobs - these tend to be more straightforward employment type opportunities. Other providers, such as Alorica at Home, Arise Virtual Solutions and others hire people as contractors, and they may have some up-front costs or non-traditional contracts.
As with any call center job opportunity, whether it is home shorting related or with a major company, ask questions about the work environment. Always read any employment contracts, and if fees are involved, double and triple check any contact that needs to be agreed to before paying a fee. But the fact is there are an increasing number of legitimate, call centers type jobs that can be done from home.
Related Content From Needhelppayingbills.com