Free money apps.
Find details on free money making apps for both Android and iPhone. Companies will allow you to make cash as well as save money or earn rewards at the same time. Many of them pay out cash instantly to Venmo, Paypal, Zelle, or Cash App. There are literally hundreds of legitimate ones to pick from. Get details on how you can make money with free iOS (iPhones) or Android apps below.
We have a list of many of the best free apps to use on your smartphone, tablet or computer. Learn how you can make real money from cash apps, with many of them paying out funds the same day - today.
Some free

apps will pay you for participating in activities,

including exercising.

Some will provide

you with free coupons, discount codes or rebates

for any shopping you may do.

There are apps on Apple iPhones (iOS operating system) and Android cell phones that will

pay you for playing games or watching videos

.

Free apps

pay out cash for trying products, participating in market research, taking a survey, or get a gift card or reward.



Or if you have questions on a medical condition or

want to save money on health care costs

, smart phone apps or your tablet can help you there too
Almost every single app is available for both Android and iPhones. Most of them also have websites too, so you can log on using Chrome, Internet Explorer, or another web browser. The fact is technology continues to grow and evolve, and as it does so there are more ways to make money, invest, or save money using smartphone applications.
Leading apps for making money or free cash
Online survey companies pay cash or rewards for testing products, reviews and more. Almost all of them have free apps that will work on Android phones and many are also developed for iPhones. They pay consumers for their opinions, give out gift cards or rebate, pay out rewards such as sample products or points and much more. They pay out free cash and some offer money for signing up or referrals.
Those who sign up for these sites, which is free to do, can win gift certificates, money, pre-paid Visa Cards, tickets to events, cash to pay the bills, sample products and much more. There are dozens on legitimate and long operating companies to choose from. Find a list and reviews of free survey websites. We have a list of the best online survey sites
Free smart phone apps can be used when shopping too. There are a few different types here. Some of them provide cash rebates and discounts. The company's partner with stores and manufacturers to offer these deals and find free cashback rebate apps and websites. They can be used on any iPhone or Android phone, including Samsung and others.
Find a legitimate app to easily save money when shopping, several companies that focus on that as well. There may be some overlap between the cash back and saving applications. The way these works is be printing out rebates, coupons, "secret" discount codes, they compare prices and more. Find a list of free apps for saving money.
Apps can be used when

shopping for food, household supplies, beauty products and more

. These are also offered on Android in the Google Play Store. They are simple to use and install on your Android or iPhone. They will buy one get one deals, reward points and more. Locate a real, easy to use grocery coupon app.

Some people prefer a website,

maybe loading the browser on their iPhone or Androut device

. There are ways to make free money using a website too, many of which provide rewards or coupons. Find a list of the best free coupon websites.
Apps help the uninsured find free or affordable medical care too. There are a number of services that put patients into contact with doctors, pharmacists, nurses, and others, all by just using their Apple or Android phone. The apps allow patients to get answers on any illness or health care question they have, learn about clinics, and more. The savings are free on all phones, whether on the Apple iOS or google Android system, and they will help low income families, the disabled, elderly, and Find health care focused apps.
Get cheap or free prescription drugs

too using an app. Several companies partner with hospital, pharmacies, doctors, pharmacists as well as drug companies to provide patients with savings. The apps work for both generic and brand name medications. Find websites and apps for free prescription drugs.
Free money can be made at the grocery store. There are apps for iPhones as well as Android that will provide you with savings on your groceries as well as more practical stuff, such as recipes, free lists to organize grocery lists, rebates, and more. The smartphone applications are available at all grocery stores, ware house clubs, discount grocers, and almost everywhere. Find free apps for saving on grocery shopping.
Earn free money from apps that provide money and incentives for exercising. Whether you walk (either for recreation or just "daily" routine), go to the gym, ride a bike, or really do anything, there are ways to earn cash for that activity. Insurance companies, corporations, and others want people to live a healthier life, so apps help fill this need.
They will pay you to walk, exercise, bike, and more. Many of these smart phone apps partner with insurance companies and health food companies. They want Americans to be healthier, as it will save an insurance company money or encourage the sale of healthy food, and that is how these apps work. Find how to get paid for exercising.
A number of other

free apps exist for working out, fitness activities, yoga, exercising and in general healthy living

. These are all designed by professionals or certified trainers, or even corporations such as Johnson and Johnson. All the apps are designed for, and available on iPhone, iOS, Androids and all smart phones as well as computers. Find free iPhone and Android apps for working out.
Earn real cash from a hobby. If you have a hobby or side interest, there are legitimate apps to use to get paid for those activities. Or earn cash for things you do daily or monthly using your iPhone. Or get paid for hobbies on your Samsung or Android operating system phone.
The cash from the hobby is paid directly into your bank account. Or Paypal, Zelle, or Cash App account as the hobbies can be monetized the same day. Examples of these may be reading a book, taking a photo for money or even selling your hair. Just log into an app to either get cash for respectively writing a quick review, listing pictures in marketplaces for sale or selling your hair.
There are

apps for freelancing jobs too

. Of course, these will require more work and time to get paid, but some side gig or freelance type jobs are quick and simple. They are always free to use and read more on freelancing websites and apps.
BNPL (Buy Now Pay Later) apps are available in both Google play and the Apple Store (iOS). There are several fintech companies and banks that offer these Buy Now Pay Later services. They are in effect of interest free shopping - if used properly. Buy Now Pay Later can help shoppers save money on their shopping and shopping costs, and BNPL will even in effect guarantee credit to borrowers with bad credit. Learn more on Buy Now Pay Later financing apps.
Make real money playing games on an app. There are several legitimate Android and iPhone apps that will pay you instantly for playing games too. While the apps themselves are free to downloand and install, some may require small upfront payments to start an account. but that money is leveraged in the game. Other apps are totally free to play and even offer referral bonuses. Find how to get paid to play games.
Earn free cash from an app when watching TV, videos, or movies. It is possible to get paid for these activities. It may involve completing quick surveys, "liking" a show or video, watching an advertisement, or something else. But there are dozens of free Apple iPhone and Android apps that pay for watching TV/videos/Youtube and more. Find how to get paid for watching videos, TV, or movies.
Low income families can also get started saving and investing using a free app. Many allow you to start with as little as a dollar (or even round up cents). They are a great way to build emergency savings or maybe start to save for retirement. As mentioned, even low income families can start using these apps for saving and investing.
Like to camp or vacation outside? Use your iPhone or Android phone to find free campsites. There are federal government properties with free campgrounds (such as BLM or USDA land), private campsites, rural "off the grid" sites, state parks and thousands of other sites. Use an app to save money on camping or give reviews, locate under the radar sites, find a community of like minded campers and more. Find free campsites using apps.
Low income families can get free emergency cash from apps. A number of companies, non-profits and government agencies have apps developed for their needs. They include everything from managing food stamp balances (Providers - Fresh EBT) to matched savings accounts from SaverLife, an app for social work resources and more.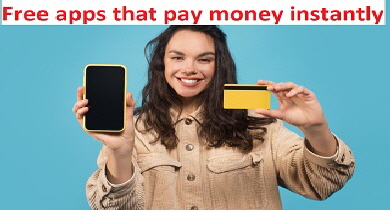 In general, a low income family will save money using these free apps, but some will pay out immediate cash as well into a Cash App account, Paypal or Venmo. They are all free to get and use and were specifically created to help low income families and those that live paycheck to paycheck. Find free smartphone apps for low income households.
How to make free cash using an Android or iPhone app?
You may ask are these iOS and Android apps legitimate or how can you possible earn free cash (or save money) by just using it? Well, all of these websites and/or smart phone applications are legitimate. They help families make or earn free money from partnerships with corporations, retailers, grocery stores, marketing companies and others. They even are offered on tablets from both Samsung and Apple. A few things to keep in mind.
You will not get "rich" from these.
The companies that created these sites or apps partner with retailers, corporations, and others to offer the money and/or savings.
Always read the fine print of any app before using them. Beware of scammers promising you free, quick money.
If you have a low income, and don't have a iPhone, Samsung device or way to access the internet for these apps, the government can help. Learn how to get a free iPhone from the government.
Really, what it comes down to is the companies that have developed these apps and that list them in the Google or Apple iOS Store partner with companies to provide consumers with free cash, a reward program or easy savings. As some examples.,
A cash back website may get compensated by a retailer for helping that store to sell products, and a portion of that money get passed on to you, the shopper.
Or a food company wants to sell more "groceries" and their products, so they partner with a coupon app to help increase sales, and some of that money gets passed to you.
Therefore, all of these apps (which you can find in the Google Play Store or Apple iPhone Market) will pay you for using them, but they do not do this by themselves. They do have partnerships with other companies to offer the deals. But they are all legitimate, and it is possible to earn emergency cash today, gift cards, save or make money and much more using an app.
Related Content From Needhelppayingbills.com