Buy Now Pay Later apps.
Buy Now Pay Later (BNPL) can, in its simplest form, be described as "layaway, but you get to take the item home right away." Then the shopper pays the bills for the goods over time, usually anywhere from 3 to 4 weeks. Learn more on what Buy Now Pay Later is below, how it works, and find the leading BNPL sites, companies, and apps..
What is Buy Now Pay Later?
Buy now, pay later credit, or BNPL, came into being in 2014 when AfterPay, a financial technology company from Australia, brought it to the US. (Note AfterPay is now owned by Block / Cash App). Its success prompted others in finance or in consumer lending, including Apple, to announce similar small finance systems of their own. When you choose the BNPL payment option at checkout when you buy something, you're usually able to pay the price of your purchase off, interest free, over time. Many Buy Now Pay Later companies allow shoppers to pay for the item in in four to six weekly or bi-weekly payments.
People often use BNPL apps to pay for clothes, electronics, and even cosmetics. While it might give them pause to drop $200 on expensive makeup, for example, it often seems less problematic when BNPL allows them to turn it into $50 a week. It's like using a credit card, but with less effort.
Qualifying for such credit from a Buy Now Pay Later company is rarely a problem: the BNPL lender performs a soft credit check, and you have your approval in seconds. The cost of the financing is paid for behind-the-scenes, by the retailer. Rather than pay the usual 2 percent transaction fee, they pay 4 percent to 8 percent. They are willing to pay up because consumers tend to be far more willing to buy when it's with friction-free, interest-free installments that make things look cheaper. The fact that there are no hidden fees or charges involved makes BNPL even more attractive.
Buy Now Pay Later services offer loans on consumer purchases, even if many people don't actually see them that way (they prefer to believe that they are simply paying a little at a time). The terms of these loans tend to be different for different lenders. Unfortunately, many consumers simply take advantage of these services without paying attention to what the terms are.
PayPal Bill Me Later allows you to make purchases up to $99 and pay them off over six months with no interest. If you miss a payment, however, you are charged interest at about 24 percent on the entire sum, regardless of what you've repaid.
AfterPay charges no interest but has a late payment fee if you miss a payment. They will also automatically charge what you owe to your credit card.
Klarna allows you to pay for purchases over four installments, one every two weeks, with a late fee if you miss a payment.
FuturePay charges you $1.50 a month for every $50 that you owe them.
Chase, Amex, and other card issuers have their own BNPL plans. You pay a fixed fee on each purchase and then pay for your purchases over a number of installments.
The benefit of choosing BNPL as your payment method is obvious: your bank account doesn't need to take a hit right away. In other words, you can gradually pay for something without the jarring experience of seeing your bank account lose value in a second. You can also pay for emergency purchases without much trouble. There are problems with easy finance, however. It's important to keep these in mind before you decide to take advantage of this kind of credit.
A fairly large number of consumers who make use of BNPL plans don't consider them loans. They feel they are a kind of informal financial adjustment. Avoiding the mental burden of knowing that you owe money is not a safe way to deal with what actually is money owed. It's important to tell yourself that Buy Now Pay Later is no different than a credit card in the way it gets you to owe others money for a purchase.
Leading BNPL companies
This service is being offered by a wide variety of banks as well as fintech app companies. Some of these companies are traditional finance companies, with American Express, and Chase being the biggest banks in the market right now. But most of the Buy Now Pay Later companies options are unique apps that each partner with certain retailers: PayPal / Venmo is the leading provider with over 30 million retailers to choose from. Affirm works with Walmart as well as Amazon and a number of other retailers, Klarna works with Macy's, Afterpay (part of Square cash app) works with a number of popular clothing retailers, and so on.
BNPL is very appealing as an interest-free alternative to a credit card purchase and it can be used by someone with bad or no credit scores. You can buy an item instantly with a small partial payment, and as long as you make the scheduled payments over the next week(s), you won't be charged any more than the purchase price, and this is the biggest opportunity of a BNPL program.
A number of companies do not even perform credit checks, which allows almost anyone to use a pay later company. This helps ensure that people with no credit history, or bad scores, can still shop for any stuff they need. Find Buy Now Pay Later no credit check apps.
So what's the downside? It's the amount of extra money you'll end up paying if you fail to make those scheduled payments. These services combine interest rates that are comparable to the most unfavorable credit cards with some very hefty finance charges and late fees. And, as with credit cards, missing payments can hurt your credit rating. Read more on, and find risks of using Buy Now Pay Later.
How Buy Now Pay Later services work
BNPL services can be a bit confusing due to many reasons. First of all, there is not yet one company, bank, fin-tech company or provider that just lets you shop anywhere you like (unless you're getting a BNPL option through a credit card you already have). What you generally have to do is figure out what store you want to buy from first, and then see if the store partners with one of these services. Note that Paypal is the BNPL provider that most stores use.
Buy Now - Pay Later is basically a low-risk gamble for the store you're buying from. At worst, they'll get the full purchase price eventually from most people. But at best (for them), you'll start missing payments and end up being forced to pay a much higher price in fees when all is said and done.
At the consumer end, the terms are actually very favorable provided you're 100% sure you can make every payment on schedule. Even the best credit cards only offer a year or so of 0% interest when first signing up for them. There really isn't another deal quite like it, and you can see why consumer interest in it is high (and why stores are rushing to partner with one BNPL app or another). Many of the BNPL companies also offer other technology programs that help consumers, such as free apps that help you budget.
But the devil is in the details. BNPL providers often offer very long financing periods, some ranging up as far as 39 months with no credit check required. The longer the repayment period, the more opportunities for you to miss a payment and get socked with a fee. These longer periods are also generally not interest-free beyond the first several months.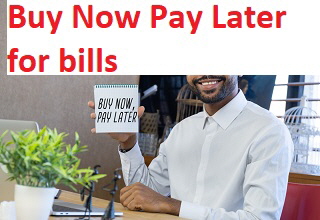 What are Buy Now Pay Later fees and charges?
The Buy Now - Pay Later fee system is very similar to that of a credit card. Pay off the agreed-upon statement amount during each billing period, and you pay no extra money and in effect the service is free to use. This is why it can be a good option for people with poor credit. Miss one of those payments, and you're in for some heavy financial penalties from their programs (and potentially damage to your credit).
There are some key differences in these programs and app companies though, however. One is the billing period. It may be monthly, but it's just as likely to be biweekly. That means more payments to keep on top of.
Another issue is the late fee if you miss a payment. Most BNPLs charge a flat fee, and these are comparable to credit card late fees (about $29 to $39 for each missed payment, though this can add up quicker if you're missing payments every two weeks). There are some exceptions, however. For example, Afterpay charges an initial $10 late fee when the first payment is missed, but will then tack on another $7 per week as long as the payment is not caught up (with an eventual maximum of 25% of the initial purchase price). Some also tack on an added "finance charge" in addition to the late fee – however Paypal does not charge any interest for their BNPL program.
With the exception of Paypal, the interest rates from the apps are comparable to credit cards ... bad ones, that is. The sort that you get when just starting out without a credit history, or for rebuilding bad credit. BNPL interest rates tend to run from about 24% to 30%, which doesn't compare favorably with the 24% to 25% you can expect to pay for the worst entry-level credit cards. But they do provide guaranteed credit, including for applicants with bad credit scores. Paypal in one of the apps that will offer more interest free financing rates for BNPL.
Other potential pitfalls of Buy Now Pay Later apps
Since BNPLs generally don't require credit checks and are available to just about anyone, including borrowers with bad credit. Therefore they present a strong temptation to make impulse purchases. This is a positive in that it can be a form of credit for people with bad credit scores or the millions of "unbanked" in this country. Find other prepaid cards to build credit for the unbanked.
Choosing BNPL as a payment method after maxing out your credit card isn't good. If you have a problem controlling a shopping habit, Buy Now Pay Later loan or payment schedule can make it worse. If you're inclined to choose the BNPL way to make a purchase because your credit cards are maxed out, it would be a good idea to stop yourself before getting any deeper into debt.
However there is a major risk with that. Buyers who have issues with impulse control or financial planning may make a major purchase on a whim, not worrying about how things will work out in the long term.
The long repayment periods that BNPLs offer also tempt you by breaking down the regular payments into amounts that seem very small. However, as the past year has shown, you never know how things might change or what sort of financial catastrophe might come up. The longer you're on the hook for payments, the more opportunity there is for some sort of event of this type. You might suddenly find yourself unable to pay for several months, which turns that initial good deal into a financial nightmare as you watch the interest and fees pile up.
And just because BNPLs don't ask for a credit check and they are guaranteed to be available, that doesn't mean that they won't report late payments or defaults to the credit reporting agencies. BNPLs rarely do the sort of "hard" credit check that results in a decrease to your credit score, but some do a "soft" pull and use your FICO score as criteria for approval of the financing or for your overall authorized purchase amount.
Be cautious with BNPLs - but there are advantages
BNPLs can be a useful financial tool if you're certain that you need a big-ticket purchase as they can provide you time to pay the bills, with 0% interest rates in the meantime. But you need to be reasonably confident that you can meet the repayment schedule without taking on late fees and without racking up too much interest (setting up automatic payments helps out quite a bit). Buy Now Pay Later services and the apps in the marketplace can also be a good option for individuals with either no credit history or low credit scores.
However, always be mindful of the risks of using BNPL companies. In particular, Buy Now Pay Later comes with fees if you miss a payment. They can also get you into trouble if you tend to make impulse purchases as the small monthly payments are a strong temptation to overextend your spending.
Related Content From Needhelppayingbills.com