Buy Now Pay Later no credit check.
There are several Buy Now Pay Later apps that offer no credit check services. The amount of stuff that someone is allowed to purchase may be limited, but the BNPL companies allow even people with poor or bad credit to shop for what they want or need today and pay later. It is similar to the old "layaway" program. Find Buy Now Pay Later apps and companies with no credit check below.
This type of payment concept can be used by anyone, whether they have great or poor credit scores. The leading BNPL app companies include PayPal as well as Venmo, Affirm, Sezzle/Zip, Klarna, as well as Afterpay (bough by Square/Block). None of them currently interact with the credit bureaus. This in effect means two things; (1) there are no "hard" credit checks done and (2) using Buy Now Pay Later to shop will unfortunately not allow the consumer to build or improve their credit over time.
BNPL can be something to consider when shopping for electronics, furniture, appliances, clothes, beauty products and more. The companies will in effect let the customer pick up or receive the goods now, and pay for them later, over time, often with lower interest rates and/or fees than traditional credit cards. However learn about the cons of Buy Now Pay Later apps.
Shop and pay later with BNPL no credit check apps
Always keep in mind that even those Buy Now Pay Later companies that perform a credit check, if/when they do a check it will be a "soft" one. This means there is no use of, or tie-in, to the national credit reporting bureaus of Equifax, Transunion and Experian. In effect, all of the apps may meet the need for people seeking out no credit check options. The leading buy now pay later companies, that do not require a credit check, are below.
PayPal, which also owns Venmo and Honey, offers a Buy Now Pay Later no credit check, pay in 4 shopping experience to their over 400 million customers. There is no credit check done when using the various PayPal services, whether Venmo, Honey, or the main PayPal app. However, the customer does need to be in overall "good standing" with PayPal in order to use their pay later service.
The PayPal Pay in 4 BNPL service is available at tens of millions of online stores and they are the leading, most trustworthy company in the marketplace. The company has been operating since the early 1990s as a payment provider.
They not only do not perform a credit check, but there are also reward programs, rebates, as well as Buyer Protection Plans. People who shop with the PayPal buy now pay later service can earn cash back, coupons, rebates on their shopping and so much more. In addition, PayPal does not charge any late fees or interest – they are the only BNPL company that gives in effect free financing.
The no credit check Klarna Buy Now Pay Later app is another option. This company will generally approve the customer for a small dollar amount to shop with up front, say $25 to $100. Then, if the customer pays back that smaller dollar amount, on time, over 4 weeks, then Klarna may increase the amount that the customer can "borrow" next time.
This BNPL app can be a great option for customers with bad credit as if they prove, over time that they can pay their bills on time, Klarna will slowly but steadily increase the limit on the account. However, there will be no benefit to a credit report from Klarna as they do not work with the various bureaus. Klarna is also a strict Buy Now Pay Later company that focuses just on "shopping", and the do not offer the same number of additional, free services as PayPal (noted above).
Afterpay, which was acquired by Square (also known as Block) is another Buy Now Pay Later no credit check app. This company also ties into the Cash App interface, which is used by millions of people. Afterpay also works with tens of thousands of companies across the US in which customers can buy now and pay the bills later.
While the BNPL app can be a good option for borrowers with bad credit, Afterpay does charge late fees for missed payments. There may also be interest charged to those customers who do not make on time payments on the pay later service.
Affirm focuses more on short term installment loans as its primary Buy Now Pay Later product. While people with poor credit (or no credit histories) can get a BNPL loan from Affirm, the interest rates can be as high as 30%, which is much more expensive than a credit card. A thirty percent interest rate can also be considered "predatory" by many experts, including credit counseling agencies.
They do offer some other services as well though. Affirm does have a pay later program, which may divide the purchase into 3 or 4 weekly or bi-weekly payments. The installment loans can also have flexible interest rates as well as repayment terms. The Affirm Buy Now Pay Later app is a way for borrowers with poor credit to get a loan for their shopping, but the interest rate will be very high.
Zip and Sezzle have merged and are one and the same company They offer a Buy Now Pay Later program that requires the shopper to pay in 4. Note there are repayment fees as well as interest due if/when the shopper missed a payment.
Buy Now Pay Later for people with poor or bad credit scores
The Buy Now Pay Later concept can, in some circumstances, be a great way for people with bad or limited credit histories to shop for what they need now and pay the bill due over the 3-8 weeks. The repayment schedule is generally bi-weekly. All the companies offer a no credit check BNPL option.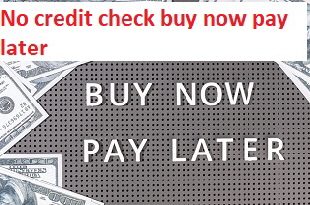 However, the downside for people with bad credit to using BNPL over a more traditional form of borrowing, such as a pre-paid credit card, personal or bank loan, etc. is the customer will never be able to improve their credit scores using one of these Buy Now Pay Later no credit check apps. As the companies do not report on time, successful payments to the credit bureaus.
Related Content From Needhelppayingbills.com