Prepaid Cards for people with no bank account or bad credit.
Prepaid cards will help people start or build credit as well access funds to pay the bills. They are available to people of all backgrounds, including immigrants, low-income families, teens, and people with no bank account or bad credit as well. Find the best pre-paid cards, which allow people to save money, transfer funds, make deposits, write checks, and make purchases among other things.
The FDIC estimates that over 8 million American households are "unbanked" or without a checking or savings account, and a prepaid debit, Visa, or Mastercard will help them access the financial system. An additional 24 million or so Americans are "underbanked", or in possession of a bank account but also reliant on outside financial products. The prepaid cards, including from Visa, Paypal, Bank of America or stores such as WalMart will help them as well.
FDIC insured prepaid cards will help families, or people with no or bad credit, get into the financial mainstream with low or no fees. It's an especially troubling situation given that the majority of these household are low-income and prepaid cards can go that back into the system. Or a pre-paid card will help people build credit or even get a loan. More on how to get a loan without a bank account.
The under and unbanked generally include immigrants (legal and undocumented), people who do not trust banks, those with no money or bank account, migrants, and working poor. A Prepaid card can help all of these individuals and other too, even including borrowers with terrible credit.
How do prepaid cards help?
Over the past decade, prepaid cards, including reloadable ones, have emerged as an alternative to traditional banking services. These cards help people gather the financial tools that they need (like the ability to write checks and receive direct deposits) under one umbrella and provide them at fees that are usually much more reasonable. There are free reloadable pre-paid cards available from Chase, Walmart, Venmo, Cashapp, Paypal and most other stores or lenders.
Prepaid debit cards differ from gift cards in that they can be used at ATMs, have direct deposit payments sent to them and provide the ability to make online bill payments, among other services. Most of the prepaid cards are reloadable as well.
However, it's important to shop around carefully when selecting a prepaid card. These cards vary greatly in the services they offer and the fees attached to them. Some allow cash transfers, which can be great for immigrants or foreign workers. Other prepaid cards allow credit to be rebuilt. While they can help the under and unbanked and low income families, anyone who is considering a prepaid card still needs to be sure they take the time to understand the terms and conditions.
Major Prepaid Cards for immigrants, the low income, and unbanked
Below are brief overviews of nine of the most popular prepaid cards. Everyone from people who do not trust banks to the working poor or undocumented immigrants may benefit from them. All of these cards are FDIC insured and are relatively easy to obtain - either online or at a major retail or banking chain found in multiple states. Or, if someone needs general help in repairing or starting credit in order to open a bank account, find information on how to build credit.
Bluebird from WalMart
Walmart's Bluebird prepaid card is offered to the low-income, people with no bank account or social security number as well. The company was one of the first major players in the prepaid card industry, in partnership with American Express, a major FDIC approved financial institution. It's an appealing option for the unbanked because it can be used as an equivalent of a debit card attached to a checking account without any fees for basic functions. You even get a free set of checks with it.
Bluebird has no monthly maintenance or inactivity fees, and just about every method of adding cash to it is also free which is a huge benefit to low income households that lack a bank account. If you want to withdraw cash, you can do so for free (up to $750 per day) at the MoneyCenter machines at Walmart stores as well as any ATM with the MoneyPass logo (there are about 24,000 in total across the nation). Withdrawals at other ATMs are possible but will cost $2.50 per transaction on top of the ATM fee
Adding funds can be done for free through direct deposit, a linked debit card, in cash at Walmart locations, or through Ingo Money's mobile check capture app. The free version of Ingo Money can take over a week to clear, however; for a same-day clear there is a fee of 1% to 5% depending on the check amount.
There are only two key limitations: you can only pay with Bluebird at merchants that accept American Express, and you can't get cash back. Also, opening an account is only free if you do it online. If you open one in person at Walmart, there is a $5 fee.
Chime prepaid Visa card
Chime is a service that requires you to be comfortable doing everything online, as it isn't tied to any physical locations. It is tied to the Green Dot and Chime partnership system of prepaid cards, however, so you can add cash to an account at those locations. It's also nice for those who travel outside the country on occasion as there are no foreign transaction fees. It may also benefit unbanked immigrants or migrant workers as well with families overseas. Many Chime prepaid Visa card users have no bank account, they may be younger and often they have limited or no credit.
You don't get physical checks with this service, but you can send one through the app after your account has been open for 30 days. Checking payments are limited to $5,000 per check and $10,000 total each month. You can receive direct deposit payments, and checks can be deposited by snapping a picture of them with the mobile app.
Since everything is done online, the Prime prepaid card can be great for the underbanked that lack transportation or that live in rural areas. You can withdraw cash for free at both the MoneyPass and Visa Plus Alliance ATMs, which together total about 38,000 machines across the country. There is a $2.50 added fee at any other ATM.
Famzoo
Famzoo is a MasterCard pre-paid product aimed at parents who want to give their children a debit card that they have control over. It allows parents to create multiple "folders" within an account for specific purposes - for example, one amount of money is set aside for a special savings goal, while another is allotted for daily spending. It can help currently unbanked children, teens or college students enter the financial mainstream.
Money can be added to the card through a number of means - direct deposit, a linked checking account, Wells Fargo SurePay, or a PayPal payment. There are also a lot of ways to get cash onto the card. Reloads can be done at the cash registers of many major chain stores - Walgreens, Walmart, 7-Eleven, Rite Aid and more. Cash can also be added at any MoneyPak location.
One of the nicest features of the FamZoo card is that it can be used at just about any ATM, but there is never a fee (keep in mind that the ATM often charges its own fee, however). This prepaid card is therefore a great option for very low income families. The daily withdrawal limit is $510.
There are only two really big limitations. One is that check use is not an option of this pre-paid card. The other is that there is a monthly fee, which ranges from $2.50 to $6 depending on how far in advance you opt to pay.
Fifth Third Access 360
Fifth Third is a bank chain found along the East Coast and in several Midwestern states. You'll probably need to live in one of their territories for this prepaid card to work for you, as you'll need to visit a branch to open the account and their ATMs and locations are also the only way to load cash onto it. This can make the prepaid card challenging for unbanked migrant workers who may travel a lot for work.
It's a MasterCard debit card, and cash can be withdrawn from any Allpoint ATM (about 55,000 nationwide) with no fee. Getting money onto it is more troublesome than it is with other cards on the list, however. This can make it a little more complicated for immigrants, non-English speakers, seniors, and others who are unbanked or underbanked.
You can receive direct deposits, but there is no way to deposit checks without visiting a Fifth Third branch. Direct payments cannot be made to the account by any other means. There is also a $4 monthly fee that can only be waived by having a Fifth Third checking account. And there is no option for sending checks.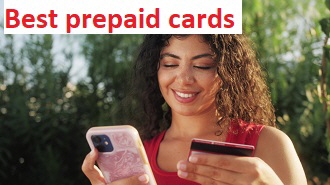 Kroger REWARDS
Kroger is one of the world's biggest grocery companies, with over 15 subsidiary chains and thousands of locations in the United States. At least one type of the Kroger family of stores can be found in all but about a dozen states.
This Visa debit card ties the Kroger loyalty program to a prepaid card that has ATM withdrawals and the ability to do mobile check deposits. It's a nice convenience option for those that regularly do their grocery shopping at a Kroger store as you'll get rewards points for purchases made outside of the stores. Low income families may benefit from the prepaid card, and those unbanked who do not trust banks may find this Kroger card more trustworthy.
Prepaid card holders get one free ATM withdrawal per month of up to $1,220 at any MoneyPass machine (24,000 machines nationally including the ones at Kroger stores). It's $2.50 for any added withdrawals in a month.
Direct deposits, transfers from checking accounts and PayPal payments are all available as funding methods. You'll get a one-time $10 bonus for setting up a direct deposit payment. The only downside here is that loading cash will cost you $3 per transaction and has to be done at a Kroger store.
Though the card is designed to entice you to come into Kroger's stores, for some reason it will cost $1.50 to set it up in person as opposed to being free over the internet. This FDIC prepaid card for those low income under banked low income families can therefore be costly. The only other issues are a $4.95 monthly fee that there doesn't appear to be any way to waive (though grocery rewards points might make up for this if you spend enough each month), and no way to send checks.
Movo virtual prepaid Visa card
Movo doesn't charge any monthly or card loading fees, but you are charged 75 cents for each online bill payment. The lender has a virtual prepaid card in partnership with Visa - this means all transactions are done online. There are also no physical locations to visit for assistance or services.
Fortunately, there are many options for funding the FDIC approved card. You can set up direct deposit, transfer from bank accounts, do virtual check deposits through the Ingo app, and accept Vimeo and PayPal payments on this prepaid card for those that lack bank accounts. It's also possible to load cash onto the card at any MoneyPak or Visa ReadyLink location.
One very nice feature of the card is the ability to generate temporary unique payment numbers to make online purchases with, which protects the primary card number.
Aside from the $2 fee for ATM transactions outside the Visa Plus Alliance network, the only other major limitation here is inability to send checks.
PayPal Prepaid MasterCard
PayPal's debit MasterCard is a decent choice for regular PayPal users, but it may be a little too limited for anyone not interested in the service. However Paypal also has Buy Now Pay Later (BNPL) services too. Venmo customers can also use this free, relocadable prepaid card from Mastercard and Paypal. So it is focused on a small subset of unbanked Americans.
Three unique qualities of the card are that you are able to get cash back at points of purchase, your money earns 5.00% APY interest and there is a free overdraft cushion of $10. There are also no inactivity or transaction fees and it's free to open an account. Paypal also offers Buy Now Pay Later using their prepaid card, which is a great option for people with no bank account. Learn more on buy now pay later with bad credit.
The biggest issue with the prepaid card is that there are no free ATM options. You will always be charged $1.95 on top of the ATM fee, which is kind of steep for low income or unbanked with poor credit. There is also a $4.95 monthly fee that cannot be waived.
Simple
Simple's Visa debit card is best for those who need a checking account equivalent and would like interest-bearing savings, but will not work well for those who need to deposit cash into an account.
You're able to send checks online and make free withdrawals from Allpoint ATMs (about 40,000 nationwide and commonly found in major chain stores).
Money can be set aside in a "Protected Goals" account, basically a savings equivalent that earns 2.02% APY. These accounts also periodically have some bonus offers for new members, for example a $250 bonus for depositing at least $10,000 in the first several months and another bonus for maintaining that minimum balance for another several months.
The biggest issue is the complete lack of a way to deposit cash directly to the card. The best workaround is to purchase a money order and then use the mobile photo deposit with it, which will generally cost at least $1 per transaction. This can make it more complicated for people who do not have banking accounts or lack financial knowledge. Western Union and the Post Office are usually the cheapest options.
Western Union NetSpend prepaid card
The ubiquity of Western Union locations makes the card appealing to immigrants and migrant workers among others. It is a widely used prepaid card, and their various other financial services make this option a convenient one for people with no bank account, but it's important to note that there are no free ATM withdrawal options and it costs 50 cents each time you want to check your balance. Many immigrants use Western Union money transfers to send money home, so the prepaid card may be a great fit for them.
At the very least, there are no activation or monthly fees. It's possible to earn $20 for each person you refer to the program, and you can do cash reloads at many other locations beyond Western Union (many chain store locations offer this service). The earning referral bonus for Western Union FDIC approved prepaid card can be a great source of income for low income families as well. You can also set up direct deposit and bank transfers with this card, and Western Union money transfers can be done without having to visit a branch through an MTCN number that can be entered on the website.
ATM fees range from $2 to $5, depending on which type you use. There is an inactivity fee of $5.95 per month after 90 days. There are also $1 to $2 "signature fees" for many types of purchases, but these can be waived by paying a $10 monthly fee. There is also no online bill pay or check option for the prepaid card.
There are several different prepaid cards for the underbanked to use as well as people who have no savings or checking account period. All are FDIC insured. Whether you just do not trust banks, or can't get a bank account due to income, immigration status, or some other barrier, these prepaid cards may be able to help.
Related Content From Needhelppayingbills.com