Free credit repair.
Find how to repair your credit for free, either by using companies, non-profits or fixing it yourself. A number of programs, websites, apps, and software programs will help. Non-profit organizations provide free credit repair for low-income families, people with no money and households in debt. Learn how to fix, repair, improve, and find free credit repair services below.
There are several steps to take if you want to improve your credit score yourself or if you have bad scores. Or find companies, non-profit credit counseling organizations, charities, and even churches that will help. While the process will often take time, it can be done. Repairing credit combines things you can do yourself and there are also assistance programs from organizations that can help. Some of the things to do include the following.
Companies and non-profits that provide free credit repair services
Low-income families, people who lost their jobs or filed bankruptcy and others in a crisis can get free credit repair. Non-profit organizations offer help, both near you or online or free free over the phone. The goal is to help less fortunate families improve their credit scores so they can get a job, rent an apartment, or apply for a credit card, loan or mortgage. There are also programs for people who have bad credit scores or no history to date.
A number of non-profit organizations provide free credit repair help. Use the services of a free credit counselor or debt management plan. Some low income families are offered support. They can help and guide you through the process of paying off debt, bills, and offers tips on how to improve your score.
Among other help offered, these services will help you dispute errors and negotiate with creditors to have negative items removed. Keep in mind that some credit repair services can be expensive and may not be effective. However non-profits usually offer free counseling to low-income people. Counselors also work with the credit reporting agencies including Equifax, Experian, and TransUnion to fx scores. Non-profits also work with lenders, banks, credit card companies and other as needed. Find free credit counseling agencies.
Debt settlement attorneys will offer free consultations and assistance to low-income families, people in poverty and the others. While the main service they provide is around reducing (or eliminating) debts including credit cards, auto loans or a mortgage, this also help clients repair their credit scores. This service is free to low-income households and the elderly, among others. Find free debt settlement lawyers.
How to fix credit score
In addition to the non-profits and companies above, it is possible to fix your credit score on your own. Or these steps can be combined with the organizations above. Regardless, you can fix credit quickly (in an emergency) or improve it slowly over time.
Request and review your free credit report: First and foremost, in order to improve your credit score, you need to determine what your current situation is, even if you have low or bad scores . Per federal government law and regulations, you can get one free one copy of your latest credit report per year. This can be retrieved from each credit agency, and it can also be requested each and every year. Experian, Equifax, and Trans Union are the providers. You can decide to get all three credit reports at once, or you can decide to get them and spread them throughout the year.
After you receive your credit report, the most important thing you need to do is to to review the document for accuracy. You need to be 100% sure that your credit report is accurate before you can even consider fixing and improving your score. It is already difficult enough paying for your own mistakes, and you do not need to pay more money, borrow money at higher interest rates, or to be penalized for someone else's mistakes on your report.
Correct any errors on your credit report. It's important to dispute them as soon as possible. Mistakes in your credit report can negatively impact your score. More than likely you will need to contact all of the reporting agencies to file a claim. To dispute errors on your credit report, you will need to contact the credit bureaus in question and provide documentation to support your claim.
In addition to looking for errors, "eyeball" the document to start to understand it. As you do this, note that two biggest red flags that creditors and others look for, such as insurance companies, employers, landlords, and banks, are late or missed payments on your part. In addition to that the next big red flag is maxed out credit cards or loans. So as you quickly go through the statement keep those two red flags in the back of your mind. Find out what determines how your credit score is determined.
Have incorrect or incomplete negative items removed from your credit report. This is often one of the easier things to do to start to fix your credit. To have them eliminated from your credit report, you will need to write/email to the three credit reporting bureaus and you will need to tell them that the items on your report are either incomplete or inaccurate. Demand to have them removed. Do not take "no" for an answer.
After you challenge a debt or some other item on your credit report, the bureau or agency you notified has up to 30 days to receive a response from the lender in question. That company needs to validate the debt. If the credit bureau doesn't receive a response the company it questions then by law they need to remove the incomplete or inaccurate entry from your credit repair - at no cost to you.
Always remember that there are three agencies, so you have to write to all three of them to get it removed in order to repair your credit. Always take this approach for any step on this process. Everything always involves the 3 big providers. If you only have the items removed from one two of the reports, it will not help as all 3 agencies impact your total credit score.
At the end of the day, the free credit report you receive is your guideline and the most important tool you have to repairing it. Each and every account on your credit report will have a rating next to it which is critical to creating your overall profile. Be sure to review those line items on the statement.
In addition, a free, sample credit report will be provided to you to assist you with reading and understanding your own document. Since there are 3 different credit bureaus, the rating and scoring system may change. Each provider has their own mechanism and it will differ depending on the exact agency. As one example. A letter on your report that is followed by a number indicates the type of account that you have as well as the credit rating. Guidelines in place include :
If you have an account that is shown on your report that is rated as an I1, that is an individual account that is indicated is paid on time.
If an item on your report is shown as an account that has a J1, that is a joint account on your report.
An I5 on your credit report could mean trouble for you, as a higher number means the account is late or has other issues.
Next, now highlight everything on your credit report that is not a 1 and then highlight everything that has been turned over to some for of debt collections by your lenders. Now, make a list that shows the debts you owe from the lowest dollar amount to the highest. Then be sure to start with the lowest amount on your report, and either pay down that outstanding debt, negotiate to eliminate it, or dispute it. Starting with the lowest amount, which can be paid off sooner that a higher amount, will make the most difference. Paying down debt in a short period of time will always improve your scores.
As always, pay your bills on time. Payment history is a significant factor in your credit score as it accounts for 35% of the entire number. It is the most important calculation, so it's important to make sure you are paying your bills, rent, loans and everything on time. It is free to set up automatic payments if necessary to ensure that you don't miss any payments. If you do have late payments on your credit report, try to negotiate with the creditor to have them removed or to have them reported as "paid as agreed."
Other free steps to take to improve credit scores
Why is your credit rating so important. Whenever you apply for any type of loan, mortgage, credit card, phone hookup, and sometimes even now a job, your credit rating will be pulled and reviewed. Businesses that conduct this form of review can do many things with the data. For example, a score is required for banks to issue a consumer new credit or debit cards, stores to accept checks, and for a wide variety of businesses to manage their operations. Many other companies use this data in other ways as well.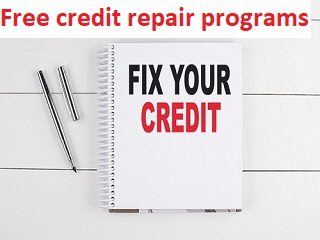 So knowing your credit rating, and fixing it (yourself or for free with a non-profit) is very important for a number of reasons. Depending on your various credit scores, lenders and banks will determine your risk. This impacts everything from borrowing money to even employment. An increasing number of employers are now running credit checks on potential employees as well as this can help them determine how fiscally responsible a job candidate is.
Lower your credit utilization. This is 30% of your total rating. Credit utilization is the amount of credit you are using compared to the amount you have available. In effect, you never want to borrow as much money as you are allowed to get. To lower your utilization rate, you can either pay down your balances or request an increase in your limit. Keep in mind that requesting a free credit limit increase may result in a hard inquiry on your credit report, which could hurt your score
Take our a free credit builder loan: Borrow a little money than repay it over time. Lenders, including credit unions, allow borrowers to slowly but surely either improve or start to build history from a loan. Credit counseling agencies also provide low-income families small dollar dollars loans to help clients fix their scores.
These can also be referred to as a secured credit card. A number of banks and lenders offer these products to borrowers. A free secured credit card is an alternative that can help you build your score over time, as it has a lower limit available to borrowers. These cards must be backed by a cash deposit, so they are similar to debit cards. Find more details on secured cards or credit builder loans.
Keep in contact with your creditors and all lenders. The moment that you realize that you are or may soon be facing a financial hardship, you need to contact your creditors. Or use a free non-profit counselors that help low-income families and people with bad credit. Do not delay. Speed is of the essence here. Call your credit card companies and ask for help with your credit cards.
Never allow a disputed bill or debt go to a collection agency. If that happens it will significantly damage your credit scores and it will be shown on your reports. An easy way to keep and improve scores is to pay your bills on time! Or ask for help if you can't. To make matters worse, when an account you have is referred to a debt collections agency, the black mark on your score can take years to resolve. If you are faced with this, find how to get help from debt collectors.
Keep your credit scores up with community. Most creditors are much more likely to work with you, settle debts, accept your offer of lower payments, and find other solutions if you stay in contact with them, which is free and simple to do. This can help keep your credit rating up if you can show good faith and communicate with them as early as possible. Many even offer forbearance programs to reduce fees or interest rates. Read more on credit card forbearance.
Get any agreements in writing. After communicating with your creditors, if you (or a free credit repair company you use) are successful in negotiating lower interest rates, setting up debt payment plans, settling any bills, get it in writing. Or if you are agreeing to credit card debt or medical debt balance payoffs, be sure to request from your creditors that they send a letter confirming the arrangement. Be sure to keep it in your files. Read more credit card debt assistance programs.
You need to have the agreement in writing, as it is your best defense against lost records, employee turnover, change in ownership, or changing minds. The written agreement can also be presented to new managers being more aggressive on debt collection, or any other number of other things. So document everything, even conversations.
To improve your credit scores yourself, keep some of your credit cards and accounts active and open. You still need to have some ability to borrow money. Never close more than one or two credit cards every six months or so. Credit scores are very likely to decrease due to any pick up in activity of any kind, even if someone is just closing an account. That activity can serve as a red flag to a lender. Increased activity reflects poorly on your credit scores, rating, and financial stability.
While it may be tempting to close credit accounts that you no longer use, this can actually have a negative impact on your credit score. As the length of credit history is a 15% factor in your rating, so closing accounts will often reduce a score. Instead of closing accounts, consider keeping them open and using them responsibly to demonstrate a long and consistent credit history.
Credit ratings are very sensitive to how much of the total available debt that you can take out that you are using. For example, using 30% of the total available balance on your credit cards will minimize the impact to your credit scores. However, if you want to have the highest ratings, you need to keep the balances under 10%.
Free lender, bank and credit card company programs. Many lenders offer free services to help their customers. Inquire into hardship or debt management programs to repair your credit. In addition, the three major bureaus evaluate all available credit limits that you have on all of the cards to your name. So if you have a large number of loans, credit cards, etc., you may be perceived as a higher risk. Having to much borrowing capacity is a negative. So, reduce the number of financial obligations if you fall into that category. In addition, many companies, lenders and banks offer consolidation as well as debt management plan.
Pay off your medical and credit card debts. After you have determined how much money you can pay against your outstanding debts, and after you have negotiated any settlements or lowered payments, you then need to allocate that portion of your monthly budget to paying off each and every creditor. You have to be 100% committed to paying the minimum on your debts (or pay the agreed upon amount if it is lower). Fixing credit comes down to budgeting and managing money. This is the most important thing you can do to improve your financial situation.
Repair your credit for free yourself or with companies or non-profits
Anyone can fix or improve their credit, with low-income families able to use free non-profit or charity programs. No matter the situation, it is important to know the process, understand what credit is and how scores are calculated, and to budget/pay debts on time.
At the end of the day, the most important factor to fixing credit is to pay your bills. It is critical to make these payments on time. This consistency and timelessness of payments is very important to repairing and improving your credit. If you have any extra cash that month, be sure to then pay any extra money against the lowest outstanding balance due on a debt.
Another big factor in why people have poor ratings, and how people can repair it, is the fact that total credit card as well as medical debt outstanding makes up about one third of your total score. Those two bills are often a major expenditure for most families. So be mindful of those limits as well as their thresholds.
Related Content From Needhelppayingbills.com