Credit card hardship programs.
Find how credit card companies offer hardship programs to struggling borrowers, low-income families and people with no money. Banks provide hardship plans to help families who are facing a financial emergency. The plans help borrowers settle their debt, lower interest rates, reduce fees, or get other assistance. Learn how to get help from a credit card hardship program.
Most companies, including banks and lenders, would rather work with low-income families so that the lender can get some money for the bills owed. The card card companies offer debt relief from these hardship plans. Lenders may reduce finance charges or late fees, offer a temporary reduction in the interest rates (APR), or some credit card hardship programs will also reduce or eliminate the principal balance on the account.
What is a credit card hardship plan?
Most of the solutions are aimed at solving one off emergencies from the customer. Due to the ongoing need for assistance by borrowers, many financial institutions including credit card companies such as Bank of America, Citibank, Discover, Chase, and Capitol One, provide credit card hardship programs. Other lenders offer support too. These resources have been created to help customers maintain or pay off their debt, pay their bills, and get back on track with their personal finances.
Hardship programs accept people when they go through financial difficulties that are beyond their control. If the applicant were to lose their job, have their pay or household income cut, experience business failure, go through a divorce, experience a serious illness or suffer in a natural disaster are examples. In these cases and others their credit card company may agree to a hardship program.
While the terms and conditions can change, in general the borrower sets up a payment plan with the credit card company. After that has been done the bank will then reduce the interest rates and will even sometimes lower a customer's monthly payment to a level they can afford to pay each and every month.
While it is not likely, it is still possible that a bank or lender will reduce a credit card balance for people in a financial hardship if they see that they are heading towards a bankruptcy filing. Usually what will happen in this credit card hardship program example is that they will eventually agree to a lump-sum settlement plan with the borrower to close out their current account. More on debt settlement.
Preparing for a hardship plan
Remember that the main reason that banks are offering hardship programs is that they hope the consumer will get back on a solid financial footing if they get their personal debt under control. After that occurs they hope that the borrower will soon be able to return to making full payments on their account and monthly credit card bills. Like almost all businesses, credit card companies and banks are primarily concerned about making a profit.
Very few banks or credit card companies advertise hardship programs, so it is not always easy to apply for them. To start, browse their website for information to look for any reference to a hardship program from, but it is oftentimes not easy to find there either. Find a list below of credit card hardship programs as well as the phone numbers to call to apply to various credit card issuers including Citi, Bank of America, and others. More on credit card debt assistance programs.
Probably the best step to take to try to apply is to just call a credit card issuer and ask about a hardship program that they may offer. It is suspected that some customer service representatives from various banks, such as Chase, Synchrony and Discover Card, are empowered to offer credit card assistance right over the phone.
In the interview process that will need to occur, the customer will have to tell the company about their sources of income, expenses and other obligations.
Applicants to a credit card company hardship plan need to be prepared and to make sure that they have all that information ready before calling to them asking for help. \
Applicants should expect that the bank and lenders will want to know about how the customer is going to pay off their credit card bills, get back on track and eliminate debt. As the credit card company will also want to know when they can expect regular monthly credit card bill payments to resume.
As with all parts of the process, there are positives and negatives when applying. Find some additional pros and cons of hardship programs.
The process can take time as well, and some people find it complicated. Also find other tips and steps that you help you with entering into a hardship program.
In addition, some credit card issuers may decide to lower the spending limit on the person's cards or they may even decide to close a credit card account altogether. Many banks also have rules that make it difficult when trying to sign up for a hardship program. Most programs are for one time events, such as a life crisis. Last, but not least, enrolling in a hardship program may very well impact the borower's credit score and be indicated on a credit report for a period of time.
Banks and lenders with hardship programs for credit card customers
American Express: AmEx has a hardship program that is very effective at eliminating debt as it can reduce a customer's monthly payment by as much as 40 percent. Call (800) 253-1709 or 1-800-419-2122 to speak with a service rep. Or read more on credit card hardship programs from American Express.
Bank of America: Credit card debt relief options include eliminating fees that a customer may owe, lowering the interest rate, starting you on a debt management plan, or reducing a monthly payment. Other forms of relief or credit card settlement is offered. Dial (800) 500-5306, or read details on the BOA credit card hardship programs.
Capital One: They offer struggling consumers negotiated payment plans, late fee and other waivers such as a reduction in an interest rate or APR. Learn more by calling (866) 929-5303 or 1 (877) 383-4802, or continue with Capital One credit card hardship plans.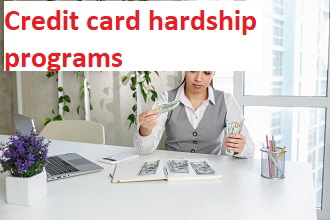 Chase: Chase will suspend future late and over limit fees, they can reduce credit card interest rates and even extend repayment terms. Some settlement may be offered from a Chase hardship program. To contact JP Morgan - Chase for more information on hardship programs, call the toll free number on the card. Continue with credit card hardship programs from Chase.
Citi : Citibank offers a credit card hardship program as well. Phone 1 (888) 248-4226 or (866) 936-4814. Or learn more about Citi credit card hardship program.
Discover Card : Credit cardholders who are experiencing a financial emergency or severe hardships may be able to receive a temporary single-digit APR. They can call 1 (800) 347-2683 or (866) 567-1660, or find examples of Discover Card hardship programs.
Fifth Third Bank : You Have Options is the name of the hardship program that is offered by Fifth Third Bank. More on Fifth Third Bank hardship program.
HSBC : HSBC is also pushing a hardship program to aggressively provide support to customers who are struggling with paying their credit card bills and debts. Call 1 (800) 975-4722 or (888)-385-8916 for customer service. Also, find out more on the HSBC hardship program.
Loans for a hardship - Several lenders, both online or local companies near you, also offer loans for people facing a financial hardship. These can be combined wit help from a credit card company, as multiple approaches and resources can be used to get relief. Find details on how to get a hardship loan.
Synchrony Financial (formerly GE Money Bank) : Hardship programs are also offered by Synchrony. Struggling borrowers, or low-income families can contact them at 866-396-8254 to apply or get additional information on options. Or read more on Synchrony Financial credit card hardship program.
U.S. Bancorp : They will provide a number of hardship programs for people that use their credit cards. Call them at 1 (800) 872-2657 or 800-715-2922 to let them know of the financial hardship that is occurring.
How to get on a credit card hardship program?
Most credit card companies have these plans, but they can be challenging to apply or enroll into. Hardship programs are offered, but there are several things people should do in order to (1) help to get approved and (2) get the best deal possible. Each lender also has their own terms and conditions. The tips and suggestions below will help applicants get the best deal when applying for credit card hardship relief plans.
The borrowers first task before they call a bank or card issuer is to thoroughly understand their new personal financial situation. Be realistic.
Applicants need to draw up a detailed budget to see how much they need to pay for various necessities and to understand how much they have left over for any credit card debt.
Before calling a bank to ask for a hardship program, a struggling low-income family will need to be able to speak knowledgeably about their financial circumstances.
Before an issuer agrees to a hardship program, the credit card company will usually ask for proof that the applicant is experiencing difficult financial circumstances. They may require the customer to enroll to a debt management program, and set up automatic credit card payments each month. In addition, they may close a credit card account or lower a credit limit.
Negotiate the hardship program to get the best deal. While being allowed on a credit card hardship program is a mutual beneficial favor that the bank also agrees too, it's important to not simply accept whatever is offered. Often, issuers will simply try to satisfy the applicant by knocking a couple of percentage points off an APR rate. Many people should be able to negotiate long enough to get a 0 percent APR for a few months. Or negotiate for a partial debt settlement for as part of the hardship program.
Try to get a interest rate lowered, as this usually has a major impact and many card companies may offer this option. Be sure to emphasize a previously strong payment history, credit score, and past relationship. Focus the negotiations on how much you can afford to pay each month. Find more negotiation tips for getting out of debt.
Also, look into a written agreement or request, known as a credit card hardship letter. This can be done via email too. A letter more than likely will not be enough to resolve any credit card debt problems the client has, but they are good tools to start the negotiation process. So their is no downside to creating one. Find a few examples of credit card hardship letters.
Related Content From Needhelppayingbills.com