Car title loans near you.
Another way for people to get emergency cash is a car title loan. This involves the borrower, including people with bad credit, using their vehicle as collateral. Any potential borrower needs to understand the risks involved, as if they do not make the title loan payments on time, it can be very easy to have your car or truck seized by the lender. Find a list of lenders near you to apply at for a car title loan.
A number of lenders offer emergency car title loans with the money issued the same day. Learn more on how taking out an title loan using your car, boat, SUV or truck as collateral works. Get information on the pros and cons of borrowing money using this financial product. Understand how lenders near you deal with and approve potential borrowers for an emergency car title loan, and find details on how to apply.
What is a title loan?
The concept is simple enough. A car title loan, which many lenders and others refer to simply as a title loan, is a short term financing product offered by a number of financial institutions, ranging from banks to check advance stores or payday lenders near you. In general the money should be used as a last resort for people in a financial crisis.
To use this source of funding, the borrower provides the title to their car as collateral for the loan itself. This may sound risky, and in fact it is. This is why people that have poor credit scores often turn to a title loan. A number of families with a low-income or no money also use them.
Lenders offer these loans on a short-term basis to customers of all income levels. In fact, they often focus on providing them to individuals with a poor credit score or that have no bank or checking account in their name. However a car title loan will almost always carry a higher interest rate than other sources of credit. So while in reality the concept is simple enough, as you can probably tell it does come with some inherent risks.
Risks and cons of a loan that uses your auto as collateral
If you are not careful, there are many. First and foremost, they are expensive. Depending on the state or lender in which you apply to, the APR can range from the low 20% up to a couple hundred percent. While in some states it may be slightly less expensive than say a payday loan, it is not an inexpensive form of financing. Be sure to shop around as well, as some companies will set the interest rate equivalent to or even higher than payday loans that may be available in that state.
Another big risk is that if you apply for a title loan you can have your car repossessed. While this is not common, it does happen to thousands of people every year. If someone applies to a lender, and accepts the conditions, and when the loan is due if you can't repay it, then the borrower has one of only two options available to them. The first is that they could decide to roll over the loan over for another month or so, and if they choose this option they will incur additional costs in the form of higher fees and/or interest rate. There may also be one time transaction costs involved in that process.
In addition, if they do roll the loan over this will generally lead to a dangerous cycle for the consumer of borrowing. It is commonly called a payday, or predatory lending "trap". Many people that do this end up rolling over the loan amount multiple times, and eventually they get so far behind they have no other choice but to give up their car or other form of transportation, such as motorcycle. Which basically leads to the second option for a borrower, and that is for the lender to repossess your auto or truck if the person can't repay the loan or if they can no longer afford to extend it.
For those borrowers that need help in paying an existing car title loan off, they can get assistance with this from a number of places. There are state programs that can help, credit counseling agencies, and methods that can consolidate these debts into a more affordable payment. There are even non-profits that can provide the family a new car. Find a listing of programs that offer help with car title loans.
Why use a car title loan and what are the pros?
So while they are expensive, especially if not used properly, there are some reasons to consider using an auto title loan if you are careful and smart about it. They can be a quick source of cash to use in an emergency or if the borrower is having short term cash flow issues. But all other sources of funding, as well as charity programs, should be contacted before applying. Or a potential borrower can look into other sources of emergency loans for paying bills.
Maybe the borrower can apply for some money from a car title loan lender and the individual is certain they will be receiving funds in a short period of time that they can use to repay the funds. But they need to be absolutely confident of their ability to pay it off. So in these cases the loan can be used to address very short term cash flow, or timing issues.
Another positive is that some lenders near you can provide as much as $50,000, and of course this is provided the vehicle's wholesale value is worth that much. While it would be very unlikely for an applicant to need that much money, it is possible to borrow a large sum.
In addition, lending standards are usually much more lenient for a title loan versus a bank loan or credit card account. So a potential borrower can take out money against their automobile title even if they have poor, bad, or less than perfect credit scores and ratings. This allows more people to consider this form of financing.
The banks and other lenders will usually not consider someone's credit score when they decide whether or not to approve an application. So companies will even provide the money to an applicant with no credit scores to their name. This can be helpful to an immigrant or younger person. However this does not mean that someone with poor credit should rely on this type of financing. Instead what they should really be focused on is repairing their credit scores and ratings.
The application for a title loan can be expedited too, meaning the money can be provided to the borrower within a couple days - even today. Lenders will not usually perform a credit check. This speeds up the application for a title loan, and also allows more people to apply today. So the customer will not get the hit to their report that can occur when a business runs a check. Most other financial institutions will not loan under $1000 to someone without any credit as they deem these types of transaction not profitable and too risky.
The emergency application process is good for solving emergencies as it can be very quick. After applying the borrower can get approved and access to the cash in a short period of time. Many car title loans provide emergency funds today. Most car title loans can be both applied for, approved, and acquired in 15 minutes or less. But this will depend on how much is requested too. The short time frame is usually applicable on loan amounts as little as $100 and that amount can range up to several thousand dollars.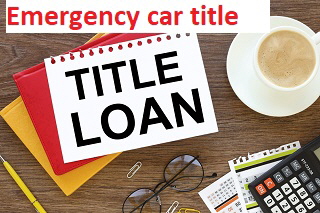 How much can you apply for and borrow
The exact terms will depend on the state in which you live and apply in, the lender, and the condition and value of your automobile. Typical car title loan lenders, including those near you, will offer the borrower a dollar amount that is worth up to 50% of the car's or truck's resale value. So this means that if the automobile is worth $15,000, then someone can immediately borrow up to $7,5000 today from a title lender.
However, the maximum loan value will vary based upon the lender and their exact underwriting process. The borrower will need to hold clear title to the car. While the details of that condition may also vary by state, in general it will mean that the car that is being used as collateral must have no current financing and/or be paid for in full.
So the bottom line is that a title loan can be a quick source of emergency cash for an individual. But there are some risks involved. For those that think this will work for them, the borrowers can use the money to pay bills or really for whatever reason they want to. However, before applying for a car title loan, be aware of the cons and risks involved. Namely that someone may lose the title and ownership of their automobile. Also the interest rates can be very high. So be sure that the pros of this product offset those risks before you apply for or use a car title loan.
Community lenders for car title loans near you
Always ask a local bank, credit union, or non-profit near you for a referral. If those are not options, then a payday lending company or check cashing store may have referrals to a lender near you that will give you an emergency loan on your car In addition, below are some of the leading car title lenders by state, city, and county.
Alabama - Jefferson County
California - San Bernardino County
Colorado - Denver, Adams, Jefferson, and Arapahoe
Florida - Duval County
Florida - Orange County
Georgia - Cobb, DeKalb, Fulton, and Gwinnett County
Indiana - Marion County
Michigan - Wayne County
Missouri - St. Louis City and County
Ohio - Cuyahoga County
Ohio - Franklin County
Oklahoma - Tulsa County
Oregon - Multnomah County
South Carolina - Charleston County
Tennessee - Davidson County
Tennessee - Shelby County
Texas - Bexar County
Texas - Dallas County
Texas - El Paso County
Texas - Harris County
Related Content From Needhelppayingbills.com