Emergency loans near you.
Borrowers with bad or no credit can get emergency loans. The funds will help low-income or struggling families that are faced with a crisis. There are several different options available from both private as well as charitable lenders. Find details on how to borrow money below, as well as how to get emergency loans near you.
There are several places to turn to. Cash based emergency loans can be issued today by non-profit lenders, corporations, charities and other agencies. While there are some lower priced options or companies out there , the money from these emergency loan products for people with bad credit, such as online lenders or predatory banks, will often come with higher fees and/or interest rates.
There may be funds available to borrowers of all backgrounds. Terms and conditions of each of one of these lenders programs will vary.
Charities, churches and government agencies

offer funds to families in a crisis.


Lenders may offer emergency loans to individuals with low credit scores

, or others companies may have minimum requirements in place.

Some of the

companies, such as payday lenders or many online lenders

, will provide a so called salary advance on a paycheck, so the borrower needs to have a job in order to get an emergency loan.


Pawn shops or title lenders will provide money

in exchange for goods, including gold, jewelry, furniture, the title on a car or boat, and other items.

There are also

emergency loans near you from charity groups

, including the Jewish Foundation, certain churches, as well government supported community action agencies.
Or look into getting emergency money without a loan, and this may be a job, selling stuff, website apps for rebates, and more. In addition more well-known organizations including the Salvation Army may offer short term loans. Many other lenders also may be turned to for help.
Fees and interest rates when borrowing cash in an emergency
These emergency loans for people with no income or bad credit can be expensive, especially when using a private lender. However charity lenders or non-profits often have lower interest rates or fees, or even zero up-front costs. In general, borrowing money should really be used as a last resort; the exception being a charity loan product as those tend to have lower interest rates as well as fees.
Payday lenders tend to have the highest fees involved as well as interest costs associated with them, with some states allowing the APR rate to go as high as 400% or more. But there are more states that are regulating them or outright banning salary advance products. One of the highest risk lenders may be a Title Loan company, as they will put a lien on the borrower's car. If the money is not repaid, then the auto may be repossessed.
When applying for an emergency loan, always read the fine print. Talk to multiple lenders (as well as local charities now) and demand full transparency on all of the upfront costs, APR rates, and repayment terms. Always seek the lowest cost lender.
Some of the costs will also factor in the borrowers credit scores as well as history. If the individual has low credit or bad scores, or maybe a bankruptcy on their record, unpaid debts, etc. then the interest rate will be higher. While some emergency loans may be offered to gig workers or people with no income, fees and APR rates will also be higher.
There may also be shorter repayment terms, especially from emergency charitable loans, and they may demand the money back in as little as 3 months. Charities, non-profits and government services may also more time to provide an emergency loan, and they may require the funds be to pay certain bills, such as rent, moving costs, car repairs or the like.
Regulations on emergency loans
There are many. When it comes to companies that issue immediate, emergency loans, states have regulations. Many government organizations have set limits on the dollar amount to be borrowed or the maximum APR rate among other terms. As some example, Georgia allows emergency cash loans to cap out at $3000, while Florida sets at maximum APR of 10%. Check with a state regulator, law firm, or non-profit credit counselors for more information if needed.
If the lender has taken illegal action, such as a Title Loan company illegally reclaiming a car for the emergency loan not being repaid, then the borrower should get help. As state regulators will protect families from illegal action, with a focus on vulnerable low income borrowers who may be senior citizens, disabled, or even single moms. Find a list of free attorney for legal aid which can help address emergency loan issues.
Emergency loans issued by community action agencies, churches or charities have fewer rules and regulations. As these are charitable funds. The amount someone with a low-income or bad credit can borrow is usually lower and often requires case management, financial literacy and other requirements. Also the emergency loans are often for paying certain bills, such as for a car or auto repair, moving to a affordable home, medical travel or similar expenses.
Where to get an emergency cash loan now
Always contact and apply at more than one lender. Ask about term and conditions, with a focus on interest rates and fees. Some of the places to get a loan and borrow money today in an emergency include the following.
Faith based groups may provide very affordable, emergency loans in a crisis. They tend to focus on families and residents who live within the boundaries of the parish. Any amount offered will often be very small, but loans from churches may be an option.
Buy Now Pay Later Companies will offer the equivalent of an emergency loan. It is a form of interest free shopping, and there are no fees, interest charged or other costs - provided the money is paid back on time (in a matter of weeks) and provided the customer is in good standing. BNPL loans are often used by low-income or bad credit borrowers.
The apps, including PayPa, Venmo, Affirm, Klarn and others can in some ways be thought of as an emergency loan that does not even require a credit check. This can be a great option for a borrower with no credit history or bad credit. Read more on what is Buy Now Pay Later.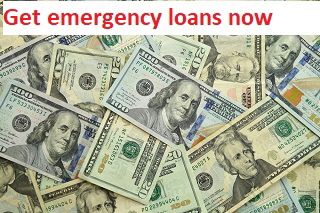 Free cash loans are offered to some borrowers. They are more difficult to get, but the money can be used to help pay everything from back rent to moving costs, energy bills, and medical needs. The terms of these loans will be short in nature, but they can help in a crisis. Find more details on how to receive free loans.
Emergency payday loan alternatives for borrowers with low credit or a past bankruptcy are offered too. This includes borrowing money from a credit union to using unsecured loans, home equity, government grants, and much more. The interest rates of these bad credit emergency loans will be much lower, and therefore it tends to appeal to more borrowers. Learn more on emergency payday loan alternatives.
Community Action Agencies help now, in a crisis. There are money management classes, no or bad credit emergency loans, grant programs and more. The non-profits combine case management with hardship funds, loans and other support. Locate community actions near you.
Government sponsored emergency cash based loan programs will assist in a crisis as well. They are generally for household living close to or in poverty, the elderly, single moms or dads, people with no income or money, and the disabled. This form of money tends to be ideal, as the funds can be used for paying any type of expense that the family has. Locate loans for people on disability as well as other benefits. Those include social security loans and other government funded crisis support.
Emergency loans near you by county and city
Many counties and cities also have their own lenders in place. They include payday loan as well as pawn shops, car title lenders, and many others. They include the following.
Atlanta Georgia region, including surrounding counties.
Birmingham Alabama and Jefferson County.
Charleston South Carolina region.
Cleveland and Cuyahoga County Ohio
Columbus and Franklin County Ohio
Dallas Texas and surrounding area.
Denver Colorado and all nearby counties.
Detroit and Wayne County Michigan
El Paso County Texas
Houston Texas as well as Harris County.
Indianapolis and Marion County Indiana
Jacksonville and Duval County Florida
Memphis and Shelby County Tennessee.
Nashville and Davidson County Tennessee.
Orlando and Orange County Florida
Portland and Multnomah County Oregon
San Antonio Texas and Bexar County.
San Bernardino County California.
St. Louis Missouri - (city and County)
Tulsa Oklahoma.
When it comes to borrowing money in an emergency, there are a number of options available, even for applicants with bad credit scores. While payday loans and other lenders can be turned to, low to moderate income families should apply for other forms of financial assistance first. Those funds can often be combined with emergency loans for paying bills and addressing financial needs.
Related Content From Needhelppayingbills.com