Find loans or cash advances for senior citizens on social security.
Find how a senior citizen or a retired person can get a low-interest loan or cash advance to help with their bills, including while they wait on social security. There are funds for older people that have good credit scores as well as loans for seniors with bad credit or that have filed bankruptcy. Learn more below on banks, charities, lenders and government programs that help a retiree or senior get a loan.
Since social security benefits are paid in arrears, and the application can take a couple months to be approved, a loan or some form of cash-advance can help a senior pay their bills during that enrollment period. There are some organizations that can provide funds to a senior citizen during this time-frame. The low-cost or even interest free loans can help the senior transition to their retirement years.
Benefits of a loan for seniors
One reason that loans will be an option is due to the fact that the Social Security Administration (SSA) recommends that an individual apply for their retirement benefits three months prior to when they want them to commence. This 3 month window of time can potentially create a financial hardship for a senior if they have a major change in their personal circumstances during that period. If their monthly income exceeds their budgeting expenses, it can cause an elderly person to potentially miss paying critical bills include for their housing, health care or food.
For example, what happens if the senior gets sick and needs to leave the workforce, or if their spouse dies, or some other crisis comes up? Another challenge will arise if there is a delay in accessing any funds in a 401K or pension. These transition periods could very well present challenges to a new retiree or someone depending on government benefits when it comes to paying their bills on time. This is where using a low interest loan will be able to help a senior citizen that dependent on social security.
Another reason in which a loan will be beneficial to a senior is for someone applying for their social security benefits at age 62, or maybe they retired early. Since the application needs to be completed and submitted a maximum of four months before the payments are suppose to begin, if someone did not complete the SSA application 4 months out (but wanted benefits to start at age 62), then they will need some cash during that time frame. So a social security loan will be able to assist in that example as well.
Anytime that anyone thinks about borrowing money, whether it is a social security loan or any other type of funds, the applicant needs to weigh the risk and rewards. They should closely review their monthly budget. As the process of borrowing money or taking a personal loan especially for an older adult on a fixed income, could present challenges if they do not have a plan in place to pay it off. Some of criteria to consider before using an emergency loan to help supplement social security benefits are as follows. Also, always think about the best age to file for social security payments.
Since the senior is almost guaranteed to start receiving their social security payments several weeks after filing with the SSA, the risks when it comes to borrowing money will be much lower.
Only borrow as much as is needed for paying critical bills and living expenses; push off as many costs as possible.
Before using a loan, the senior should explore all other alternatives. Seek money from friends, family, children, or any other source before borrowing.
The individual can borrow money in an emergency, as some organizations will provide funds in a matter of a few business days.
Places for a senior to borrow money while waiting on social security
There are a few lenders that can help fulfill this request. It is recommended to speak to different companies before entering into any agreement. Seniors or retirees who are looking for a cash advance or personal loan need to look for the lowest interest rates as well as fees, most affordable payment terms, and in effect the cheapest way to borrow. There will even be some interest free loans available for the senior as well.
Senior citizens, with decent/good credit scores, that are waiting for social security can borrow money from a non-profit credit union. These organizations tend to have lower costs and fees involved. Considering a number of retirees may have pension, and maybe they have worked for the government, a labor union, or another organization they may already be a member of a credit union. If not, they can sign up with one for access to an affordable loan.
If the borrower lacks credit, or maybe they have poor ratings due to living on a limited and/or fixed income, then there are lenders that offer small dollar loans to the elderly. The funds will focus on those individuals with either no or bad credit scores. Everyone from the government to FDIC or local charities offer these services. Read more on no credit loans.
Faith based groups, such as the Jewish Association or a church financial assistance program often provide short term loans to the vulnerable. A senior citizen waiting on their social security benefits to start will often meet this criteria. As these faith based groups do not want the elderly person to go without, so they can offer even interest free loans for paying for everything from medications to housing or utilities.
Senior citizens can turn to a retirement plan for any funds. Accessing those investments can help make ends meet when someone is currently on social security. Or the funds can help pay some bills while waiting to be approved by SSA. Be aware of penalties and/or early withdrawal fees as well as income tax implications when turning to a retirement plan.
Unsecured personal loans for senior citizens will be an option in an emergency. It is a better option for retirees with poor credit. This will tend to help a senior who is on social security if they have very limited assets available to them. The interest rate will be a little higher, but since the funds will only be borrowed for a short period of time this may not be a huge barrier. The cash can be used to pay for various bills, including a mortgage, rent, or medical needs. Find more details on unsecured personal loans.
When all else fails, senior citizens on social security can turn to a non-traditional lender, such as one that issues payday loans. These are high risk and should only be considered when all else fails. Also the borrower should be 100% confident that their application for government benefits will be approved by the Social Security Administration. As using a payday company can come with very high fees and interest rates, and the loan needs to be paid back immediately or the senior can find themselves in a high risk situation.
Senior citizens can also apply for small dollar short term-loans. They can help cover some bills or pay for living expenses while the individual is waiting on their next social security check, or an increase in their monthly amount. In addition, the loans for short term needs also tend to come with favorable repayment terms and/or budgeting advice.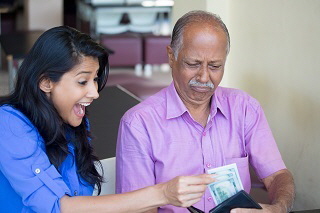 Interest free loans can help seniors as well. Of course the principal will need to be paid back, but the interest rate (and well as fees) will be 0%. These types of personal loans for senior citizens will in generally come from major banks on investment companies in which the applicant already has some form of relationship with. Learn more on 0 interest loans.
Seniors can get short term, emergency loans from buy now pay later companies (BNPL). This are also an option for retirees or elderly that have bad credit, as the BNPL lenders provide a small amount of money that is needs to be paid back in a short amount of time - often weeks. A buy now pay later loan is interest free and help the senior pay for items they need while they wait on their social security payments to start. Find no credit check buy now pay later loans.
Pay off the loan with first social security check
If a decision is ever made to borrow money (while at the same time as applying to the Social Security Administration) be sure that the application for benefits is filed accurately. If it is not, then there could be a delay in when the first government check is issued. That could then in effect lead to more money being spent on interest for the loan in question, and the borrower could fall behind on their budgeted income/expenses. Seniors or retirees that take out a cash advance or personal loan need to pay it as soon as possible.
It is critical to apply for SSA assistance correctly to ensure there is no delay. As the first social security check from the government should be used to pay off the loan; that expense needs to be paid off before any other bills that the senior citizen has.
This is one of the big risks. If a senior citizen decides to take out a loan and borrow money, but they do not complete their social security application correctly or if they are not eligible for some reason, the loan may be more challenging to pay off. So anyone that decides to borrow money need to be 100% sure they will receive their first payment in a timely manner.
What the Social Security Administration requires for applying is as follows. Note they could always come back on request additional material as well. So this is the bare minimum. The senior citizen should have copies of their tax returns, proof of being a U.S. citizen or lawful alien, original birth certificates, marriage licenses and more.
If a senior citizen who is on social security, regardless of their income, ever uses a loan for their bills, they need to pay it off as soon as possible. As once someone retires they tend to have a drop in income, and the lack of a steady household income can present challenges if all of the borrower's debts are not paid off in a timely manner.
Related Content From Needhelppayingbills.com