Extra money for senior citizens, retirees and disabled.
Seniors and disabled people can make extra money from at home jobs, low stress work, or work from home positions among other opportunities. There are part time jobs for seniors over the age of 55 or people with a disability, contract positions, gig economy work, a hobby and more. Many of them pay out cash weekly or even today - the same day. There are easier jobs for senior citizens, retirees and disabled people, as noted below.
Many senior citizens, whether they have retired or not as well as disabled individuals live on a limited, fixed income. There are some ways that they can increase their income and make more money to pay for the ever increasing cost of living. Some of the best types of jobs are listed below. They can range from work from home jobs that focus on hiring older or disabled applicants to taking online surveys, monetizing a computer or phone app you use daily, turning hobbies that maybe a retiree does into an income, and much more. Or look here for free government money for seniors age 65 or older.
There are low stress ways to make money on a part-time basis, which can benefit someone who is disabled or maybe retired and is just looking for a few extra dollars. But there are also more full time and free job placement or training programs offered. Or find how to work from home, use a cell phone to make money, and many other methods. No matter their age, educational level and experience, all of these resources are very effective for the disabled as well as senior citizens to make extra money. There are lower stress jobs for older adults ranging from age 55 to 65
All of the jobs for senior citizens, retirees or disabled people we have listed below are legitimate. While they will in general not provide a huge source of income, the extra money can make a difference. Especially for a retiree who is living on a pension (or social security) or a disabled person who only gets SSI or some other public assistance. The list of easy income producing opportunities for seniors, the disabled, retirees, and really anyone else seeking lower stress opportunities for either emergency cash or long term funds are below.
Hobby and easy gig economy jobs
Many retirees or disabled people turn a hobby into a part time, low stress job after they retire. Or someone who is older or that have a physical disability disabled may also benefit from this type of concept, as it can provide them as well with a source of funds for paying the bills. There are almost never any conflicts with SSI payments or pension/401K payments, and hobbies can be used too. Find how to earn an income from a hobby.
We have a list of options on the site. They range from selling crafts to reviewing books or blogging. There are also options for seniors to enter into the gig economy by say driving for a car service or walking or boarding pets. There are really countess ways for a retired person or someone with a disability to monetize a hobby or get one of those so called "side gig jobs". Find a list jobs that are considered side hustle.
Seniors and the disabled can easily make money from their phone or computer
This is often very easy to do, and that is why it can be great for someone with a physical or mental disability or a senior citizen. Or someone with limited mobility or even who wants a simple way to work a non-traiditonal job that gives them some extra cash..
There are dozens of senior or disability friends smart phone apps that pay money, websites, browser extensions, and other ways to make cash using technology. Each service is free to sign up for. Whether it is cash back from shopping, taking an online survey, doing at home say jury work, giving opinions on marketing products, and so much more, the elderly and disabled can make a few extra dollars. Here are some options.
Apps – They can pay you for walking, giving your opinion, and more. Locate Android and iPhone apps for making money.
Arts and Crafts - A great stress free job for an elderly or disabled person is selling any arts and crafts. Make candles, sell drawings, pottery, hand made clothes or anything. Learn more on selling arts and crafts.
Book reviews - Many retirees enjoy reading, or people with a disability often read from home as well as a form of entertainment. It is possible for senior citizens or disabled adults to make money, or get free stuff, from reviewing books.
Cash rebates – Get paid for your shopping. Make money from cash back shopping sites.
Online surveys – We have reviews of dozens of the leading sites. These are simple, quick and easy ways for older adults or the disabled to make some cash. Find legitimate online survey companies.
Rent items - Senior citizens may bring in extra cash by say renting a home in their home. Or "sharing" or leasing their car or experiences with others. Learn more on renting stuff or time for money.
Seniors can play games for cash - A number of technology companies pay money, gift cards and other rewards for playing a game. Locate legit games that pay real money.
Test products catered for senior or disabled people - Corporations, online companies and retailers need constant feedback and pay for reviews and feedback. As many companies tailer items to those groups. Get paid for testing products.
TV - Seniors and the disabled tend to watch a little more television. It can be monetized. More on Making money from TV.
Write from home as a senior - Many internet companies need fresh content, and look for at home writers / bloggers. A great part time job is writing, and learn about blogging.
We also have a number of other options on the site for free money. All of them will be great for retires, anyone living on a fixed or limited income, the disabled (either long or short term), seniors, and anyone. Find a list of free money making opportunities.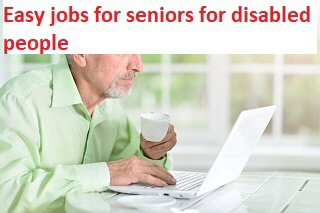 Government job placement for senior citizens
The federal government also realized that a senior citizen may want to re-enter the "official" job force, either on a part time or full time basis. Not only is there free money for the elderly, but the ob placement and stress free training is also a great option for a senior, whether they are 55, 60, or 65 years old.
The free job training can be a retiree who wants to work again for extra money or maybe they were just bored at home! Or someone who wants a easy job opportunity to give back to the community. The federal government does offer assistance programs to help with this.
Seniors (or people over the age of 55) can use the Senior Community Service Employment Program, or SCSEP. Non-profits, charities and local employers allow the senior (or retiree) to work part time to gain new skills. This then helps then transition back into the workforce. It can be working for a charity, a library, health center, small non-profit tech company, or thousands of other businesses. Read more on SCSEP senior job placement.
Both the disabled as well as seniors, or anyone who wants to work again, can also try the job centers that are part of the Workforce Innovation and Opportunity Act. Thousands of community centers, local offices, and other groups are part of the network. They may hold career seminars, job fairs, free computer classes, and much more. Employers who are looking for part time workers, including anyone with a disability or who is older, participate if this free government program. More on the WIA job programs.
Easy, legit jobs for retirees, seniors and people with a disability do exist
A disability, or age, will not prevent anyone from working. There are great, stress free jobs for retirees, seniors over the age of 55 or 65, people with a handicap or anyone. Now it is only natural that maybe a less stressful position is desired, or maybe part time work. The bottom line is that with annual inflation and ever increasing cost of living, even older adults or the disabled need more money each month.
There are even simple ways to make some extra cash for activities that are done on a daily basis, and that is really fulfilled from cell phone apps or computers. Senior citizens, the disabled, or really anyone who needs some extra funds can available themselves of these options, all of which are listed above.
Related Content From Needhelppayingbills.com