Games that pay real money.
It is really possible to get paid for playing games. There may be gift cards provided, free vouchers, real cash, or other rewards provided. The leading online websites, desktop or free mobile smartphone applications and cash app games that will pay you real money to play are listed below.
The fact is many people spend a lot of time on and/or are addicted to their phones. Or they face long commutes to work. Why not earn some free money from playing a game during that otherwise often wasted time. Yes, some smartphone apps will reward you for playing. You can make money, earn gift cards and get other compensation or free prizes from playing cash app reward games on your mobile phone or desktop.
Remember games such as Candy Crush Saga and Angry Birds? These games are super addictive and fun. There are other free, real games out there, for both Android and iOS, that will allow you to earn real money People are willing to pay for the benefits that comes from playing games such as stress relief, improved mood, concentration, problem-solving skills and more.
According to online gaming research, over 25 percent of people indicated that they would become a professional gamer if they could support themselves. Besides reaching a new level, a virtual achievement- these games can be a waste of time and money, especially when there are no 'real life' rewards. However, with specific games- it is possible to have fun, win a prize or gift certificate and make real money from your gaming hobby. Or they provide free stuff. You can also let your kids play for enjoyment while earning themselves cash for new toys, clothes, books, and more fun stuff.
Real apps and online games to play for free cash or rewards
Many of these games can be played on a mobile phone or desktop. The apps, or websites, will compensate you to play. You can make real money or maybe win gift certificates, prizes or a free product. Or other rewards are offered.
Bananatic.com: A website that pays you with redeemable points known as "bananas" for playing games. It is free to play and signing up only requires your name and email address. There are plenty of games on the platform, and each game offers a specific amount of 'bananas' and instructions on playing.
Once you have completed a game, you will be prompted to send a screenshot or picture for verification. Then, you will receive your bananas within 48 hours.
Besides games, you can collect more bananas by viewing ads, referring your friends and cashback shopping. You can exchange your bananas after meeting the minimum withdrawal of 2500 banana points which is equivalent to $5 of real cash. Bananas can be redeemed for PayPal cash, gift cards, and game currency to make purchases on iTunes and Google Play.
Givling App: A trivia game app that helps you to pay off student and mortgage debt (available on both Android and iOS devices). Any cash reward paid out is focused on those two needs only, so that is a requirement.
Givling app is funded by a supportive community that comes together to crowdfund cash awards for student loans and mortgage debt. Users can play twice a day to win cash prizes. Each game involves a three-person team to answer true or false questions until you have reached the statement limit. The team with the highest score will equally split the cash awards.
You must have a valid student loan or mortgage to join the Queue Line, and then your loan goes into the "Live Funding queue." There are daily cash winnings that are divided by the 3 top teams. The outstanding debt is an obligation for this iPhone or android App.
Givling is a legitimate app that helps people (regardless of their income) to pay off their student loan and mortgages. Players are required to pay 50 cents per game, which helps the company to host daily online trivia games.
WorldWinner.com- A skilled-based gaming website that allows you to compete against other players for real money. This is not a gambling website, and contests are based on skill and not luck.
However, there 10 restricted US states that does not allow skill-games to be played for money. Users from the following states (South Carolina, Louisiana, Tennessee, South Dakota, Montana, Illinois, Delaware, Connecticut, and Arkansas) are prohibited from playing.
WorldWinner has a variety of games which includes the following. The site as arcade-style as well as card games, word games, sports games, Wheel of Fortune, Jeopardy and other fun activities that can be played for real money.
Get started by visiting the website and signing up for an account, then you will have to deposit an amount of $5, $10 or $20 at a time and you will receive $1 bonus for every $5 deposit, $3 bonus for $10 deposit and $10 bonus for $20 deposit. Casino-games are played for a few dollars but, occasionally there are larger games with higher payouts.
Over 1.5 million has already been prized out. Users can also participate in the referral program and earn $25 for every friend that joins using your referral link.
Trust Bank - Long Game Savings App: Need some motivation to save? If so, this app will reward you with cash prizes and cryptocurrency for meeting your financial goals.
As your savings increase, you will earn coins which will unlock play mini-games to win up to $1,000,000 in cash. Long Game is 100% to users. The app is run by Truist, one of the nations larges banks. Players will earn 1% interest for your savings, plus cash prizes, and you can withdraw your money at any time.
This app is FDIC insured, which means your money is never at risk, even if you lost a game. Long Game Savings is available in the App Store and Google Play.
XyGaming.com/Repeat: A website that lets you play video games for cash and prizes. XY gaming can also be played on Xbox, PlayStation, and PC. Residents in Arizona, Washington, Iowa, Louisiana, and Montana may not participate and play for video games for cash prizes.
XY, which is now known as Repeat.gg, gaming is known to the largest esports tournament platform, where you can compete for cash by playing games such as League of Legends, Dota 2 and Smite.
Start playing for free by creating an account, adding a game-id and enter into any paid for tournaments for cash or free tournaments for coins. It is free to play on XY Gaming, but you will have to deposit real cash in your account for "coins" to enter in different challenges. This is needed in order to be qualified for giveaways and to purchase gaming goods in the marketplace.
There is a minimum withdrawal of $10 for PayPal and $200 for a check. Users can earn up to $2,000 or more per month from tournaments, giveaways, and free money from logging in every day.
Inbox Dollars - A combination of website and smartphone cash app. Over 30 games are available, and each will pay you cash, gift cards, or other rewards for playing. You can play chess, pool, basic arcade type games, cards, word search, and much more. This is a leading survey, smartphone, and gaming app.
Pch.com/games: A direct marketing company that sells magazines subscriptions and they offer fun games and sweepstakes as well to market their products. PCH is a trusted company and has been in business since 1953.
Register for free on their website, and you will be given a chance to play several games, including, token games, slots, blackjack, lottery, arcade, and carnival games that allows you to play for $1,000 or $2,500. There are token games in which players can win cash prizes of $100.
In addition to these forms of paid entertainment, members can use the PCH search engine on their website to surf the web to look up any information to increase the chances of winning $5,000 of tokens between Monday through Friday. PCH also has a lotto option in which users can pick numbers to win the jackpot, and there are daily lottery drawings with winning amounts of $500, $2,500, or $10,000.
Members may also enter into sweepstakes to win a price of $1,000 or $2,000. The Publishing Clearing House (PCH) is not a scam, no banking and credit card information is required, and users can contact consumer service at any time.
SwagbucksLive App: Download the Swagbucks Live App for free from App Store and Google Play to participate in a trivia game show where you can test your knowledge to win cash prizes. Swagbucks Live works by engaging in daily trivia game shows with a series of multiple choice questions and 10 seconds to select an answer.
Members can win up to $1,000 per week of SB points which can be cash-out via PayPal, Amazon gift cards and more rewards. Learn more on making money from games on Swagbucks.
BingoMania.com: A website for all bingo enthusiasts! BingoMania started in 2004, and it is a reputable and secure online bingo site that offers an exceptional online experience. There is also a mobile app that will pay you cash if you play and win. Sign up and receive a $100-$250 welcome bonus for joining, plus a $30 free trial bonus to try various games.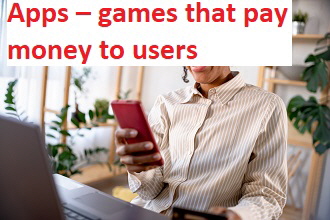 Bingo Media is the first real money bingo game site on the internet, and it offers a secure deposit option, along with several opportunities to play for cash. Users can participate in various bingo games, slots, video poker, table games, and lottery.
For ongoing rewards, you can refer your friends through the "BingoPals" program to get rewarded whenever your friends win. You can invite as many friends as possible and earn up to $1,000 in extra free bonus. There is a minimum withdrawal request of $100 via Bank wire, Skrill or Neteller, which is processed every Monday for Canadian and US players.
Applike is an aggregator of the leading cash app games and smartphone applications that pay out real gifts or money. It can be downloaded to an Android or iPhone. Each day the company will show you a new game you can play for rewards, including cash or gift cards. It also shows the potential payment amount.
Gamelootnetwork.com: A gaming network where you can interact with gamers and earn real rewards. Users can also participate in the affiliate program and earn cash for making sales on new games and recruiting new members. Game Loot Network is built for mobile-gamers with an opportunity to play the latest game.
You can join Game Loot Network as a free gamer, premier gamer ($10 per month) or Gamer Ambassador ($129 per month). Free and premier gamers are allowed to play and win tokens. However, they are not allowed to make top-commission.
As a Gamer Ambassador, you will earn commission after referring three people, which will allow you to make $5 minimum per day in residual income. Gamer Ambassadors has various ranks for earnings, with $5 per day for level one and $3,000 per day as the highest rank.
Game Loot Network is a gaming structure, and you will earn money based on the number of referrals. The membership price of $129 per month is a requirement, but you will access to the latest opportunities, and you can share your link on social media and YouTube to refer members worldwide to earn more money. This is a great opportunity for gamers to build a passive income in the 100+ billion dollar gaming industry.
Dollar Candy is a game for those that like puzzles. There is a few to several cents cost to register and play. It is a tournament concept, meaning you will compete against up to 3 other players as you work on the puzzle. Depending on skill and entry fee, you can make a few hundred bucks if you win!
Conclusion - It is possible to make money playing games
It is possible to earn real money from legitimate apps and websites as indicated above. Anyone can participate, no matter your age, education level, or background. Online and mobile games are fun and challenging, plus you can win free cash for an activity that you already do every day.
Related Content From Needhelppayingbills.com