Crowdfunding to pay bills.
Learn how Crowdfunding sites can be used to help raise money to pay the bills. The websites and platforms, such as GoFundMe and the PayPal Generosity Network, allow families to create a campaign to raise the cash they need. Find how to get emergency money to pay the bills, such as rent, medical bills or surgery costs, transportation, funerals and more. Get details on Crowdfunding websites and platforms below, as well as tips on starting a campaign to raise money.
It is possible to raise money from friends, corporations, non-profits, family and "rich" people who want to give back. Crowdfunding campaigns can also be used to raise money to pay for self-sufficiency, such as raise money to start a business, technical school or college degree, a car for work or auto repairs or other costs.
Crowdfunding websites such as GoFundMe, Paypal, Plumfund, and GoGetFunding are some of the best platforms for personal causes. The sites can be great options for low income families when charities have run out of resources or when not qualified for public assistance.
How to raise money for bills by Crowdfunding
Dreams require funds, as does paying the bills. If you are looking for a financial boost to say pay for medical needs or to get some emergency money to help pay the bills, you can launch a "Crowdfunding campaign" to get things going.
Crowdfunding is an act of collecting financial donations on the Internet from a large number of people, including strangers, family or rich people. Asking the general public for donations can seem intimidating. But nearly everyone is faced with difficulties at the early stage of their business or project. Or everyone faces a short term financial crisis, such as medical emergency or unexpected job loss or illness. Crowdfunding can be used by struggling families to help them pay the bills, buy medical supplies, cover emergency travel, or really anything.
Some sites have fees and transaction costs. Other crowdfunding platforms are free. GoFundMe as well as the PayPal Generosity Network are two of the free websites that may struggling low to moderate income families use for financial help. Plumfund is another website for raising money to pay for emergency bills, including rent, food, funeral or cremations, car loans and much more. People even raise money on crowdfunding to avoid an eviction.
Crowdfunding has successfully helped innumerable people to raise money to assist with paying for projects, causes, charitable efforts, emergency bills, and life events. There are also ways to raise money to start a business or pay for college or technical school.
Unlike loans, crowdfunding is low-risk, and you can reach your funding goal without having any hard inquiries place on your credit report or paying high-interest fees. This is one reason GoFundMe can be great for lower income families or those with poor or no credit.
Crowdfunding campaigns are requested on the internet, and there is power in social sharing, which means you may even be able to receive funds within minutes. That money from Crowdfunding, in particular sites such as Plumfund or GoFundMe or the PayPal Generosity Network, can then be used to pay the rent to stop an eviction, cover utility bills, or maybe fix a car for work. Or use the money for that business startup.
Asking for donations with crowdfunding means that you will have to get people to invest in your idea or "cause". In other words, convincing people or companies that the world needs your dream. Or showing people you need emergency financial help for your bills due to an unexpected, uncontrollable crisis.
People, whether friends, family or someone else, are more likely to contribute to your crowdfunding cause or project if they know and see where their donations are going towards. This can be done by telling your story, explaining what you are trying to accomplish and by uploading photos and videos of your need. Which could be unpublished books, broken laptop, unpaid medical or tuition bills, an eviction notice, artistic endeavors, and other unfinished projects.
While not always the case, Crowdfunding campaigns can be enjoyable and fun. Or they can tell a personal story of your financial crisis and you showing vulnerability. A cause or idea should also arouse excitement for donors. Whether if it is reading your book, trying your new app, seeing the things you will accomplish with a college degree, recovery from illness and so on.
Crowdfunding campaigns should always be sincere and honest. It also helps to post regular updates on your fundraising progress. Whether if you only receive 5% of your funding target, acknowledging previous contributions will help show your donors appreciation of how much difference their fundraising effort made, and it will encourage others to contribute.
Find a list of crowdfunding platforms below to raise extra money
PayPal Generosity Network: This free to use website allows you to raise up to $20,000. PayPal is one of the largest and most-well known shopping and payment platforms in the world, with over 400 million customers, including wealthy people and non-profits that contribute to personal crowdfunding campaigns.
That provides helps you tell your "story" to a large audience. In addition, the PayPal Generosity Network will cross over to the Venmo platform. Raise money for paying bills, to start a business, for college tuition, or countless other expenses.
Kickstarter.com: A funding platform that helps bring creative projects to life. Kickstarter help members to raise funds for creative projects such as music, journalism, fashion, art, movie, and others. To qualify, projects on Kickstarter should be clearly presented and honest, funds cannot be donated to charity, projects cannot offer equity and you must be the sole creator for all projects.
Funds are donated by "backers' that wants to see a creative idea exist in the world. Kickstarter will collect a 5% fee on every successfully funded project and a payment processing fee between 3%- 5%. There will be no fees if funding is unsuccessful. If your project stands out, the Kickstarter team will feature your project on the site or in a newsletter for more exposure.
GoFundMe.com: A crowdfunding platform that can be used for anything-- including personal emergencies, funerals, education, events, rent or utility bills and more. GoFundMe is 100% free, fast and easy.
Start a campaign, set a fundraising goal, tell your story and add a picture/video. The GoFundMe link can be shared through email, text message and social media. After receiving donations and raising money from this crowdfunding site, you can thank donors and withdraw funds free of charge. GoFundMe also has 24/7 customer agents who will answer any of your questions. Learn more about using GoFundMe to raise money for paying bills.
YouCaring.com as well as GiveForward.com are other well known crowd funding platforms used for paying emergency bills or housing costs (rent, mortgages, etc.), with over a billion dollars raised between the two. However the two companies are now part of the GoFundMe network. A percentage of that raised by YouCaring as well as GiveForward was by low income families or those in a crisis, and the funds went towards paying bills, rent, health care, and similar costs. The companies also had many examples of users raisning money for funeral costs, emergency travel, and other bills.
Indiegogo.com: A site that helps entrepreneurs raise funds to launch new and groundbreaking products. Indiegogo has helped to bring more than 800,000 innovated ideas to life since 2008 and currently has over 9 million contributors from 235 countries. This crowdfunding platform is best if you have solutions to everyday problems. Crowdfunding project types include tech & innovation, creative works, and community projects. Indiegogo also allows you to sell your product to over 11 million contributors. For instance, over 3 million dollars was raised for a MacBook pro USB.
Loans can also be raised by social networks. While not exactly the same as crowdfunding, as the money needs to be repaid, it is fairly similar. There are peer to peer lenders that can be an option for borrowers with all sorts of credit levels, however the lower the applicants credit score the higher the interest rate.
Peer to peer lenders can be used to pay all sorts of bills, consolidate debt, start a business, and anything. Borrowers have used the money to pay off higher interest credit card rates. Or maybe they invested in or started a business. Or the loans are used for making car payments, paying for expensive medical bills, or countless other expenses. Find details on raising money from peer to peer lenders.
BuyMeACoffee.com: Whether if you are a writer, YouTuber, artist or musician--you may know that it takes time, hard work and lots of coffee to create content. Buy Me A Coffee is a fast and friendly way for creators to receive support for their work using a low-cost crowdfunding platform.
"Coffee" is just a metaphor used to get support. Each cup of coffee represents $3/$4/$5. You can use the funds for actual coffee or as a way to fund your passion. Creators are paid 95% of the amount they receive and a 5% platform fee. Payments are processed with Stripe, and they charge a few cents per successful payment. You can share your coffee link on social media or at the bottom of your site to receive support.
Plumfund.com: This fund raising platform focuses on financial needs. Many low to moderate income families, seniors, single moms and others in a crisis use it to raise money to pay the bills. They can use the website to pay for medical expenses, funeral or burial costs, or even rent to stop an eviction. One reason is the very low transaction fees of the Crowdfunding site.
The transaction fees are under 3%, provided Paypal or other similar financial processors are used. A wide range of struggling families have used Plumfund. The emergency cash is for back rent or mortgages to stop homelessness, life-saving medications, a utility bill to keep the power or water on, and many other bills.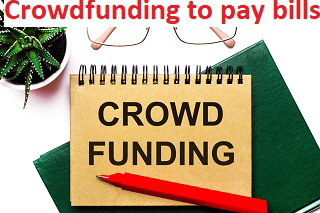 InKind.com: A crowdfunding company that small restaurant owners grow their business. InKind is a unique platform and funds are paid in "food and beverage" credit which is sold over time house accounts to pay themselves back. You can use the money for an expansion, new restaurant equipment, renovation projects or as some working capital.
Funds are accessible to new restaurants within 30 days of opening. InKind does not take any equity in your restaurant, and a few pieces of information are needed before approval. Then, funds will be available within 24 hours.
Kiva.com: A microlending platform that operates by crowdfunding loans to help people across the globe. The non-profit lenders works as a loan with flexible repayment cycles. Kiva currently serves borrowers in more than 80 countries, including the US. Kiva award loans without credit checks. However, to get approved, you must submit an application with clear photos, a detailed purpose for your loan, as well as personal stories and business descriptions.
PledgeMusic.com: A platform where musicians can deliver exclusive content and drive engagement through music. PleadgeMusic currently has a community of over 50,000 artists and over 3 million music fans.
The money raising platform is a place where artists can fund their career. Artists can launch a project/campaign for funds to create music videos, album, equipment and more. Projects will run for a length of time, and you will be able to 'pledge' to pre-order the final product, plus offering goodies to fans. There is a 15% fee to use the platform.
GoGetFunding.com: They have been operating since 2011. No matter what you need is, this site can help you raise money for it. Over the years there has been cash raised to pay for vet bills, education, car repairs, or travel to a funeral. The fund raising platform company has helped families facing eviction pay for the rent or it has helped families with a skick child buy them a Christmas gift among many other expenses paid. It is free to start a fundraiser, which is great for anyone living on a budget. For the money raised on the platform, GoGetFunding charges under 7% for the money pledged.
Patreon.com: This crowdfunding type resource was started in 2013 as a solution for creators to double their income. Patreon currently has over 2 million contributors, with an average donation of $12. In past years, creators earned over $300 million per year.
Patreon works as a membership platform that helps creators to generate recurring income from their work through fans that pay monthly. Give your fans exclusive benefits-- such as behind the scenes, free downloads, early access, monthly meetings & video hangout and more. This platform is perfect for writers, visual artists, podcasters and creators of all kinds. There is a 5% fee on all payment processing.
BeerPay.io: A platform that allows new developers to monetize their open source projects on GitHub. Open Source projects are great learning tools and funds are the only barrier that prevents growth. BeerPay allows developers to create more open source projects in a sustainable way. People can request to view new features or fixes by paying extra money and supporting the developer. To get started, you will need an active email address and a GitHub account with your software projects.
Steadyhq.com: A platform to turn your fans into paying members. It can be an effective crowdfunding platform for people with big social media following. SteadyHQ allows you to earn a regular income through memberships-- whether if you produce blog content, podcasts or videos, memberships can allow you to monetize your hobby or supplement your income as a creator.
This is a great option if your personality is important to your fans or if you can offer something extra- such as restricted content or regular hangout for fans. SteadyHQ offer memberships for every situation, with plans starting at $1 a month, free 30-day trial memberships, special promotions, and free guest access.
Crowdfunding websites are a source of financial assistance
There are a number of crowdfunding network sites that can be used for raising money, either for a financial emergency or for long term goals such as starting a business. They are not always effective, as they do take work in publicizing the cause, sharing information on social networks, and getting the story of your need out there. Low income families, individuals with no or low credit, and people of all backgrounds, educational levels, and needs can use a low cost crowdfunding website for getting cash.
Related Content From Needhelppayingbills.com