Emergency cash.
There are steps you can take to get emergency cash, and most of them are free and do not even have any fees or costs involved. There is free emergency money immediately available now for paying bills or rent to say stop an eviction or the disconnection of utilities. Or the funds you make can be used to immediately pay for car or home repairs, gasoline, build a savings account or address other costs.
Find sources of fairly quick cash below, and non of these involve borrowing money or taking out a loan. The resources are free or just take a minimal amount of time. A low income family or household in crisis, that needs emergency cash immediately, can get funds from things you may already do everyday.
Emergency cash is available to people of all backgrounds, including those with low or no credit scores, senior citizens, the disabled, the under or unemployed and others. There are websites that pay out funds, hobbies, jobs, free smartphone apps that provide immediately provide money and other sources of quick income. For people that are coming up short on their bills, or whatever the reason for wanting a bit of extra money, the good news is that everyone has the power right now to accrue that extra cash--and they can do it over a surprisingly short span of time.
It won't be easy to get the money needed without taking out a loan, but it's probably not as hard as people may imagine. This list also does not include all the charitable and government financial assistance programs which are listed throughout this site, and they may also offer money today if qualified. Anyone who wants some money will just need to take action to secure the cash. Below are several ways how to make this happen.
Get emergency money now from the resources below
1) Side hustle jobs can pay emergency cash
There are some many ways to make some emergency cash if someone is willing to put some work into it and really hustle for the money. It is possible to walk pets through apps such as Wag, Transcribe, sell hair, tutor, rake leaves, and so much more. This will not only give the family some extra money for paying the bills or building up savings, but it is also a way to learn something new and maybe take on a new challenge. Find a list of side hustle jobs.
2) Sell extra belongings for cash
Most people have a lot of clutter sitting around the house or apartment or maybe clothes they have not worn in months/years. Turn that clutter into cash by selling it for emergency money. There are many ways how to do this, including rolling out a classic garage sale, or the seller can take advantage of the many online marketplaces, such as Craigslist, eBay, LetGo, and Facebook Marketplace. Also, if there is clothing that is no longer being worn, consider selling through an online consignment shop, such as ThredUp or giving it to a thrift shop for a tax deduction.
Anyone that owns anything of value that is not regularly used, they can consider selling it for emergency cash. Chances are, there's a buyer willing to pay cash for it. This method has the added benefit of reducing clutter in a home or apartment. It is possible to address financial needs just by selling a few unneeded items or things that are no longer used.
3) Raise money today from Crowdfunding
There are several crowdfunding sites that can be used to raise cash in a crisis. Start a campaign on websites such as GoFundMe, Plumfund to raise money to pay the bills, cover rent, a medical crisis, and any type of emergency expense. Many of the sites have low costs and transaction frees, and some are free to use.
Fundraising websites are easy to use, but they do take work. the participant needs to tell and share their story, use social networks, and get word out there to increase their chances of raising emergency cash. But they can be an option. Read more on raising money with crowdfunding sites.
4) Buy items and resell for a profit
Anyone that is comfortable selling their own belongings, they can consider buying other items and reselling them for a profit without borrowing money. Scout a local thrift store; many times, valuable items can be picked up for only a few bucks. Post these online at sites such as Ebay for a higher (but reasonable) value and keep the profits. People do this to build up emergency savings, take a trip, or just pay everyday bills. It is also a way to build a business.
Unsure of how to price something? Search for similar items and see what other sellers are nabbing for them. The information is all out there. This method of making money requires a good eye for value, a bit of business savvy, and proficiency in online marketplaces. Learn more about online marketplaces.
5) Make money from freelance work
Some people have some skills that people are willing to pay for. For example, maybe someone is great with pets. Then they sign up to be a dog walker or sitter with Rover or Wag. Lyft and Uber are always an option for people that have a reasonably new car and good driving skills. Cash in on your writing skills by selling content to a blog or website. Photoshop skills by offering graphic design services as many people need help whipping up a flyer or newsletter layout. Anyone can do these jobs quickly, they have a high earning potential. The money is paid out same day, immediately as well. More on cash from freelance jobs.
6) Selling or Donating plasma to make money today
Selling plasma is very similar to blood donations; the key difference being it can be a source of emergency cash that anyone can do right now, today. Except in the US, those who participate can get paid for plasma donations. Plasma donors have to be 18 and older, weigh at least 110 lbs and must past medical and screening procedure.
Not only can someone make some money for paying bills, but this is also a great way to get a free medical screening and check-up while being compensated. There are also no credit checks done, so someone with poor credit or who is unemployed can still do this in order to make cash today. There are over 600 collection locations in the United States.
According to CSL plasma, donors can expect to earn up to $400 per month. Selling plasma helps people with medical needs, and regular plasma donations help to improve health by being alert of early diseases, and the circulatory system can be renewed by producing new blood supply. Find how to donate plasma.
7) Rent out your home on Airbnb
Airbnb is a hospitality service platform that allows homeowners to rent a spare room or their entire home for a period of time to travelers and locals. This service has become a source of free cash for hundreds of thousands of people worldwide.
Becoming an Airbnb host is relatively simple, by creating a profile and completing a trust and verification process that involves verifying email address, social media accounts, and uploading a valid form of ID. The next step would be to take pictures and to provide basic information about the space.
Depending on location, Airbnb hosts can expect to earn between $200 to over $10,000 per month. Or they can earn money just by renting out the place for a night or two. Airbnb can be a profitable business to supplement an existing income as a homeowner or renter.
To provide quality guest experience, the host needs to provide a clean environment, leaving necessities like towels, Wi-Fi, and communication with guests during their stay if they have any questions or need further assistance. Communication can be done through the Airbnb website, mobile app or phone call. This will guarantee a five-star review that will encourage and attract future visitors, resulting in a steady recurring income.
Airbnb is extremely popular nowadays, and anyone can get a slice of the pie. Rent out spare bedroom for extra cash. If someone doesn't have a spare bedroom, rent out the entire home over the weekend, and stay at a friend's.
For those who like meeting new people and want to make some extra to help pay their bills, they can rent out a futon, couch, or floor space and many travelers will be willing to take an Airbnb host up on this offer. So rent a portion of your home for money!
8) Freelance, including tutor online or in person for some cash
Anyone that speaks more than one language is often highly in demand, especially as the US continues to become more diverse. Or if you are great at something and have the credential/experience (maybe in math, English, good with computers or some other field), tutors are always in demand. This is not just a position for teachers; any skilled person can do it.
Tutoring for emergency cash can be done online using services such as Tutor.com or Skooli. There is also a demand locally from parents looking for educational help for their kids or even college students seeking a tutor. When it comes to the online services, they pay out cash for skilled people, and there is demand for this both locally and worldwide. Find a list of freelance tutoring jobs for extra cash.
Other freelance sites also can pay out cash in short order, often on a daily or weekly basis. All sorts of short term, part time, and other jobs are out there regardless of your education or skillset. Find a list of other ways to freelance from home for extra cash.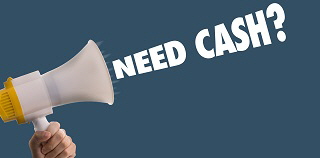 9) Become an Egg Donor
If you are a healthy young woman between the ages of 21-31 and is facing an emergency financial crisis, you can become an egg donor and earn up between $8,000- $14,000. That is a good chuck of cash that can be used any way the donor wants. Potential recipients will have access to your physical information, such as blood type, ethnicity, hobbies, hair color and other physical and personality traits. Egg donations can be done anonymously if both parties do not agree to meet.
The process is done by synchronizing the donor's cycle, medications that will stimulate the production of more than one eggs to harvest and a final procedure that takes about 30 minutes to complete. Many women can resume daily activity the following day.
Becoming an egg donor is a personal decision, however it is an option to make some money in an emergency. The process can be overwhelming, emotional and it can turn out to be a fulfilling and rewarding experience to help a couple start a family. Contact your nearest clinic for further concerns or questions about donating eggs., or call providers including the Center for Human Reproduction at (212) 933-5700.
10) Make extra money from your car
Sign up to be a driver for a ride sharing service such as Uber or Lyft. Or, if someone is interested in starting their own driving service (which is much more difficult and costlier) they can advertise that business locally. Lyft and Uber often provide sign up bonuses of hundreds of dollars, and that money can be very useful in an emergency. In addition, once approved, you can work as much or as little as you want; have flexibility, and there are some other advantages as well.
There are other ways to monetize a car as well when emergency cash is needed. An owner can sell advertising on the outside of their auto, work for a delivery company as a side job, and take several other action. Find how to make cash from your car.
11) Check local or online wanted ads
One of the fastest ways to find a quick source of income is to check local wanted ads and job listings, including sites that Craiglist or Fiverr or Simplehired.com. All listings will be made by people who are already willing to pay money for work to be completed, so it is a pretty sure bet. Many companies are willing to hire workers for same day jobs.
Workers can find anything from ongoing part-time jobs to one-off gigs. It's not uncommon to find homeowners willing to pay $20 per hour for a day spent shoveling mulch or raking the leaves. If anyone is willing to put in the work, they can raise emergency cash in no time.
12) Cash in on a hobby
It is possible to cash in on some hobbies. This is another quick and easy way to raise some cash, and it is great as well for the elderly, kids/teenagers, or senior citizens. Hobbies can also be a way to get emergency money regardless of credit score and other factors. "Regular" people can, and go, get paid for writing book reviews, cutting their hair, taking pictures with their cell phone, and so much more. Find how to cash in on a hobby.
13) Emergency cash from websites, credit cards, applications, and other sources
This process may take a little longer, but it is another way to make some money from things you most likely do everyday. As an example, get paid for shopping you do using credit cards. Or there are comparison shopping tolls as well as sites such as Ebates or Swagbucks.
It is not additional spending or a hit to your budget, but really involves spending your money smarter and more efficiently. As an example, get emergency cash by maybe cashing in on grocery shopping, frequently flyer points, online coupons or buying staples. There are also online survey sites, credit cards that pay sign up fees, and more. This way of making some money is a little slower, but it is an option. Find how to get cash rebates on shopping.
14) Cash from your online shopping
When it comes strictly to the shopping you and your family do online or in person, earn some emergency cash (or long term funds) by using cash rebate websites or phone applications. There are several available, all of which are free to use, may have sign up bonuses, offer referral bonuses, and even give ongoing discounts. Read more on cash back shopping websites.
15) Interest free loans
Everything above does not involve borrowing money. However, if all those options above fail when it comes to raising some emergency cash, or if you need more money in less time, then as a last resort consider applying for an interest free loan. There may be charities or non-profits that offer funds in a crisis, but the assistance is limited. There may also be free, emergency cash loans for the unemployed or borrowers with no credit.
16) Sell items - Even "junk" into emergency cash
When a financial crisis hits, most people have some possessions that they may be able to sell for extra cash. It can be something as maybe unneeded as a cardboard box. junk mail can be sold, as can batteries, some recyclable items, and so much more. There are items around most homes or apartments that can be turned into extra money, and find how to turn "trash" into cash.
17) Get paid today, at the end of the workday - not every week or two. Use a Daily Pay Service
Tens of millions of Americans get paid an hourly income, meaning their income is based on how many hours they work and not a fixed salary. Those hourly workers that get the cash from their hours every week or two in their paycheck, and that is the way it has been for generations. However many companies now allow their employees to get paid daily, so they get their wages at the end of the workday. While there are some fees for this, it can be a great source of emergency cash. Read about Daily Pay Services.
Sources of free, immediate cash today
Anyone that needs cash right now, know that money for an emergency is out there. It is possible to get the cash today from sources other than a charity or non-profit, which can take longer to process applications. It is possible to get cash from things you do daily (hobbies, shopping for basic needs, etc.) or items you have in your home.
The money is immediately available regardless of the person's age, language, ethnicity, and credit scores. There are more avenues to earn extra cash for paying the bills, rent, or buying food or taking a tip. The options available are out there for those willing you make a shift in their mindset and that have a willingness to put in a bit of work.
Related Content From Needhelppayingbills.com