"Daily Pay" services offer early access to wages
Anyone who has done wage work and get paid at an hourly rate has no doubt been through a period where the weekly (or bi-weekly) paycheck couldn't come in fast enough. Daily Pay services allow employees, many who live paycheck to paycheck, to get their hourly wages earlier, often that same day. However, they can be expensive to use, especially for low income families. But the fact is that dill due dates won't wait for payday, nor will emergency expenses.
Daily Pay is an option to get your money before your regular weekly, b-weekly or monthly paycheck. There is a cost associated with getting pay daily though, and when annualized or compounded the fees will be much higher than the interest rate on a credit card. In fact, using this feature too often and the costs associated with using Daily or Instant Pay will approach that off some payday loan lenders.
What is Daily Pay?
The traditional system of paying employees just once every week (or two) arose from practical realities and costs of banking and accounting. But banking has been transformed in recent years, with more functions going digital for more people and this is how the process of getting paid daily has started, and it is often an option for workers who get paid hourly, gig workers, immigrants and others. Money can be transferred much more quickly and in a larger variety of ways, but there is often a cost.
These technological advances have made it possible to consider the idea of daily pay, and perhaps even "instan"t pay, such as getting paid each and every hour throughout the work day. Some third-party vendors are already offering this service to employers, but their model passes the cost of convenience on to the employee. So is this a beneficial deal at the employee end?
The ability to get paid daily is facilitated by a handful of financial services providers that operate on fairly similar models, most of which use smartphone applications. The providers include DailyPay, Branch, Airbanq, EarnIn and Instant Financial are some of the bigger names.
These services generally require an employer to sign up for them and integrate with their payroll and time clock systems, and Daily or Instant Pay can then be used by hourly workers. People that work from home can also benefit from this payment type. Employees can then make use of an app that tracks their current hours worked (potentially up to the minute) and actual pay earned. Find details on companies that hire at home workers.
That actual pay can then be requested prior to the normal payday, for a fee. Some apps allow for instant transfer to an employee's bank account, while others schedule the withdrawal for the next business day. Some offer both options, with the faster choice costing the employee more.
What do Daily Pay Services Cost?
Yes, that's the big catch with daily pay services. As the employee, you pay for the convenience of withdrawing your money early. There are transaction fees for any single time you access your paycheck, and those costs can add up quickly.
These services market themselves as an alternative to payday loans, which are generally an expensive way to get an advance on earned wages. And it's true that these services can offer pay advances at more competitive prices, because they're working with a couple of advantages that paycheck advance services usually don't have; they're more directly plugged in to the employee's pay system with visibility into what they've actually earned to date, and they're not really taking on the risk of lending money with a promise to repay.
Daily pay services can be relatively inexpensive if used occasionally. (By this we mean maybe a few or several times per year at most). For example, DailyPay currently charges employees $2.99 for each on-demand advance and $2.25 for regular automatic transfers that are set up ahead of time. That's comparable to a standard "out of network" ATM fee, and generally lower than a credit card cash advance fee. The trick is not using daily pay advances so often that they end up costing as much (or more) than payday loan interest would. Geting paid daily from one of these services can be good options for people with bad credit or even immigrants as well that are "unbanked".
Most of the services will not charge you if you receive your payments on whatever the employer's regular schedule is (it would be very difficult for them to sell employers on signing up otherwise). They call this a "remainder payment" and it is simply deposited to your bank account, debit card or pay card on your workplace's regular weekly or bi-weekly schedule. However, it's up to employers and the services they choose as to whether one can still be paid outside of the daily pay service's framework. One current example is the Target Corporation, which offers its retail workers the option of using DailyPay but does not require them to.
The Cost of Daily or Instant Pay Services vs Payday Loans
Daily pay services can't be directly compared to payday loans as they limit employees to early withdrawals of money already earned, rather than advances against forthcoming pay. But you can make a rough comparison for those who might be considering a payday loan to tide them over for a week or so.
Let's say you are paid biweekly, and you're heading into the second week of the pay period finding yourself in sudden need of cash on hand. A payday loan service will usually charge a minimum of $15 to $30 per $100 borrowed in interest and service fees even if the loan is paid back as soon as possible. If repayment drags on for multiple weeks, those amounts can really shoot up.
At a maximum of about $3 or so for an early pay withdrawal, daily pay services are obviously much more affordable. Of course, this does require that you have enough earned pay on hand to draw on; you can't actually borrow any unearned money this way. The other big catch would be if you opted to use the early withdrawals extremely frequently, perhaps as often as the end of each shift. At that rate, it could only take a few work days to end up paying an amount that is comparable to a payday loan.
Payday loans also usually have a cap of between $500 and $1,000; you can potentially advance more money with a daily pay service if you have it on hand. Read more about, or find emergency loans for bills.
Other Important Notes
At the moment, daily pay services only work with companies that are fairly large (hundreds of total employees) and that have hourly workers on staff. So you may not even have the ability to get paid instantly or daily.
It's important to consider that adding any other party to the chain of money handling means another potential point of failure. That means another organization that could be hacked or breached, an app that could go down or have technical issues, another customer service layer to navigate if things go wrong, and another entity handling sensitive personal and financial information that needs to be properly secured. Is the ability to withdraw money early something you'll find frequent enough use for to be worth the extra amount of risk and potential hassle?
These services could also create serious problems for younger and less financially savvy workers as well as low income families, or those that have issues with impulse control. The ability to pull money instantly might lead to frequent impulse purchases, which in turn means no money sitting in the bank when the monthly bills come due. Or a low income family living paycheck to paycheck, and that needs their money, can be stuck with large fees from using Daily or Instant Pay too often.
Differences Between the Daily Pay Providers and Services
The various daily pay services all run on a fairly similar model, but they do have their little differences. Several different banks, lenders, and fintech companies now offer this.
For example, Branch offers employees a free withdrawal option if they can wait at least three business days for the money to be transferred (a same-day transfer will cost $3.99). However, it also limits them to withdrawing only 50% of their current available pay and overall caps of $150 per day and $500 per pay period.
And then there's EarnIn, which is interesting as it allows for small loans against expected pay with no mandatory fees (the app suggests a "tip" of 10% with a maximum of $14 but does not require it). But it will require you to have two direct deposits under your belt before you can advance money, and at first you can only advance a maximum of $100 at a time (successful repayments can eventually work this maximum up to $500).
Ultimately, employees may be stuck with whatever daily pay service the employer has already chosen (such as DailyPay for Target's workers).
Alternatives for One-Time Emergency Funds
Daily pay services can be a helpful tool for occasional use when unexpected money challenges pop up, so long as employers do not force employees to turn over their pay and personal information if they are not interested. Taking out $100 or $200 early to handle a bill can cost as little as $2 to $4, which is at least a tenth of what you'd pay for even the cheapest payday loan. Those who have issues with impulse control might want to avoid them, however, as withdrawing pay daily could get expensive and cause serious long-term problems. Find other loans if you have bad credit.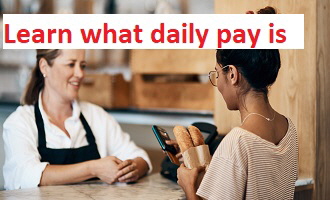 Daily pay services and payday loans are not the only options for occasional emergency funds. Banks and credit unions are often receptive to requests for very small personal loans even if your income is not very high, particularly if you have been a member in good standing for some time (ask about their "small dollar" loan options). There are also independent cash advance apps, such as Chime, that do not require employer participation. And your area may have emergency assistance programs for helping to pay vital expenses, such as utilities and housing, that can potentially provide money that does not need to be repaid.
Getting Paid Daily - There Are Benefits and Costs
If you are thinking of using a Daily Pay provider or signing up with the service from your employer, but aware of the pros, costs, fees, and other costs. At the end of the day, the service can be a decent option to use on an occasional basis, such as maybe a few times per year. But if you use one of these companies multiple times per week or month, paying a fee (even if it just a few dollars) will add up very quickly, and that will make any advantages to getting your paycheck earlier much more costly.
Related Content From Needhelppayingbills.com