Hobbies that make money.
Find a list of potential hobbies that will make you make money. There are activities for stay at home moms, fun hobbies that you can do on a part-time basis during your free time from home to make some extra cash and more. Some of them can be turned into a business as well. Get details on some of the best hobbies that make money below as well as suggestions on how to start them.
Everything listed below is legislate, and most are free to start or monetize. The fact is seniors, retirees, single parents, the disabled and really anyone can make some extra money during their free time from a hobby. The best way to make money is by doing something you genuinely enjoy. While it is a "cliche", there is some truth to the statement of try to follow your passion.
While you might have a successful career and make a decent wage, that doesn't mean you can't use your spare time to turn your passion into a side hustle. Or if you are lower income, a senior citizen or retiree with some extra time, or struggling to pay the bills, getting paid for a hobby is another way to make a few extra bucks for your family.
With all the resources and marketplaces available online or an app for them, practically any hobby or interest can make you money. You just need to be creative in thinking of ways to monetize one. However, here are some of the best money-making hobbies you can use to work from home.
Hobbies that can make you extra money
If your strengths lie more in the knowledge you have, or if you are a teacher/educator, you might want to look into tutoring. You can make use of your degree, skills, or background and what you learned throughout your education by offering lessons online in your own time. You do not need to be a teacher, but if you have something else you are good at (website development, sales, writing, etc) you may be able to translate those skills into a paid hobby. Find a list of tutoring websites for freelancer.
There are various sites which allow you to do this, such as Chegg Tutors and Tutor.com. You could also use a site like Teachable. They will enable you to create online courses for anything from painting to marketing. If you have an interest in law, then online jurors may be an option to make money,
These are just a few examples of the many sites which allow you to monetize your hobby and offer your knowledge online. You could even build a website from scratch to provide professional advice based on your experience. Many people get paid for turning their hobby into a small business or work from home on it. As an example, they may give advice on things like business, HR, programming, and all kinds of other skills.
If you're a budding photographer, there's no reason you can't make money from this hobby. Start honing your skills, take some high-quality pictures, and there are multiple avenues of revenues for you.
Some photographers make money by selling stock photos. Sites like Flickr, GettyImages, Shutterstock and more allow you to sell your pictures and get the majority of the profits. If you devote some time to this hobby, by say taking pictures of things people need, you could make big money working from home. Many people look for images of household objects, foods, and office setups, so you don't even have to leave the house. Then you can sell or license these photographs to other websites or companies, and it is simple to do.
If you want to take your photography to the next level, then you should start building an online portfolio, which can of course be done from home. Consider taking pictures of friends and family and showing them off. If people enjoy your work, you could offer paid sessions for people who need portraits, graduation pictures or even a wedding photographer.
If you're a keen writer or just enjoy writing, you might as well get paid for it. The paid opportunities for online writers and bloggers are endless, and you can write or blog about anything you want from the comfort of your home or say a local coffee shop.
One way to do this is by finding blogs with a "Write for Us" page. Many pay good money for submitted blogs, providing you give them the full rights. You can also look for writing jobs on job sites to find a variety of paid opportunities. There are even companies that operate as marketplaces in selling articles, such as constant content. More on writing for money.
Of course, you could also start a blog of your own from your home or apartment. Sites like WordPress.com and Blogger.com make it easy to start one for free. If you write captivating blogs about your interests and build an audience, you can monetize this hobby in many ways. Bloggers often sell e-books and ad space and even use their blog as a portfolio to show employers. More on blogging from home for extra money.
Whether you love Fortnite, League of Legends, computer or console gaming, there are many ways to make money from a Gaming hobby. But this hobby may be a little more challenging to make money off of, as you do need to have some skills. The software available on PCs and consoles today makes it easy to record and even stream while you play.
One way to make money from gaming is via Twitch. You can live stream your games, build up an audience, and become a partner over time. If people enjoy your streams, they'll donate money directly to you for this hobby.
You could also become a gaming YouTuber. Record funny clips, game guides, and other exciting content and upload it to your channel. If you start racking up the hits on your site, you could make money from ads and sponsors.
Some people like to play games with LEGO Bricks, or collect them. Both of those activities can be hobbies, and there are ways to make money from that as well. Various websites buy and sell LEGO, there are collectors out there, high demand sets and more. Adults and children can monetize this hobby. Find how to make money with LEGO.
Another option will be an online survey or gaming site hybrid. Some companies allow consumers to take surveys for extra money as well as to review products, and they also offer free items or games on them as well. The amount of money to make is not that high, but it can be another source of extra cash for you and your family.
If you like to read, whether a fiction, non-fiction, mystery, biography, or really any type of novel or book, you can earn some extra money by completing reviews. A number of websites, newspapers, journals, as well as blogs will pay you money for this hobby. Or they will give you gift certificates, vouchers, or other free items. Now you will need to submit a review, but this is a money making opportunity for just someone who like to read as a hobby or someone who is more advanced in their literary knowledge. Find more details on how to get paid for reading books.
Do you like making things from home? Try making money from an Arts and Crafts Hobby. It doesn't matter what kind of arts and crafts hobbies you take part in; you can sell handcrafted jewelry, pottery, your hair, woodworking, and textiles online. Find all the places to turn this hobby into money; there are a number of online marketplaces to sell arts and crafts.
For instance, some people create wooden boxes, photo frames, and even furniture to sell in online stores. Or some people cut their hard and sell it as another hobby. You can set your prices for these items, and if you make fantastic products, word will get around fast. Also find more details on hair selling for cash.
Maybe you're good at creating clothes, cushions or even jewelry. Many people sell these kinds of things on Etsy.com for a profit. There are also other sites to sell your crafts- you could try selling on Facebook, Reddit, eBay or even Craigslist. Build up a good reputation on one or more of these websites, and you can sell to plenty of customers.
Sell products on Amazon. You can sell e-books ,consumer goods, advertisements, and really anything. It can be done as a hobby or a larger business. Or start off as a passion or hobby and see where it goes! Find details on how to make money on Amazon.
Music is a passion and creative hobby that can be monetized for some people. Whether it's in the form of playing instruments, making beats or singing (even in your shower!), it's another hobby that can make you money.
Many musicians take their skills to Soundcloud. Soundcloud Premier allows you to make money from your music through ad revenue and subscriptions. Build an audience on here, and you could even get opportunities in the music business.
Similarly, you could create a music YouTube channel from your home. Whether you're making songs, sharing beats or even offering tutorials, it's something that could pay off in the long run.
Alternatively, if you have musical skills to share, offer lessons locally. You could help locals learn to play an instrument or sing. Advertise your tutelage in the local newspaper, on Craigslist, and on social media.
Turn your car into extra cash too, and there are a number of hobbies that can help you monetize your automobile. You can deliver some goods, drive senior citizens or kids around, and even make money from a hobby of repairing cars. Some people like or love to drive, and why not make a few bucks doing so. Find more details on how to make money from your car.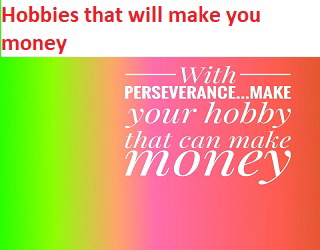 Do you like to travel? Or want to live overseas? There are ways to make money as you travel. Or save on expenses, which can be just as good. You can see the wold, travel as a hobby, and make some money doing so.
There are freelance websites that focus on the nomadic lifestyle. You can teach English as you travel, do odd jobs at hostels, blog, sell pictures and so much more. Find ways to make money as you travel.
Cooking is another great hobby that can make you money. Some people love to cook so much it can be like a breeze for them to make extra cash. Whether you want to write guides and recipes for a cooking blog or take your cookery to YouTube, it's something that can pay well
You could even sell your edible creations. Some people sell baked goods online using services like Shopify. Alternatively, you could make food to sell at local flea markets and bake sales. You can share your tasty creations and profit from it.
You can make some money from hobbies.
If there's something you enjoy as a hobby, chances are there's a way to make money from it. When you're at home spending time on your hobbies and interests, consider how to make money from it. If you are a stay at home mom, retiree, senior citizen look for extra funds, why not turn that hobby (or start one) in some extra cash for your household. The examples listed above make for excellent home money-making hobbies.
If you work hard at any of these hobbies (or others), it is possible to make some extra cash. In fact your hobby could even become your full-time job. The more satisfied customers you get, the more profit you'll make. Over time, your money making habit could also grow a home business, and you could even leave your "real job". Not only will you make a lot of money, but you'll have fun in the process making money from your hobby.
Related Content From Needhelppayingbills.com