Sell your hair for money.
It is possible to sell your hair for cash. Learn about the process and how much money you can make. The thought of doing this might be terrifying. But a couple things to keep in mind. One is that hair does grow back, so in that way it is different from other items that you can sell for cash as it will not be a permanent loss. Also your hair can help someone who is sick, say with cancer. Find how you can sell your hair for money online, locally or using apps, many of which are free to sign up for.
There are local, in person companies that will buy hair as well as online services or wig manufactures. This means that not only is it another way to make money or give back to the sick or cancer patients, but of course selling your hair can be done from the comfort of your own home. While no one will get rich selling their long hair for a wig or to a charity, it is a quick and easy way to potentially make hundreds of extra dollars per year and you can do this year after year - which makes it a form of stream of recurring income.
How much can you make if you sell your hair?
People experiment and cut their hair very often. Whether you cut it often or not, you can be rewarded with some extra cash what you have grown for the past months. This money can be used to help pay the bills or make ends meet. In addition by doing this you will be making a difference in the lives of cancer patients or for those that cannot grow their own hair.
The wigs and the hair extension industry in the US generate hundreds of millions of dollars, and it is also possible to sell it in the UK. People are always looking for ways to improve their self-esteem and confidence. It also benefits the sick and ill, including people or even children with cancer. If you are facing financial difficulties and looking for a quick way to make ends meet, you can sell your hair and earn $100 to as much as $4000 (which is of course rare).
The the amount you can make will of course depend on length, color, volume, healthy texture and so forth. It is quick and easy to do, and read more on how to do this below. Listed below are some online marketplaces that will buy your hair. There are wig manufacturers, companies that will buy ethnic hair for extensions, non-profit organizations and other potential buyers.
Online marketplaces and apps for selling hair
Find some of the resources that can be used for selling hair for a few extra dollars. Many of them are available for free or they have minimal sign up fees.
BuyandSellHair.com: Create a listing, and you will be matched with a buyer. There is no commission taken from sales, and you get to keep all of your earnings. However, there is a fee of $14.50 to use the site, which lasts up to 3 months.
Craigslist, eBay and Facebook Marketplace: These online marketplaces allow you to sell just about anything, including hair. A number of people as well as companies buy real hair to turn it into extensions or a wig. The cash will be transferred right into your account. Create your own price and transaction rules. You can even meet locally with buyers.
HairSellon.com - This website only allows you to sell hair that is six inches or longer, and their online calculator will give an estimate as to how much money you can earn. Some sellers on this site have sold their hair and made up to $4,000. There is a listing fee that ranges between $15- $50, depending on the length of your listing. There is no commission taken from final sales and your earnings get transferred to PayPal.
Locks of Love: If you would rather give your hair away for free to a sick child, including those with cancer, this charity can make that happen. Ponytails can be provided to the non-profit, and while you will not give money for using this service, it is a great way to give back.
Online Hair Affair : This site allows you to sell hair of any length. Including gray hair.
In addition to websites, there are mobile phone and tablet apps that come with a wide range of categories to sell just about anything, including jewelry, books, collectibles, video games, electronic devices or any high-demand items. And yes, you can sell your hair using these applications too. These applications can be used on iOS devices, a tablet and Android.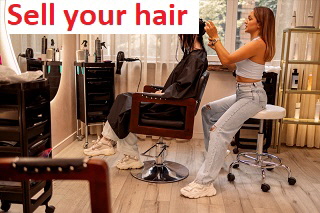 VarageSale: This is a local application that can also be used for selling hair. It focuses on marketplaces in your town or community, so the buyers may be more limited but it is one more option to use for raising money from the sale of your hair.
OfferUp: Just snap a picture, including of your hair, and start selling. OfferUp comes with a built-in secure messaging system that allows you to communicate with buyers.
Carousell: Any items you are selling, whether clothes, hair, electronics, or something else can be listed in under 30 seconds. There is also a chat service on the app.
LetGo - This is a free app to use on both iPhone and android, and it allows up to ten photos including of your hair per listing. You can securely message a buyer to discuss payment and meeting information.
Sell your hair for extra money, or donate to help others
All off the websites and apps above can be used to help you sell your hair for some extra money for you or your household. Those funds can then be used to pay bills, save for a vacation, pay the rent, or really anything you and your family may need. Selling your hair is just one more way to make some extra cash for you and/or your family.
Or do it to help others, such as cancer patients at Locks of Love. And maybe the best thing is hair grows back, so you may be able to sell it month after month.
Related Content From Needhelppayingbills.com